| Portable AC | Whynter ARC-143MX | Honeywell MM14CHCS | Haier HPD10XCM | LG LP0817WSR | SPT WA-1420E |
| --- | --- | --- | --- | --- | --- |
| Product Image | | | | | |
| BTU | 14,000 | 14,000 | 10,000 | 8,000 | 14,000 |
| Other Available BTU's | 12,000, 10,000 and 8,000 | 12, 000 and 10,000 | 14,000, 12,000 and 8,000 | 14,000, 12,000 and 10,000 | 12,000 |
| Noise Level | 56 decibels | 54 decibels | 49 decibels | 53 decibels | 55.2 decibels |
| Energy Efficiency Rating (EER) | 11.2 | 10 | 9.5 | 9.0 | 8.9 |
| Remote Control & Timer | Yes | Yes | Yes | Yes | Yes |
| Dehumidifier | Yes | Yes | Yes | Yes | Yes |
| Water Removal System | Auto Drain | Auto-Evaporation | Auto-Evaporation | Auto-Evaporation | Auto-Evaporation |
| Filter Type | Specialty | Washable filter | Mesh | Washable filter | Washable filter |
| Fan Speed | 3 | 3 | 3 | 2 | 3 |
| Hose | Dual Hose | Dual Hose | Single Hose | Single Hose | Single Hose |
| *Price | $$$$ | $$$$ | $$$$ | $$ | $$$ |
| Reviews | Read Review | Read Review | Read Review | Read Review | Read Review |
* $$$$ – $500 and above, $$$ – $400 and above but less than $500, $$ – $250 and above but less than $400
What is a portable air conditioner?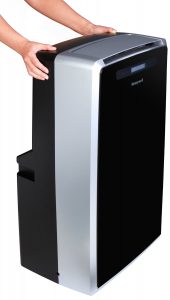 To determine the best portable air conditioner for you, it helps to understand what a portable air conditioner is. Portable air conditioners stand about 2-3 feet tall, have four caster wheels at the bottom for easy moving, and they are able to move from room to room. They are not permanently installed anywhere, and can be stored in a closet or shed during the winter months. They must be vented, so there is an exhaust hose that runs from the unit to the window kit. It allows the hot air to vent outside, and keeps the cool air inside.
Portable air conditioners are different from window air conditioners and air coolers. Window air conditioners are units installed in windows to cool a room in place of central air conditioning. They are more permanent than portable air conditioners, but sometimes they are not permitted in apartments or other rented properties. Air coolers are large machines that cool the air through the evaporation of water. This process adds moisture to the air, so they are only recommended in dry regions. Each unit has its own function, but portable air conditioners tend to be cost-effective options when window units are not an option.
How do you choose a portable air conditioner?
Portable air conditioner reviews are the best information you can get to be knowledgeable about portable AC. But let us check the six factors to consider when choosing the best portable air conditioner for you: BTU's, noise level, energy-efficiency, plug type, water removal system, and usability.
BTU's (British Thermal Units)
BTU's are units of power. It determines how powerful an individual unit is, and the area it can cool. In general, the larger the room, the more BTU's you need. Here is a helpful chart for choosing the right size for you.
100 – 200 sq. feet / 7,000 – 8,0000 BTU's
150 – 250 sq. feet / 8,000 – 10,000 BTU's
250 – 350 sq. feet / 10,000 – 12,000 BTU's
350 – 550 sq. feet / 12,000 – 14,000 BTU's
Noise Level
An important factor to consider before purchasing a portable air conditioner, especially if it is intended for your bedroom, is the noise level. Noise levels are listed in decibels (dB, or sometimes dBA). Here's a breakdown of what each noise level sounds like.
0 dBA is the lowest threshold of human hearing.
An increase of 3 dBA is barely perceptible to the human ear.
20 – 40 dBa is the sound equivalent of sitting in the library, in a broadcasting or recording studio, or a theater.
50 – 60 dBa is the sound equivalent of running the dishwasher in the next room.
70 – 80 dBA is the sound equivalent of a vacuum cleaner, garbage disposal, or gas lawn mower from a distance.
90 – 100 dBA is the sound equivalent of a blender or standing 3-feet from a gas lawn mower.
110 dBA is the sound equivalent of a rock band concert or a jet flyover at 1,000 feet.
When you wish to make a portable air conditioner purchase, you want to choose one that is as low on this scale as possible.
Energy-Efficiency
An energy efficiency rating (EER) lists how many BTU's per hour are used for each watt of power the unit draws.
All portable air conditioners have an EER.
The higher the rating number, the higher the unit's efficiency.
Energy Star labels indicate a higher EER.
The higher the rating, the more efficient the air conditioner.
A unit's price goes up as its EER goes up.
With that in mind, there are some manufacturers who exaggerate the number of BTU's their units have because they want to sell the product. Likewise, there are some manufacturers who are conservative about their unit's BTU'S to lower the EER. Energy-efficiency is important, but you cannot rely on energy ratings alone when making a purchase decision.
Plug Type
There are two parts to plug type: voltage and amperage.
Most homes are wired up to 15 amps.
Most homes have the common 125V/15A plugs that work with most home appliances.
If replacing a unit, use one with the same plug type.
In general, when you begin your search for the best portable air conditioner, you want to consider the plug type it has. If the plug is larger than 15 amps and 125 volts, you have two options. Either hire an electrician to upgrade your circuitry, or buy a unit with the 125V/15A rating. If you want to upgrade your circuitry, you have to consider that cost as well as the cost of the machine to determine the true value.
Water Removal System
Portable air conditioners collect the warm air in a room and cool it, then send it back out into the room. Naturally condensation builds up. You want to look at your different options.
Self-evaporating systems
Draining system
Manual draining system
Self-evaporating systems recycle the condensation back into the air, which eliminates any need to drain the unit. Draining system units usually have a condensate pump which pumps condensation into a tank. When it reaches a certain level, it is automatically pumped outside through a hose. In rare cases, a portable unit has a manual system. Those require you to manually drain the tank to avoid any leaks.
Usability
This includes the special features each machine has. It is prudent to compare the features and the prices to see which is a better value for you. Some of the features include:
24-hour programmable timer
Digital thermostat
Thermostat range (e.g. 65 – 88 degrees Fahrenheit)
Works as an air conditioner, fan and dehumidifier
In some cases, it's also a heater
Two exhaust tubes vs. one exhaust tube
Remote control
The more features it has, the more the unit will cost. However, if a unit includes the features you want, then consider whether the additional cost is worth the value to you.
Single Hose vs Dual Hose
You may ask yourself what portable air conditioner to choose regarding the number of hoses it has. The video below explains how a single and a dual hose  portable air conditioner work.
Video credit: compactappliance.com
Does brand matters when choosing the right portable air conditioner?
Yes! Remember that brands are one of the many factors why consumers buy a certain product. Trusted brands continue making and innovating products for efficiency and effectiveness for every household. Choosing the right brand can help you avoid service calls in the long run.
Should you buy a portable air conditioner?
There are many reasons to purchase a portable air conditioner, but choosing the right one can seem overwhelming. By understanding the important factors to consider when making your choice, you can eliminate that indecision. Take the information in this guide and consider your needs. From there you can make the best purchasing decision for you and your household.