Ready to move to the future of instant water heating and cut down energy costs? Here's your comprehensive electric tankless water heater guide!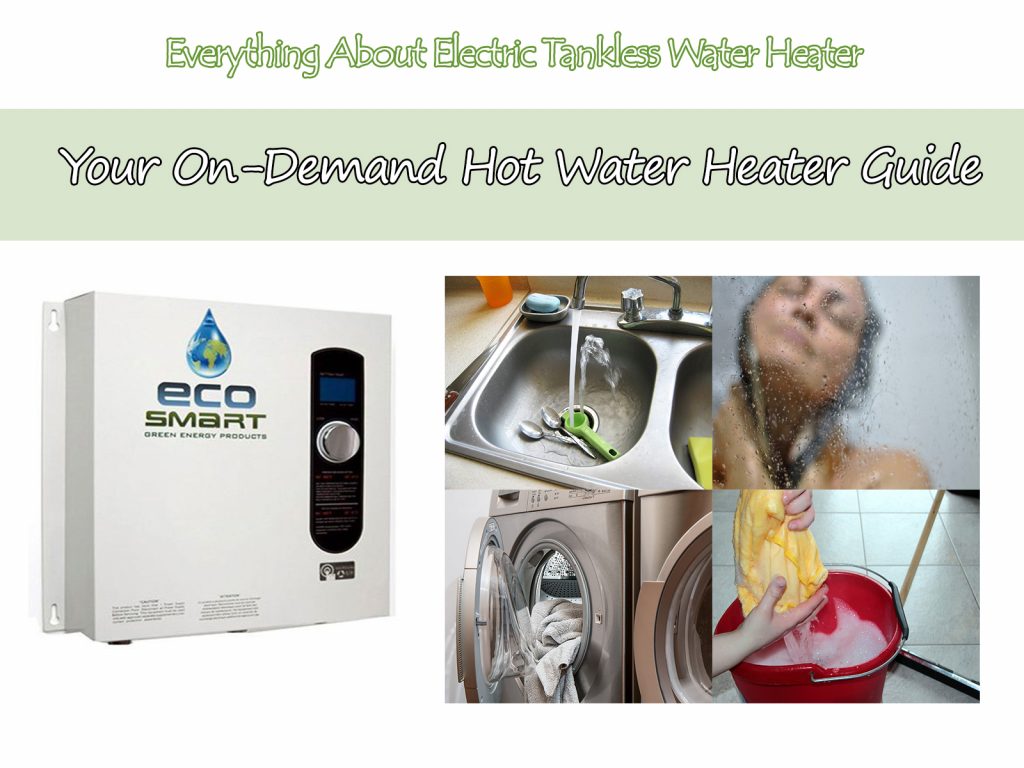 By stealthily installing a heating unit close to the area of hot water use, an electric tankless (or on-demand) water heater heats up the freezing water and gives you hot water in seconds, and only when you need it. Hence the name on-demand hot water heater.
Doesn't that sound like what you have been looking for, a reliable and instantaneous electric tankless water heater?
On-demand water heaters are a great alternative to the tank-type heaters, as well as the tankless gas water heaters which end up causing heat losses and high energy bills.
No, I'm not insinuating that the electric tankless water heaters are without any faults. As you will find out here, some aspects of the tankless gas water heaters make them superior to the electric water heaters.
However, in the overall sense, by using only the best of these heaters, you will notice a significant drop in your energy bill at the end of the month. While the efficiency of these tankless solutions for water heating is remarkable, you need to understand what affects the performance.
See also: Natural And Propane Gas Tankless Water Heaters
Top 5 Electric Tankless Water Heaters
How does this type of water heater work?
But before we look at some of the advantages and disadvantages of these tankless electric heaters, (more about these later on) how about we explore the inner workings of these instantaneous water heaters?
How do the water heaters provide heated water directly at source without a storage tank? Let's dig in!
Hot water travels down a pipe in the unit and through the heating element which heats up the water and voila! No more freezing cold showers or having to wait for water in the tank to reheat because you are the last to shower after everyone else.
These heaters give hot water at varying rates of between 2 to 7 gallons per minute or 7.6 to 15.2 liters per minute. What this means is that if you are using the heater simultaneously, you will have enough water for a quick shower, laundry, or dishwashing.
Note that you could also have a small heating unit for one appliance or you could get one that covers the whole house.
Our 5 Best Electric Tankless Water Heater Choices in 2023
EcoSmart ECO 27 – Best Multiple Use and Biggest Energy Saver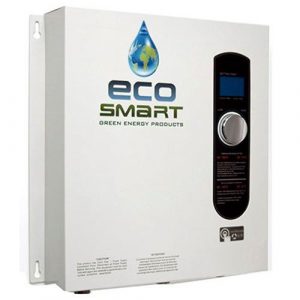 On top of our list of leading electric tankless water heaters is EcoSmart's Eco 27. This heater is a market leader in its own right thanks to the use of the most advanced technological adaptations for efficiency as well as energy saving.
A unit specifically designed for use in the northern parts of the United States, it promises to cut down your energy costs by up to 50 percent. But how does it achieve that level of efficiency?
Well, this model is assembled with EcoSmart's patented self-modulating technology that regulates your energy needs just the way you'd like it to and according to how much water you need.
With the expected temperatures that reach as low as 37 degrees Fahrenheit, ECO 27 heats as much as 3 gallons of water every minute, at such low temperatures. The best bit, you don't have to wait for your turn to shower – two showers can run simultaneously.
Can you use it in the southern climates as well? Yes. And, you will like how well it will meet your high demands for hot water handling as much as 6 gallons per minute and letting you run 4 showers simultaneously!
To match all your needs, its digital temperature control allows setting the temperature in 1-degree increments from 80 degrees Fahrenheit to 140 degrees Fahrenheit. Your preexisting climatic conditions have got nothing on this water heater.
This top of the line tankless water heater has a compact design, and the wall-mount design makes it a welcome addition to even the most sophisticated of home. If you have been looking to retrofit your home and get rid of the hideous traditional heater, let this sleek heater into your home for more free space.
Comes with a limited lifetime warranty that doesn't cover labor and incidental damages.
Note: EcoSmart lets you select a water heater depending on your location, and it matches the heater against the climate for high efficiency.
See EcoSmart ECO 27 Price on Amazon
Specifications

27 kW, 240 Volts
(3) 40 A Breaker Required
(3) 8 AWG Cables Required
Operating Pressure: Min 25 PSI; Max 150 PSI
Dimensions: 17 x 17 x 3.75 inches
Weight: 14.7 lbs
Your home should be wired to provide 112.5 amps of power, on a 3 double-pile, with 40amp breakers.
¾ NPT water connection.
UL and CSA-certified
8 percent energy efficiency
Pros
Bigger savings of up to 50 percent resulting from their patented self-modulating system
Offers great value for money
Suitable for use in cold and warm climates
Sleek and compact design that saves space
The digital temperature control allows 1-degree temperature increments
It has durable stainless steel and copper components which are also easy to replace
Cons
You can only use 2 appliances at once in colder climates
Bottom Line
When shopping for a water heater, we look at how efficient a unit is at saving energy. Looking at this EcoSmart Unit, it offers everything you need to cut down costs. The patented self-modulating system, the durable stainless steel and copper component, and the fact that it works effortlessly in cold and warm water conditions not only make this the biggest energy saver but also our best tankless heater.
---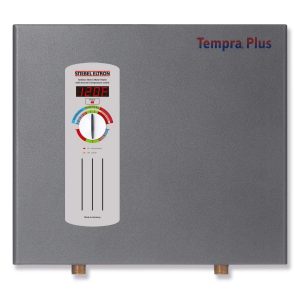 Coming in close is German-made Stiebel Eltron Tempra Plus. This heater is stacked with the crème of the industry, and as you will see below, that is no coincidence even with its high price tag.
By using technologies that have been improved for almost a century (90+ years), it is safe to say that Stiebel Eltron knew that they created another highly efficient beast to add to their catalog.
A heater that puts others to shame, it employs the self-modulating power technology as well as an advanced system for water control ensuring that all you need is this one water heater for all your needs at home.
Other than these technologies, it features a digital temperature control for better water temperature control in response to the incoming water temperature. The controls also ensure that you never run out of hot water when you switch on your faucet.
Its advanced flow rate control offers a great deal of comfort as it maintains the hot water temperature automatically. No more hot and cold showers and repeated yelps. This is also why it meets high hot water demand needs.
Thanks to auto-modulation, it results in 15 to 20 percent energy savings. The heating element features solid copper heating chambers which contribute to constant and fast water heating.
Unlike tank-type heaters and gas heaters, this heater doesn't require venting as a result of its small size – this lowers installation costs. Also runs quietly so you don't have to wake up and wonder why you cannot get rid of that persistent noise.
For high efficiency, consider your location and buy a heater matching the temperature in your location. You also need to fine-tune it with the actual maximum flow rate.
See Stiebel Eltron Tempra Plus 24 kW Price on Amazon
Specifications

Working pressure: 150 PSI
Certification-trust free
2 x 50 A/2 x 44 A
208/240 Voltage
Wattage: 24 kW/18 kW
The minimum size of the circuit breaker: 2×50
Recommended size of the wire: 2×60
Maximum temperature increase: 2×6
Warranty: 7 years for leakage and 3 years on parts
Weight: 16. 1 lbs
Dimensions: 21.7 x 20.1 x 9.6 inches
Pros
It heats water in seconds
The use of solid copper heating chambers enhances its efficiency while offering endless streams of hot water
It has an energy efficiency of 30 percent thanks to the auto-modulating unit
Simple installation with no need for venting
Runs quietly
Cons
Bottom Line
Running quietly while heating water running through the copper element, this water heater holds true to its reputation. It will run hot water for your bathing and cleaning needs, but, you don't overload it – the water temperature will drop. The copper components, self-modulating power technology, and the advanced flow control make a great heater. The only downside is that it is expensive.
---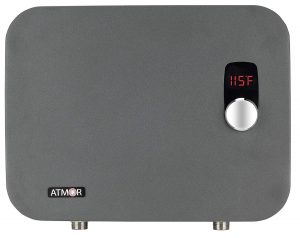 We can all agree that your biggest expense at home goes to energy bills, right? Since you are on the lookout for an appliance that could cut down the energy bills, you may consider this Armor's water heater in their AT-910-27TP ThermoPro Series.
It's designed to cut those bills by between 30 and 50 percent.
This water heater runs in the revolutionary self-modulating smart flow technology which provides unlimited and constant hot water. This modulating system will regulate how much energy you need to heat water.
And, using the digital temperature control, you can adjust the temperature readings exactly as needed. It activates automatically as soon as it detects water flow and shuts off as soon as you turn off the water.
Wondering where this heater works best? Well, its 27kW and 240v settings make this a great water heating solution for Northern climates as it handles low incoming water temperatures of 37 degrees and 2 appliances subsequently.
But, that doesn't make an inappropriate heater for warm climates. In the southern parts with inlet temperatures of 73 degrees, you can still expect it to work, and you could use a maximum of 5 appliances once.
The other feature is that it is well-designed to last. Its durable stainless steel internal construction makes it long lasting and also corrosion-free.
To top it all, this heater does not require any ventilation!
See Atmor AT-910-27TP Price on Amazon
Specifications

IP54 certification for safety.
For use in homes with 40amp circuit breakers, 3-double poles, and 112.5 total amperages for power.
27 kW and 240 Volts
Cable required: 3x 6/2AWG with ground: for conduit – 6x8AWG with a 10AWG.
Weight: 17 lbs
GPM Capacity: 2.63 – 5.4
Dimensions: 17.4″ x 5.3″ x 13.4″
Wire Gauge: 3 x 8 AWG
Warranty: 2 Years on parts and 7 years on leaks
Certifications: None
Pros
The digital settings make this heater easy to use
The heat exchange performs as expected
Works well for the whole house
No buildup of minerals
High efficiency and long expectancy thanks to the corrosion-resistant stainless steel components
Increased energy savings thanks to the self-modulating power system.
Cons
No pressure relief gadgets to lower the flow rate
Bottom Line
If you are looking for a tankless water heater for the whole house, at a bargain, you might want to get this product. Atmor's 40 years of experience, the advanced technological systems, and the durable design gives other leading brands a run for their money.
---
Rheem RTEX-13 – Best Heater for Small House or Apartments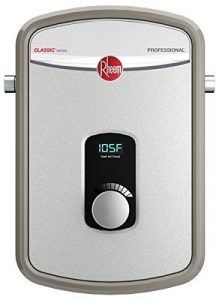 Rheem RTEX-13 also makes it to our tankless hot water heater reviews not just because of its efficiency but also its design which makes it the smallest water heating units you will put your hands on.
The first feature that stands out from this heater is its lightweight. Weighing merely 8.5 pounds, it offers the simplest installations, and it also saves up on space.
However, just because it is appropriate for use in small apartments does not mean that it is a slacker. With two of you in the house, you will run showers and the dishwasher easily.
We recommend using one appliance after the other to prevent running lukewarm or cold showers.
It is fitted with an externally adjustable digital thermostat with a LED display. The thermostat's accuracy is +1 degrees of accuracy. The two durable copper immersion heating elements are field serviceable.
This heating element is reliable and used by other leading brands hence the incorporation of this heater in this. That could also explain its comparably high cost.
To regulate the temperature of water, this heater has a self-modulating control. You know that you need this modulator if you are to cut down your bills, no?
You may also appreciate its simple installation process as well as the fact that it is threaded for simple replacement.
See Rheem RTEX-13 Price on Amazon
Specifications

13 kW
240 V
54 A
½ NPT adapters
3ft cable for installation
½-inch compression water connections
8 percent energy efficient
Showerhead flow rate: 1.5GPM
Dimensions: 4 x 9 x 13 in
Weight: 8.5 lbs
Certification: Certified frustration-free
Pros
Small and takes up minimal space
Easy installation
Ideal for small apartments
Works well in cold and warm climates
Good water flow
Cons
You only use one appliance at a time
Bottom Line
This is your perfect water heater if you have a small home and you live alone or don't mind showering one after the other.
---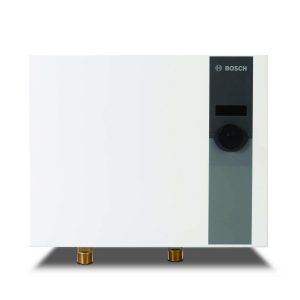 At a time when everyone stuck to gas and the tank-type water heaters, Bosch's Thermotechnology department worked hard to create German-engineered tankless water heaters. This, right here, is one of their sophisticated water heaters.
Its unique structure that features a polymer encased heating element, as well as a built-in flow sensor, will ensure that you get hot water constantly.
Bosch's external temperature control knob and its superior controls for temperature ensure that the water temperature is exactly as you want it to be.
Best bit, the heater is rather compact even for a 5000c or a 6000c, and you could mount them indoors or outdoors. It runs 1 to 3 appliances subsequently and when in use, you don't have to worry about running out of hot water.
How long will it last? Well, install it today, and you can use it for 6 to 12 years without having to worry about corrosion or it dying. The durable heat exchange has 5 years warranty whole other components have a 2-year warranty.
The durability of the heater also comes from the use of copper lines or suitable stainless-steel lines. Note that you should never get on-demand heaters with PEX or plastic type plumbing line materials.
Like other heaters in the Tronic Series, this heater boasts an electronic flow sensor as well as an element modulator which controls water output for consistency.
On top of that, the heaters have now been fitted with scale-prevention technologies for monitoring the water temperature stability.
See Bosch WH17 Tronic 6000 C Price on Amazon
Specifications

Size: 15.5 x 4.5 x 12.5 inches
GPM: at 75 degrees for 1.6 output, 60 degrees for 2.0 output and 45 degrees with a 2.4 output.
Efficiency: 97 percent thermal capacity which reduces the standby water loss

208-240

V and 17.3 kW
Weight – 18.7lbs
Warranty: 10 years on the heating module and 1 year on parts.
Wiring: dedicated 30amp circuit breakers and at least 10AWG wires with the ground.
No thermostat
Pros
Leading industry brand doesn't disappoint in water heating
Offers great energy savings
Powerful and it runs at two appliances at once
Built-in sensor detects the incoming water temperature and it adjusts accordingly and automatically
Polymer-encased heating element provides constant temperature for the water outflows
Cons
It doesn't work too well in cold climates
Relatively loud
Bottom Line
Though there have been a few reports about this heater breaking down too soon and running loudly, when at the right setting, it works well and you could run two appliances at once. It works better in summer!
On-Demand Electric Water Heater: Advantages and Disadvantages

Advantages
High efficiency. Highly efficient for persons living alone or in small families (up to 41 gallons in a day).  According to Energy.gov, the on-demand for water heaters could be more efficient than the standard storage water heaters by as much as 24 – 34 percent. And even in large families (using about 86 gallons in a day), these water heaters are between 8 and 14 percent efficient.
Water usage demands. Even when providing between 2 and 5 gallons of water per minute, the tankless gas water heaters meet high demands faster because of the high flow rate. Note that the flow rate and the overall efficiency of your instantaneous heater depend on the model bought and the climate (this determines the temperature of the incoming water).
Long lasting. Despite the high initial cost, an instantaneous water heater lasts longer than the heaters with tanks and the gas-powered ones. Most of these tanks have a life expectancy of at least 20 years while the storage water heaters have last less than 15 years. At the same time, the parts are easily available and easily replaceable.
Reduced heat losses. No heat loss because there is no need to have water on standby. Looking at the gas-powered tankless water heaters, you'll find that they waste too much energy especially when they have a pilot light burning constantly. Note that when using a gas-powered tankless heater, the pilot light heats the water reducing heat losses.
Costs (product cost and installation costs). The electric on demand water heaters cost relatively less than the ones powered by gas. With the latter going for as much as $1000 while their electric counterparts cost $700 at most. Also, regarding cost is the element of energy costs: electricity is cheaper than gas prices which fluctuate and easily cost more, especially with economists warning that the fuel prices will keep rising.
Small size. If you are looking to install a water heater in a small space, then the electric one is the most viable option. Taking up at least 1/3 of the space taken by the tankless gas heater, you can fix the electric heater in small spaces.
Low maintenance costs. Maintaining an instant or an electric tankless water heater is easier than maintaining a tankless gas heater. While the tankless heater requires cleaning of the inlet screen filter only, gas heaters require annual inspections by professional technicians who need to check the safety of fuel combustion, as well as its efficiency. But there's more, troubleshooting an electric heater is easier than the gas units where anything could go so wrong from the fuel controls to the heat exchangers among other complex parts.
Easily available energy source. Electricity is readily available in most homes. You only need to have the electrical power lines powered right. But, you must have a source of propane or natural gas to use a tankless gas heater.
Handling hard water. The electric and instant water heaters handle hard water easily since water is not stored and no sediments accumulate.
Disadvantages
Outage Vulnerability. Not at all times electricity is available right? Power outage can absolutely make this type of heater render useless.
One heater reaches its limits easily. One water heater may be incapable of supplying hot water simultaneously, especially for large households that may have 2 or more uses for the heater at once. But, if you have a big family, installing the water heaters separately, parallel to each other will meet the multiple and simultaneous demands for hot water.
A lower flow-rate vs gas counterpart. Despite the relatively high flow rate of between 2 and 5 gallons per minute (GPM) and other heaters providing a high flow rate of about 8GPM, this flow rate is low when you stack most of these electric heaters with high-demand tankless heaters running on gas.
Energy requirements. These instant heaters are high-powered, and their on-demand efficiency means that they require more power. Though it saves energy at the end of the month, you also need to make sure your power lines can provide all that power.
Irregular heating temperature. Unless your heater comes with a modulating temperature control system, it will not heat water to the preferred temperature, especially at varying flow rates.
Going Tankless Has More Benefits Than What You Think

Maintenance and Installation of On-demand Water Heaters
According to Homeadvisor.com, an average installation cost of electric tankless water heater is $1,839.
To optimize the energy efficiency of your water heater, have it fitted appropriately and well-maintained.
For proper installation, the technician needs to consider the installation location, climate, fuel type, safety, and the building code requirements. These factors will also create a trickle-down effect affecting the model of water heater selected and the overall installation and maintenance costs.
To avoid regrettable and costly mistakes, you should ask for written cost estimates, get several references, and confirm the existence and the performance of the potential water heaters' installation company with your local business bureau.
While evaluating those companies, ask if they can get a valid local permit where applicable and ensure they understand the building codes.
Though the user manual could guide you on the installation procedure, get an electrician experienced in HVAC systems to install the heater unless you are a professional.
Selection Criteria for Choosing an Electric Tankless Water Heater
In this instantaneous water heater review, we shall guide you on the selection process. With new models of the water heater springing frequently, you need to differentiate the best from the low-performance water heaters. But first, quick tips:
Ease of use and installation: as long as you have your lights on, you have electricity, and all you need to do is to flick the switch on. Installation is easy and takes little time, even for the professionals.
Reduces energy costs: using 41 gallons of water daily, you will increase your energy saving expenditure by 24 to 34 percent.
High flow rate: your tankless electric heater only runs out of hot water if its flow rate is higher than the heater's heating capacity. Increase the number of heaters or get one large heater for multiple uses. Doing this will increase the efficiency of the heater.
They work under different temperature and climates so you should check the temperature that the heater is most efficient.
Specifications to Look For
The Flow Rate
How much water does that faucet or appliance need? Determining this is important because it enhances efficiency. Your on-demand water heater is rated using the highest temperature rise possible for the heater at a specific flow rate.
You need to understand two terms: FHR and GPM – First-hour-rating and gallons-per-minute. What do these mean? Well, FHR refers to the water heater's rating for the volume of water it could produce in the first hour before it starts reheating.
GMP refers to the volume of water the heater produces in one minute. The flow rates range from 0.5GPM for bathroom sinks, 1.0GPM for dishwashers, and 1.0GPM for laundry sink to 1.5GPM for washing machines and 2.5GPM for standard showers.
Don't forget that when running more hot water than the heat exchangers or elements can produce, either the flow rate or the temperature of the water will drop.
Size
They come in varying sizes. However, when looking for a heater to fit small spaces choose the small one and vice versa. When considering the size of your home, keep in mind models that can produce high flow rates of 5.5GPM.
Don't forget that the size of your family and your daily water consumption will determine if you need a small or a large heater, or if a gas heater is better.
Here is something else you should know: For the highest level of efficiency, you have to get the right heater installed. For this, list down all the hot water devices you will need at home and at any one time.
Then, add up the flow rates for the appliances in gallons per minute. The sum gives you the total flow rates guiding you on your demand for the water heater. The use of low-flow water filters will reduce the flow rate.
Also, when sizing the tankless heater, you should determine the expected temperature size.
Consider this: unless the heater has different settings, the incoming water temperature will be 10 degrees Celsius (50 degree F), and you will need your water heater to get to 50 degrees Celsius (122 degree F). In this case, you require your heater to produce a temperature rise of 40 degrees Celsius.
Microprocessing Technology and the Incoming Water Temperature
Microprocessing or computer-controlled monitoring is the technology that will read into the incoming temperature of the water then adjust the heater's output befittingly. The result: steady water temperature at the tap and you use the least possible amount of energy.
Note: A water heater is at its best when it doesn't have to raise its temperature to levels above 30 degrees F.  And when shopping, you will learn that even the industry's most powerful heaters will not reach 50 degrees F at any reasonable flow rate.
So, if you live in cold places, get a hot water tank or even opt for the gas heaters that can reach the high temperatures you seek.
If, therefore, appears that the tankless water heating systems are best-suited for warmer climates. So, choose a heater according to the climate.
The High-Energy Factor
This refers to the factor that measures the efficiency of the water heater. Your heater's high-energy factor should range between 0.96 and 0.99. A higher number corresponds to higher efficiency.
Note that the recovery efficiency, standby losses, and cycling losses will affect the energy factor.
Certifications
The certifications on a heater tell the story of its efficiency, safety, as well as the design. Common certifications include UL, SCAQMD, and AHRI.
Warranty
Often, manufacturers give 1 or 3-year warranties on the heating element, labor or parts.
Tips to Make the Most Out of Your Electric Tankless Heater
Always get a professional to install and inspect the water heater. A professional knows what they are doing, and they also know what you need to do to increase the efficiency of the system.
Turn down the thermostat. Often, the manufacturers set it at 140 degrees Fahrenheit, but you need to at 120 degrees Fahrenheit. This not only lowers the energy bills but also reduces the risk of accidents while reducing the buildup of minerals and reducing corrosion of pipes and other components.
Be conservative about the sizing. Going a few sizes up is not a recommendation we would give when buying clothes but when buying a tankless heater, you need to round up the sizing by as much as 50 percent or even higher.
So, even if you only need 6 GPMs, it is safe to push that to 8 GPM or 10 GPM. You will thank us when winter comes around, and it gets colder than anticipated.
Use less water to lower your GPM requirements and to eliminate the need for larger heaters. Again, this will lower your energy bills. Wondering how to make this work especially with your big family? Get a low-flow showerhead – you know that showers contribute to your high water consumption, right?
Install an aerator in all the faucets to reduce water flow if you cannot afford a low-flow showerhead.
Fully load your dishwasher before you turn it on to eliminate the need to wash a half load or washing dishes by hand. Doing that also prevents the need to use the prewash setting because the economy setting will work just right.
You don't really need hot water for laundry. We only recommend hot water use for whites or when you need to sanitize something. You could also use the tap setting to cut out one appliance out of that equation.
Insulate the pipes. Although this may not be the first thing that crosses your mind, your technician might even fail to mention it but, insulating those exposed pipes maximizes the efficiency of the system.
Insulation of hot water pipes makes your water hotter by 2 to 4 degrees so, you wouldn't have to allow the water to run longer before it warms up. As you can imagine, this brings you significant savings on water and electricity bills.
Service the heater annually or as recommended by the manufacturer.
Don't exceed the number of appliances recommended by the manufacturer.
Check the climatic conditions against the heater you are buying.
Energy Saving Tips
Install a low-flow water heater to reduce how much hot water you use and also to lower the flow rates of different appliances.
Invest in Energy Star-rated appliances to lower energy consumption
Switch off the water heater when not in use
Insulate the pipes
Fully load the dishwasher.
Final Thoughts
Tankless electric water heaters are more efficient than the standard tank-type heaters or the gas heaters, especially for use at home. However, do not buy a heater without considering the sizing, climate, efficiency, and the flow-rate, even when constrained financially.
Feeling confused? Well after from these tankless water heater reviews of 5 leading products, we have a winner, and you may like it too – EcoSmart ECO 27. It is pocket-friendly taking into account all it offers, and you could use it in Northern, and Southern climates with multiple appliances, effortlessly.
But then, if you don't mind spending a bit more, then Stiebel Eltron Tempra Plus will meet your needs.