Whynter ARC-143MX
Honeywell MM14CHCS
Koldfront PAC1401W
Haier HPB10XCR
LG LP0817WSR
BTU
14,000
BTU
14,000
BTU
14,000
BTU
10,000
BTU
8,000
Other Available BTU's
12,000, 10,000 and 8,000
Other Available BTU's
12, 000 and 10,000
Other Available BTU's
8,000
Other Available BTU's
14,000, 12,000 and 8,000
Other Available BTU's
14,000, 12,000 and 10,000
Noise Level
56 decibels
Noise Level
54 decibels
Noise Level
47 decibels
Noise Level
49 decibels
Noise Level
53 decibels
Energy Efficiency Rating (EER)
11.2
Energy Efficiency Rating (EER)
10
Energy Efficiency Rating (EER)
9.5
Energy Efficiency Rating (EER)
9.5
Energy Efficiency Rating (EER)
9.0
Remote Control & Timer
Yes
Remote Control & Timer
Yes
Remote Control & Timer
Yes
Remote Control & Timer
Yes
Remote Control & Timer
Yes
Dehumidifier
Yes
Dehumidifier
Yes
Dehumidifier
Yes
Dehumidifier
Yes
Dehumidifier
Yes
Water Removal System
Auto Drain
Water Removal System
Auto-Evaporation
Water Removal System
Auto Drain
Water Removal System
Auto-Evaporation
Water Removal System
Auto-Evaporation
Filter Type
Specialty
Filter Type
Washable filter
Filter Type
Washable filter
Filter Type
Mesh
Filter Type
Washable filter
Fan Speed
3
Fan Speed
3
Fan Speed
3
Fan Speed
3
Fan Speed
2
Dual Hose
Dual Hose
Single Hose
Single Hose
Single Hose
$$$$

$$$$

$$$

$$$$

$$

* $$$$ – $500 and above, $$$ – $400 and above but less than $500, $$ – $250 and above but less than $400
What is a portable air conditioner?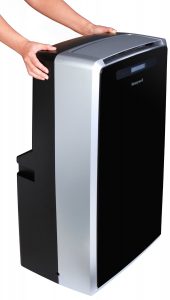 To determine the best portable air conditioner for you, it helps to understand what a portable air conditioner is. Portable air conditioners stand about 2-3 feet tall, have four caster wheels at the bottom for easy moving, and they are able to move from room to room. They are not permanently installed anywhere, and can be stored in a closet or shed during the winter months. They must be vented, so there is an exhaust hose that runs from the unit to the window kit. It allows the hot air to vent outside, and keeps the cool air inside.
Portable air conditioners are different from window air conditioners and air coolers. Window air conditioners are units installed in windows to cool a room in place of central air conditioning. They are more permanent than portable air conditioners, but sometimes they are not permitted in apartments or other rented properties. Air coolers are large machines that cool the air through the evaporation of water. This process adds moisture to the air, so they are only recommended in dry regions. Each unit has its own function, but portable air conditioners tend to be cost-effective options when window units are not an option.
---
Best Portable Air Conditioners to Buy in 2018
Pros
The Whynter ARC-143MX cools rooms up to 500 sq. ft. Its antimicrobial feature prevents microbes from growing. It also has an EER rating of 11.3, which saves on the electric bill.
Cons
The unit is quite big, so it does make more noise than it should. And, since it works as a dehumidifier, the unit must be drained; however, there isn't a hose to make that easier and the pan is at the back bottom side of the unit.
Bottom Line
This unit is good for big and small spaces, but be prepared for some upkeep such as draining and insulating the exhaust hoses.
Performance and Features
The Whynter 14000 BTU unit is a portable air-conditioner that uses and recycles moisture to produce cool air, and the dual hoses help cool the air faster. However, the parts that generate heat must be vented outside, and in order to keep the hoses cool enough to produce cold air, homeowners should insulate them. This unit also comes with a 3M antimicrobial air filter which filters the air by removing dust, pet hair, and dander. And, the antimicrobial agent prevents the growth of mold and mildew.
Designed with commercial uses in mind, the unit is meant to run in smaller spaces, or areas with low-maintenance cooling needs. It performs as expected up to 500 sq. feet. It is eco-friendly, CDC and lead free, and designed to consume less energy. One of its best features is the fact that it is portable. The unit can easily be moved from room to room without permanent set up, and you can conveniently store it in a closet or shed during winter months. The unit also features an auto drain function that draws the moisture from the air and recycles it to produce the cold air. This requires the unit to be drained, though.
There are three operational modes from this portable air-conditioner: cooling, dehumidifying, and a fan. The cooling option cools the room and dehumidifies at the same time. If you want to dehumidify without the cooling option, you would select dehumidify. The fan option simply circulates air in the room, and there are four speeds to choose from. It also comes with an easy-to-install venting kit for non-permanent venting through a window. The kit includes a window slide bar and two extendable exhaust hoses. Although it is meant to be non-permanent, the venting hoses can be custom modified to fit into wall openings or dropped ceilings.
Noise Level
The manufacturer's rating on noise level is less than 56 dBA, which is supposed to be the equivalent of a dishwasher. However, in a small room environment, the noise level is closer to 70 dBA, which is the equivalent of a lawn mower. This unit is quieter than other models, but given its design for a smaller space, it is noisier than it should be.
Energy Consumption
It is designed to be eco-friendly, so the Whynter unit consumes less energy than most other units on the market. Because it cools one specific area rather than an entire house, like a central AC unit does, it helps reduce your electric bills. The Energy Efficiency Ratio (EER) is 11.3, which is higher that other units its size. The higher the EER, the more efficient the unit.
Why choose Whynter ARC-143MX?
The Whynter 14000 BTU Dual Hose Portable Air Conditioner with 3M Antimicrobial Filter is a decent unit for anyone who wants to save money over a central AC unit. It cools rooms up to 500 sq. feet, and if you insulate the exhaust hoses, you can get more life out of the unit and cool rooms faster. The features for this unit are some of the best on the market, but its bulky size and weight make it awkward in small spaces. Still, it does have casters on the bottom for easy mobility.
The unit is also a little noisier than it should be, but it's not insurmountable. One of the biggest challenges with this unit is draining it. Because it dehumidifies, it fills with water quickly and must be drained. But, there is not a draining hose to make that task easy, and the drain pan is at the bottom back of the unit. It is difficult to get to and easy to make a mess, which isn't good news if this unit sits on carpet. All in all, if you have a small room you want to keep cool without using the central air, then this unit works great. There are a few upkeep items, but the cost savings outweigh those inconveniences.
---
Pros
The Honeywell MM14CHCS portable unit functions as both an air conditioner and a heater, which adds value for the money paid. It's also not as bulky as other portable air conditioners.
Cons
It's not as intuitive as other units, and just because you've had a portable AC before doesn't mean you know how to use this one. You have to read the manual and, in some cases, make a lot of modifications for it to work properly.
Bottom Line
This unit is good for big and small spaces, but be prepared for some upkeep such as draining and insulating the exhaust hoses.
Performance and Features
The Honeywell MM14CHCS 14,000 BTU Portable Air Conditioner with Heat Pump both cools and heats an area up to 450 sq. feet. The air conditioner has 14,000 BTU's while the heater has 12,000 BTU's. It doesn't require permanent installation, and the castor wheels make it easy to move from one room to another, and to store when not in use. It comes with an LED display that also works with a remote control. The venting kit only comes with one exhaust hose, but it can be modified to work with two hoses.
Although the product manufacturer lists the unit's ability to heat and cool a room up to 550 sq. feet, without some modifications, it really only works up to about 450 sq. feet. With only one exhaust hose, the unit pulls the air in from outside, which causes the unit to dump that air inside. For the cooling function, that means hot air gets drawn inside, making it that much harder to cool down the room. It does the same thing with cold air for the heater. To combat this, you can purchase a second venting kit to install a second exhaust hose. Another recommendation is to purchase an insulated flexible duct R8 silver jacket and place it over the white vinyl heated air duct. This keeps the heat inside the exhaust jacket and minimizes the work the unit has to do.
Another performance issue this unit has is that it leaks water. The internal tank is rather small, so as it dehumidifies the air, the water builds up. It doesn't evaporate the water as the manufacturer suggests, so it will leak unless you drain it. The solution is to use a short drain hose and a bucket. Unfortunately, that solution is rather unsightly. Depending on where you plan to place this unit, it might be worthwhile to attach a long drain hose and allow it to drain outside.
There are a few notable features of the unit. It is portable, which means it doesn't have to be permanently installed in any one room. The unit also allows you to save on your electric bill each month since you're not trying to cool an entire house, and it comes with a 24 hour energy-saving programmable timer which helps you control its energy consumption even more. There are four setting features for the unit: air conditioner, heater, dehumidifier, and fan. The dehumidifier removes up to 95 pints/24 hours of moisture in the air, and the fan produces a powerful air flow at 265 cubic feet per minute (CFM).
Noise Level
Honeywell rates its unit at 55 dBA, which is the equivalent of a household dishwasher. However, the unit runs louder than 55 dBA, especially when the compressor is running at full capacity. It's not necessarily the compressor making the noise, though it does make some. There are parts on the back of the unit that rattle when the compressor runs, which makes a very loud noise. You can try to tighten any loose pieces to quiet the rattle, but if the pieces won't tighten, then this unit may not be good for the bedroom when you're trying to sleep.
Energy Consumption
The Energy Efficiency Rating (EER) for this unit is 10, which is above average for most portable air conditioners. There are a few units with higher ratings, but 10 is an excellent rating considering it is both a heater and an air conditioner. It allows you to save money during peak times of the year when running a central unit would be too costly, and it comes with a programmable thermostat, which gives you even more control over its consumption.
Why choose Honeywell MM14CHCS?
Overall, this product is acceptable for anyone who wants a portable air conditioner and heater. The flexibility of a portable unit allows you to use it anywhere in the house, rather than permanently installing a unit in one place. And, it's EER of 10 means that it will save you money each month on your electricity bill, whether you use heat or air conditioning. Another bonus is that it dehumidifies the air quite well.
The drawbacks to this unit are that it isn't very intuitive to use initially, and it does require some modifications to work the way you want it to. The unit really should come with two exhaust hoses to keep up with 14,000 BTU's on the air conditioning side, and 12,000 BTU's on the heater side. You can order another one and install it, but it's more work than purchasing a unit that already comes with two exhaust hoses. Additionally, the unit doesn't evaporate the water from the internal tank as suggested. It must be drained or it will leak.
---
Pros
When you can get the machine to work, it actually cools spaces larger than the advertised 500 sq. feet. The unit blows strong, cold air which minimizes the time it takes to cool down a room. It's also one of the quieter portable air conditioners.
Cons
The most frustrating thing about this unit is the fact that the hoses are flimsy and don't stay on properly without help. The instruction manual says that duct tape may be required, which is unsightly and unsafe. And the other challenge is that it's not as energy efficient as it claims to be.
Bottom Line
The Koldfront PAC1401W is one of the most competitive portable air conditioners on the market today, so if you're all right working with a unit you may have to buy more parts for, then you will find value in this product.
The Koldfront-PAC1401W Ultracool portable air conditioner is a compact 14,000 BTU unit with four caster wheels for easy mobility. The unit comes with one exhaust hose that cools a room and exhausts most or all condensation automatically. In the event of a power outage, the unit features an auto-restart option which means it will start itself back up at its previous settings once the power is restored.
Performance and Features
The unit performs better than expected once you get the hose attached, but the hose is thin and the exhaust on the back only comes out about an inch which makes attaching it difficult. It may be necessary to buy clamps to keep the hose in place because duct tape is not a secure option. As the unit heats up, it melts the adhesive anyway, and the tape falls off. Koldfront could stand to improve its exhaust system.
The features include a self-evaporative system that works surprisingly better than many other units. Condensation is a given with air conditioners, and sometimes they need to be drained. Portable air conditioners don't typically exhaust condensation well. In other units, a drain tube is necessary. However, with the Koldfront unit, it has an auto-drain feature that takes away the need to constantly drain the unit.
It also includes three settings: air conditioner, dehumidifier, and a fan. The fan has three settings you can choose from, and as mentioned before, once you secure the hose, the fan is pretty powerful. The unit also has the auto-restart feature as well as a remote control to make using the machine easier. And, the shipment of a Koldfront unit includes an easy-to-install window kit.
Noise Level
The noise level varies with the fan settings, but this is one of the quietest machines on the market. The low setting is rated at 47 dB, the medium setting is rated at 50 dB, and the high setting is rated at 53 dB. These ratings are the equivalent of a home dishwasher, and it creates a white noise that is easy to tune out, especially when sleeping. That alone makes this one of the best choices when you want to cool off your bedroom.
Energy Consumption
The Energy Efficiency Rating on this unit is kind of low compared to its competition. The EER is 9.5, which means that using this machine regularly doesn't save you a lot of money. In fact, central air may cost about the same. However, if you use the programmable timer for the thermostat, you can control your usage and save on energy costs.
Why choose Koldfront PAC1401W?
The Koldfront unit cools down a 500 sq. foot space quickly, but only if you can get the hose to connect properly in the back. The unit doesn't have all the same features as its competitors, but it is quiet and does the job well. Aside from the flimsy hose that doesn't always attach properly, the other issue with this unit is that it's not as energy efficient as it could be. But, if you use the programmable thermostat, you can control your consumption a bit more.
But, the Koldfront is quiet and it's not as bulky as other units. And, it's a powerful unit for the cost.  At 14,000 BTU's, it's comparable to other name brand units. All in all, if you're willing to do a little work to get the hose to attach, you might find this unit preferable to others due to its compact form, and ability to cool a room quickly.
---
Pros
The unit adequately cools a small room, and has similar features to other units on the market. Even though the unit evaporates most of the condensation, the manufacturer added a top drain so you could connect a hose and drain anything that does not evaporate.
Cons
After awhile, the hose turns brittle and falls apart if you try to move the unit. If you live in a humid area, you will end up draining the unit often.
Bottom Line
For a small room, this unit functions well and it is a good value for the money. You can wrap the exhaust hose in insulation to prevent it from turning brittle.
The Haier HPB10XCR portable air conditioner comes with cooling options and three fan speeds so you can achieve your desired temperature with ease. It has an easy-to-install window kit and casters for improved mobility, and it uses auto evaporation technology to evaporate most of the condensation. This prevents it from leaking all over your floor and windowsill. However, the engineers even included a drain tube at the top of the machine so you can connect a hose for it to auto drain any excess condensation.
Performance and Features
The unit features three fan speeds for personalized comfort and control of the temperature. It also has three modes – air conditioner, fan, and dehumidifier – and a fully functioning remote to easily control all three. There is a 24-hour timer that allows you to set when you want the unit to turn on and off, which is great for helping you conserve energy. And, it even offers two-way air direction so you can direct the air flow where you want it to go.
When the Haier is used in an appropriate space, it cools better than expected. However, 10,000 BTU's are only good for areas up to 350 sq. feet. This unit is perfect for small server rooms or small bedrooms. In addition, it has one of the easiest installations on the market. The easy-to-install window kit fits most double hung and sliding windows, and the exhaust hose attaches the way it's supposed to. With the caster wheels on the bottom of the unit, it easily moves around as needed.
This unit uses the auto evaporation technology to evaporate condensation, and it does a good job with that. If your unit seems to be leaking or filling up a bucket quickly, you can attach a garden hose and run it through the window kit. It will drain the water continually, and you won't have to do it manually.
Noise Level
The noise level of this unit is pretty quiet compared to other portable air conditioners. It's rated at 49 dB, which is comparable to sitting in a library. The white noise the machine makes is not as loud as other units. All of the mechanical parts are indoors, so there will be some noise. Still, this unit's noise level is one of the best on the market.
Energy Consumption
The Haier portable air conditioner's EER is 9.5. According to that number alone, you should be able to save money on your electric bill. However, if this unit is used in conjunction with other units or with the central air unit, then you'll still end up paying more. By using the 24 hour timer, you can minimize the amount of energy you consume.
Why choose Haier HPB10XCR?
This unit is perfect for college students, roommates who fight over the temperature, and anyone else looking for a non-permanent solution in a small room. The design is simple and intuitive, and the unit is a power horse on the performance side. And, because of its compact size, it's quite easy to tuck it away behind some furniture, although the white color scheme does blend in with almost anything.
The one big downside is that the hoses Haier uses tend to turn brittle and fall apart if it hasn't been moved in a while. Without proper insulation, you can expect to purchase new hoses each summer after the unit was stored all winter. To combat this, wrap the hose insulation or find heavy-duty hoses that work with this unit.
---
Pros
The LG LP0817WSR 8000 BTU portable air conditioner blows a noticeable stream of cold air when the window kit is properly sealed. The unit is perfect for a small studio apartment or home office where you can save money by using this unit instead of the central AC unit.
Cons
For an 8000 BTU, it blows really loud at around 53 decibels. If you are bothered by this, don't put it on your bedroom or this unit is not just for you.
Bottom Line
The LG LP0817WSR is a perfect AC for rooms with less than 200 sq. ft. But, if you need to cool a larger space or want more special features, then this product isn't for you.
This unit is an LG product, which has major brand recognition for most people. And, it's a brand many people equate with quality. Their portable air conditioner is no different. It is an 8,000 BTU unit that uses a standard 115 volt electrical outlet. It has an LED display panel with two fan settings and two cooling speeds. In addition, this unit features the smart auto-restart feature. Should your unit lose power for any reason, the system would restart itself and resume with its previous settings in tact.
Performance and Features
It is first important to understand that this machine is only rated to cool spaces up to 200 sq. feet. Anymore than that and you will be disappointed in the product. However, at 200 sq. feet, the LG air conditioner blows out a steady stream of cold air. But, in order for the system to work properly, you first have to achieve a solid seal with the window kit. If you don't, then hot air seeps in through the kit, and it defeats the purpose of trying to cool a room. If you're having trouble feeling the cold air from this unit, check the window seal first.
To help improve the performance of the unit, wrap the exhaust hose with thermal insulation. First, it helps protect the life of the hose. Second, the exhaust hose gets pretty hot depending on the temperature outside, and when the hose gets hot, it overloads the compressor until the unit is unable to function as it should. It will still blow air, it just won't be as cold as you'd like. Another option is to cover the air duct with an insulated silver jacket to trap the heat and keep it in there.
The unit features thermostat control, two fan settings, two cool settings, and the auto-restart feature. It also runs on auto evaporate technology, so in dry climates you won't have to worry about emptying any water. But, in humid climates, the unit dehumidifies while it cools, so it may take in more moisture than the small unit can evaporate. The LG engineers included a Water Full indicator to help avoid leaks and spills for this reason.
Noise Level
The noise level rating for this unit is 53 dBA. It's about the same as a dishwasher running in the other room. The hum of the compressor isn't too bad if you're used to sounds such as the dishwasher; however, in a small dorm room the sound will seem louder. For such as small unit, you might expect this to be a quieter machine. However, 53 dBA is about average for portable air conditioners.
Energy Consumption
The EER for the LG portable air conditioner is 9, which is pretty good considering some of its competition. However, this machine produces quite a powerful burst of air so it will pull a little more on the energy than its counterparts that do not have such cooling capabilities. Still, an EER of 9 is a decent number and should save you money on your electric bill each month provided you're not using it in conjunction with a central AC unit.
Why choose LG LP0817WSR?
When it comes to getting the most bang for your buck, this unit is probably one of the best. Given that it's only 8,000 BTU's, it will only cool small spaces, but it is a powerful unit for its size. LG focused less on extending the features and more on making a product that functioned as an air conditioner. And, the features that do come with the unit make life just as easy as any other unit. These units are perfect for small dorm rooms, studio apartments, or roommates who fight over the temperature.
The one downside to this unit, which is unfortunate because it does so well in every other area, is that the window kit is cheaply made. It is difficult to get a proper seal, and it takes several tries to get it just right unless you're a master installer. For a company that focused on quality of product, LG missed the boat with the window kits.
---
How do you choose a portable air conditioner?
Portable air conditioner reviews are the best information you can get to be knowledgeable about portable AC. But let us check the six factors to consider when choosing the best portable air conditioner for you: BTU's, noise level, energy-efficiency, plug type, water removal system, and usability.
BTU's (British Thermal Units)
BTU's are units of power. It determines how powerful an individual unit is, and the area it can cool. In general, the larger the room, the more BTU's you need. Here is a helpful chart for choosing the right size for you.
100 – 200 sq. feet / 7,000 – 8,0000 BTU's
150 – 250 sq. feet / 8,000 – 10,000 BTU's
250 – 350 sq. feet / 10,000 – 12,000 BTU's
350 – 550 sq. feet / 12,000 – 14,000 BTU's
Noise Level
An important factor to consider before purchasing a portable air conditioner, especially if it is intended for your bedroom, is the noise level. Noise levels are listed in decibels (dB, or sometimes dBA). Here's a breakdown of what each noise level sounds like.
0 dBA is the lowest threshold of human hearing.
An increase of 3 dBA is barely perceptible to the human ear.
20 – 40 dBa is the sound equivalent of sitting in the library, in a broadcasting or recording studio, or a theater.
50 – 60 dBa is the sound equivalent of running the dishwasher in the next room.
70 – 80 dBA is the sound equivalent of a vacuum cleaner, garbage disposal, or gas lawn mower from a distance.
90 – 100 dBA is the sound equivalent of a blender or standing 3-feet from a gas lawn mower.
110 dBA is the sound equivalent of a rock band concert or a jet flyover at 1,000 feet.
When you wish to make a portable air conditioner purchase, you want to choose one that is as low on this scale as possible.
Energy-Efficiency
An energy efficiency rating (EER) lists how many BTU's per hour are used for each watt of power the unit draws.
All portable air conditioners have an EER.
The higher the rating number, the higher the unit's efficiency.
Energy Star labels indicate a higher EER.
The higher the rating, the more efficient the air conditioner.
A unit's price goes up as its EER goes up.
With that in mind, there are some manufacturers who exaggerate the number of BTU's their units have because they want to sell the product. Likewise, there are some manufacturers who are conservative about their unit's BTU'S to lower the EER. Energy-efficiency is important, but you cannot rely on energy ratings alone when making a purchase decision.
Plug Type
There are two parts to plug type: voltage and amperage.
Most homes are wired up to 15 amps.
Most homes have the common 125V/15A plugs that work with most home appliances.
If replacing a unit, use one with the same plug type.
In general, when you begin your search for the best portable air conditioner, you want to consider the plug type it has. If the plug is larger than 15 amps and 125 volts, you have two options. Either hire an electrician to upgrade your circuitry, or buy a unit with the 125V/15A rating. If you want to upgrade your circuitry, you have to consider that cost as well as the cost of the machine to determine the true value.
Water Removal System
Portable air conditioners collect the warm air in a room and cool it, then send it back out into the room. Naturally condensation builds up. You want to look at your different options.
Self-evaporating systems
Draining system
Manual draining system
Self-evaporating systems recycle the condensation back into the air, which eliminates any need to drain the unit. Draining system units usually have a condensate pump which pumps condensation into a tank. When it reaches a certain level, it is automatically pumped outside through a hose. In rare cases, a portable unit has a manual system. Those require you to manually drain the tank to avoid any leaks.
Usability
This includes the special features each machine has. It is prudent to compare the features and the prices to see which is a better value for you. Some of the features include:
24-hour programmable timer
Digital thermostat
Thermostat range (e.g. 65 – 88 degrees Fahrenheit)
Works as an air conditioner, fan and dehumidifier
In some cases, it's also a heater
Two exhaust tubes vs. one exhaust tube
Remote control
The more features it has, the more the unit will cost. However, if a unit includes the features you want, then consider whether the additional cost is worth the value to you.
Single Hose vs Dual Hose
You may ask yourself what portable air conditioner to choose regarding the number of hoses it has. The video below explains how a single and a dual hose  portable air conditioner work.
Video credit: compactappliance.com
Does brand matters when choosing the right portable air conditioner?
Yes! Remember that brands are one of the many factors why consumers buy a certain product. Trusted brands continue making and innovating products for efficiency and effectiveness for every household. Choosing the right brand can help you avoid service calls in the long run.
Should you buy a portable air conditioner?
There are many reasons to purchase a portable air conditioner, but choosing the right one can seem overwhelming. By understanding the important factors to consider when making your choice, you can eliminate that indecision. Take the information in this guide and consider your needs. From there you can make the best purchasing decision for you and your household.