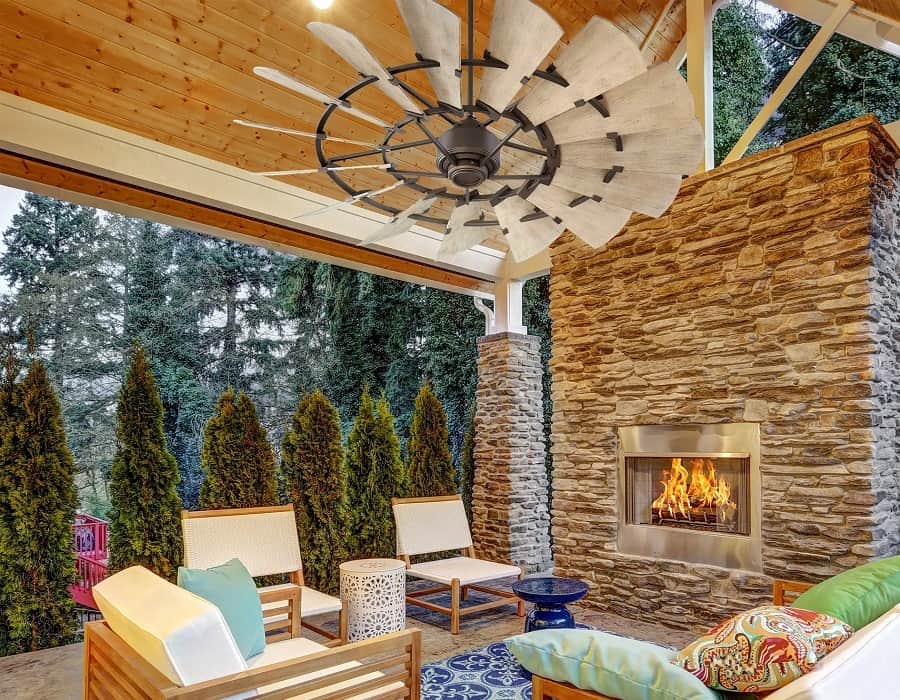 In the heat of the summer, an air conditioner is a very tempting thing to buy. However, when you stop and look at how much power it consumes, you may no longer want to buy it. Thankfully, there is a much more efficient alternative to power-consuming air conditioners. And also a beautiful one. This alternative is called windmill ceiling fan. In this article, we will tackle some of the best windmill ceiling fans and why they're perfect for medium to large-sized rooms.
Aesthetics behind it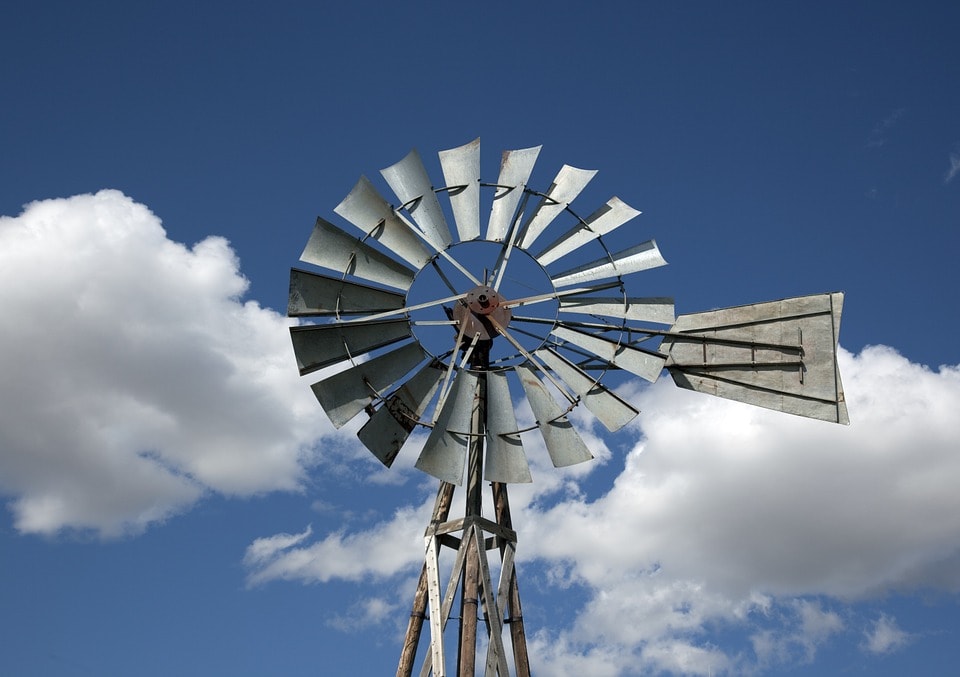 Thanks to the increased number of blades in them – usually, 10 or more – windmill ceiling fans look much more integral than traditional ceiling fans. Regular 3-blade fans often look bare and thus may weakly contribute to the styling of the room they are in.
A windmill ceiling fan, on the other hand, visually has more weight to it. It doesn't look like its a flower that has been ripped apart and left with 3 petals. Windmill-style ceiling fan catches the eye with its prominent silhouette that can be as expressive as that of a beautiful cabinet.
Best Windmill Ceiling Fans Comparison
Is it an efficient fan?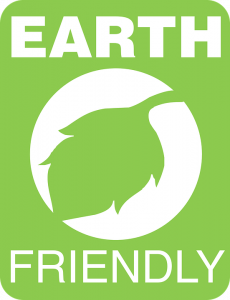 Windmill-style ceiling fans can definitely be efficient, but they may be less efficient than traditional ceiling fans. That's because windmill fans have more blades.
Within the scopes of their 2015 study, E. Adeeb, A. Maqsood, and A. Mushtaq compared the efficiency of ceiling fans with 2 – 6 blades. They discovered that a greater number of blades indeed increased airflow. However, the more blades were added, the lesser the increase in airflow was, meaning that their efficiency was decreasing.
The researchers concluded that 3-4-blade configurations are the most efficient when it comes to the balance of power consumption and airflow.
The windmill ceiling fans we reviewed all have no fewer than 10 blades. Because of this, they would all be horrible in terms of power consumption if they hadn't been equipped with power-saving motors. But they'd probably be better in terms of air circulation than fans with fewer blades.
Fortunately, modern windmill ceiling fan models have energy-efficient motors, and they are more efficient than many traditional ceiling fans. And they are pretty energy-saving on their own. But if you were to compare an energy-efficient windmill fan and a traditional energy-efficient fan, the latter would most likely be noticeably more efficient.
Some of these ceiling fans are ENERGY STAR Qualified which means you could save on your electricity bills. So, don't forget to check if the fan is qualified or not. Likewise, check out for fans with DC motors because they are the most efficient motor a ceiling fan can have.
What brands make this fan?
There are many brands that make windmill ceiling fans, but a couple of them are particularly remarkable:
Quorum windmill ceiling fans are made in a vintage style, so an appropriate setting would be required for them. At the moment of this material's writing, Quorum offered a wide range of windmill-style ceiling fans sized from 44 to 72 inches.
Monte Carlo. Windmill ceiling fans by Monte Carlo have a sleeker design, so they would be good for modern-style interiors. Their catalog is a bit more limited than that of Quorum, but there still are great models to choose from.
Modern Forms. This manufacturer produces a wide range of smart ceiling fans that can be used with an array of devices, including IOS and Android smartphones and assistants like Amazon Alexa or Google Home.
Home Decorators. Home Decorators is primarily manufacturing traditional ceiling fans, but they have several good large-room windmill fans. We'll be featuring a couple of their products today as well.
The Best Windmill Ceiling Fans in 2023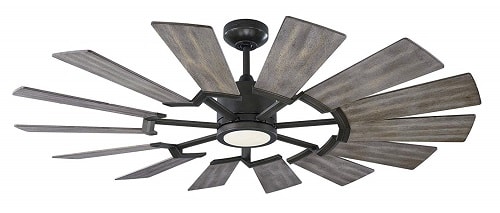 Specifications
Up first on our reviews is a windmill ceiling fan that is a good option for vintage-style interiors. This is mainly thanks to the light grey weathered oak blades which make the design of this ceiling fan.
This Prairie II ceiling fan features 14 blades with a 54-inch sweep, which allows it to deliver 5003 cubic feet per minute (CFM) of airflow at its highest speed setting. Thanks to this, Prairie II ceiling fan can work very well with large rooms.
The blades also have a 14-degree pitch, which is an optimal angle when it comes to balancing air circulation and power consumption. And the last feature of the blades is that they are reversible, so this fan can be used not only for cooling but also for warming.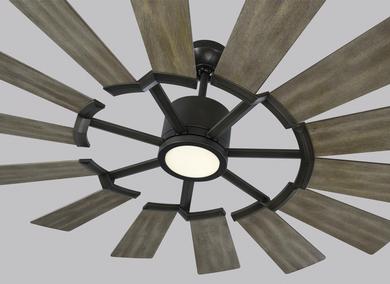 In terms of energy efficiency, this ceiling fan is pretty good thanks to its efficient 25W DC motor. Its efficiency at maximum speed is 197 CFM/W, which is a great coefficient.
Prairie II ceiling fan has been safety listed for damp locations, so it could be pretty safely used in humid areas. But you won't be able to use it outside since it isn't resistant to rain or snow.
If you'll be installing a ceiling fan in the place of a lamp, then the integrated 15W LED lamp will probably be a nice addition to you. But if you don't need it, you'll be able to close it off with the provided cap.
Monte Carlo Fans also includes a remote with their fan which allows convenient adjustment of the fan's settings, including its 6 speed settings.
In the end, this Prairie windmill ceiling fan may be a great buy for you if you have a vintage interior with wood accents.
---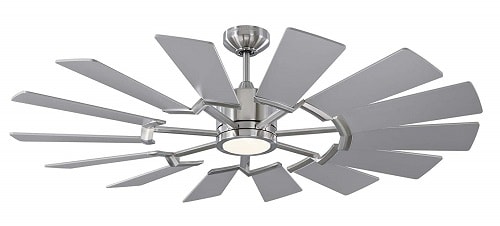 Specifications
This Prairie ceiling fan is identical to the Monte Carlo Fans ceiling fan we've just reviewed, except for its color scheme, materials and ENERGY STAR Qualified. The blades of this windmill-style ceiling fan are made from brushed steel colored silver. And this is the thing that completely changes the aesthetics of the Prairie ceiling fan.
The oak wood fan was good for more vintage and darker interiors, while this Prairie fan is made for more modern and brighter interiors. This is the only thing that makes the brushed steel Prairie different from the oak wood one.
Other than that, the two Prairie ceiling fans are identical.
This one comes with the same 6-speed DC motor paired with 14 52-inch blades, which allows for a 5003 CFM airflow. So it will be good for larger rooms. And the blades can again be reversed to push down the warm air down to the floor to make the room warmer in winter.
The safety certification for damp locations along with the coverable LED light and a remote control is also there.
So when you look at it, the brushed steel Prairie is a great choice for large rooms with modern and bright décor.
---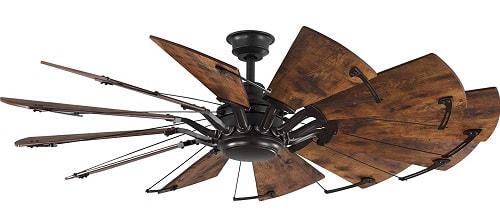 Specifications
The Progress Lighting P250000-129 Springer is quite a unique windmill ceiling fan. Let's see what this fan brings.
Progress Lighting has been in the market for several years and their P250000-129 Springer is the best windmill-style fan they have. It boasts an air flow of 6,485 CFM and an air flow efficiency of 201 cubic feet per minute per watt which is surprisingly efficient.
This fan is equipped with 12 distressed walnut finish blades that are interconnected with decorative rods that really mimics a windmill. Enjoy its reversible functionality that is designed during winter. Now that's one of a kind!
On the other hand the motor consumes 32 watts. It is housed with an architectural bronze finish which makes it stylishly rustic. It is not Energy Certified but it utilizes a DC motor which is tested to be efficient. You can also choose the antique nickel finish if you want a brighter color.
Unfortunately, this fan has no lighting kit and there is no universal light kits compatible with this fan. So if you plan to buy this fan, be sure your house is bright enough.
So where can you use this fan?
This fan is ideal for farmhouses, industrial interiors and of course houses with high ceiling. Since this fan has a great air flow, make use of it for a wider spaces like in the living room. Do note that this fan is UL certified for indoor use only.
---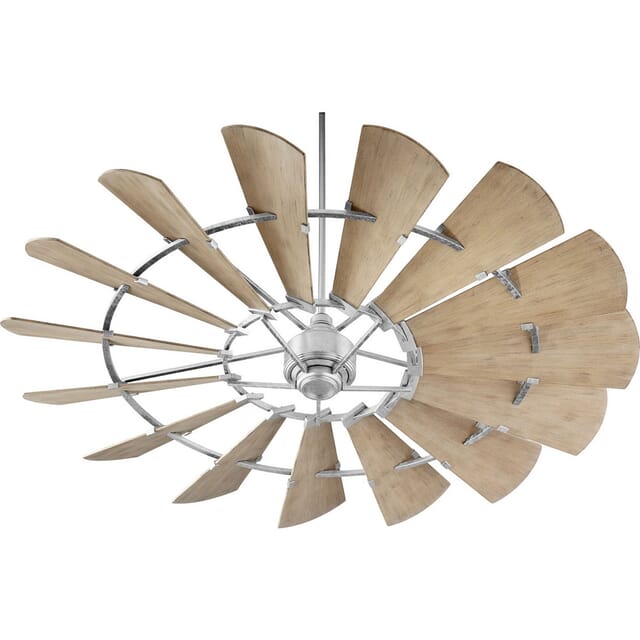 Specifications
Quorum's 72-inch windmill ceiling fan is truly a monster of a fan. If you are looking for a huge ceiling fan for a huge room, then this one may be an excellent choice for you.
This fan is equipped with 15 blades with a 72-inch sweep. This is considerably larger than the sweep of the Prairie fans we reviewed earlier.
Add to that the 30-degree pitch of the blades, and you get a fan that has plenty of airflow capacity, 6486 CFM, to be exact, as stated by the official website of Quorum. The Prairie fans already had plenty of airflow, but this one pushes things even further.
The power consumption of the Quorum 72-inch fan is great as well. This thing consumes just 33W, which combined with its airflow allows for a good efficiency of 192 CFM/W, which is just shy off of the efficiency of the Prairie fans.
The blades of this fan are reversible, so you could enjoy the benefits of its power not only in the summer but also in winter. And there are also 6 speed settings for them.
With all that being said, there are some things that this ceiling fan doesn't have.
The first thing is that it is designed for indoor use only. It is certified UL Dry, so even humid environments would be a problem for it, not to mention that it can't be used outdoors.
And besides, this thing is shipped with wall controls only. There is a remote available for this ceiling fan, but it has to be purchased separately. It also doesn't have a light in it, though it can be added as well.
Quorum includes a 6-inch downrod though to assist you with the mounting.
By the way, we haven't talked about the design of this fan. Like the first Prairie, it has oak blades, but they are colored more lightly. Paired with the Galvanized frame, this makes the Quorum fan a good pick for an interior that has plenty of wood accents to it, both bright and dark in color.
---
Specifications
This Quorum windmill-style ceiling fan is the smaller brother of the 72-inch fan we've just reviewed.
The blade configuration in this ceiling fan is the same, except the blades have a shorter 60-inch sweep. This difference in the sweep results in a reduced airflow rate of 5982 CFM, which still is a very good amount. You could still use this thing for pretty large rooms.
While the 60-inch Quorum is smaller than the 72-inch one, it has better airflow efficiency. Consuming 29W, this ceiling fan has an airflow efficiency of 202 CFM/W. The previous fans were good in terms of efficiency, but this one is slightly better.
Here, the differences between the 60- and 72-inch Quorum fans end. They are identical to each other in the rest of the features, including their design. All the features of the larger fan – reversible blades, 6 speeds, wall controls, and whatnot – are here. Similarly, this thing is only designed for indoor use.
---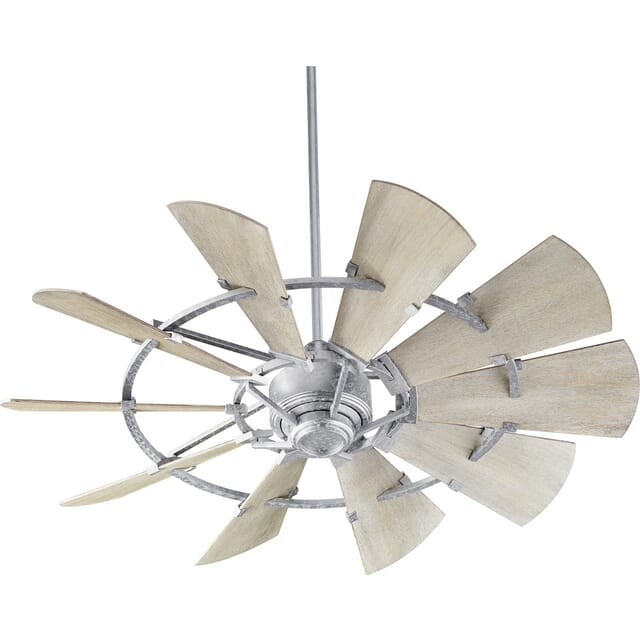 Specifications
The 52-inch Quorum ceiling fan is the third fan on the Quorum fan list with a 52-inch blade sweep. But this one is much different from the 52-inch Prairie fans we reviewed in the beginning.
This windmill ceiling fan has a blade configuration that is similar to that of the previous two Quorum fans. However, this fan only has 10 52-inch blades, not 15. And the Prairie fans had 14.
Because of this, the airflow capacity of this fan is lower than that of the Prairie fans. It is 3680 CFM, while the Prairie fans had 5003 CFM. This means that the 52-inch Quorum is better suited for mid-size rooms.
In the end, this ceiling fan consumes 32W of power, and this means that its airflow efficiency is 115 CFM/W, which means that its airflow efficiency is somewhat lower as well.
Other than that, this ceiling fan is identical to the previous Quorum fans. So all in all, if you were looking for a small ceiling fan that doesn't consume much energy, this one may be the right choice.
---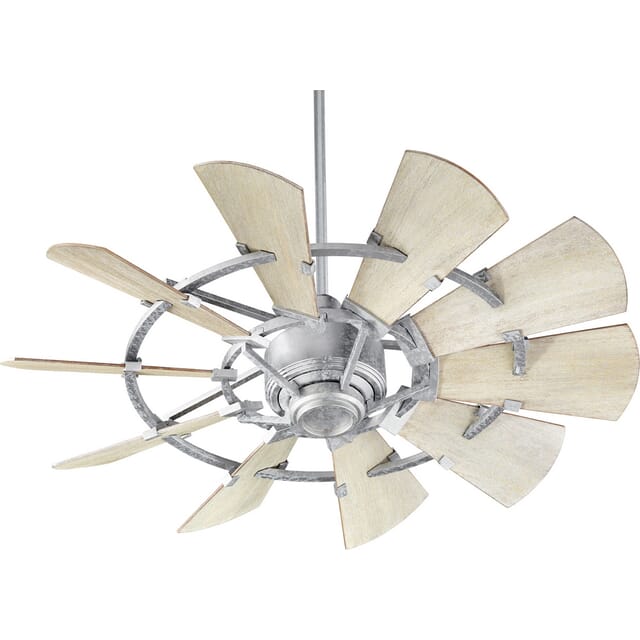 Specifications
For smaller rooms, the 44-inch Quorum windmill ceiling fan is a rather nice choice. It's fairly similar to the other Quorum fans we reviewed, but there are some big differences as well.
The first difference to catch the eye in this fan is its galvanized frame. Because of it, this ceiling fan would fit interiors where light colors are more dominant than others.
The blades of this fan are similar to the ones of the 52-inch Quorum ceiling fan in that that there are 10 blades with a 30-degree pitch. However, measuring 44 inches long, they are shorter. This means that this fan is more suitable for mid-smaller rooms.
Unfortunately, Quorum doesn't indicate how much the airflow of this fan is. And because of this, measuring its airflow efficiency also can't be done, even though Quorum indicates the wattage of this fan.
Speaking of the wattage, this fan has a 32W wattage, nearly as much as the 72-inch Quorum fan had. The 44-inch fan thereby is less energy-efficient than its bigger brothers. However, it still is more efficient than traditional fans that consume well over 50W of power.
Other than that, this fan is identical to the other Quorum fans we examined.
---
Specifications
The last windmill ceiling on this list from Quorum is yet another 44-inch model. This thing is identical to the galvanized 44-inch fan we've just reviewed. Aside from two things.
The first one is that the frame of this ceiling fan is made in oiled bronze color, which is the same color used in the larger Quorum ceiling fans. This fan thereby is a better choice for interiors with a combination of dark and light colors.
The second difference is that this fan is actually certified UL Damp, so it can be used in humid environments such as patio. But it still can't be used outdoors like an open gazebo.
As for the rest of the features, this windmill-style ceiling fan doesn't differ from the other 44-inch fan. Namely, this thing has 10 44-inch blades with a 30-degree pitch, 32W wattage, and comes with wall controls.
---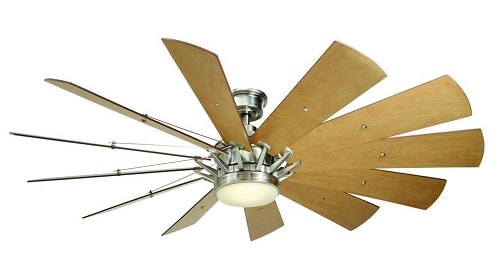 Specifications
The Trudeau 60" is yet another windmill ceiling fan for large rooms on our reviews. This thing boasts 6984 CFM of airflow capacity. For comparison, the 60-inch Quorum had "just" 5982 CFM. Even the 72-inch Quorum had 6486 CFM!
And all this in spite of the Trudeau fan having 12 blades, while the 72- and 60-inch Quorum fans had 15!
Now, how does the Trudeau fan have more airflow capacity with fewer blades? That's most likely due to a more powerful motor. While the manufacturer of this fan doesn't indicate their fan's power and airflow efficiency, it is safe to say that the motor of the Trudeau is more powerful.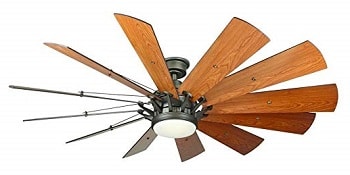 And most likely less efficient. But if you don't care much about power consumption and just want a windmill-style ceiling fan for an about 400 square feet room, then this ceiling fan may be the best choice out there.
Unfortunately, Home Decorators doesn't provide info on the pitch of their blades either. But it seems to be at around the same angle as Quorum fans' blades.
The Trudeau ceiling fan comes with a dimmable 18W LED light source, so you'll be getting a two-in-one lamp and a ceiling fan, just like it was with the Prairie fans we reviewed in the beginning. This fan also has features like a light timer, a fan reverse function, and a comfort breeze feature that randomly changes the speed to create a mild wind.
This ceiling fan is also designed for indoor use only, so keep that in mind.
When it comes to design, the Trudeau ceiling fan comes with a silver body and light brown blades. This color combination would make this fan fit well in interiors with light brown furniture with a few accents of white and silver.
---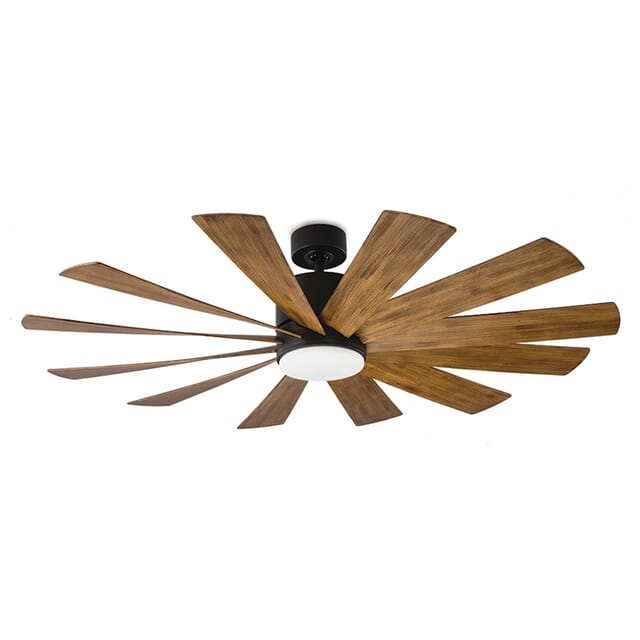 Specifications
If 6984 CFM of airflow capacity weren't even remotely enough for you, then maybe Modern Forms' ceiling fan will be able to satisfy you.
This thing offers monstrous airflow capacity of 8840 CFM, which should be enough to ensure good air circulation in rooms well over 800 square feet. And all this in spite of the 60-inch sweep of the 12 blades!
The thing that makes this possible is the powerful motor of this windmill ceiling fan. It has a 49W wattage, which is noticeably more than all the other ceiling fans we reviewed had. However, the airflow efficiency of this thing is very high – 180 CFM/W, to be precise – which makes it one of the most power-efficient fan we reviewed today.
So when it comes to power efficiency, this ceiling fan produces plenty of airflow for its power. But it consumes quite a lot of raw power. Thereby, it may not be the best choice in terms of money saving on energy.
The power of this ceiling fan isn't its best feature though. This thing can also be controlled by Android and IOS devices!
Things like scheduling, fan grouping (if you have several Modern Forms fans), smart home integration, reverse activation, light dimming, and many other things can be done with no remotes. The smart home integration can be done via Amazon Alexa, Google Home, Nest Protect, Nest Thermostat, or Ecobee.
If you are more old-fashioned though, you could use the provided wall control. Or you could get yourself an optional remote.
And the last remarkable feature in this ceiling fan is that it is certified for use in wet conditions. In other words, it can be used outdoors!
In the end, thanks to its features and the sleek design, this ceiling fan can become a great addition to a house of the future.
---
Choosing the right windmill ceiling fan
With all this beauty reviewed, how do you possibly pick the right one? They are all very good, after all!
To pick the best windmill ceiling fan, you would need to know what you need and what to look for.
Motor
Windmill ceiling fans have either AC (alternating current) or DC (direct current) motor. Now if you prefer efficiency, go for fans with DC motors. They have low power consumption unlike with the AC motor.
Moreover, some of these fans are Energy Star qualified which means they consume lesser energy. So, don't forget to check these factors before buying a windmill ceiling fan.
Blade size

The blade size is one of the major things in windmill ceiling fans that affect its airflow. A fan with larger blades delivers higher airflow, and vice versa.
Needless to say, the question of picking the right ceiling fan size for your room arises. A small fan in a too large room won't be able to provide sufficient airflow to cool you down (or warm you up), while a too big fan would deliver more airflow than desired. And a too big fan may be energy-inefficient.
Before selecting a ceiling fan size, you need to measure the area of your room in square feet. To do that, first measure the length and width of your room and then multiply the numbers to get its area. For example, if the room is 10 feet long and 10 feet wide, then its area would be 10 x 10 = 100 square feet.
And then, following this chart, choose an appropriate windmill ceiling fan:
| | |
| --- | --- |
| Room area (square feet) | Recommended blade length (inches) |
| Under 144 | Under 42 |
| 144 – 225 | 44 – 50 |
| 225 – 400 | 50 – 62 |
| Over 400 | Over 62 |
Blade number
The number of blades in a ceiling fan also impacts the airflow it produces, but to a lesser extent than their length. While a greater number of blades increases airflow, this doesn't mean that you should get a ceiling fan with the greatest number of blades. It may become too energy inefficient, as we said at the beginning of the material.
So when trying to decide between blade numbers, check how much power the fan actually consumes.
Blade angle
The blade angle (blade pitch) is the last important thing that affects the amount of airflow that a ceiling fan delivers. Generally, the greater the angle, the higher the airflow is.
However, greater angle also means that the drag on the blades will be increased. A more powerful motor will be required to overcome the increased drag and maintain speed. Because of that, there is a certain balance that needs to be found.
A 2011 study by A. Falahat investigated the flow coefficient of 30 – 70-degree blade angles. 45-55-degree angles were found to deliver the highest flow coefficient. Thus, 45-55 degree is a pretty balanced number when it comes to airflow/wattage ratio, but the raw power consumption may be higher due to increased drag.
The windmill ceiling fans we reviewed had a blade angle from 13 to 30 degrees. If energy efficiency is more important to you than airflow, a lesser angle would be better. But if you need more airflow and don't care about power consumption that much, 30 degrees would be the best among the reviewed fans.
Airflow
The airflow is the amount of air that the fan circulates per minute. It is denoted in cubic feet per minute (CFM). The right airflow will depend on the area of your room, just like it was with blade length.
| | |
| --- | --- |
| Room area (square feet) | Recommended CFM rating |
| Under 144 | 1000 – 3000 |
| 144 – 225 | 1600 – 4500 |
| 225 – 400 | 2300 – 5500 |
| Over 400 | 5500 – 13500 |
Wattage
Pay attention to how much power the ceiling fan consumes. All the windmill ceiling fans we reviewed have pretty low wattage, but there is a big difference between 30W and 50W. If you really need to save money on energy, go for lower wattage.
Another thing to look for is energy efficiency measured in CFM/W, which denotes how much airflow the fan produces per unit of power. Overall, you should look for the fan with the highest efficiency and lowest wattage that can satisfy your needs.
Mounting
The way a windmill ceiling fan is mounted is an important thing to consider as well. The right way will depend on the height of the ceiling in your room.
For rooms where the ceiling height is less than 8 feet, a low-profile flush-mount ceiling fan would be the best. This would ensure adequate airflow and that the fan is away from furniture or your head.
If your room's ceiling is 8 – 10 feet high, then a ceiling fan with a standard mounting downrod would be an appropriate choice. And for rooms with ceilings higher than 10 feet, an extended downrod would be necessary. Ceiling fans usually come with standard downrods, but if they don't, you would need to buy one.
If the ceiling in your room has a slope, then you would need to install a sloped ceiling adapter to make sure that the fan's fixtures hang the way they should.
| | |
| --- | --- |
| Ceiling Height (Foot) | Downrod Length |
| 8 feet and below | No Downrod |
| 9 Feet | 6 Inches |
| 10 Feet | 12 Inches |
| 11 Feet | 18 Inches |
| 12 Feet | 24 Inches |
| 13 Feet | 36 Inches |
| 14Feet | 48 Inches |
| 15 Feet | 60 Inches |
| Over 15 Feet | 60-72 Inches |
References: Lowes and Delmarfans
Lights
Ceiling fans are often hanged in the place of lamps. If you don't have another light source in the room, you would probably want to get a ceiling fan with a light. Opt for a fan with LED light since LED is the best when it comes to energy efficiency.
Water resistance
You will need to get a water-resistant ceiling fan if you'll be installing it outside or in humid locations. The Underwriters Laboratories (UL) assigns ratings to ceiling fans based on their water resistance:
UL Dry. These fans are designed for dry indoor locations only.
UL Damp. Windmill ceiling fans certified UL Damp can be used in humid areas but not outdoors.
UL Wet. UL Wet fans are designed resistant to rain, snow, and water, so they can be safely used outside.
More about damp and wet rated ceiling fans on this article.
Where should a ceiling fan be installed?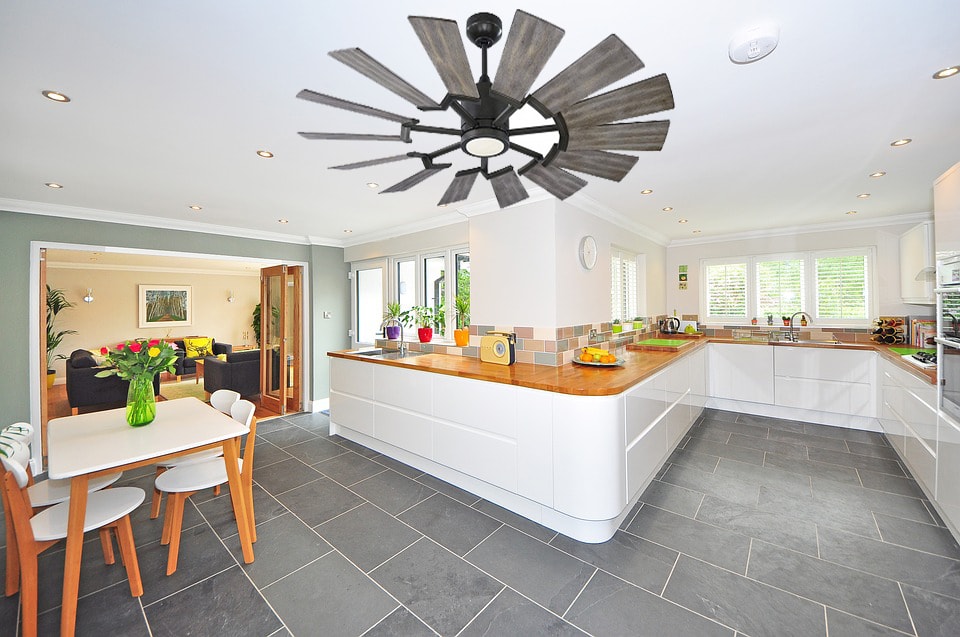 Even if you buy the best windmill ceiling fan in the world, it won't be able to work efficiently if you hang it in the wrong spot. Thereby, you need to know where and how you should install a ceiling fan. Here are several tips for you:
Install the ceiling fan in the place of an old electrical fixture, e.g. a lamp. Ceiling fans are pretty heavy, so you should hang one from an existing electrical box in the ceiling.
If there isn't one in the ceiling, you would need to install it. The best spot to do so would be in the middle of the ceiling to ensure uniform air circulation in the room.
Ceiling fans' blades must be at least 6 feet 4 inches above the finished floor. Don't install a ceiling fan in a room where the ceiling is too low.
The blades must hang at least 8 – 10 inches below the ceiling.
The blades must be at least 18 inches away from walls, doors, light fixtures, and other furnishing items.
Hang your ceiling fan 8 – 9 feet above the floor to ensure optimal airflow.
The spot on the ceiling and its surrounding area shouldn't be damaged or cracked.
Should you get a windmill ceiling fan?
If you value looks as much as performance, then a windmill ceiling fan may be the right addition to your interior. However, if you need maximum power efficiency, then a traditional 3-4-blade ceiling fan would likely be the better choice. For example, Monte Carlo Fans has 3-blade fans that have airflow efficiency of 245 CFM/W, which is much higher than any of the windmill ceiling fans we examined could deliver.
But in the end, the choice is yours. Pick the one that you really need.
---