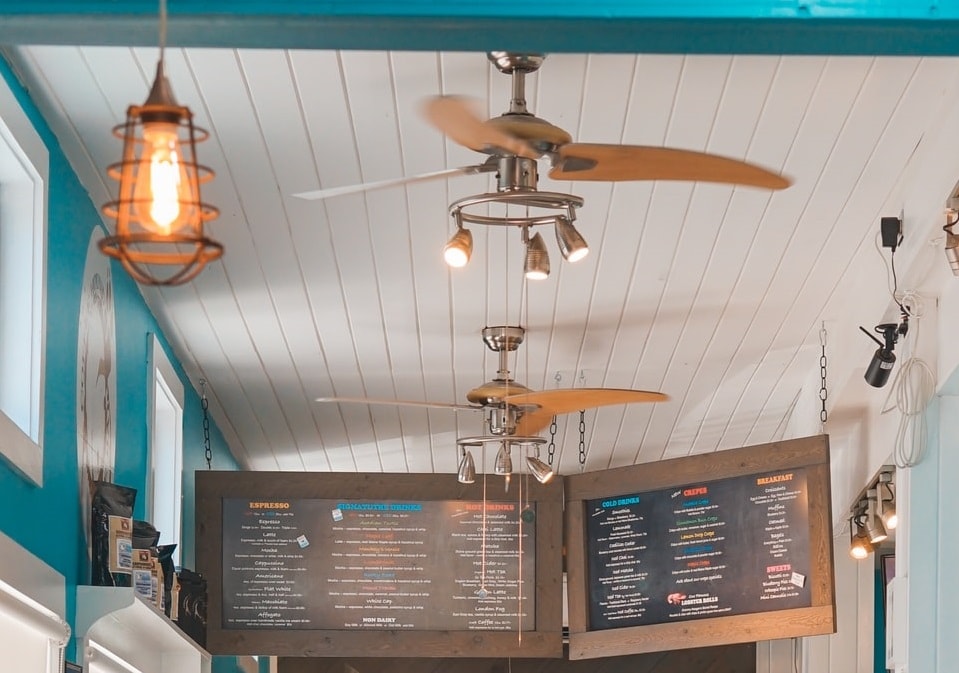 Ceiling fans are a staple in every household. They are extremely useful for circulating air, whether in warm or cold weather. The electric version of the fan has been around since the 1880s, and throughout the years, many unique ceiling fans have been designed. Ceiling fans can be designed to suit your indoor or outdoor décor.
There's a ceiling fan designed for almost any design aesthetic, whether you're going for rustic, antique, modern, or industrial. Many contemporary ceiling fans are usually integrated with light fixtures, making them multi-functional and decorative.
Check out this comprehensive reviews of various unique ceiling fans and choose one that suits your lifestyle, budget, and preferences:
Quorum 72" Windmill
The Quorum Windmill is one of the finest and most unique ceiling fans made. It runs quietly and smoothly and does not make a wobbling noise. Fans with a large blade fan such as this (72″) do not give a cooling effect because the airflow is spread over a larger area, and the Quorum Windmill has this characteristic. This noir black fan with weathered oak blades is designed for both indoor and outdoor use.
Check out more of windmill-style ceiling fans here.
Savoy House Taurus 6-Light Air Ionizing Fandelier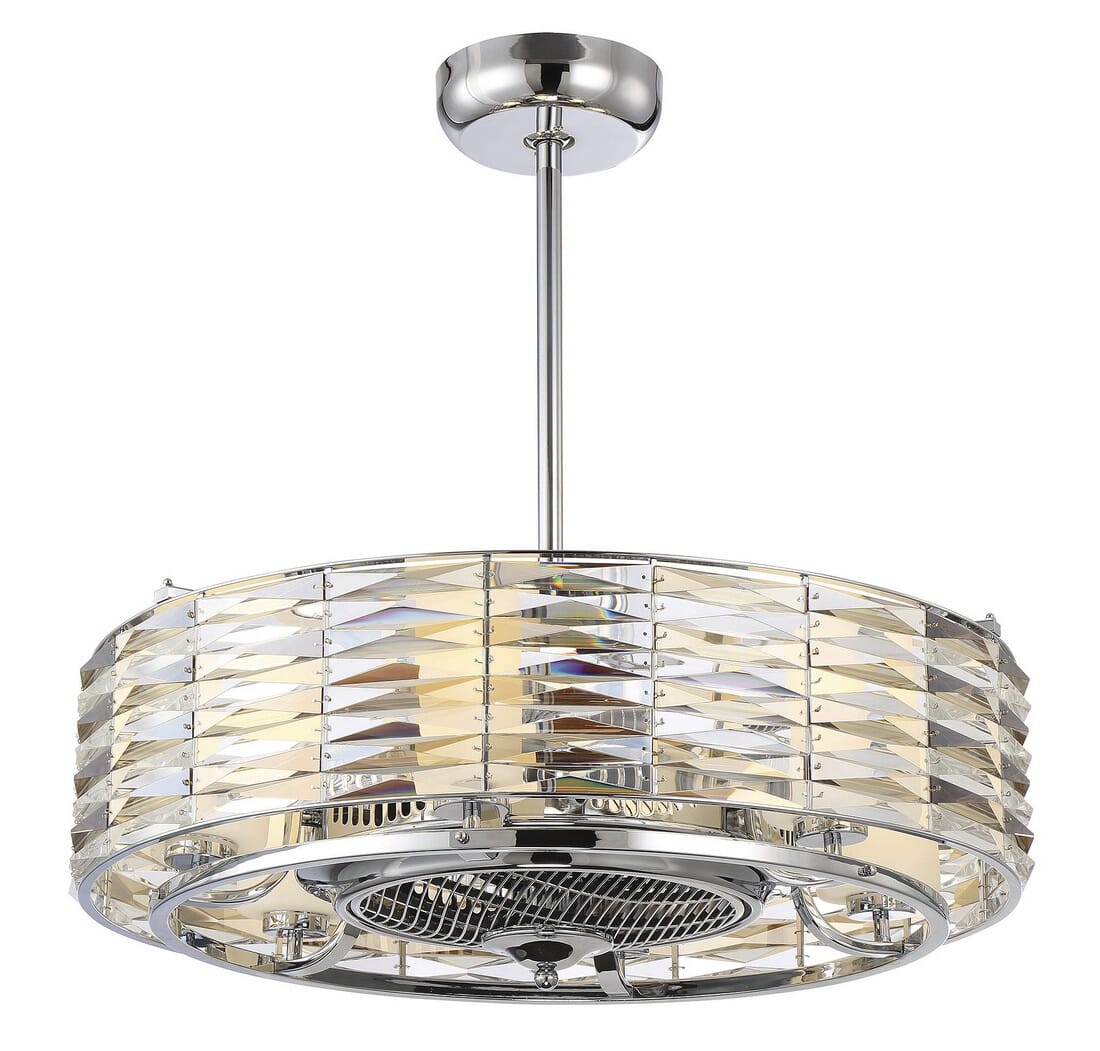 The design of this ceiling fan is very special and a guaranteed conversation starter. With its astonishing design, you can't tell if it is a chandelier or a ceiling fan. But this is both! You also get an air ionizing feature!
Craftmade Winton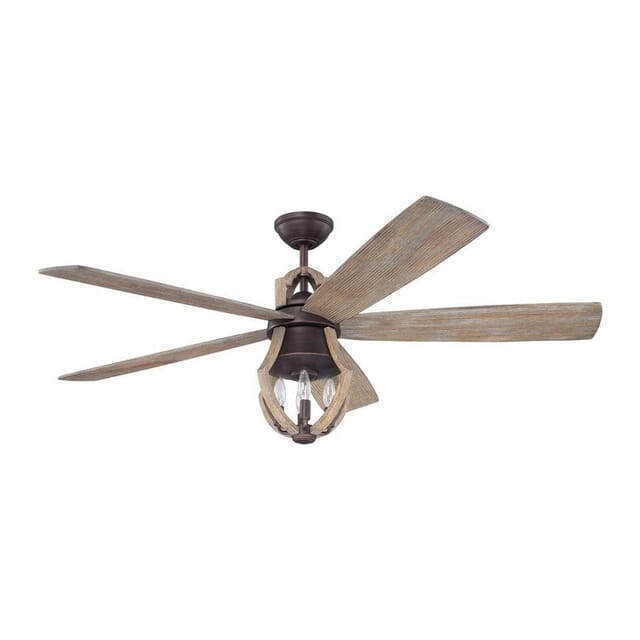 This ceiling fan is in aged bronze with weathered pine accents and pine blades. There is a 4-bulb open light fixture that comes with it. It's more than makes up for its below-average wind speed factor with its smooth, quiet operation and durability. Its efficiency rating is above-average!
Westinghouse Lighting 7850500 Elite
This cool unique ceiling fan from Westinghouse Lighting has three adjustable spotlights on a light circular track kit. It is ideal for rooms with a size of 12 by 12 feet. This stylish and inexpensive fan has some inconsistencies. It could run quietly and smoothly, but sometimes it gets out of balance and runs loudly. However, if it is properly installed, it works just fine.
Maxim Lighting 60003SN Counter Fandelier
This ceiling fan stands out in any space.  With the perfect combination of form and function, this fan with a Satin Nickel/brushed steel finish will enhance any indoor space. This stunning ceiling fan with its modern, industrial design has superior performance.  It is very durable and runs smoothly and quietly, although many are surprised with its price. Retailing at more than a thousand dollars, it is on the pricey side.
Savoy House Borea Air-Ionizing Fan d'Lier Ceiling Fan
This Savoy House Borea air-ionizing fan offers the best of both worlds: a stunning chandelier and a ceiling fan. This elegantly designed air-ionizing fan has curved light arms, a ball finial, and an upswept scroll frame. The decorative grillwork on the fan housing at the center allows the air to freely circulate around the room. It circulates anions (negatively-charged ions), which helps increase the flow of oxygen to your brain. The air circulation is phenomenal and you can hardly hear it running.
Fanaway Classic Retractable Indoor Ceiling Fan
This ceiling fan in matt nickel and espresso has an energy-efficient AC retractable blade. When it is switched off, the fan blades retract automatically and are concealed above the light kit. It runs quietly and the yellow bulbs have a nice warm hue, which can either have a cozy effect on a room or be too dim, depending on your purpose for it. The fan circulates around the room quite nicely, although it doesn't have a reverse functionality.
Fandian Modern Ceiling Light (42-inch)
This Fandian 42-inch ceiling fan with light comes with remote control and retractable blades.  It is ideal for indoor use, particularly in the bedroom. The silent motor of the Fandian 42-inch fan will make your sleep comfortable.  It has a long, durable working life and has a strong power supply. The expectancy of the light source is up to 60,000 hours.
Parrot Uncle Modern Crystal Chandelier Fan
This eccentric ceiling fan from Parrot Uncle features replaceable cool white lights. It gives an elegant atmosphere to any indoor space, and the crystals cast a beautiful pattern on the walls. Made from iron, crystal, and fabric, there is no denying that this ceiling fan and chandelier is stunning.  The fan runs fairly well. The light is bright enough, although the little crystals can be fiddly when installing. It is best to hire a professional to install it.
RS Lighting Unique Crystal Ceiling Fan Light (Silver)
Applicable for indoor use, this cool ceiling fan brings natural wind in four seasons. Its silver color exudes elegance and will look great in any space. The acrylic fan is transparent and has retractable blades. On high speed, the fan has mild wind noise but it is completely silent when it is at low speed. Fan durability is questionable as some online users complain that after a few months of using it, it wouldn't turn on.
Kichler Spyra Ceiling Fan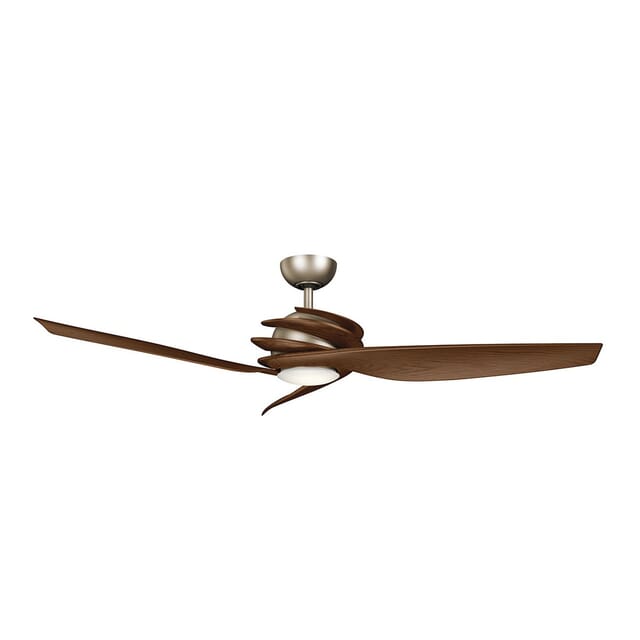 This super cool ceiling fan has razor-thin blades that reflect the light beautifully. With a contemporary style, it would look good in a modern-style indoor space. If you're looking for a ceiling fan with a highly-efficient LED light, I highly recommend this product. It also has an efficient DC motor, which doesn't use up a lot of electricity. The fan also generates a good amount of breeze. Plus, it looks really cool with its walnut-colored blade finish.
Kichler Shuriken Ceiling Fan
The beautiful Kichler Shuriken is a truly bizarre ceiling fan, designed for people who are looking for fixtures that stand out above the rest. This stunning fan is elegance in motion. This fan is well-loved and for good reason: it runs very well, it is easy to install, and it is durable.
Hunter Apache 54-inch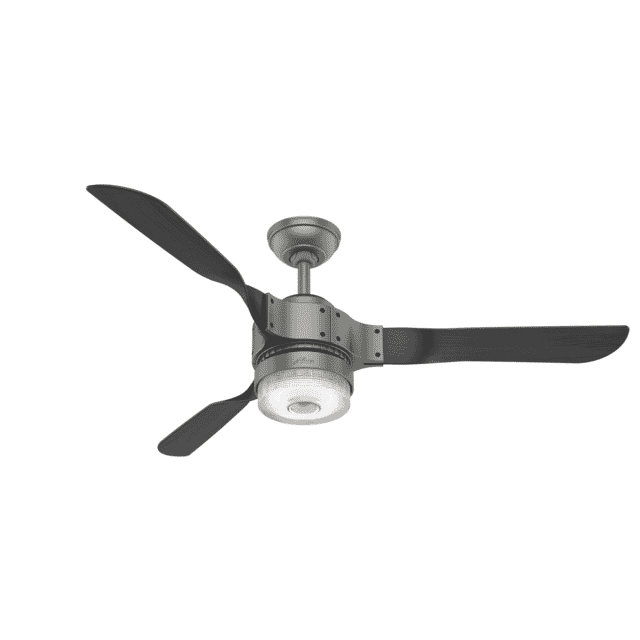 Hunter Apache 54-inch is part of a contemporary line of
ceiling fans that work with home automation
applications. It works with Google Assistant, Amazon Alexa, and Apple Homekit. A combination of state-of-the-art technology and beautiful design makes the Hunter Apache a must-have fan fit for large indoor spaces. The blade pitch of Hunter Apache is optimized for ideal air movement and peak performance. It has a very powerful air movement, plus it is also very quiet.
Fanaway Evo2 Retractable Ceiling Fan
This indoor ceiling fan has 4 retractable blades. With an energy-efficient design, this fan has a unique, versatile aesthetic that visually integrates into almost any indoor space. The fan creates a centrifugal force that circulates all over the room. It has a high airflow efficiency of 183.06 cubic feet per minute per watt. All-in-all, it is a durable ceiling fan that does what it's meant to do.
LuxureFan Crystal Chandelier and Ceiling Fan
Perfect for your living room or restaurant, this LuxureFan ceiling fan is designed with a crystal chandelier that makes any indoor space look opulent and luxurious. This well-built indoor fixture is made with sturdy and durable materials. The motor of this LuxureFan ceiling fan delivers a very powerful air movement. It also runs very quietly – you can barely hear it.
Home Decorators Collections Brette
You will love this distinctive ceiling fan with the color of brushed nickel. This versatile fan can be used both indoors and outdoors. The contemporary aesthetic of this fixture is ideal for industrial or modern spaces. This fan runs quietly and is relatively wobble-free, particularly at its lowest speed. It could get pretty noisy on high. The light is adequate, but not really very bright so it is not ideal for reading or working.
Modern Forms Stargazer 52"
This ultra-modern fan in liquid nickel is a smart fan, employing state-of-the-art technology. Not only does it have a top-notch style that complements any contemporary interior or exterior space, but it is also energy-efficient. Made from weather-resistant and highly-durable materials, it is dependable and unsurpassed in performance. It has a slightly above-average amount of airflow.
Haiku 60" Ceiling Fan
This technologically advanced cool unique ceiling fan has beautiful caramel bamboo blades which makes it stand out in any space. Built from premium materials, this fan uses Haiku design technology, which has won more than 75 international awards. An Energy Star qualified ceiling fan, it has an above-average amount of airflow, providing enough wind chill effect to keep you cool and comfortable.
Craftmade Kids Ceiling Fan – Tiger Shark Warplane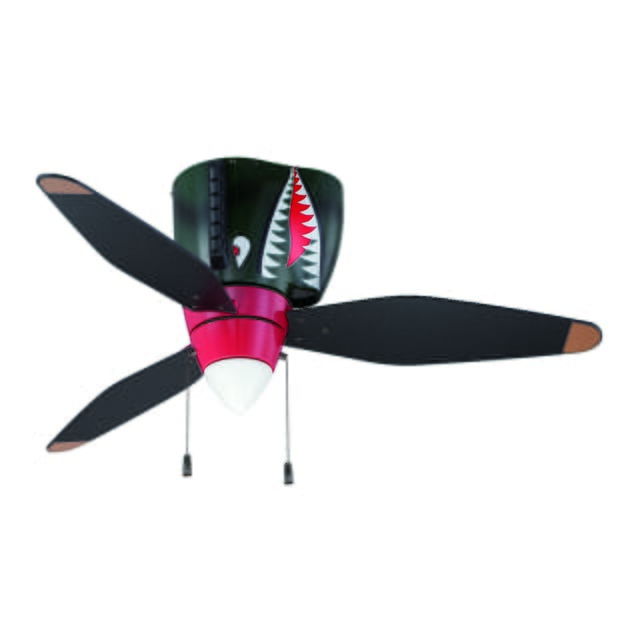 This fun ceiling fan features a cleverly-designed tiger shark warplane. Your little boy (or girl) will surely love its unique airplane design. This fan has a quiet AC motor. It produces a steady airflow (4,138 CFM) that keeps your child cool. However, the housing is made of flimsy plastic and it is controlled by a pull chain, features that may not be stable in the long run.
Casa Vieja Sleuth Modern Ceiling Fan
This modern ceiling fan is stunningly beautiful and has a one-of-a-kind look. It can be placed in modern or contemporary indoor spaces. With an oil-rubbed bronze finish motor, this fan has a quality build and it puts out a lot of air with its excellent air movement.
Parrot Uncle 46-Inch Industrial Ceiling Fan
This industrial ceiling fan that features a vintage cage has 4 retractable acrylic blades.
The blades of this 42" fan are shaped in a way that could move a serious amount of air. It is not a very loud fan; however, there is a distinct audible sound that could be annoying after a while, especially when you're trying to get a good night's sleep.
Craftmade Black Sheep Warplane for Kids (42-inch)
Ideal for a little boy's room, this airplane hugger fan is named the Black Sheep in honor of Major Gregory Boyington. Nicknames "Pappy", he was an American combat pilot during World War II. Crafted with a silicon steel body with custom-styled plywood blades, this ceiling fan has a quiet AC motor that produces an airflow of 1,927 CFM. With its two propeller blades, it does not give a lot of air. In addition, it also doesn't put out much light in its brightest setting.
Minka Aire Artemis IV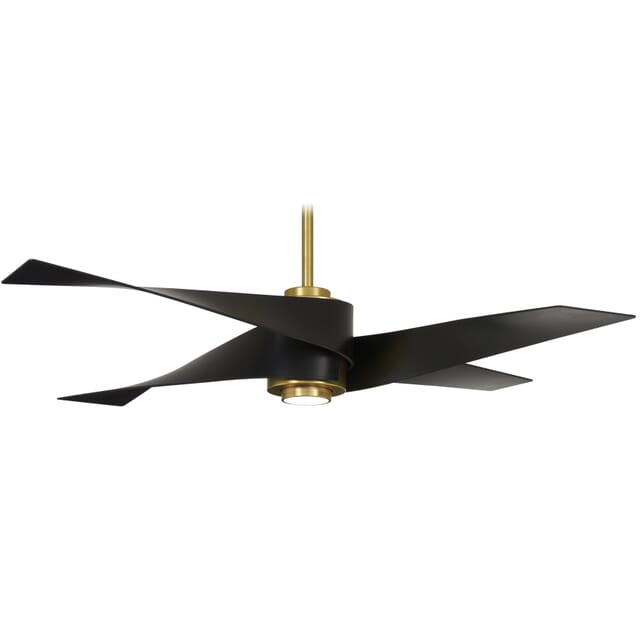 This stunning 64" LED unique ceiling fan looks has a classic, minimalistic look that is a popular trend in journals and magazines. It is a real show stopper and ideal for your bedroom or living room. The super-efficient DC motor of the Minka Aire Artemis IV is a great feature, especially if you're environmentally-conscious and want to save on electricity costs. It has a decent amount of breeze and has great amount of airflow.
Craftmade Augusta (60") Cottage White
This quirky ceiling fan with a rustic design has driftwood-finished solid wood blades. It is a highly-efficient fan ideal for indoor use and will save you additional money if you keep it on instead of the AC. The Augusta has excellent cooling capabilities. It runs on a DC motor that is super quiet and uses 75% less electricity. Its airflow is a little lower than other ceiling fans of its class.
Craftmade Anillo Ceiling Fan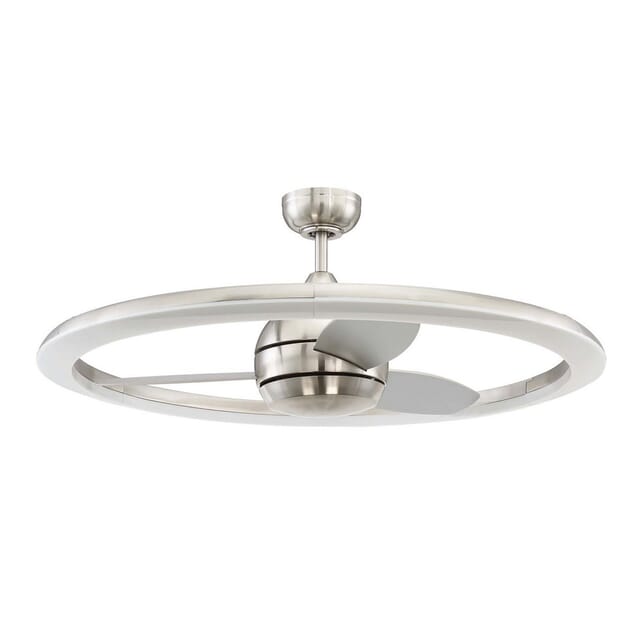 This futuristic-looking ceiling fan in brushed nickel has a fantastic design that is surely a conversation-starter. It is perfect for placing over a table or seating area in small indoor spaces. Its dimmable LED light is built into the outer ring of the fan. Designed for the user to get direct airflow beneath the fan, it will barely cool off an entire room.
TroposAir Voyage Oil Rubbed Bronze Indoor/Outdoor Ceiling Fan
With khaki fabric blade, this ceiling fan is reminiscent of nautical or coastal settings. This could be a great statement piece for a lake house or a newly-remodeled living room. The canvas is removable and machine-washable on a gentle cycle.
Westinghouse Lighting Vector Elite Ceiling Fan
This is perfect for a small indoor room that measures 12 x 12 feet. The fan features reversible blades made of graphite and silver, a versatile design that's easy to match to any room contemporary room décor. The spotlight fixture can only be directed in a specific direction and does not light up the entire space, which is good if you only want to highlight a focal point in the room.
Tropicalfan Rustic Ceiling Fan
This fan has wooden blades and decorative antlers, perfect for rustic-looking indoor spaces, cabins, log homes, or vacation homes. Since the motor is made from pure copper, it exhibits forceful air movement with great circulation around a medium-sized area. It also runs quietly and smoothly.
Deluxe Lamp Drum Black Shade Pendant Lamp
With 4 clear retractable blades, this crystal chandelier could make a room look sophisticated and elegant. This pretty fan flares its blades out in a fascinating manner, and staring at it is actually mesmerizing. It runs quietly in three speed modes: low, medium, and high.
TiptonLight Ceiling Fan with Lights, 42-inch
This modern, quirky chandelier fan blends extremely well in fancy, elegant rooms. You can picture it hanging in a hotel bedroom, restaurant, foyer, or small conference room, adding a glamorous look to the space. This unique ceiling fan offers two lighting options: soft light or natural lights. The fan moves air effectively across a medium to large-sized room.
Savoy House Alsace
The Savoy House Alsace Fan d'Lier Ceiling Fan has reclaimed wood and chestnut blades, giving it the look and feel of a turn-of-the-century rustic lodging. It has a low air-flow rating, which makes it ideal for a half-bath, mudroom, porch, or study nook area. Its single-light feature is covered in white etched glass, making it bright enough to fill a nook or a small indoor space. However, it may not be bright enough to light up a bigger room.
Maxim Lighting Corona LED
This ceiling fan looks like a fixture from the future, with satin nickel finished blades and smooth curved bands bound together by the LED ring.  It looks like a modern sculpture or something that just came out of a space ship. It is ideal for industrial or contemporary spaces. Likewise, it could also be used as a clever contrast for rooms with classic décor. This fan is a great choice if you are looking for high efficiency and expansive airflow.
Fanimation Palma 56-inch
Evoking a classic ceiling fan design with its 3 matte white blades, this 3-speed ceiling fan with a 56" blade span will look perfect in living rooms, bedrooms or sitting rooms with a tropical theme.  You can easily see this fan in a house with an open floor plan.  It has a flush-integrated LED light with a glass diffuser.
Savoy House Brisa Air-Ionizing
This cool unique ceiling fan in English bronze and metal blades will look good in a Mediterranean-inspired villa. It has an 8-light fixture with off-white fabric shades. Designed for indoor use only, this fan circulates anions, which are negatively-charged ions that supposedly helps increase the flow of oxygen to your brain. Anions also help
reduce particles in the air
that cause coughing and sneezing. However, this fan has below average airflow and below-average efficiency rating.
Kichler 54-inch Link Fan in Brushed Nickel
This totally unique and eye-catching Link fan in brushed nickel stands out in any indoor space, particularly in modern or contemporary homes. Suitable for dry locations, it looks equally beautiful in motion or when it's staying still. It requires a fairly high ceiling and wouldn't work with a sloping ceiling. It runs smoothly and quietly.
River of Goods 52" Crystal and Silver Metal Shade Ceiling Fan
Not intended for sole lighting purposes, this beautifully elegant ceiling fan provides ambient lighting, giving any room an atmosphere of elegance. It has reversible blades – one in mahogany and the other in antique black. This fan with three levels of crystals instantly glams up any room. It can be used in rooms with either contemporary or traditional décor. Capable for winter heating or summer cooling, this fan can be controlled with a pull chain or remote control.
Minka Aire Gauguin in Bahama Beige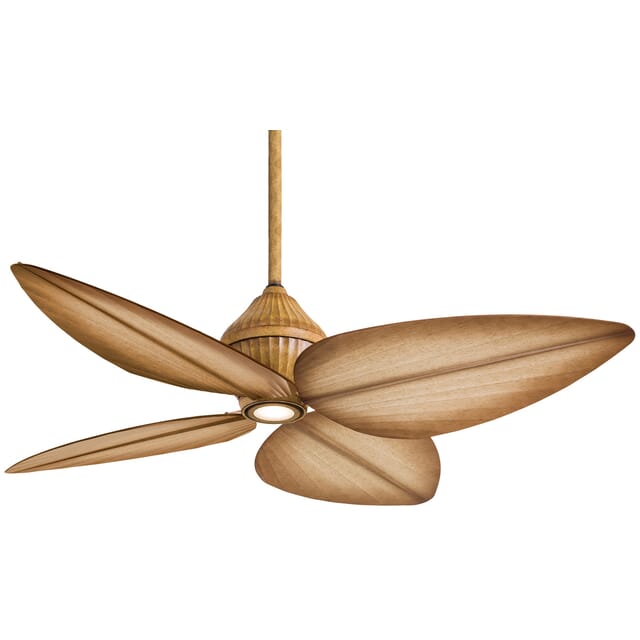 Featuring 4 blades reminiscent of palm leaves, this fan will add a hint of a tropical resort to any room. It has UV-protected blades that can be used for indoor or outdoor use. It can even be exposed directly to rain. This versatile fan comes with a built-in halogen light.
Fanimation Old Havana
This early-20
th
-century style fan in antique copper is part of its Ernest Hemingway collection. It makes any space interesting, transforming it back to an era where hand-made craftsmanship is a source of pride. Rated to be used indoors, it truly evokes the style of times gone by. This 3-blade fan with a 19" blade span runs smoothly and quietly and it barely wobbles.
Fanimation Studio Collection Vintere Ceiling Fan
This ceiling fan in aged bronze features a cage-style design and includes 4 candelabra-base vintage light bulbs. It looks great in a contemporary or modern dining room or kitchen. It is a sturdy fan with a high airflow rating.  However, it runs loudly especially when it's set on high speed.
Minka Aire Rainman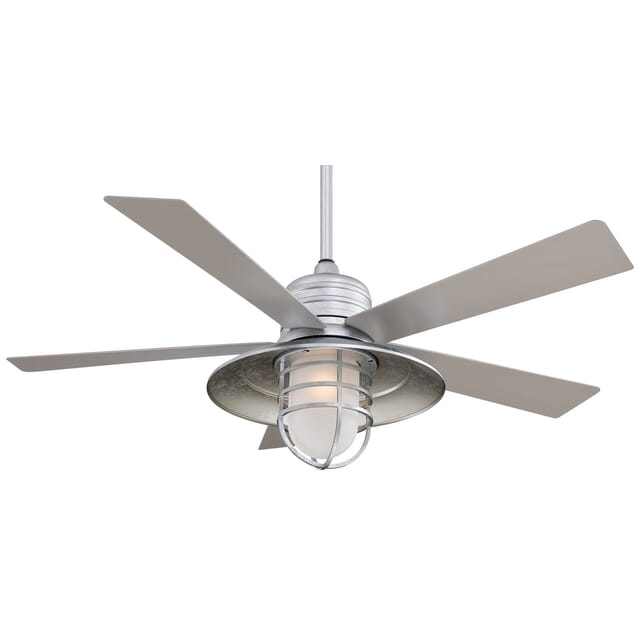 Equipped with all-weather silver blades, this unique ceiling fan with a streamlined design is in brushed nickel and has an integrated light fixture with acid-etched glass. Made with stainless steel hardware, it is ideal for modern, less traditional spaces. This 3-speed fan with 5 blades has above average quality rating. However, its airflow and efficiency ratings are both a little below average.
---