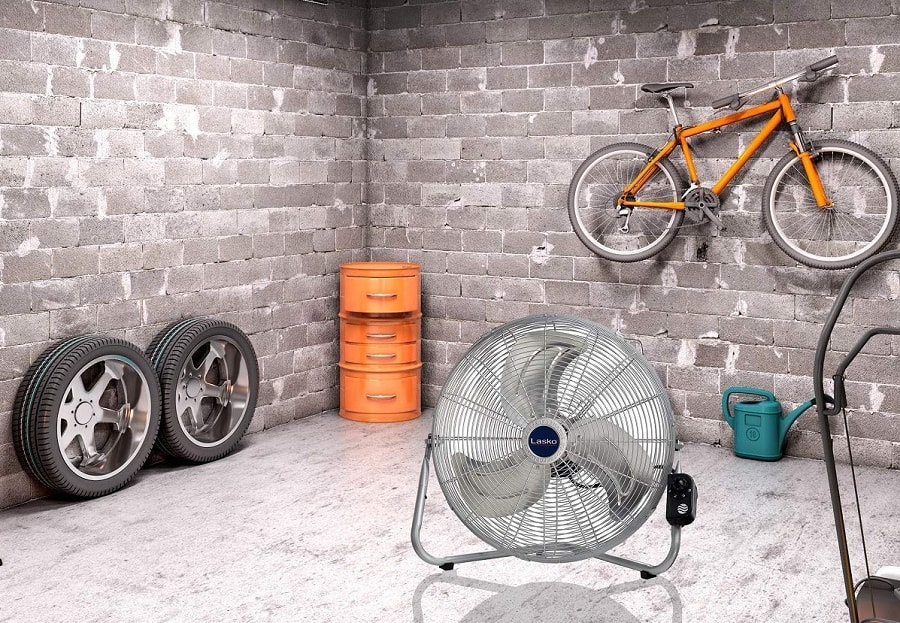 Some fans don't always suffice when it comes to airflow capacity. For applications where air delivery rate is crucial, a high velocity fan is very often more suitable. And if you happen to be looking for such a fan, you are in the right place.
Best High Velocity Fans Comparison
Best place in the house to use a high velocity fan
Due to their air delivery rate, high velocity fans are very commonly used in basements, garages, or workshops. They do a good job when the installation of a ceiling fan isn't feasible for some reason.
When it comes to bedrooms or living rooms, high-velocity fans are rarely used. Part of the reason for this is their design: they often just don't fit in. Aside from that, the noise level and airflow produced by them are frequently too much for in-house applications.
Some high velocity fans may be used in-house though, and we've reviewed a couple of such models. But in most cases, people are buying velocity fans to use them to ensure air circulation in their garage or basement.
Why choose a high velocity fan?
Whether at home or in a workshop, people usually prefer to choose ceiling fans or alternatively floor fans. They have certain benefits like quiet operation and good power efficiency. However, there are some things that actually are better in high-velocity fans.
Delivers plenty of air
Floor fans usually can't compare with high velocity fans in terms of air delivery. High velocity fans are just miles ahead.
The airflow difference isn't that big between ceiling fans and high-velocity fans, but there are a couple of things that make the latter a better choice for some, as you'll see below.
Portable
High velocity fans aren't screwed to the wall or the ceiling and can thus be easily transported from location to location. Not everyone really needs to move their fan around, but in certain jobs like drying or cooling of a small area, portability is going to come in handy.
Easy to install
High-velocity fans are easy to install as well! Ceiling fans need to be installed in the ceiling. And it's a pretty tough task, mind you.
No difficult mounting jobs are necessary with high velocity fans.
Inexpensive
The price doesn't tend to differ between floor and high velocity fans that much. Things are different with ceiling fans.
High velocity fans tend to be considerably cheaper than ceiling fans, especially given the fact that ceiling fans need to be installed in the ceiling. This may be a big benefit for those on a tight budget.
8 Best High Velocity Fans to Buy in 2023
Up first on our list of best high-velocity fans is Lasko 2265QM. This high-velocity fan sized at 20 inches is quite a compact guy, but it still delivers a lot of airflow.
To be more precise, the airflow of this fan reaches 3,460 CFM on the highest setting, which should be enough for around 200-250 square feet rooms. And for cases where quietness is more important for you than cooling, this fan has 3 speed settings to play around with.
A feature that is specific to Lasko fans is the patented Safety Fuse technology. Lasko places the safety fuse of their fans in the plug of the power cord. In the event of a potentially hazardous electrical fault, the fuse will cut off the current, not allowing it to reach the fan.
One thing that we and numerous users dislike about this fan is that it is a bit noisy. You should be able to combat this though by just slowing down the fan's speed.
Pros
May be either wall- or floor-mounted.
Electrical fault protection.
Cons
Pretty noisy at highest setting.
---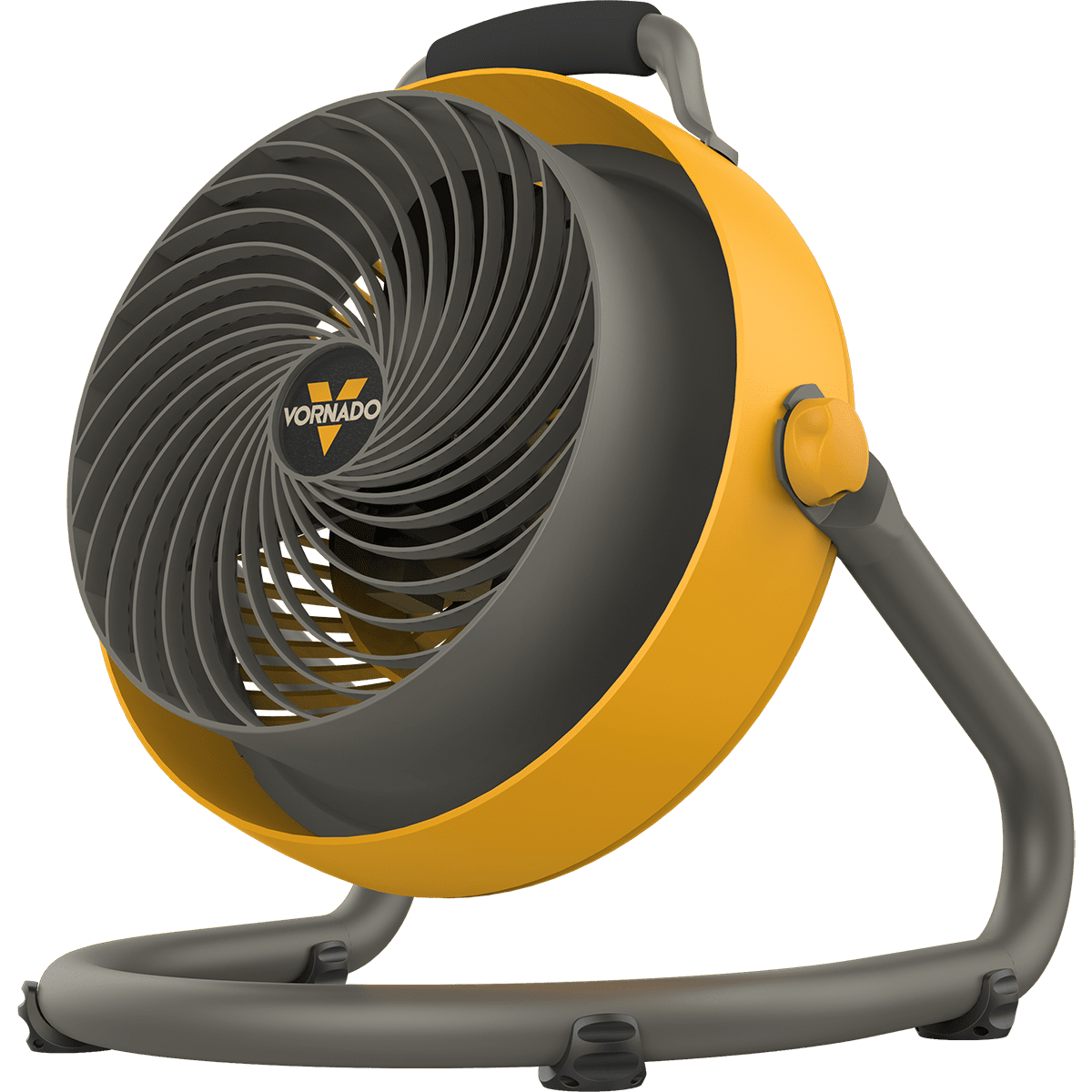 The Vornado 293HD Industrial Shop Fan differs a little bit from the other fans on our list.
This, first of all, relates to the air flow it produces. This fan delivers airflow of just 717 CFM at the highest speed. Due to this, this fan is much more suitable for small and localized applications like drying or cooling.
Due to the lower airflow delivery rate than the Lasko 2265QM, this fan also appears to be much quieter than the rest of the fans on our list. This may be a big plus for some.
The design of the Vornado 293HD fan is quite different as well. This is a shop fan, after all, as you could have guessed from the product's name. More importantly, it is sized at just 17.5 inches, which makes it much more compact than the other fans on our list.
The Vornado 293HD thus is a good choice for workshop applications.
Pros
Versatile.
Compact and portable.
Fairly quite.
Cons
A little bit pricey for its airflow capacity.
---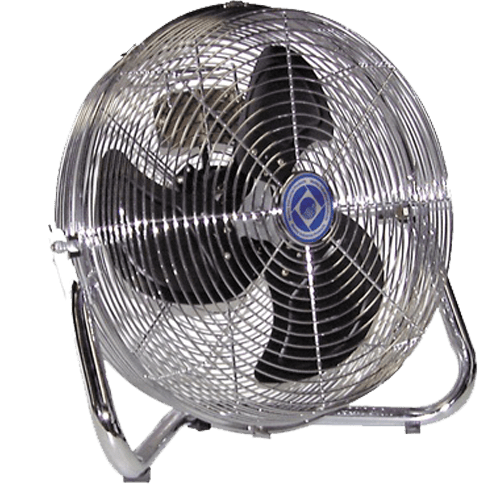 The Marley I-Series 20-Inch Floor Fan (I20) delivers more airflow than the Lasko 2265QM fan – 3,460 CFM at the highest speed, to be precise. But unlike it, the Marley I-Series is probably more suitable for larger workshops and garages.
You can choose from three different models: 12-inch, 18-inch or 20-inch blade sizes. For each model, there is a different airflow. The 12-inch has 2650 CFM, the 18-inch has 5500 CFM and the 20-inch has 5950 CFM.
The motor horsepower of the 12-inch model is 0.06 HP while both 18-inch and 20-inch have 0.125 HP. You can adjust its speed through the rotary switch at the back.
What you'll notice about this fan is its durable metal construction. Yes, it's all metal. This fan also passed OSHA safety standards. You can also adjust the head to your preference angle.
The Marley I-Series has a GFCI safety plug for your peace of mind aside from OSHA.
Pros
All metal construction.
Adjustable head.
Well-protected against electrical faults.
Cons
Noise is very noticeable.
---
Back to more traditional high-velocity fans. The FIRTANA-20X fan by B-Air is built very similarly to the Lasko 2265QM fan we reviewed in the beginning, so there are plenty of common features between them.
There is one crucial difference that should be mentioned first, however.
The B-Air fan delivers much more airflow than the Lasko fan. To be more precise, it delivers 4,650 CFM, which should be pretty enough for about 350 square feet rooms. If you wanted to get plenty of airflow from your high-velocity fan, then this fan is a good option.
The increased airflow comes with a downside, however. This fan seems to produce more noise than the Lasko 2265QM fan, probably because of the increased fan speed. You should be able to tone down this fan a bit with its 3 speed settings, but it nonetheless is pretty loud.
Pros
May be floor- or wall-mounted.
Delivers 4,650 CFM of air.
Cons
---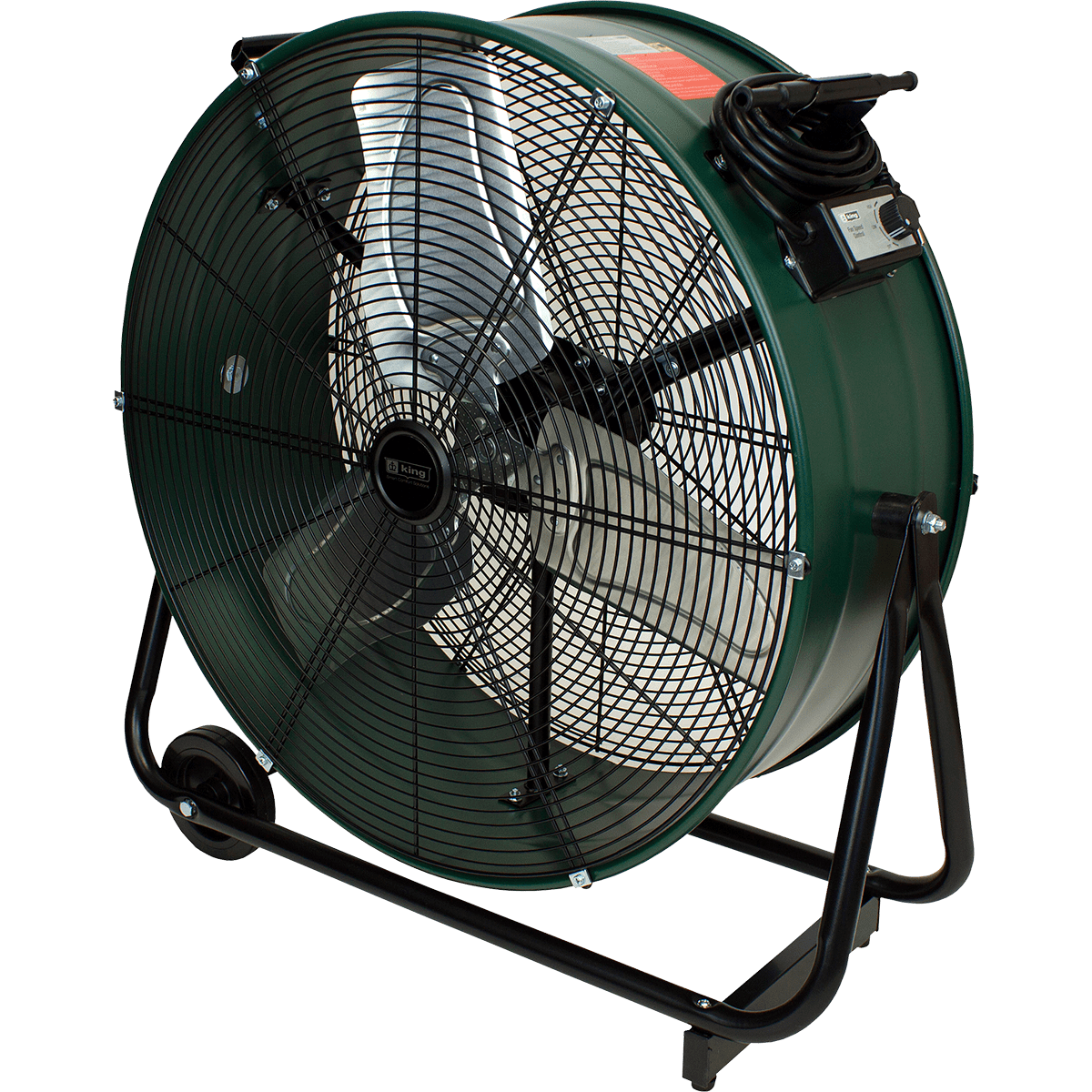 If you are not satisfied with Lasko 2265QM's or Marley I-Series' airflow, then consider this monstrous drum fan by King Electric.
The King Electric DFC-30D-S 30-inch drum fan delivers airflow of 8800 CFM at its highest speed. This is the most airflow we have on our list. Well, you should know that it is not for small workshops or garages. This fan's capacity should be utilized in bigger spaces such as warehouses.
Do not worry about the motor's maintenance since it is permanently lubricated. Maintenance in over-all is the least you should worry about.
Moreover, the overall construction of King Electric DFC-30D-S is absolutely sturdy. Well, it is just made with 22-gauge  steel as well as its blade guard. And by the way, the fan blade is made with aluminum.
With the wheels and handle, it is not very difficult to move this fan. You can also adjust its head thanks to its steel frame which the fan is mounted to.
There is also a 24-inch model that has an airflow of 7300 CFM.
Pros
Superb cooling for large spaces.
Premium quality.
Wheels and handles are great for movability.
Tiltable head.
Cons
Heavy and noisy.
Only 2-speed settings.
Warranty should've been more than a year.
---
Lasko 3300 Wind Machine fan is another fan on our list, aside from the Marley I-Series tower fan, that is more or less good-looking. If you didn't quite like the design of the previous fans, maybe this one is the right fan for you.
This fan also seems to deliver quite a good airflow. But unfortunately, it isn't quite clear how much air it delivers. Lasko doesn't usually reveal airflow figures on their fans.
With other fans, there was some more or less reliable information online that you could find. With this fan, the only thing you could find is not so reliable numbers ranging from 1,985 to 4,750 CFM. 4,750 is a number that you are going to see frequently, but it appears that 1,985 is closer to reality.
1,985 CFM is still a very decent number though. This fan thus should be good for around 150-200 square feet rooms.
Like the other Lasko fans, the 3300 Wind Machine has Lasko's patented Safety Fuse technology, so electricity spikes shouldn't be a problem for it.
The last thing that should be mentioned about this fan is that it is not as easy to clean as other similarly built fans. That's because you have to disassemble the plastic cover of this fan in order to clean it.
Pros
Employs Lasko's Safety Fuse technology.
Looks better than most of the fans on the list.
Cons
Not too easy to clean.
Unclear what its CFM rating is.
---
If durability is the number one thing you are looking for in a high-velocity fan, then this Patton PUF2010B-BM fan may be the right option for you.
The main reason for this is the fan's powder-coated front and rear grill. Due to this, this fan should be highly resistant to corrosion. In damp locations, the Patton fan would be able to do a tireless job.
The durable coating comes with a price though: the Patton fan is more expensive than other comparable high-velocity fans. But if you really need increased durability, then this fan would be worth it.
In terms of airflow, we again can't say much since there is no reliable data. Patton doesn't provide figures on their fans' CFM, unfortunately.
Q & A sections and some websites claim that the CFM is around 2,000, which is believable. But since there is some discrepancy in the data, we can't really tell how much airflow this fan produces.
Pros
Durable powder-coated finish.
May be either wall- or floor-mounted.
Cons
Again, unclear what the CFM is.
Relatively expensive.
---
And the last fan on our list of best high-velocity fans is a pretty hefty boy. Sized at 24 inches, the Tornado 24-inch fan is one of the largest fan on the list.
The Tornado fan also has the highest CFM on the list – 4,000 at the lowest setting, to be precise, which should be good for about 300-350 square feet rooms. This is around as much as the B-Air high-velocity fan could deliver. This can go up to 7680 CFM at the highest setting.
However, what possibly makes the Tornado better is its rust-resistant grill metal, which should allow you to use it in damp locations. The B-Air fan doesn't have such a feature.
Another good thing about this fan is that its stand is equipped with wheels. Since this large fan is pretty heavy, those wheels really do come in handy.
All this beauty comes with a price though. At the moment of this review's writing, the Tornado fan was the priciest fan among the models reviewed.
Pros
Delivers 4,700 CFM of air.
Has wheels that assist with transportation.
Rust-resistant grill.
Extensive warranty.
Cons
---
Is it ideal for you to choose a high-velocity fan?
A high velocity ceiling fan is going to be the best for you if you care about airflow more than about noise level or power consumption. High velocity fans usually are louder and less efficient than ceiling and floor fans, so if you care about those things, a high velocity fan probably wouldn't be the best for you, except for some low-airflow models.
But if you want a fan for your workshop or basement to keep the air cool and circulating, then a high-velocity fan may be the right choice for you, as long as you don't care about the noise level and power consumption.
---