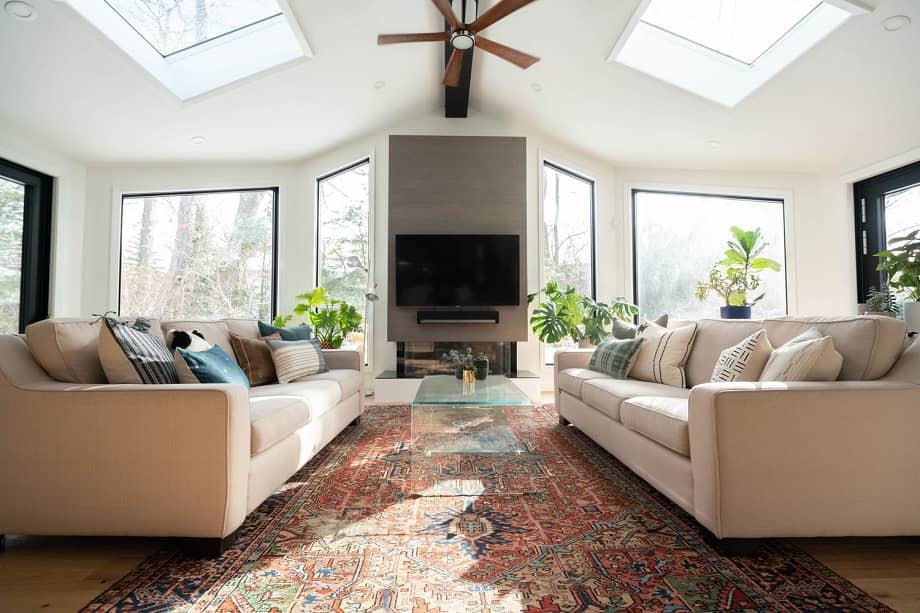 Shopping for the best sunroom ceiling fan? In this post, we will introduce you to what we think are the 22 best sunroom ceiling fans available on the market. With diverse features and from various price ranges, our picks are likely to meet the needs of our many readers.
Best UL/ETL Rating For Sunroom Installation
It's important to consider the humidity of your sunroom before purchasing a sunroom ceiling fan.
If your sunroom is completely closed off from the outside, then humidity may not be a problem – fans with any UL/ETL indoor rating should work safely. Otherwise, you should be looking for a ceiling fan that's at least UL/ETL Damp-rated.
Most fans on our list are rated UL/ETL Damp, while the rest are UL/ETL Wet rated. UL/ETL Damp ceiling fans can be safely operated in locations that are normally humid. Apart from that, UL/ETL Damp fans are ideal for sunrooms adjacent to bathrooms or kitchens.
As for UL/ETL Wet sunroom ceiling fans, they can be operated in areas that are directly exposed to water. With this in mind, UL/ETL Wet fans can be safely operated in not fully enclosed sunrooms, as well as uncovered porches, gazebos, and other similar structures.
22 Best Sunroom Ceiling Fans You Can Buy in 2023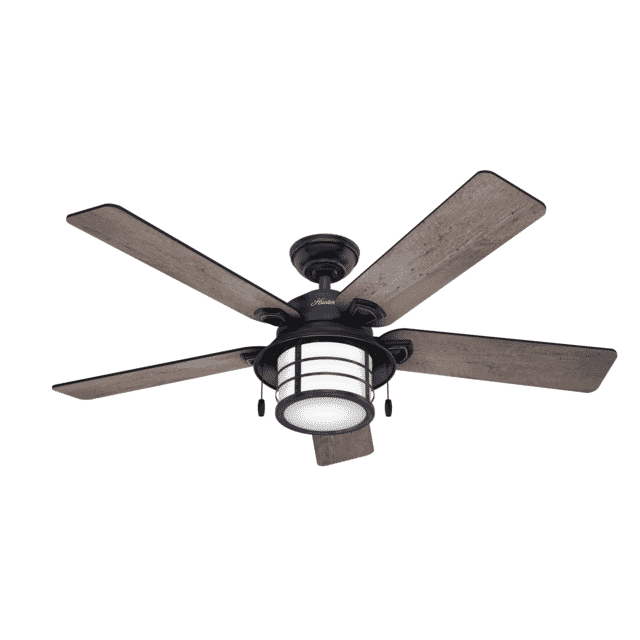 The Hunter Key Biscayne ceiling fan is a fine suit for contemporary/traditional interiors. Not only that, but it's a great option if you need a lot of breeze in a large room – with 6,238 CFM rating, this thing should easily cover rooms up to 400 square feet.
The energy efficiency of Key Biscayne is pretty decent as well – this sunroom ceiling fan consumes just up to 46 watts of power on high and has an efficiency rating of 136 CFM/W.
---
If you have a partially open sunroom and are expecting it to get humid often, then Sea Breeze from Emerson may be a good option thanks to its UL Wet rating.
In terms of airflow, the Sea Breeze ceiling fan is a little better than Key Biscayne thanks to its breeze rating of 5/5 and CFM of 6,492. With that said, with a power rating of 72 watts and 90 CFM/W rating, this surely isn't the most energy-efficient Emerson ceiling fan on the market.
---
Casa Vieja's Turbina industrial-style motor is among the most eye-catching models on our list. With its rough details and rustic aesthetics, it's a good fit for industrial-themed interiors.
Next, you have an airflow of a whopping 9,755 CFM, which should allow Turbina to easily cool down spaces sized at about 400-600 square feet. However, with a power consumption of 85 watts, this thing is quite power-hungry, though its efficiency rating of 114 CFM/W is better than in Emerson Sea Breeze.
---
The Hunter Bridgeport budget ceiling fan is a nice option if you want a quieter model. With its WhisperWind motor, Bridgeport delivers a decent amount of air (3,695 CFM) without producing much noise. This CFM should be good enough for rooms sized at around 300 square feet.
Not only that, but consuming just 37 watts at the lowest setting, Bridgeport is a rather energy-saving fan.
---
The Honeywell Belmar ceiling fan is a good option if you are on a budget. One of the least expensive fans on our list, it's a very pocket-friendly model that produces a pretty good amount of air – 5,070 CFM, which should be good for around 350 square feet spaces.
The energy consumption in this fan isn't too high as well – just about 56 watts.
---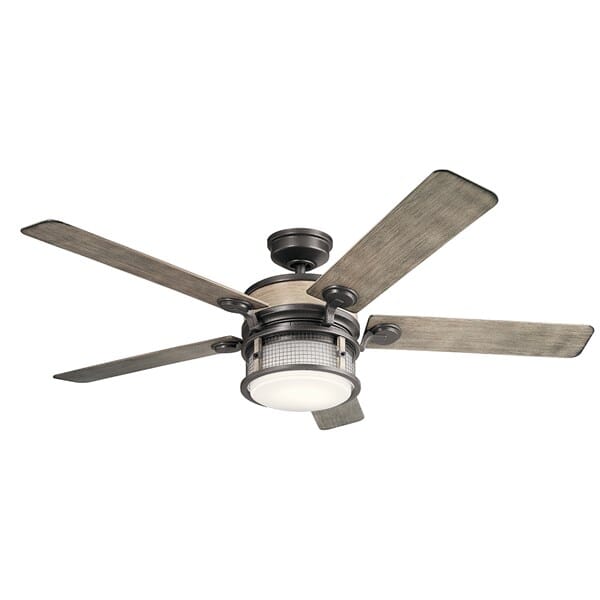 The Kichler Ahrendale ceiling fan is extremely efficient yet produces a lot of air. Consuming just 17 watts at high, Kichler Ahrendale delivers 5763 CMF of air and boasts an efficiency rating of 339 CFM/W! its 3 motor speeds allow you to further balance noise level, cooling, and power draw.
With its 5 blades, Gentry XL is also quite an eye-catching ceiling fan. It looks like the Hunter Biscayne ceiling fans as well, so it could easily become the highlight of your sunroom.
---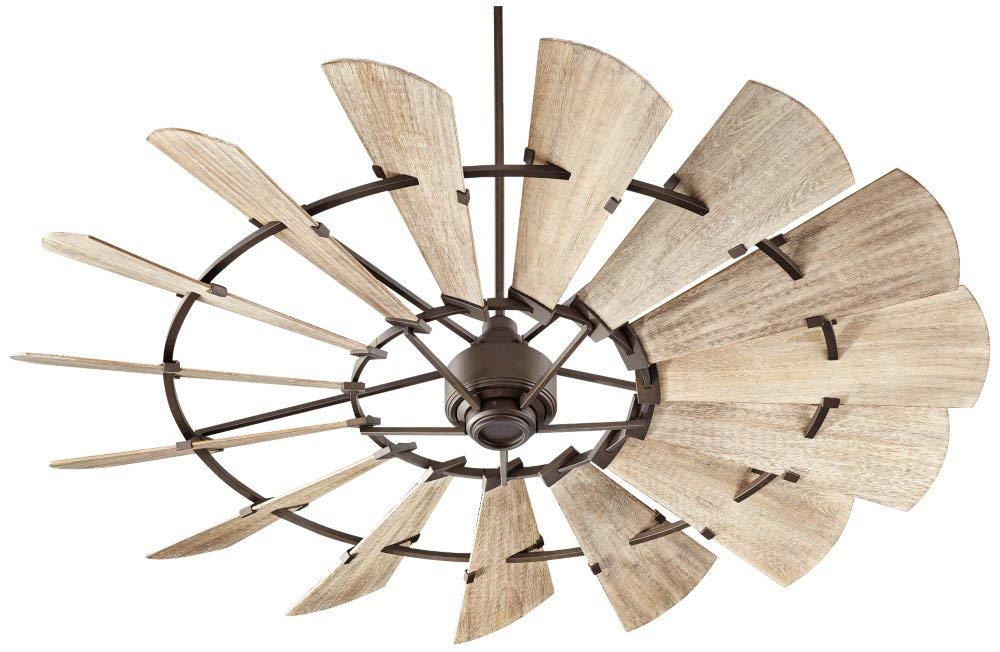 If your ceiling fan needs are all about aesthetics, then consider this windmill ceiling fan from Quorum. Windmill fans aren't the most practical out there in terms of energy savings and airflow, but they sure do look spectacular.
But in terms of air and power, the Quorum 72-inch fan is decent but offers nothing exceptional. Its airflow is a respectable 6,486 CFM and the wattage is just 33.
---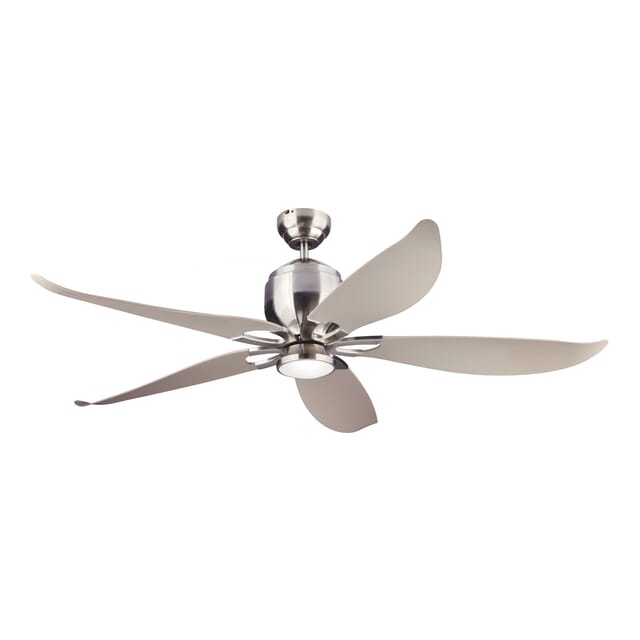 Monte Carlo's Lily ceiling fan is an all-around great option if you want a lot of air without high energy costs. This ceiling fan should easily cover 450-500 square feet sunrooms thanks to its 7,301CFM airflow, while its 261 CFM/W airflow efficiency, 28W power rating, and 6 speeds will save you money.
---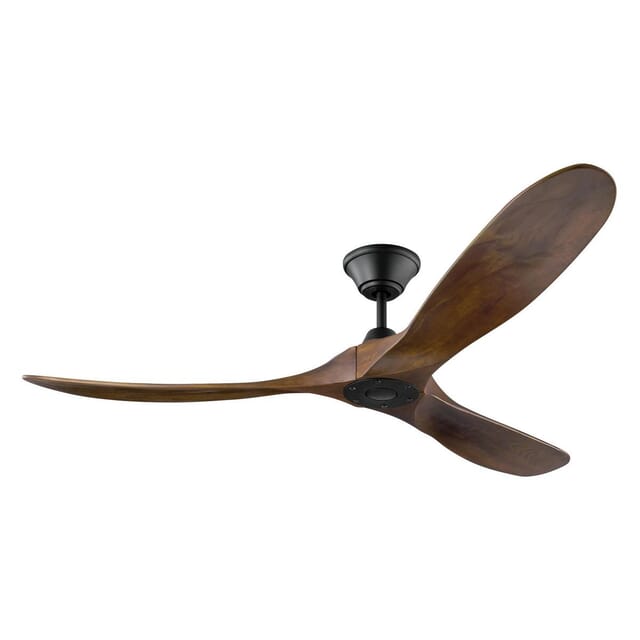 The Maverick fan from Monte Carlo is close to the Lily efficiency-wise – it consumes 27 watts, as well as has airflow efficiency of 248 CFM/W along with 6 speeds. However, it's Energy Star-rated, as well as has 600 CFM lower airflow, which makes it a better suit for 400-450 square feet sunrooms.
The Maverick is also different in design – it's not as sleek as the Lily, which should make it a good suit for a wider variety of interiors.
---
Haiku's 60-inch ceiling fan is the second model on our list to feature a UL Wet rating, which makes it a great option for sunrooms exposed to humidity.
Apart from that, this ceiling fan is among the most versatile fans on our list thanks to its 7 speed settings, allowing you to easily get enough cooling without much noise or power draw.
And consuming only up to 31 watts, the Haiku fan delivers 7,957 CFM of air – enough for 500 square feet sunrooms.
---
Remember the Emerson Sea Breeze fan with its subpar efficiency for an Emerson ceiling fan? Well, Emerson Carrera is true to the promise of the brand – boasting an economical Energy Star-rated motor, this unit consumes just 29 watts, delivers 7,929 CFM, and has an efficiency rating of 273 CFM/W.
With that said, unlike the Sea Breeze, Carrera is only rated UL Damp, which may be a downside for some people considering its price.
---
If you want a smart home-compatible ceiling fan, then this 64-inch unit by Fanimation is a great option. Supporting Amazon Echo, Google Home, Nest, and ecobee, it should make your life easier and your bill less punchy.
Even without the smart stuff, this ceiling fan is highly energy-efficient. Among the highlights of the Fanimation fan are the 31 speeds, 34W Energy Star motor, and airflow of 8,593 CFM.
---
If you want a sleeker alternative to Emerson Carrera, then Emerson Aira ECO might be a good option. Aira ECO should be a better suit for modern interiors.
In terms of energy usage, Aira ECO is close to Emerson Carrera with its 254 CFM/W efficiency rating and 32W motor. However, it has lower airflow – 8,133 CFM – and a lower breeze rating – 3 vs 4 in the Carrera. So when it comes to cooling, Carrera will have a slight edge over this fan.
---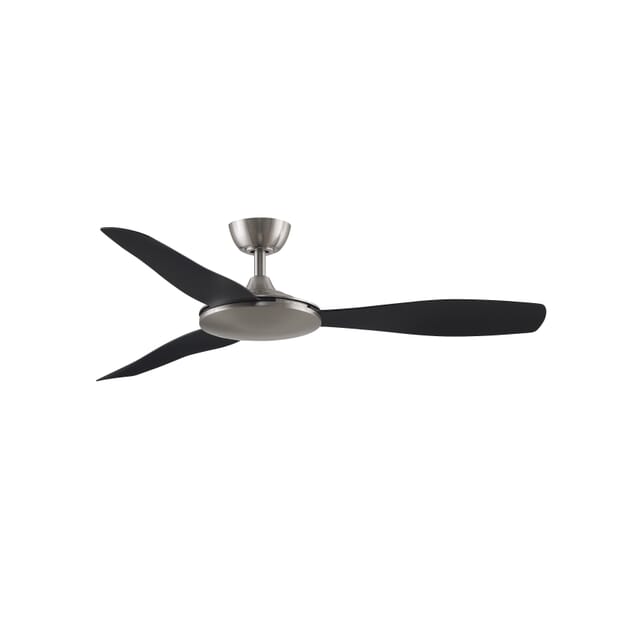 Fanimation GlideAire is a budget alternative to the 64-inch custom wrap fan we reviewed earlier. Apart from that, it has a lower airflow – 5,538 CFM, which should be good for about 400 square feet sunrooms.
With that said, the smart features are still there. Not only that, but GlideAire consumes very little power – only 17 watts on high, which makes it the least power-consuming fan on our list.
---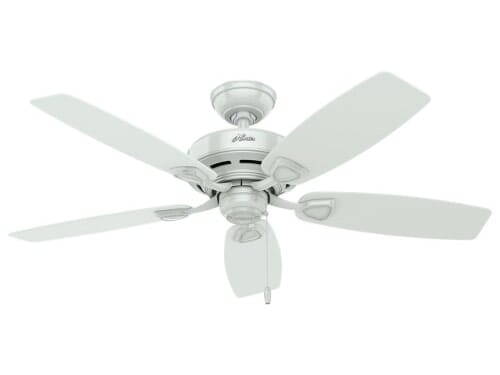 The Hunter Sea Wind ceiling fan is a nice option if you liked Hunter Bridgeport but felt that it's too big for your sunroom. Sea Wind has 4 inches shorter blades, as well as lower airflow of 3,329 CFM, which should make it a good choice for 150-200 square feet sunrooms.
Besides, Sea Wind again is a pretty inexpensive model, and it's not very loud either thanks to its WhisperWind motor.
---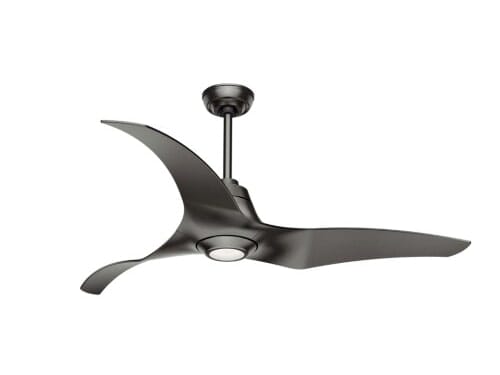 A subsidiary of Hunter, Casablanca Fan Company is focused on luxury ceiling fans, including the Stingray 60-inch fan. With no visible screws, the Stingray ceiling fan offers arguably the sleekest design on our list – an excellent option for modern interiors.
Apart from being pleasant to the eye, Stingray will be easy on your wallet as well thanks to its 21W power draw. At the same time, the 4,845CFM airflow should easily cover 350-400 square feet sunrooms.
---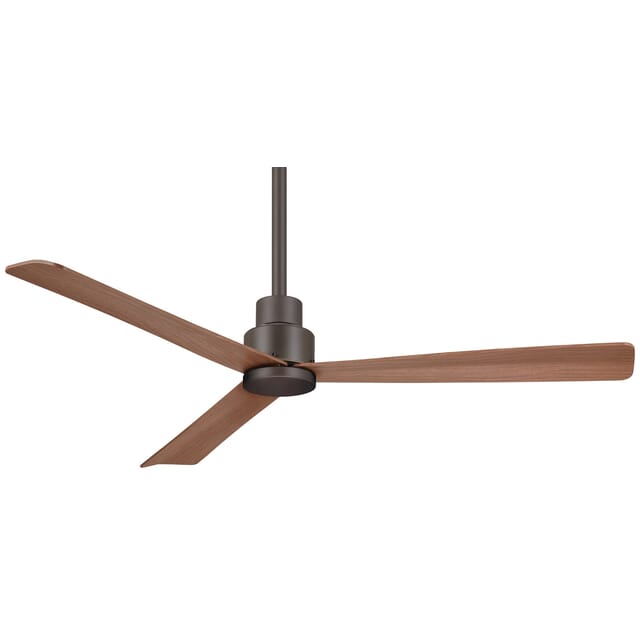 We've reviewed two UL Wet-rated fans so far, but both were pretty big. Well, if you want a smaller option with a UL Wet rating, then Minka-Aire's simple fan might be the one.
With its 29W power draw and 5,670CFM airflow, Minka-Aire Simple should be good for 400 square feet sunrooms. And thanks to its sleek, simplistic design (as suggested by the name), it's a nice fit for modern interiors.
---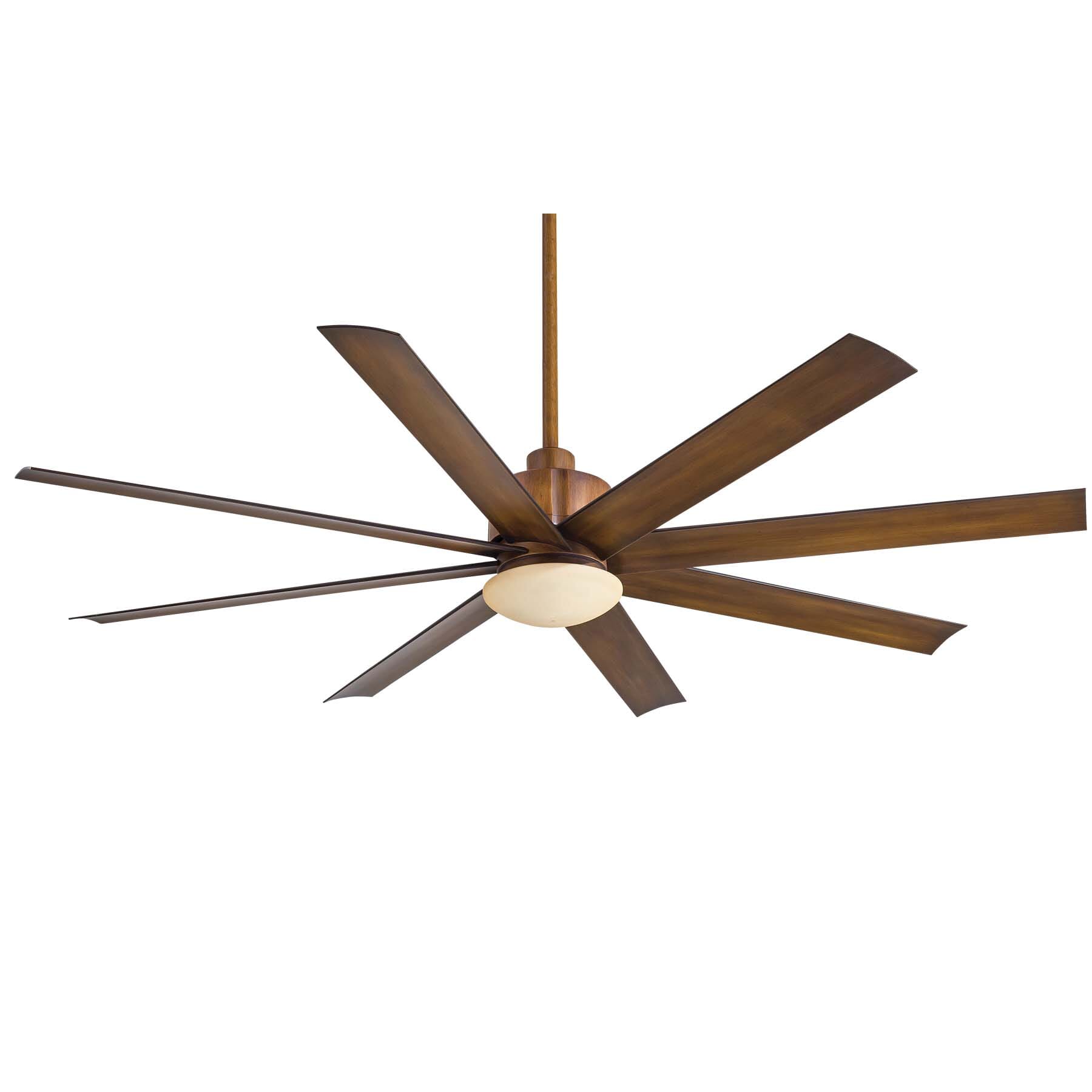 With a design similar to the Simple fan, Minka-Aire Slipstream again is a good fit for modern sunrooms. It has a UL Wet rating as well, but with its 8,263 CFM, it will be covering much larger areas – probably up to 550-600 square feet.
Despite the higher air capacity, Slipstream consumes as much power as the Simple fan – 31 watts, with the 2-watt difference being negligible.
---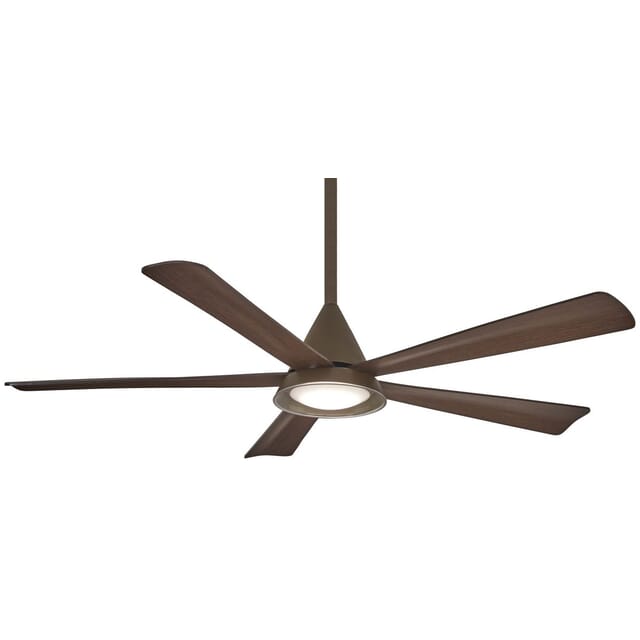 Airflow-wise, Minka-Aire Cone is close to the Slipstream fan – it provides 8,385CFM of air. With that said, the Cone fan may deliver a stronger breeze.
On the other hand, the Cone fan is less energy-efficient due to its higher power draw – about 46 watts. This isn't atrocious, but it's noticeably worse than in the Slipstream fan.
However, Minka-Aire Cone still has a UL WET rating – just like previous Minka-Aire fans.
---
The Casablanca Duluth ceiling fan boasts unparalleled industrial aesthetics. Duluth will fit only a handful of interiors, but when in the right sunroom, it will make a big difference.
In terms of airflow and energy efficiency, the Duluth fan isn't the best on the list, however. Although 6,833 CFM is quite high, the energy rating of 73 watts makes this fan quite power-hungry. Well, this is a fairly cheap Casablanca fan, after all.
---
The Hunter Chronicle fan isn't as industrial-looking as Casablanca Duluth, but it has a few details that give off the same vibe as Duluth. Chronicle can work with modern interiors as well though.
Again, Chronicle is perhaps more about form than efficiency – it has a pretty high power rating of 55W, which isn't too bad but certainly isn't great either. As for airflow, it's 3,922 CFM in this model – enough for roughly 200 square feet sunrooms.
---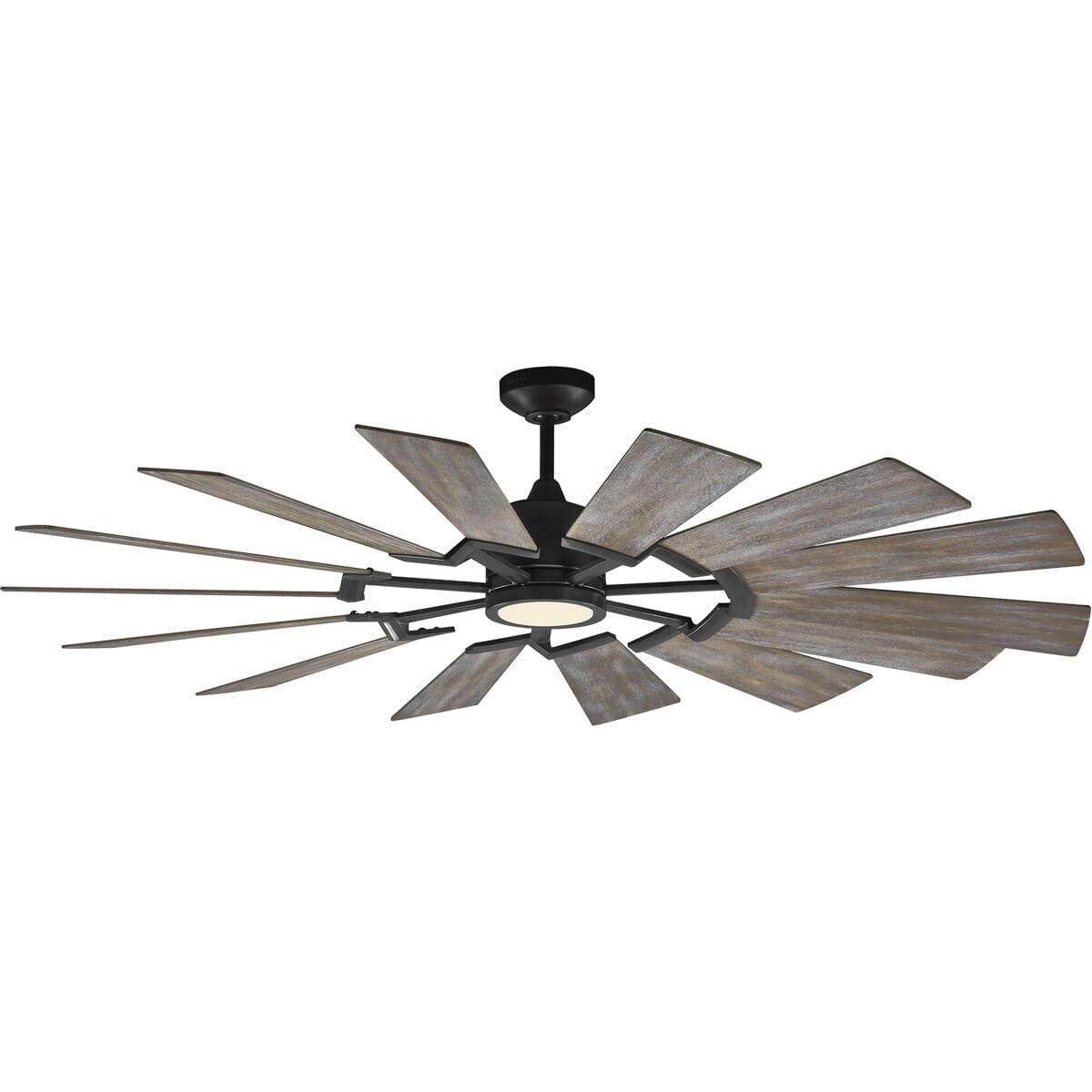 Finally, if you want a windmill fan for a 250-300 square feet sunroom, then perhaps Monte Carlo's Prairie's ceiling fan may be a good option thanks to its 5,003CFM airflow.
Not only that, but Prairie is very energy-efficient – consuming just up to 23 watts (the second lowest on the list), it has a CFM/W rating of 221!
---
Final Thoughts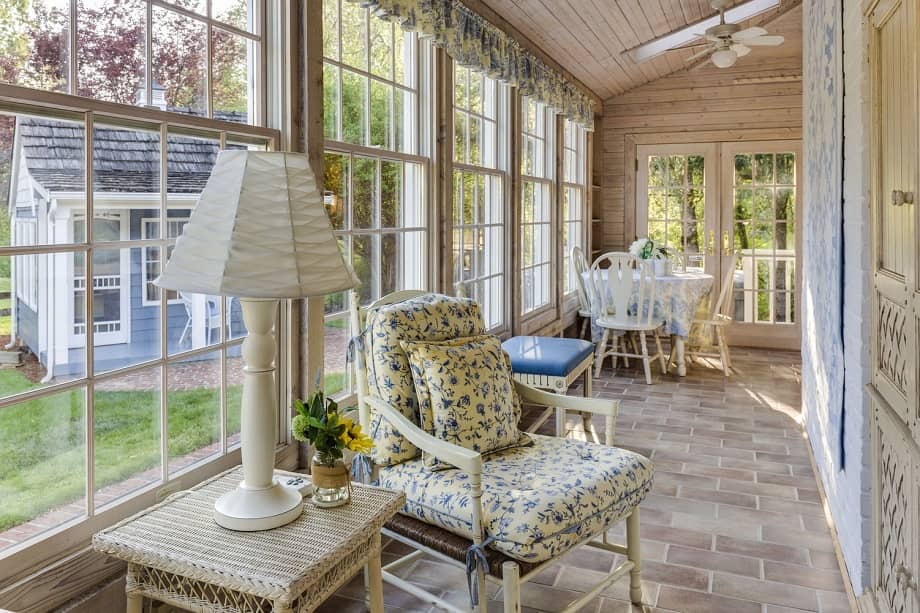 Now, you should be able to easily pick the best sunroom ceiling fan for your needs!
The info we provided on our reviews should be sufficient for you to make a decision. However, feel free to do additional research on ceiling fans – there are many specs like airflow efficiency, blade length, or blade pitch that you may need extra insight.