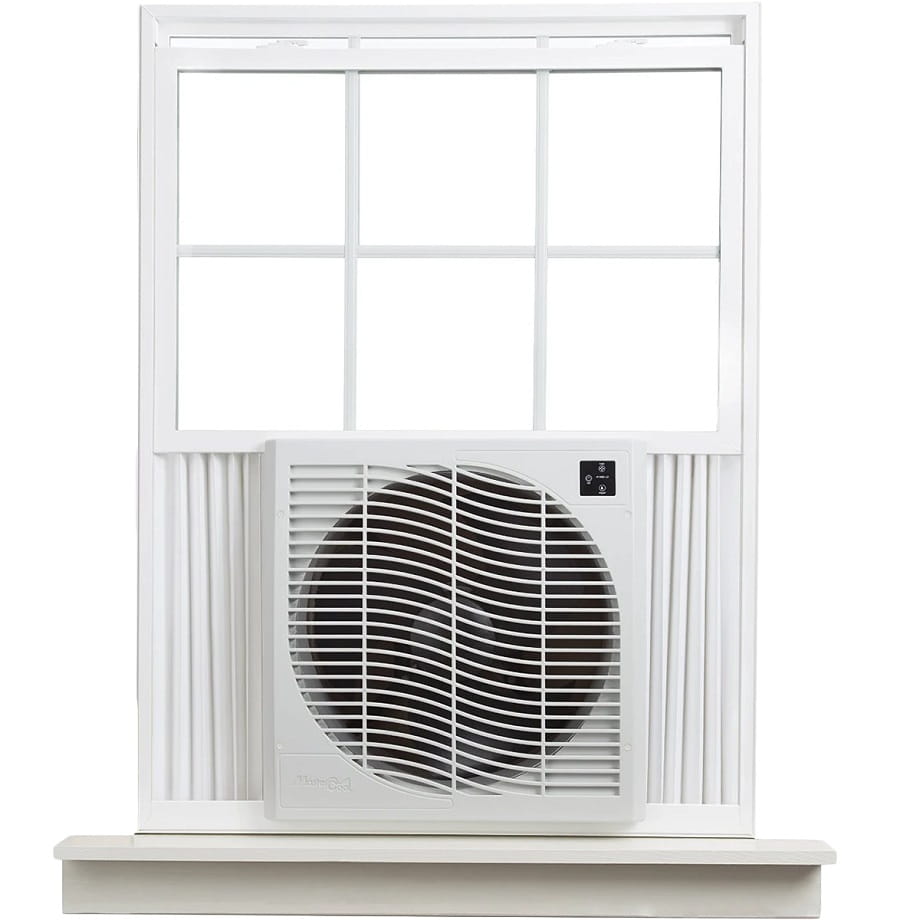 Today, we are going to introduce you to a few excellent window evaporative cooler options. Though these coolers can't compare with air conditioners in terms of cooling, they are far more energy-efficient. If energy savings is exactly what you want, then perhaps a swamp cooler will be a good buy for you.
Best Window Evaporative Cooler Comparison
| Image | Brand & Model | Airflow | Coverage Area |
| --- | --- | --- | --- |
| | AIRCARE RN50W | 4,700 CFM | 1,600 sq. ft. |
| | AIRCARE N28W | 2,800 CFM | 600 sq. ft. |
| | AIRCARE RN35W | 3,300 CFM | 900 sq. ft. |
| | AIRCARE RWC44 | 4,000 CFM | 1,000 sq. ft. |
| | MasterCool MCP44 | 3,200 CFM | 1,600 sq. ft. |
| | Essick N44W | 4,000 CFM | 1,100 sq. ft. |
| | Dayton 4RNN8 | 2,800 CFM | 1,400 sq. ft. |
Why Choose a Window Evaporative Cooler?
In general, evaporative coolers (also called swamp coolers) provide energy-efficient cooling in low-humidity areas. This is due to the way evaporative coolers work.
The main cooling elements in swamp coolers are water-saturated pads. Warm air is sucked into the cooler and forced over the pads. The water from the pads evaporates into the air, absorbing a large amount of heat. Then, the cooler blows the cooled air back into the environment.
Such a process of cooling is much more energy-efficient than refrigeration, the method used in traditional air conditioners.
Besides, as water evaporates from the cooling pads, the air becomes naturally humidified. This means that evaporative coolers are also humidifiers (though humidifiers would work much better if your goal is to increase humidity in the room).
Finally, evaporative coolers typically have a waterless mode. In this mode, swamp coolers may be used as heavy-duty fans. Of course, air won't be cooled, but you will be getting a pretty decent breeze. If it's not too hot in your home, the fan-only mode will allow you to conserve water.
Window vs Portable Evaporative Coolers
Now, how do window swamp coolers compare with portable evaporative coolers?
Well, portable evaporative coolers typically have airflow in the range of 400-1,000 CFM, while window units are usually between 2,000-5,000 CFM. So in terms of cooling performance, portable coolers are comparatively weak.
Apart from that, portable coolers are intended to be placed on the floor, so they will consume floor space. This can be a big downside for you if floor space is scarce in the room in the first place.
With that said, portable coolers:
Are pretty cheap.
Can be placed anywhere you want them.
Don't require complex installation in a window.
Don't have to be plumbed.
In other words, window swamp coolers would be better for hotter climates or larger rooms, whereas portable models are ideal if you want convenience and portability.
Reviews of the 7 Best Window Evaporative Coolers to Buy in 2023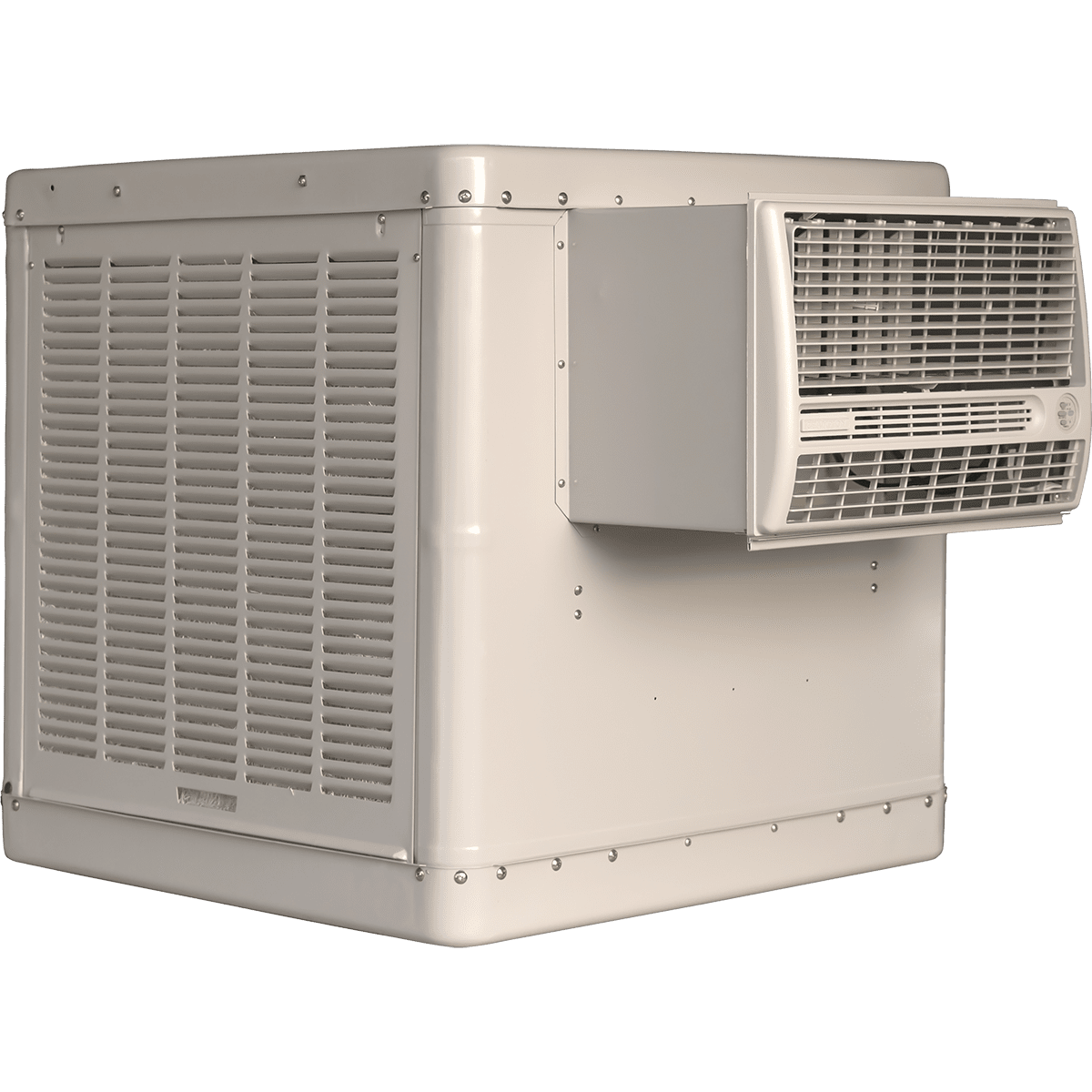 Key Features
1,600 sq. ft. maximum coverage area
4,700 CFM airflow
Remote control
Hose hookup
UL certified
For large spaces, the AIRCARE RN50W window swamp cooler may be the best option. Delivering 4,700 CFM airflow, this evaporative cooler is advertised to cover up to 1,600 square feet.
AIRCARE RN50W isn't the only cooler with 1,600 square feet coverage on our list. With that said, it has high CFM for its coverage – 4,700 CFM – so it should be more effective at cooling the claimed space.
Water supply-wise, RN50W needs to be connected to a water source via its direct-hose hookup, which means cooling as long as there is water supply. This unit also supports waterless cooling via the included fan, but the fan will merely create a breeze rather than remove heat from the air.
RN50W isn't the most functional window swamp cooler on our list – it only allows you to control basic things like fan speed (2 settings) and pump speed. However, with the included remote control, it's one of the more convenient models we reviewed.
Thanks to the convertible grille, the RN50W swamp cooler can be installed in either vertical or horizontal windows.
Do keep in mind that this swamp cooler is rather pricey. Besides, it's large and heavy, measuring 34-1/2 x 34-1/8 x 34-1/8 inches (H x W x D) and weighing 155 pounds.
Pros
Covers up to 1,600 square feet.
4,700CFM airflow.
Comes with a remote control.
Can be installed in horizontal or vertical windows.
Cons
Expensive.
Bulky and heavy.
Why choose this window evaporative cooler
AIRCARE RN50W is a high-performance cooler that should work for any residential and perhaps even some commercial needs. And with its convertible grille, RN50W should fit the windows of most people without issues.
---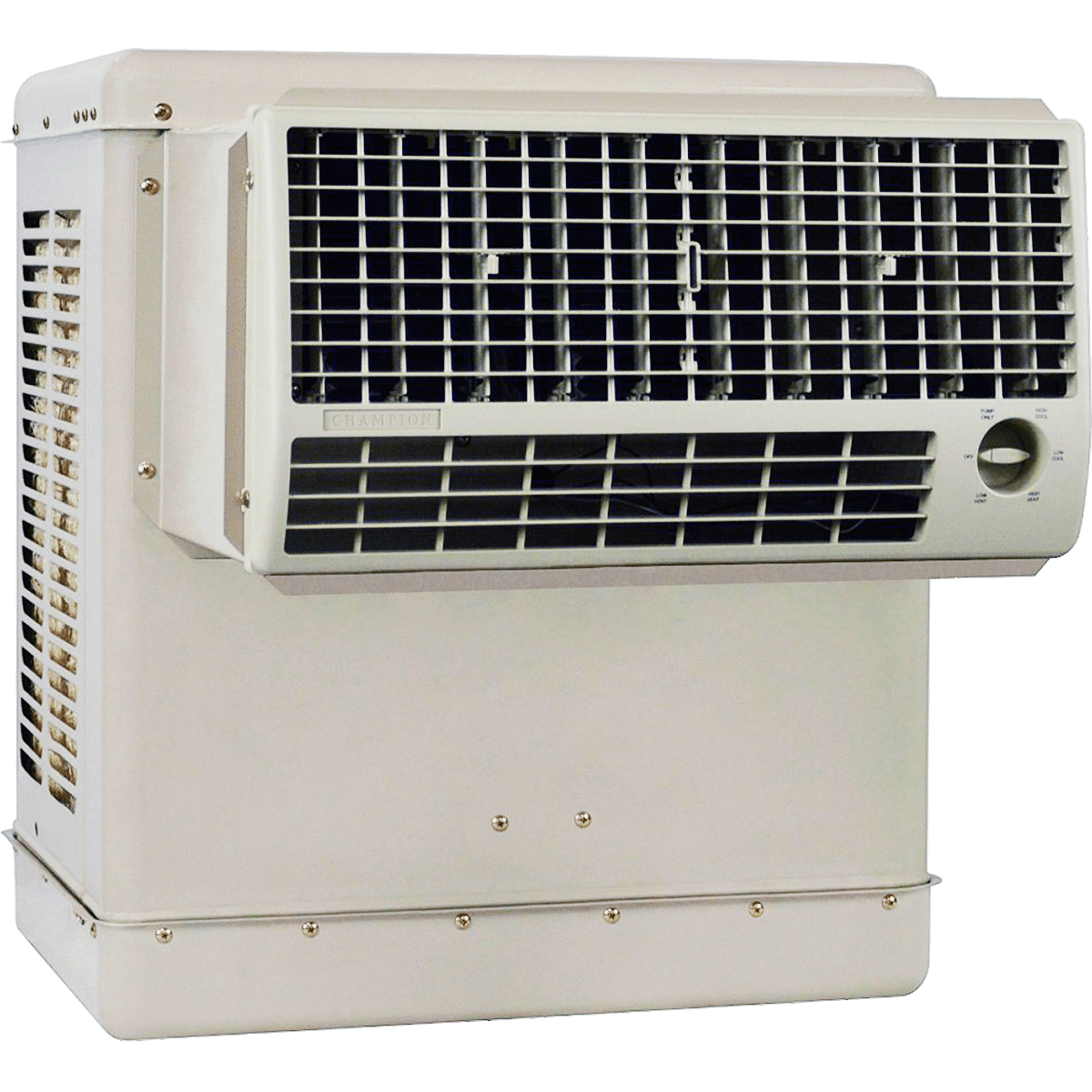 Key Features
600 sq. ft. maximum coverage space
2,800 CFM air flow
Hose hookup
UL certified
The AIRCARE N28W is one of the less expensive window swamp coolers on our list. Apart from that, more compact and less capable than RN50W, it's a better option for smaller spaces.
It is advertised that N28W is suitable for rooms up to 600 square feet and delivers 2,800 CFM airflow – quite a lot for its size and price.
If you have limited space, then N28W may be a good choice for you as well – sized at 27 x 24 x 17 inches (H x W x D), it's much more space-efficient than RN50W. Weighing 65 pounds, it nearly 3 times lighter as well.
Feature-wise, N28W is similar to RN50W – both have waterless modes, 2 fan speeds, and no fancy features like timers or oscillating louvers.
However, you aren't getting any remote controls with N28W, which will make it less convenient in use. Plus, N28W doesn't have a convertible grill, so its orientation can't be changed.
Pros
Not too expensive.
Delivers 2,800 CFM.
Cools up to 600 square feet areas.
Compact and light.
Cons
No remote controls included.
Why choose this window evaporative cooler
Although the N28 cooler isn't as expensive as its larger counterparts, it still is a high-quality cooler. You can find much cheaper evaporative coolers with the same capacity, but these won't be offering the same reliability and quality. N28 is thus a good option if you are ready to pay the money for dependability and quality.
---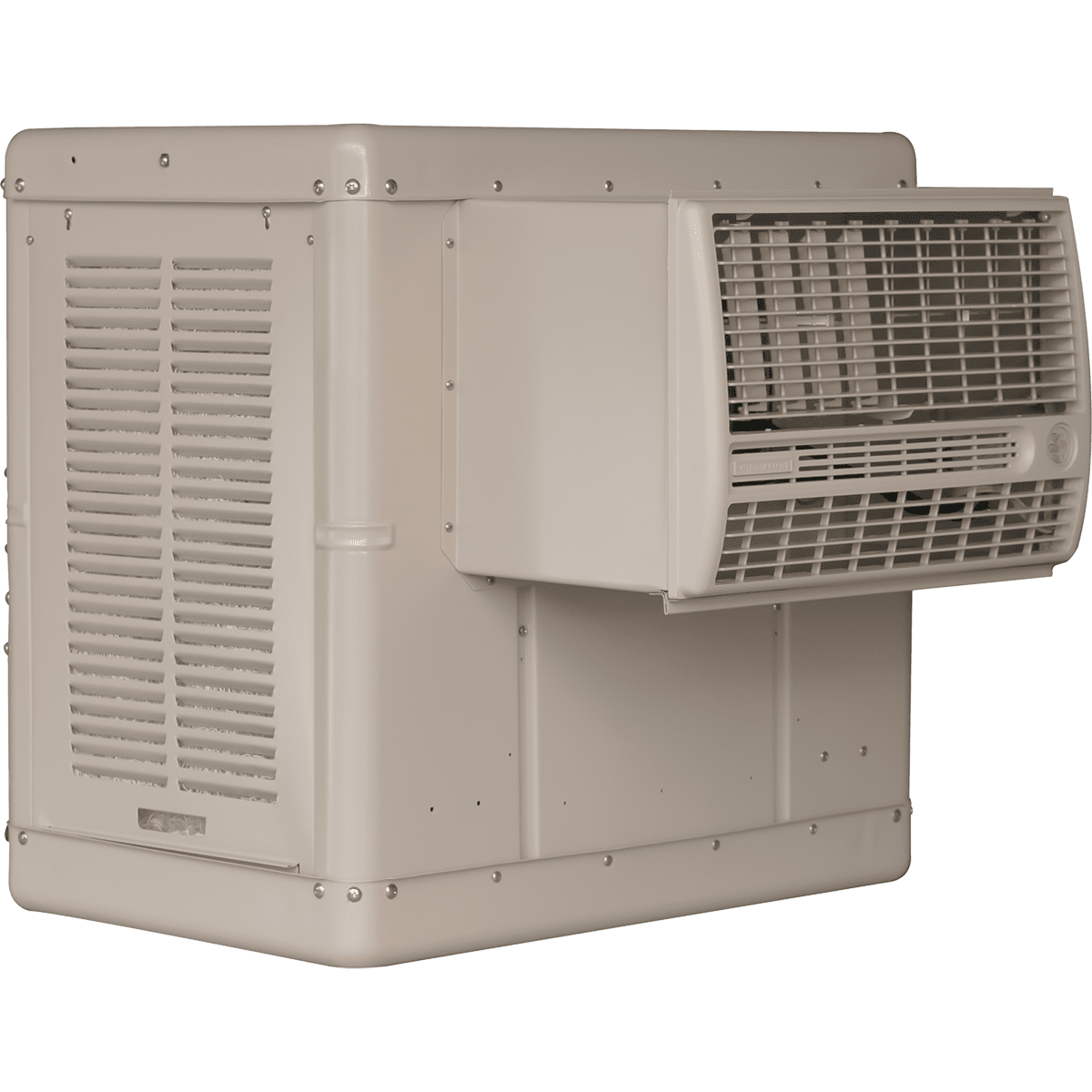 Key Features
900 sq. ft. max coverage space
3,300 CFM airflow
Hose hookup
Remote control
UL certified
AIRCARE RN35W is a middle-ground option between RN50W and N28W in terms of airflow, price, and size.
The RN35W evaporative window cooler is designed for spaces up to 900 square feet. This cooler's 3,300 CFM airflow perhaps isn't too remarkable for the delivered coverage, but it should be more than enough to quickly cool up to 900 square feet rooms.
AIRCARE RN35W is pretty big but not huge – it measures 30.5 x 31.5 x 21 inches (H x W x D). Its weight isn't too terrible as well – 113 pounds. This cooler should be much easier to install than RN50W since it's not as big.
In terms of overall features, RN35W is similar to the previous two coolers, but it's closer to RN50W. This is because it comes with a remote control and a convertible grille for vertical or horizontal installation. The RN35W swamp cooler again relies on a hose connection for water supply, but it can operate without water in fan mode.
Pros
900 square feet coverage.
Delivers 3,300 CFM of air.
Remote control included.
Works with horizontal or vertical windows.
Cons
Why choose this window evaporative cooler
This evaporative cooler is like RN50W but in a smaller package and at a lower price. If you feel that the RN50W cooler will be overkill for you, then perhaps RN35W will be a better choice.
---
Key Features
1,000 sq. ft. maximum coverage space
4,000 CFM airflow
11 gallons water tank capacity
Remote crontrol
UL certified
The AIRCARE RWC44 is the first swamp cooler on our list to have a built-in water tank. Sized at 11 gallons, this water tank should be enough to cool large living rooms, bedrooms, and other spaces without frequent refilling.
Thanks to the water tank, RWC44 won't be dependent on hose connections. This can be very useful if providing hose water supply is for some reason difficult or impossible for you. But since RWC44 also supports hose feeding, you could enjoy the benefits of endless water if you do have easy access to water.
In terms of coverage, RWC44 is somewhere in the mid-end among the reviewed swamp coolers. It is designed for 1,000 square feet areas and delivers 4,000 CFM airflow, which is solid for the coverage.
When it comes to features and installation, RWC44 is similar to RN50W and RN35W. Like these swamp coolers, RWC44 can be installed either horizontally or vertically, has 2 fan speeds & waterless operation mode, and comes with a remote control.
Keep in mind that AIRCARE RWC44 is on the bulkier side. It's not as large as RN50W, but it's pretty close, sized at 34-1/2 x 34-1/8 x 28-1/2 inches (H x W x D). The RWC44 is pretty heavy as well, weighing 137 pounds.
Pros
Space coverage of 1,000 square feet.
4,000CFM air output.
Has an integrated 11-gallon water tank.
Remote control included.
Works with vertical or horizontal windows.
Cons
Expensive.
Large and heavy.
Why choose this window evaporative cooler
RWC44 is a pretty versatile swamp cooler. It's similar to RN35W and RN50W in many ways, but thanks to its 11-gallon water reservoir, it's going to be a better choice if water access is limited in your area.
---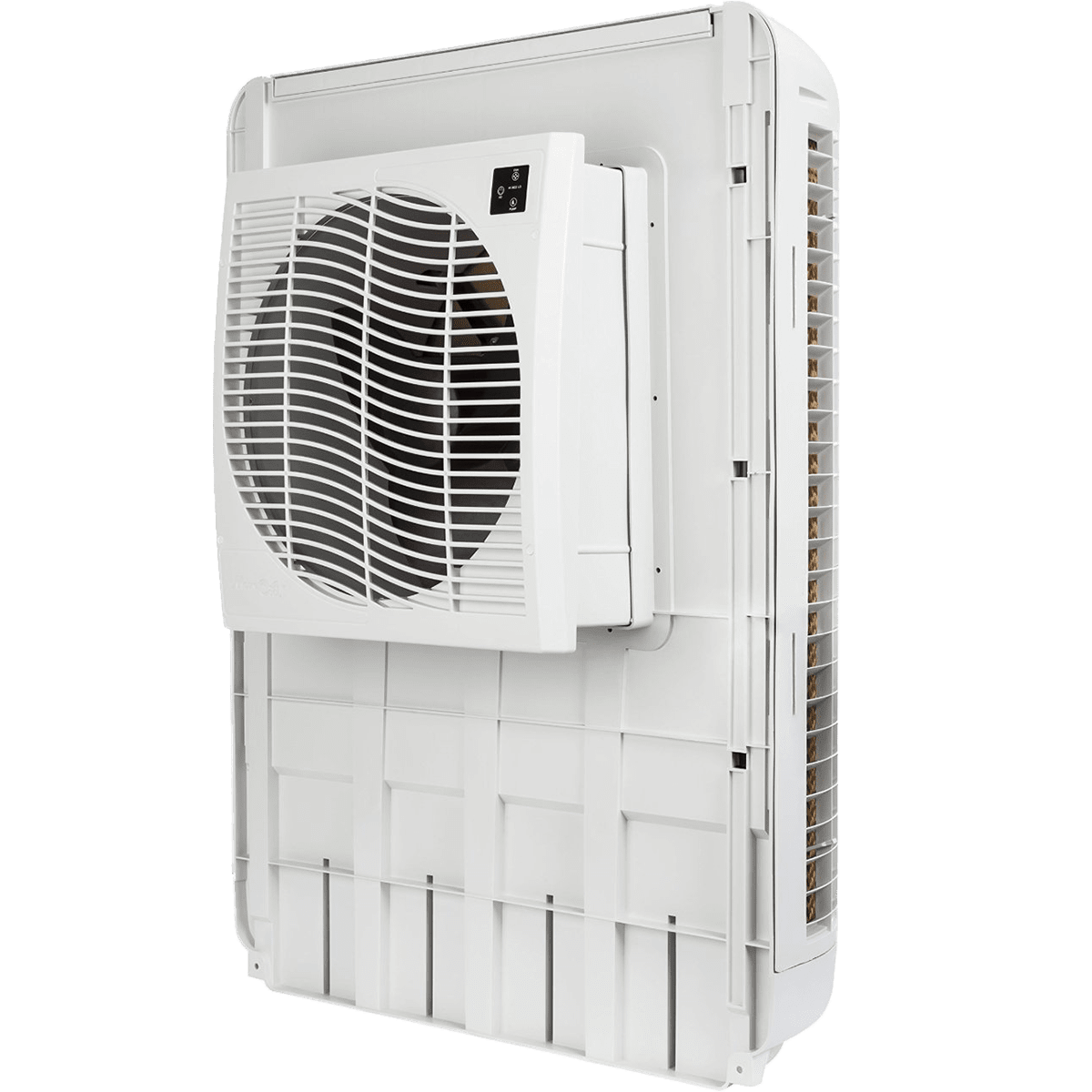 Key Features
1,600 sq. ft. max coverage area
3,200 CFM airflow
2 gallons water tank capacity
Hose hookup
Remote control
ETL certified
The MasterCool MCP44 window evaporative cooler is a nice option if you want a slim evaporative cooler. The outdoor unit in MCP44 is very slim for this cooler's capacity – just 22 inches deep. With that said, it's still pretty wide at 33.5 inches, and its height is a whopping 46 inches.
MasterCool MCP44 again has a built-in water tank like RWC44 did, but it's sized at only 2 gallons. This will only be sufficient for small bedrooms, offices, or kitchens.
You could install this cooler in a large room, but you'll have to refill it frequently. And given that this cooler covers up to 1,600 square feet, buying it for small spaces doesn't make much sense. With that, the 2-gallon tank may be too small for MCP44's cooling capacity.
The air output in MCP44 is 3,200 CFM, which is much lower than in RN50W (which had the same 1,600 feet coverage). So with the same coverage as RN50W, this cooler will replace the air in the room slower due to the lower airflow.
With that said, since MCP44 is much cheaper than RN50W, it might be a better buy if your budget is limited.
Pros
Covers up to 1,600 square feet.
Slim profile.
Air output of 3,200 CFM.
Built-in 2-gallon tank.
Comes with a remote control.
Weighs just 75 pounds.
Cons
Very tall.
The water tank is too small for this cooler's coverage.
Why choose this window evaporative cooler
If you don't want a swamp cooler that is very bulky, MasterCool MCP44 might be an excellent choice. But perhaps most importantly, it has the same coverage as RN50W but costs less.
---
Key Features
1,100 sq. ft. max room coverage
4,000 CFM airflow
Hose hookup
UL certified
The Essick Air N44W swamp window cooler is very similar to AIRCARE RWC44. It's probably a rebranded cooler, but that doesn't make it worse. In fact, despite the similarities, there are some advantages that this cooler has over AIRCARE's model.
The Essick Air N44W and  AIRCARE RWC44 the same airflow  at 4,000 CFM. They have almost the same coverage area with the N44W has 100 sq. ft. advantage.
Essick also advertises that N44W has adjustable air vents, allowing for more flexibility in cooling. This swamp cooler also has 2 fan speeds that can be selected via control knob.
Essick Air N44W is more expensive than AIRCARE RWC44, but perhaps its benefits are worth the money for you. However, also know that Essick Air N44W isn't advertised for installation for horizontal and vertical windows, which will matter to some of our readers. However, base on its design, it should be good for such windows.
Pros
Covers up to 1,100 square feet rooms.
4,000CFM airflow.
Adjustable air vents.
Cons
Very expensive.
Bulky and heavy.
Why choose this window evaporative cooler
Essick Air N44W is a great evaporative cooler for windows. It doesn't have any fancy features but it delivers great amount of air flow. Without the remote control, you may opt for AIRCARE RWC44 that has. Plus, this thing is more expensive than the latter.
---
Key Features
1,000 to 1,400 sq. ft. coverage area
2,800 CFM airflow
6.3 gallons water tank capacity
Finally, we have Dayton 4RNN8 evaporative cooler. For its cooling capacity, this is a pretty inexpensive swamp window cooler.
From what we've gathered from other sources, 4RNN8 is designed to cover 1,000-1,400 square feet. Its air output is 2,800 CFM as well, which will be pretty decent for up to 1,000 square feet rooms but probably not too good for 1,400 square feet.
Feature-wise, this cooler offers nothing new. Like previous coolers on our list, 4RNN8 has 2 fan speeds, but it comes with no remote controls.
This swamp cooler is not very big as well – 27 x 22 x 31 inches (H x W x D) is on the lower end among the reviewed window swamp coolers. It's not too heavy either – 95.9 pounds.
Pros
Fair priced.
1,000-1,400 square feet coverage.
2,800 CFM air output.
Cons
Not the most powerful motor
Takes time to cool your room
Why choose this window evaporative cooler
For the money, Dayton 4RNN8 offers remarkable cooling capacity. With that said, costing nearly half the price of AIRCARE coolers of comparable capacity, this evaporative cooler probably won't be as long-living.
---
How to Choose the Best Window Evaporative Cooler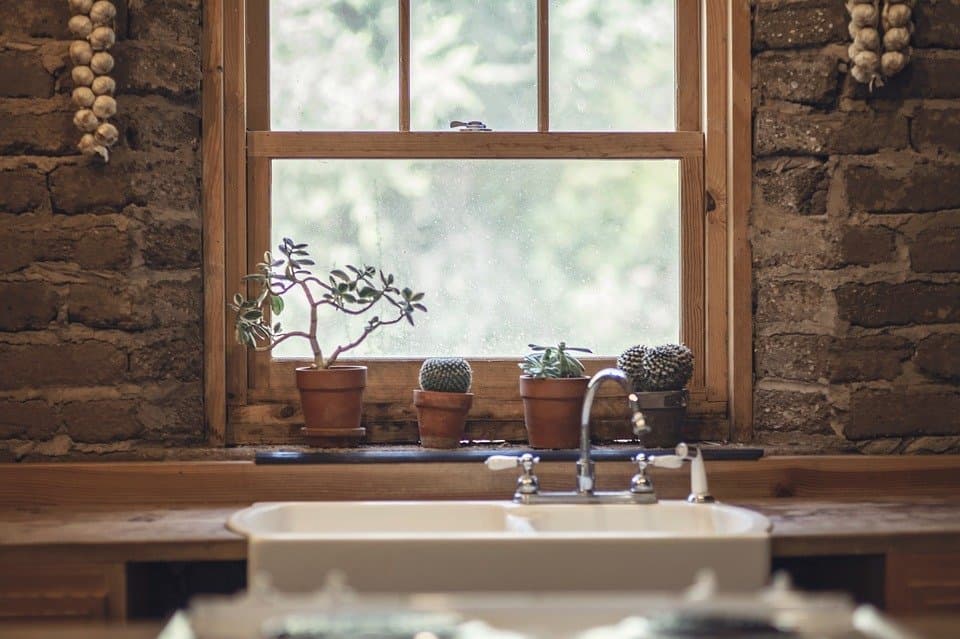 Now, which evaporative cooler should you choose? To help you, we'll now talk about a few important things to consider when shopping for a window swamp cooler.
CFM & Sizing
First up, determine how much airflow you will need for the space that you want to cool. Here's how you do it:
Calculate the volume of your room by multiplying its width, length, and height. For example, if your room measures 10 by 20 by 8 (L x W x H) feet, then its volume would be 10 x 20 x 8 = 1600 cubic feet.
Multiply the room volume by the number of desired air changes per hour. Typically, it's recommended to have air changes 20-40 times per hour. For our example, let's take 40 hourly changes – we get 1600 x 40 = 64,000 cubic feet of air per hour.
Since airflow in evaporative coolers is measured in CFM (cubic feet per minute), divide CF per hour by 60 – 64,000 / 60 = 1,066.67 CFM.
Repeat the same steps to determine how much airflow a swamp cooler should have to ensure adequate cooling.
By the way, from this formula, we can also calculate a cooler's hourly air change rate for your room size. We just need to do calculations in reverse. For example:
Suppose your room is sized at 1,000 cubic feet, and you have a cooler with 1,000 CFM. First, multiply the CFM by 60. So, 1,000 x 60 = 60,000.
Divide the number by the volume of the space that you want to cool – in our case, 60,000 / 1,000 = 60 air changes per hour. This would be a pretty nice cooler for a 1,000 cubic feet room.
This way, you can determine how many air changes a given swamp cooler can perform and whether this number is higher than the recommended 20-40.
By the way, don't confuse square feet with cubic feet when shopping for an evaporative cooler. When cooler manufacturers indicate their models' coverage, they give it in square feet, which is just room length multiplied by width. Coverage in the specs doesn't count ceiling height.
Water tank capacity
Although most swamp coolers can be fed water via hoses, some of them also have built-in water tanks. These tanks can come in handy if you for some reason cannot supply water via a hose.
With that, here are some guidelines on choosing water tank capacity:
1-3 gallons would work for small bedrooms, kitchens, or offices.
3-7 gallons would work for living rooms, sunroom, or dens.
7-12 gallons would work for large bedrooms or living rooms.
12-16 gallons would work for large outdoor areas such as patios or decks.
Over 16 gallons would work for construction sites, hangars, restaurant decks, and other similar commercial/industrial applications.
Horizontal vs vertical mounting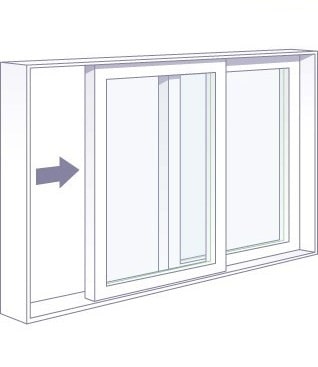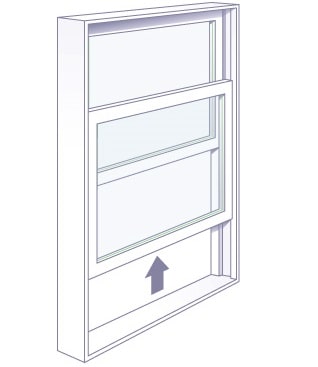 Pay attention to what kind of windows the desired evaporative cooler is intended for. Typically, window swamp coolers are designed to be mounted in vertical sliding windows. However, some coolers may be intended for horizontal windows, while a few can be mounted in either horizontal or vertical windows.
Always measure you window first and compare it against the evaporative cooler's measurement.
Editor's note: You can also install a window evaporative cooler in your wall but it is more complex than installing it on your window. For more information about this, check out this guide.
Size & weight
Size and weight are very important to consider because they will impact the easiness of installation. Besides, heavy window swamp coolers will require a sturdier window for mounting.
It's difficult to give specific recommendations here – the best tip we could give you is that you should do measurements at home to determine how big of a cooler your windows can take.
Features
For added convenience, you may want to look for the following features in a window swamp cooler:
Multiple fan speeds.
Oscillating vents/louvers.
Timer
Air filtration.
Ice compartments. In coolers with an ice compartment, ice can allow for better cooling.
Problems with Window Swamp Coolers to Know About
Although evaporative coolers are generally cheaper and more energy-efficient than traditional AC's, they won't work everywhere. More precisely:
The drier the air is, the more effective an evaporating cooler will be.
Evaporative coolers shouldn't be used in very humid areas.
When it comes to effectiveness, evaporative coolers work the best in arid areas. Though swamp coolers retain their effectiveness in moderately humid areas as well, they are the most energy-efficient in dry climates (lower than about 60% humidity). This is because high relative humidity slows down evaporation – the very process swamp coolers rely on to cool air down.
If we are talking about the US, then it's generally considered that western states are optimal for swamp coolers. See map below which state evaporative cooler works best.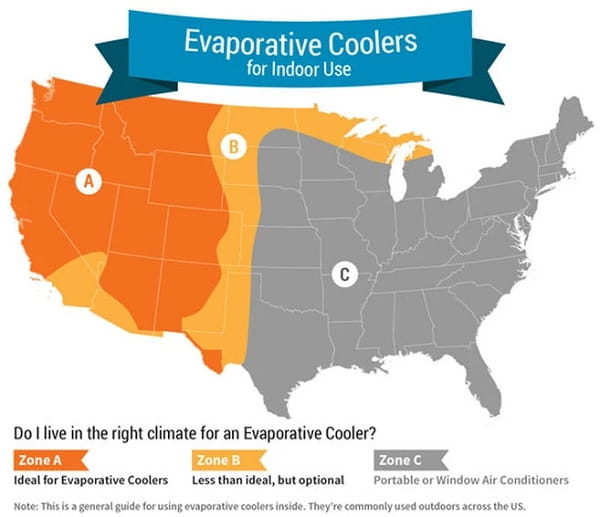 As for the second point, it is due to the increase in humidity during swamp coolers' operation. If it's already humid in your area, then an evaporative cooler will increase it even further. This could end in uncomfortably humid air in your home, as well as could cause condensation on surfaces.
Also, evaporative coolers aren't as effective at cooling as traditional AC's. However, the cost differences make swamp coolers attractive to many people.
What we've talked about above applies to swamp coolers in general. Window swamp coolers have a few other problems as well:
Window evaporative coolers occupy window space.
They require that your windowsill be sufficiently sturdy to hold their weight.
They are pretty difficult to install, though not as difficult as central or window AC systems.
Summary
So although window swamp coolers can bring considerable energy savings, they will not work for everyone. Check out what the typical humidity in your area is – if it's lower than 60%, then you are good to go. Otherwise, maybe a traditional air conditioner will be an optimal purchase for you.
Did we miss something? Write it down on the comments below.