If you want to choose the best humidifier this year for your infant, you need some information on what features to look for, the brands to pay attention to and which to avoid. But it all starts with what a humidifier does and why you definitely need one if you have a new baby.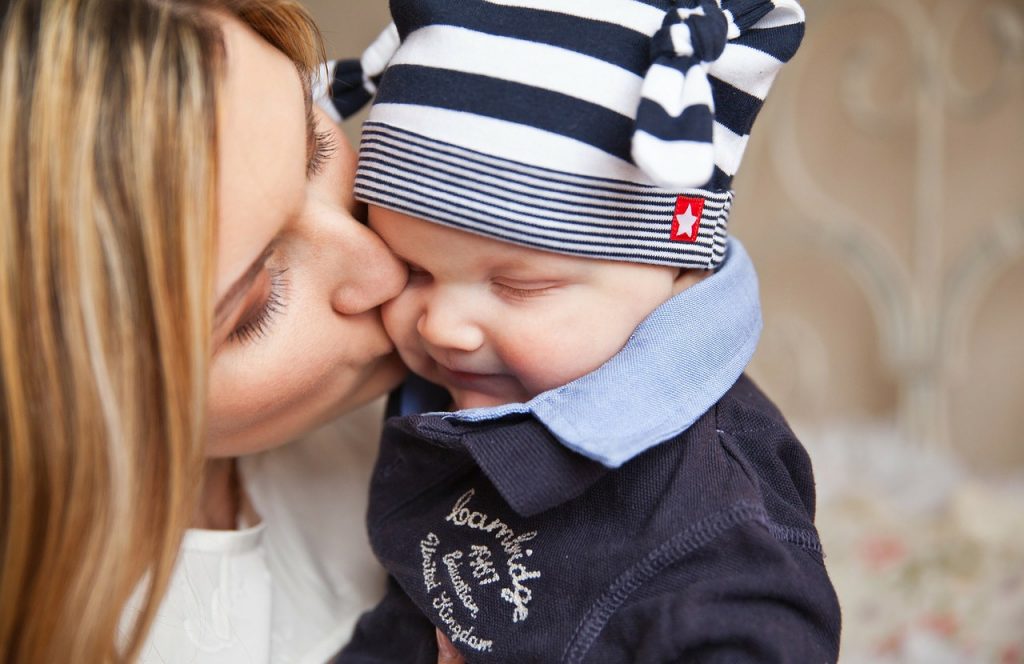 You probably have heard somewhere that you need to find the best humidifier for baby, but might not have known why. If he or she hasn't already, your pediatrician will recommend one and explain to you the benefit. But it's actually rather simple. A humidifier is designed to put moisture back into the air because when the air is too dry your infant can suffer.
When you run your central heater in the wintertime you take all of the moisture out of the air. In fact, the humidity can actually drop 10% or more. Many people just use their humidifier when their baby gets sick, but the truth is, you should use the humidifier as a preventative measure instead and lower the chances of your baby getting sick altogether.
Benefits of a Humidifier to Infants
There are some pretty important reasons to have a humidifier for your baby. When you use a humidifier and put moisture into the air you allow your baby to get relief from some of the symptoms that they might be experiencing. That's why parents are advised by pediatricians to use humidifiers when their babies get sick. The vapor that the humidifier releases eases symptoms of cold or congestion and soothes the throat of your baby. It also loosens mucus that might be stuck in the throat or nose.
A humidifier helps babies that are sick recover from their colds and be more comfortable while they are recovering from them. Also, the humidifier is good for the skin, lips and eyes by keeping the air moist and this is true for babies and adults. Also, the rhythmic humming of a humidifier can help your baby go to sleep. It may not work for every baby but most parents do notice an improvement in sleep patterns after using the humidifier. These are just some of the most important humidifier for baby benefits and there are probably other health-related reasons to use a humidifier.
Top Rated Humidifier for Baby Comparison
Remedies RM001
Honeywell HCM-350
TaoTronics TT-AH001
Crane EE-5301-FFP
Air-O-Swiss AOS 7147
Ultrasonic Humidifier
Ultrasonic Humidifier
Ultrasonic Humidifier
Ultrasonic Humidifier
Ultrasonic Humidifier
Cool Mist
Cool Mist
Cool Mist
Cool Mist
Cool and Warm Mist
2.8 Liter Water Tank Capacity
2 Gallon Water Tank Capacity
4 Liter Water Tank Capacity
1 Gallon Water Tank Capacity
1.5 Gallon Water Tank Capacity
8-10 Hour Operation
~24 Hour Operation
~15 Hour Operation
~24 Hour Operation
~12 Hour Operation
Automatic Shut-off: Yes
Automatic Shut-off: Yes
Automatic Shut-off: Yes
Automatic Shut-off: Yes
Automatic Shut-off: Yes
7 Cozy Led Lights
Germ Busting Technology
Microporous Cartridge; LED Display
Modern, Stylish Design
ITC Technology
Our Rating
4.6/5
Our Rating
4.4/5
Our Rating
4.4/5
Our Rating
4.3/5
Our Rating
4.2/5
Baby Humidifier Buying Guide
When you go to the store to buy a humidifier for the first time you are likely to be confused by the choices that are available. There are many different humidifier brands and lots of models to choose from and it can be difficult to find baby humidifier reviews online while you are shopping in the store. Not to worry, here is what you need to know to buy the perfect humidifier.
The first thing that you're going to need to decide on just to narrow down your selection a bit is whether or not you want a warm mist or a cool mist humidifier. These are just as they sound, and unless your pediatrician has recommended a specific one, you will have to decide which you want based upon the baby humidifier reviews. Here is a little bit about each type of humidifier.
Warm Mist vs. Cool Mist Humidifiers
Cool mist humidifiers are just what they sound like. They don't heat the mist up at all so when it comes out of the humidifier it is cool. There are a couple of reasons why you might want a cool mist humidifier. First, there is no danger of the air being too hot and damaging the baby's throat or having their skin burned because they are too close to the stream.
On the other hand, warm mist is not a good recommendation for baby. First, it emits heat which is dangerous to the baby when in contact. Remember that the humidifier is close to the crib and in the event of spilling, injury might be inevitable. Secondly, cool mist and warm mist functions almost the same. And, cool mist humidifier is cheaper compared to warm mist humidifier.
Humidifiers vs. Vaporizers
So, should you get a vaporizer or a humidifier? Well, to decide that, you first need to know what the difference is. A humidifier uses water to create a mist and turn the dry air in your home into air with moisture which is better for babies. A vaporizer boils water to create steam and emits the steam into the room.
The main thing that you need to know about vaporizers as it relates to your infant's health is that the boiling water is a serious safety hazard if your child has any chance of reaching the device. Basically, they do the same job. The main advantage with a vaporizer is that it is more difficult to grow bacteria so you're not getting potentially harmful germs into the air.
Safety, Precautions & Maintenance

If you are using a humidifier you want to place it somewhere in your baby's room where it isn't too close to them. You'll need to make sure that you take special care to keep it out of the reach of all children if it is a warm mist humidifier that uses boiling water. You also need to clean the humidifier thoroughly each day or depends what the manufacturer recommends to prevent bacteria growth. Finally, make sure that you test the humidity levels regularly and stop using it if they reach over 50%.
Reviews of the Best Baby Humidifier
Having a fresh, clean air in our home is very essential but why not add ample amount of natural fragrance? Here comes the Remedies Rainbow Cool Mist Humidifier which can provide all that. What's unique about this humidifier is its seven cozy colorful choices that adds vibrancy to the humidifier. But, the features do not stop there. This unit also has an aroma diffuser which adds natural fragrance to your room.
This unit has a 2.8 liter water tank which is good for 10-14 hours at lowest settings while 8-10 at higher settings. There's no need to worry when the water runs out as this humidifier shuts off automatically.
The Remedies Rainbow Cool Mist Humidifier is an ultrasonic humidifier which is drop shaped. This humidifier is well-designed and its stone filter works really well eliminating unpleasant smell that come from the water. Also, it does not require a lot of cleaning. This unit comes with a 2-year warranty.
This humidifier is one of the top-of-the-line humidifiers available in the market. It isn't going to humidify your entire house and it may not even humidify large rooms, but if you are using it for a small room, or to set next to an infant, this is a great purchase and the price is simply astounding.
Who doesn't like clean, germ-free air? Bacteria, molds, fungi and viruses don't like the Honeywell HCM-350 with its 99.9% germ-killing UV technology. Using this humidifier at home provide fresh and clean moisture emitted in the air for maximum health benefits especially for your baby. This unit operates silently and doesn't interrupt you from sleeping or napping. The 2-gallon tank is just enough to provide you up to 24 hour operation with just one filling.
When it comes with the design and build quality, Honeywell HCM-350 won't let you go disappointed. The materials (motor housing, filter, base, water tank, and other parts) are built with premium materials that doesn't go off the hook. This unit is also dishwasher safe to ensure that the humidifier works at its best. You don't need to worry about its filter because there is a replacement available. Likewise, this unit comes with a 3-year limited warranty.
Acclaimed to be the most advanced humidifier on the market, the TaoTronics TT-AH001 Home Humidifier won't disappoint you either by performance and features. This cool mist humidifier boasts its LED display that shows off timer, humidity mode and mist level. The out-of-the-box microporous ceramic cartridge that meticulously filter harmful agents in the water is designed to be eco-friendly which is why this humidifier is best for any ages. The 4-liter tank capacity operates up to only 15 hours with auto shut-off feature. You can set the timer from 1 to 24 hours. And the noise? You can barely hear it.
Maintenance for TaoTronics TT-AH001 Home Humidifier is not a major concern. The design is modern and sleek while the colors puts up a good combination just right for the eyes.
The Crane Drop Shape Ultrasonic Cool Mist Humidifier is one of the most popular cool mist humidifier out there which brings a lot features to offer. If you opt to choose this humidifier for your baby, you're on the right track. This cool mist humidifier provides ample health benefits such as relief for cough, sinus, colds and other airborne diseases. It also provides a good night sleep for your infant. You may wonder why this unit has only 1-gallon water tank but it provides up to 2.3 gallons of moist that lasts up to 24 hours. An auto shut-off is also packed in this product to ensure safety for you and your baby.
When it comes with the design and maintenance, the Crane Drop Shape Ultrasonic Cool Mist Humidifier is on top of it. It is one of the finalists of 2011 International Housewares Design Awards. A modern type humidifier which is capable of a 360 degree nozzle rotation designed for effective humidifying. This unit comes with a 1-year warranty and you can choose five color variations.
Looking for a humidifier for a large space? The Air-O-Swiss AOS 7147 can humidify rooms up to 600 sq. ft. What's great about this humidifier is you can choose to have warm mist or cool mist which is ideal for infants. This unit provides exciting features such as LED display, shut off timer, touch controls, accessories for water filtering and a technology programmed to monitor temperature of surroundings and automatically adjust to it when necessary.
The Air-O-Swiss AOS 7147 is slightly bigger and a little bulkier. This is because of its 1.5 gallon water tank capacity. For a full tank, it operates up to 12 hours. Likewise, this unit has 3 water treatment accessories (Demineralization Cartridge, Hydro Cell & EZCal) which is also replaceable and available in the market. This unit gives a generous three year limited warranty.
Conclusion
Getting the best humidifier for baby can be a daunting task but it doesn't have to be as scary as it seems at first. Once you have figured out what time of humidifier you want to get (and a consult with your pediatrician is definitely recommended) you can get the one that is the size that you need and is within your budget. You'll feel a lot better having it in the room, even if you don't use it very much, because you'll know that if your baby does get sick, you've got the humidifier to ease his or her symptoms, plus other humidifier for baby benefits. It's a much better idea to have it and not need it than to need it and not have one.