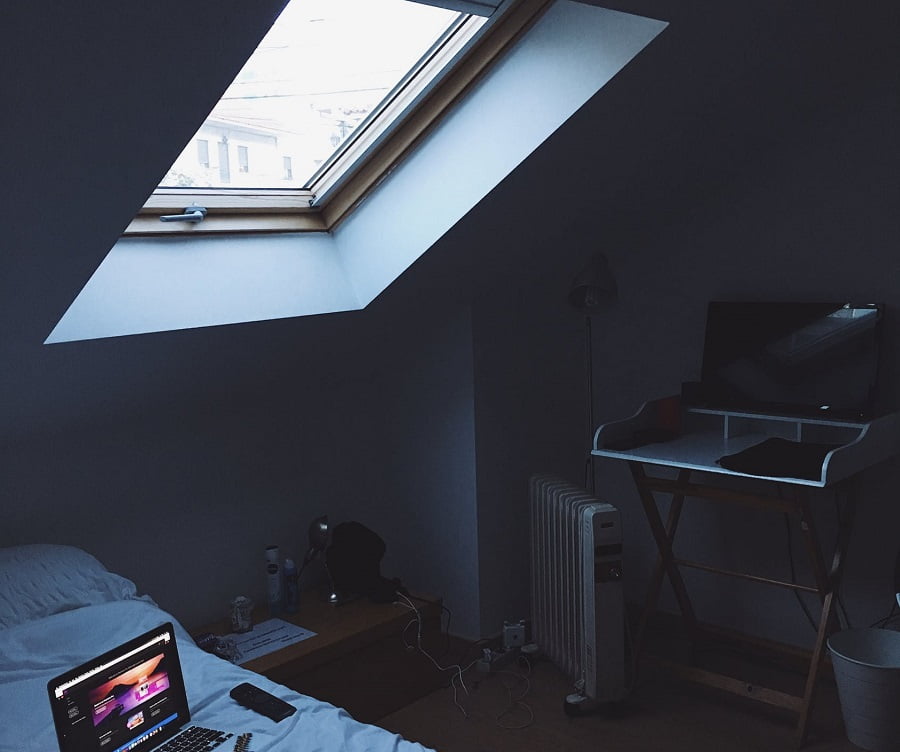 Shopping for a heater for attic use? In today's guide, we are going to help you find the best heater for attic to warm you up especially during this cold season! Read on to find 8 suggestions along with a handy buyer's guide!
8 Best Heaters for Attic to Buy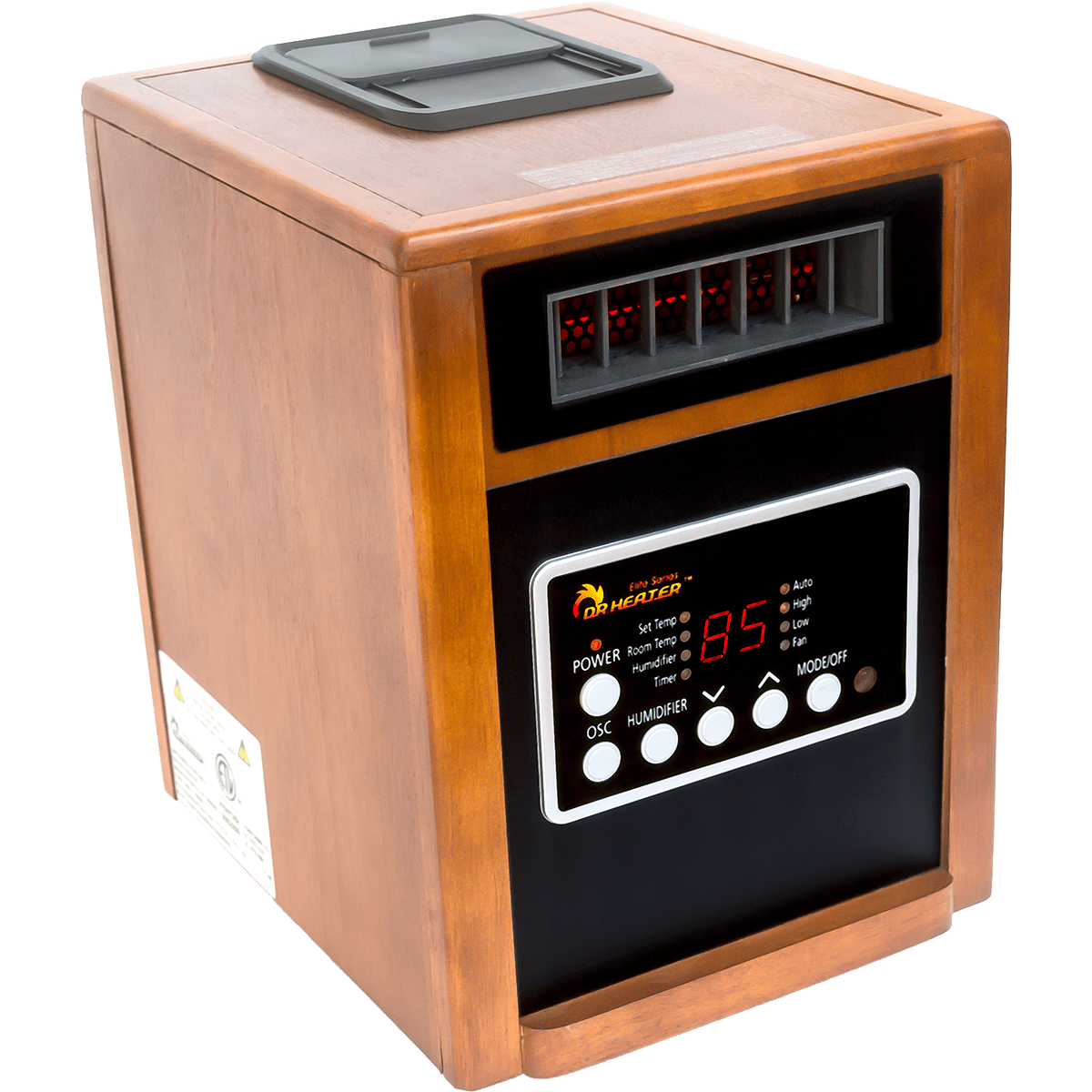 First up, we have the Dr. Infrared DR998 heater + humidifier. If you want near-instant heat in your attic, then this unit should be a fine choice thanks to its infrared technology.
However, also keep in mind that this heater won't be heating the air in the room directly, so you will feel warm only right in front of it. This is an inherent downside of all infrared heaters.
The infrared technology aside, DR998 is a very versatile heater. It boasts 3 heat settings for energy efficiency, while the adjustable thermostat can be set from 50 to 86 degrees Fahrenheit to ensure comfortable temperatures in your attic. The 12-hour auto-shutoff timer also lets you schedule heating.
What may also interest some people is that this unit has automatic oscillation and can operate in fan-only mode.
DR998 works as a humidifier as well. Just fill the provided 500ml water bottle with distilled water, plug it into the unit, and let the heater do its job.
The safety features of DR998 are also nice. This unit has a cool-touch exterior, overheating & tip-over protection, as well as UL certification.
Pros
Delivers near-instant infrared heat at up to 1,000 square feet.
Tip-over and overheating protection.
Automatic oscillation, fan-only mode, and programmable timer.
Very functional and versatile.
UL-certified.
Cons
Won't be heating the air in the room directly.
Bottom Line
DR998 is a great choice if you want to get near-instant heat. However, remember that you will need to be in the line of sight of this heater to get warm. Compared to other infrared heaters on this list, DR998 is very versatile too thanks to the 12-hour timer, fan-only mode, and auto oscillation.
---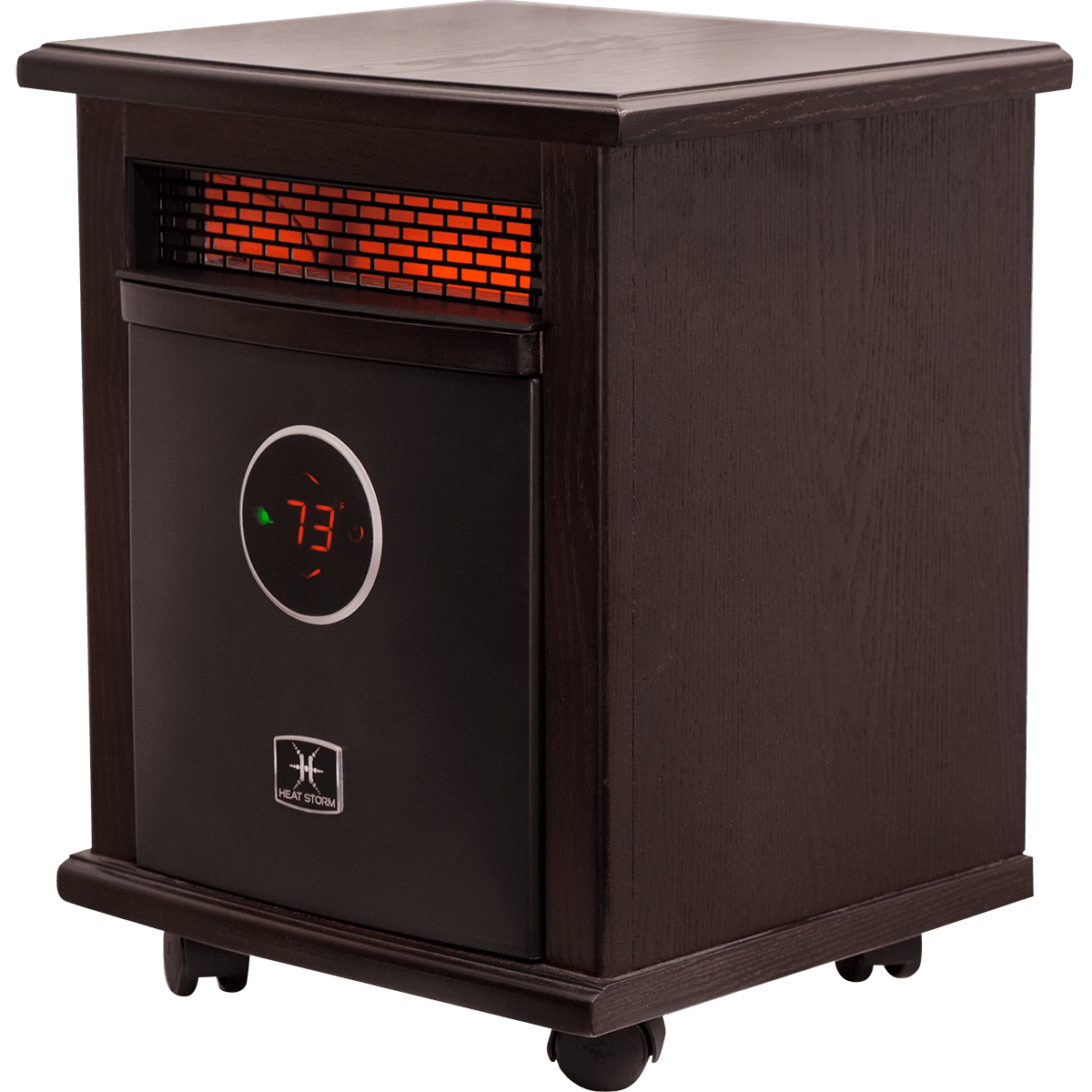 The Heat Storm Logan space heater is again an infrared unit, and its heating performance should be comparable with that of DR998. Logan is also a bit cheaper, though it's not nearly as versatile as well.
Among the things that the Logan heater lacks are fan-only mode, oscillation, and timer. It has only 2 heat settings as well, but it retains the thermostat and thus offers good energy efficiency.
What some people may also like in the Logan heater is that it has a variant with an integrated Bluetooth speaker. This feature isn't a huge deal for a heater for attics, but it may attract some buyers.
The Heat Storm Logan heater is quite safe as well, featuring a cool-touch exterior along with automatic overheating protection. It is advertised to heat rooms up to 1,000 square feet too, which should be enough for any attic.
Pros
Near-instant infrared heating at up to 1,000 square feet.
One of the variants has a Bluetooth speaker.
Auto overheating protection.
ETL certification.
Cons
Comparatively poor functionality.
Bottom Line
If you don't need the versatility of DR998, then the Logan heater will offer the same basic benefits at a lower price.
---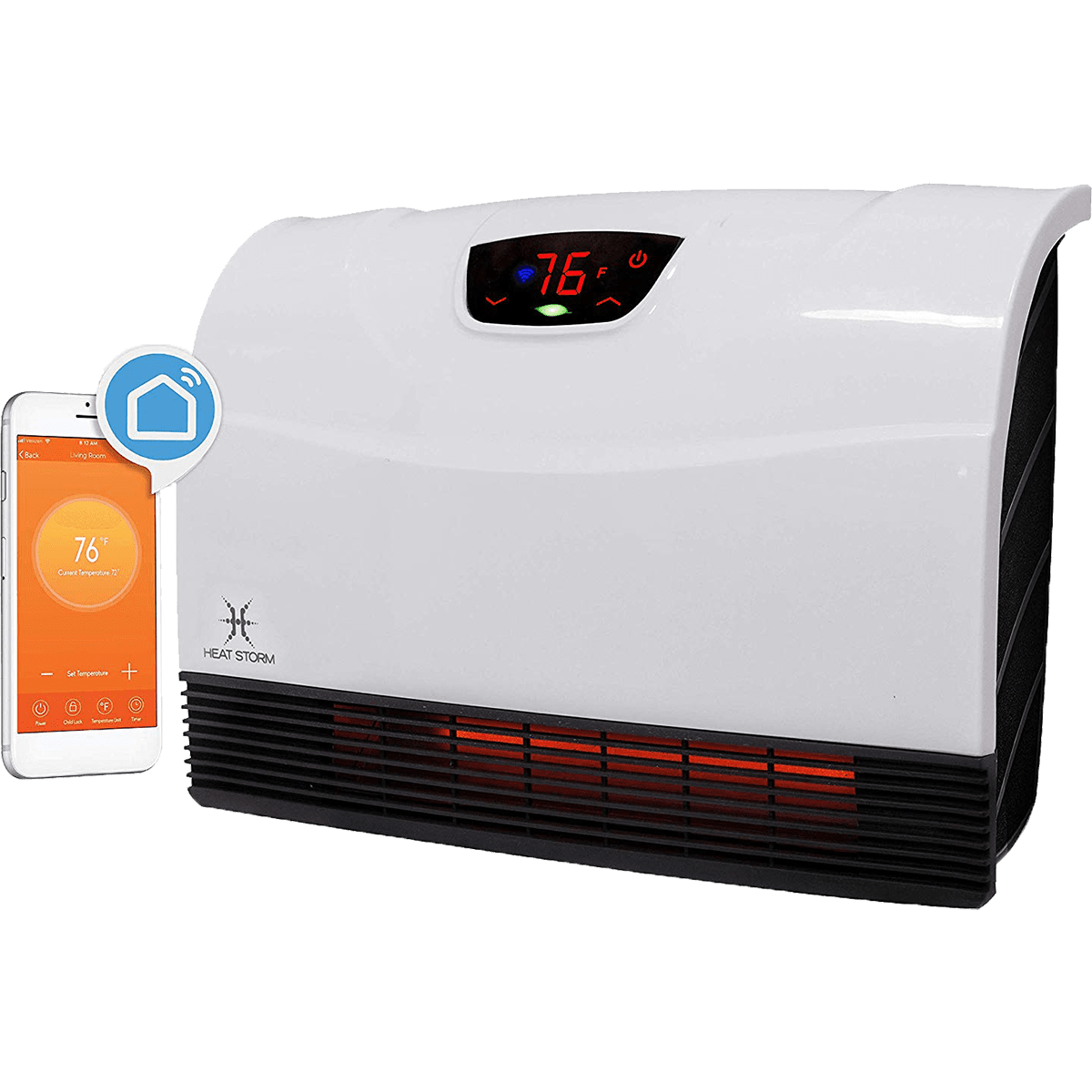 The Heat Storm Phoenix heater is intended to be mounted to a wall. While this implies limited portability, the Phoenix heater will occupy zero floor space. If you have small attic space to heat, this model should be perfect.
In terms of heating, Phoenix again uses infrared technology. However, its coverage is advertised at only 150 square feet, so this model is no match to previous heaters.
Despite the limited coverage, Heat Storm Phoenix offers a few nice safety features. Aside from overheating protection, it is designed to operate without tripping your breaker, and its buttons may also be locked so that children don't mess with the settings.
Pros
Infrared heating at up to 150 square feet.
Occupies no floor space.
Anti-trip, overheating protection, and child lock features.
ETL-rated.
Cons
Will only heat you if you are in direct line of sight.
Limited coverage.
Bottom Line
Heat Storm Phoenix offers the benefits of infrared heating in a space-efficient package. Installation will be a bit more challenging than with freestanding units, but you won't have to sacrifice any floor space!
---
The Cadet SoftHEAT heater provides fan-free convection heating. This is a traditional heater that doesn't deliver instant heat, but unlike infrared heaters, it does heat the air in the space. So if you aren't interested in infrared heaters, this unit may be a good choice.
What's also interesting about this heater is that it has no fans. Instead, it relies on hydronic technology. Having no fans, this heater is quiet and doesn't spread airborne germs and allergens.
Another thing we like about this heater is the compact size and the tough steel construction. This baseboard unit has a very small footprint too, so it should work wonderfully in tight areas.
When it comes to heating performance, Cadet offers several sizes that cover from 75 to 175 square feet. With that, this unit will work the best for small attics or zone heating.
This heater has one notable downside though – it only works with 220-240V current and requires hardwiring. This is going to make setup challenging, especially if you don't have 220-240V in your home.
Pros
Several size options.
Tough steel construction.
Compact and space-saving.
Has no fans and thus operates quietly.
Automatic overheat protection.
ETL certification.
Cons
Requires 220-240V and hardwiring.
Bottom Line
If you want a super-compact convection heater, then the Cadet SoftHEAT unit is a great choice. Just keep in mind that its installation may be challenging.
---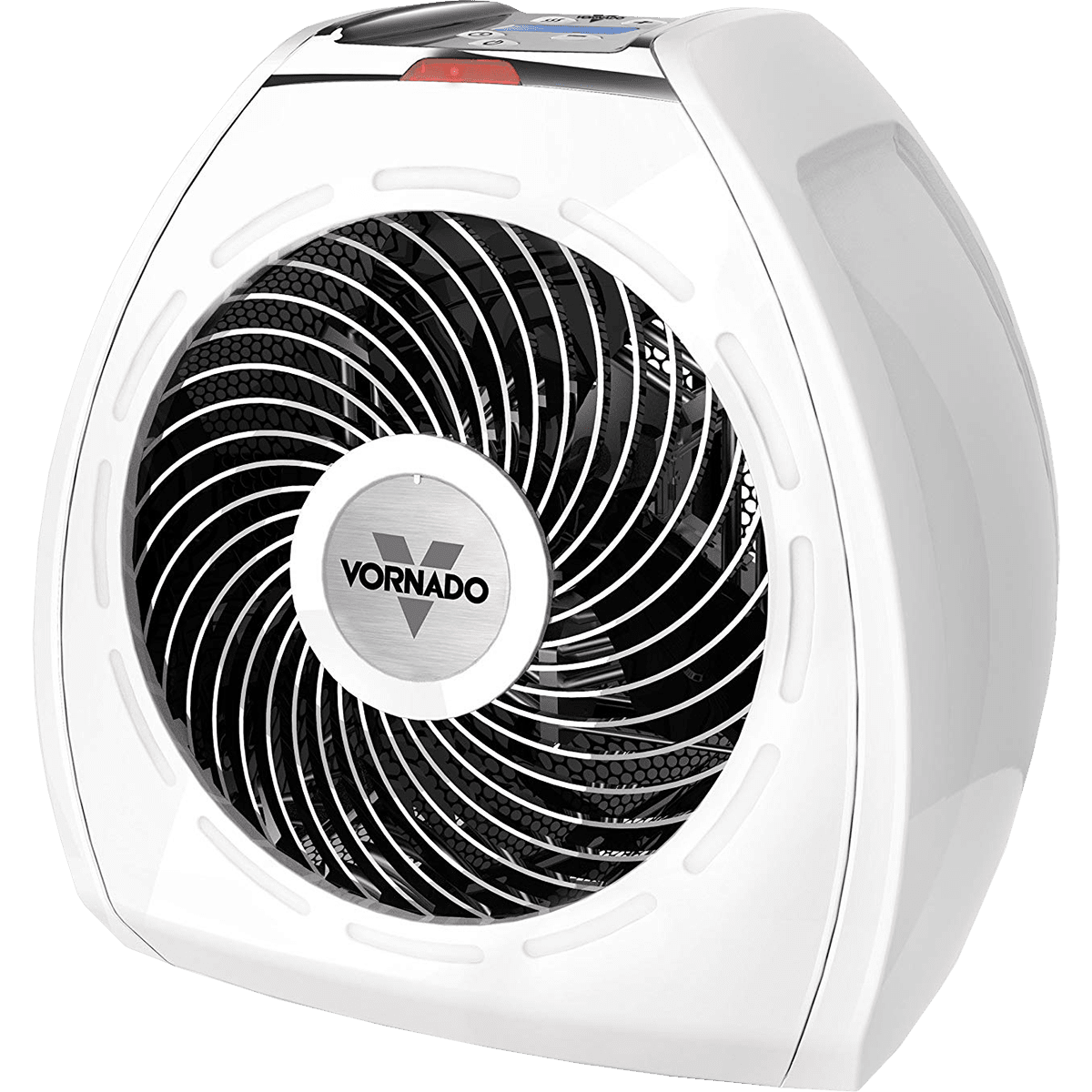 The Vornado Touchstone 500 Vortex heater is a great choice if your budget is limited. Aside from that, Touchstone 500 occupies very little space and is very light.
What's nice about Touchstone 500 is that its functionality is quite versatile. It has a 9-hour timer, a fan-only mode, and 2 heat settings for convenience and efficiency. And so far, this is the second unit on this list to have a timer and fan-only mode.
Heating-wise, Vornado doesn't seem to provide heating performance specs anywhere. However, based on its 1,500W wattage, it should be good for up to 150 square feet rooms.
Finally, for protection, Touchstone 500 has a tip-over switch along with an overheating shutoff.
Pros
Very inexpensive.
Very light and compact.
Programmable timer and fan-only mode.
Tip-over switch and overheating protection.
Cons
Vornado provides no specs on heating performance.
Bottom Line
Vornado Touchstone 500 is a fine choice for limited budgets. It's also great if you have very limited free space for a heater.
---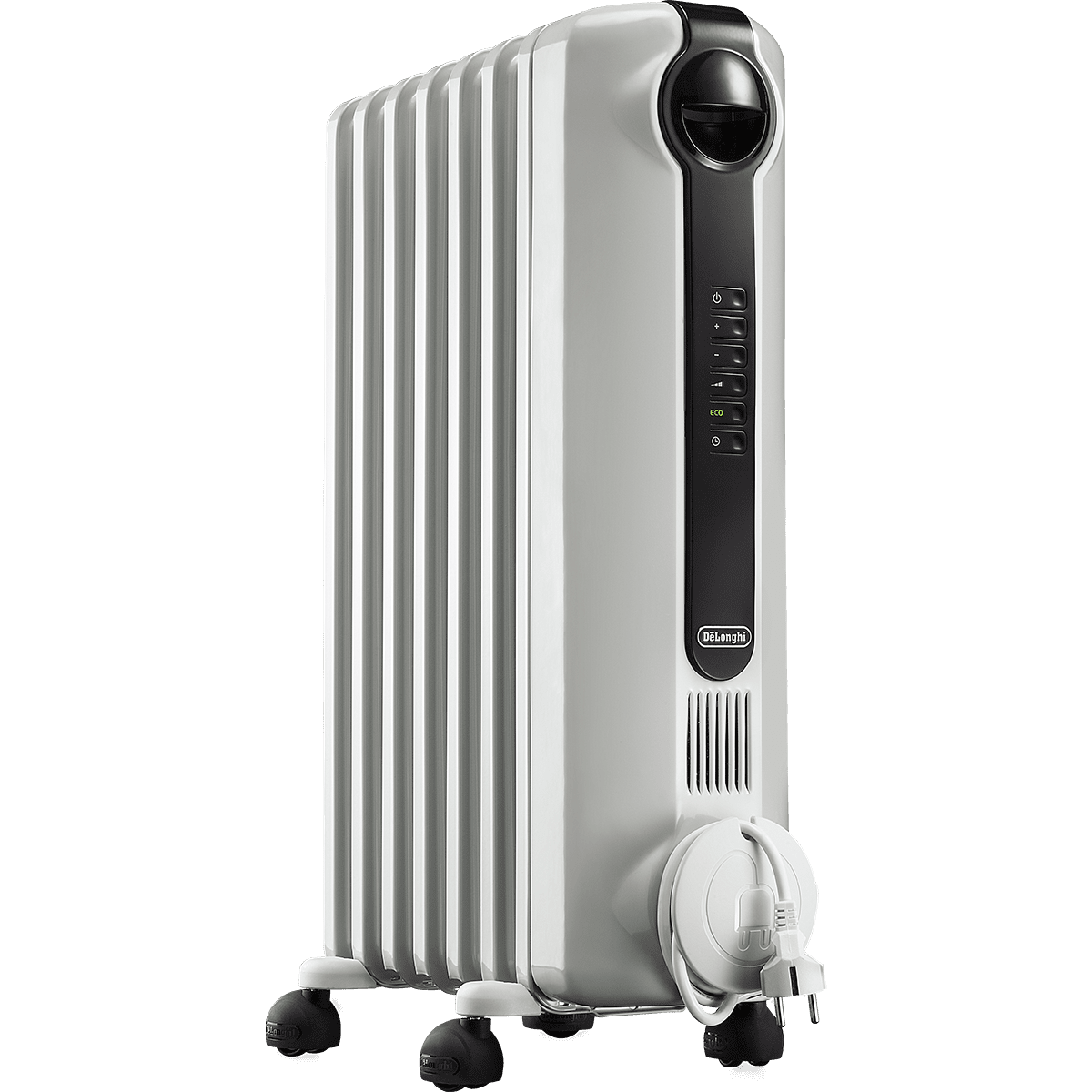 The DeLonghi TRRS0715E​ oil-filled radiator heater is arguably the most versatile heater on this list. If you want flexibility and energy efficiency, then this is a fine heater for attics.
Among the features offered by the DeLonghi radiator heater are the programmable timer, 3 heat settings (including an eco mode), and anti-freeze mode. This feature set is much better than in most other units on our top.
The eco and anti-freeze modes are new on this list. Basically, the eco mode provides heat while saving energy, whereas the anti-freeze mode ensures a temperature of 41 degrees while preventing the oil from freezing.
Performance-wise, the DeLonghi heater is intended for up to 144 square feet rooms. This isn't too much but should be enough for small attics.
Since the DeLonghi radiator heater has no fans, it boasts completely quiet operation too. However, unlike previous units, it gets hot to the touch.
The hot exterior aside, the safety in this radiator heater is great – it has an overheating shutoff and a setting lock.
Pros
Tough construction.
Silent operation.
Programmable timer, 3 heat settings, and anti-freeze mode.
Overheating shutoff and setting lock.
ETL-certified.
Cons
Gets hot to the touch.
Bulky and heavy.
Bottom Line
The DeLonghi radiator heater offers an excellent feature set for convenient operation and energy efficiency. It's a bit bulky though, so make sure that you have enough floor space for it before buying.
---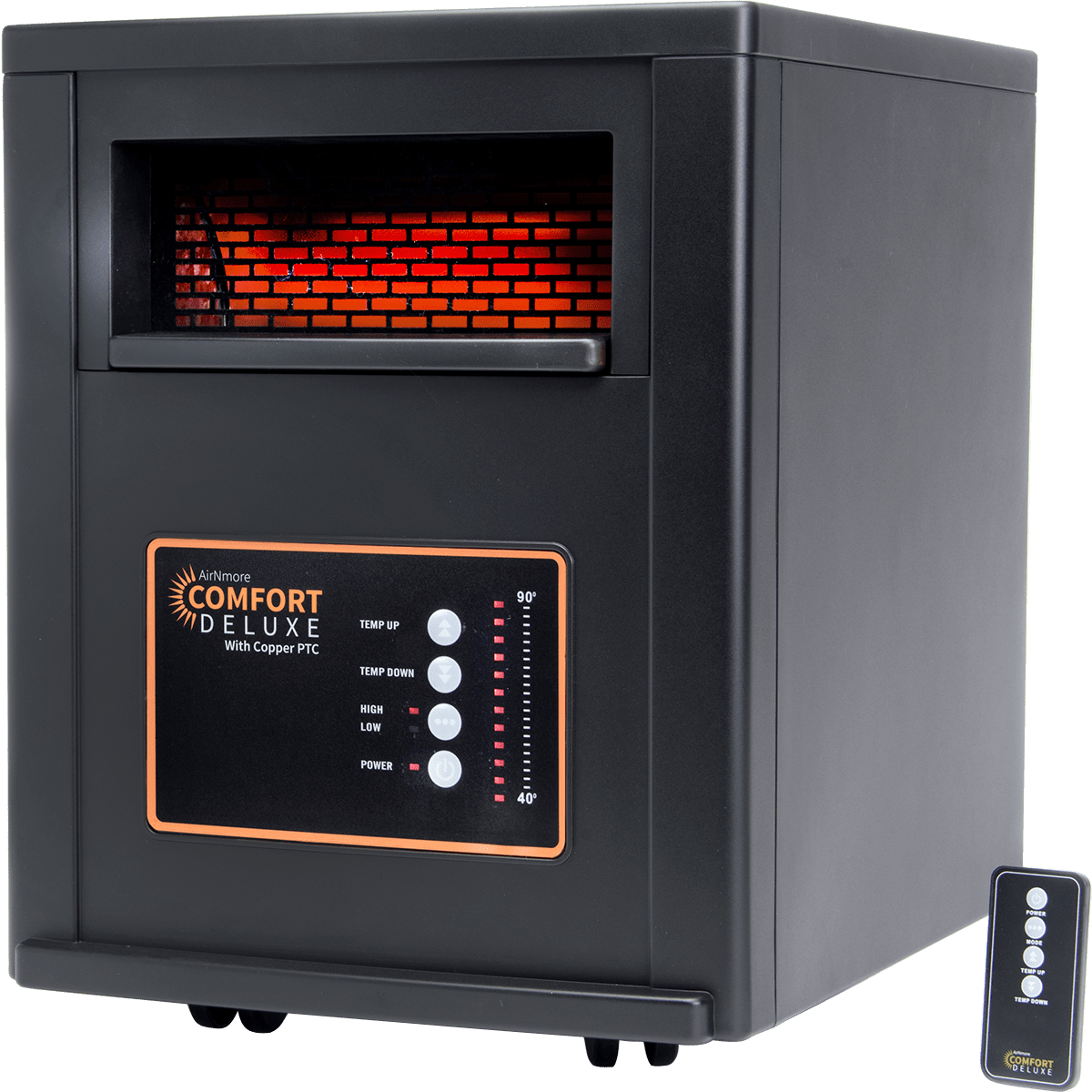 The highlight of the AirNmore Comfort Deluxe YD-903G-CDA infrared space heater is the wide thermostat temperature range. Going from 40 to 90 degrees Fahrenheit, it allows for unparalleled temperature control and efficiency.
What's also remarkable about this infrared heater is that it has a memory function, allowing the heater to restore its settings after power outages.
The copper heating element of Comfort Deluxe is also safer and more efficient than aluminum heating elements typically used in other heaters. And speaking of safety, this model also features tip-over and overheating protection.
Pros
Instant infrared heat.
Remembers heat settings after shutdown.
Tip-over and overheat protection.
ETL-certified.
Cons
Pricey.
Requires that you be in the line of sight.
Bottom Line
If you want an infrared heater with a functional thermostat, then the AirNmore Comfort Deluxe might be an excellent choice. It's a little pricey and not as functional as some previous units, but it should be great in terms of energy efficiency.
---
Finally, we have the NewAir AH-450B oil-filled radiator heater.
This model is a little bit cheaper than the DeLonghi oil-filled radiator heater, so it's a better pick if your budget is tight. However, there are some features that the NewAir heater lacks.
Most importantly, it doesn't have the anti-freeze mode. The thermostat's temperature range is narrower as well, going from 65 to 85 degrees (41 – 82 degrees in the DeLonghi radiator heater).
Other than that, the NewAir space heater is rather functional and versatile. It has a programmable timer, eco mode, tip-over protection, and overheating shutoff.
Pros
Silent operation.
Programmable timer and eco mode.
Tip-over and overheating protection.
ETL-compliant.
Cons
Bulky and heavy.
Gets hot to the touch.
Bottom Line
If your budget is a little bit tight for the DeLonghi radiator heater, then this unit may be the perfect heater for attic use. Its thermostat isn't as versatile as in the DeLonghi radiator, but all in all, the NewAir unit is rather functional.
---
Things to Look For in a Heater for Attic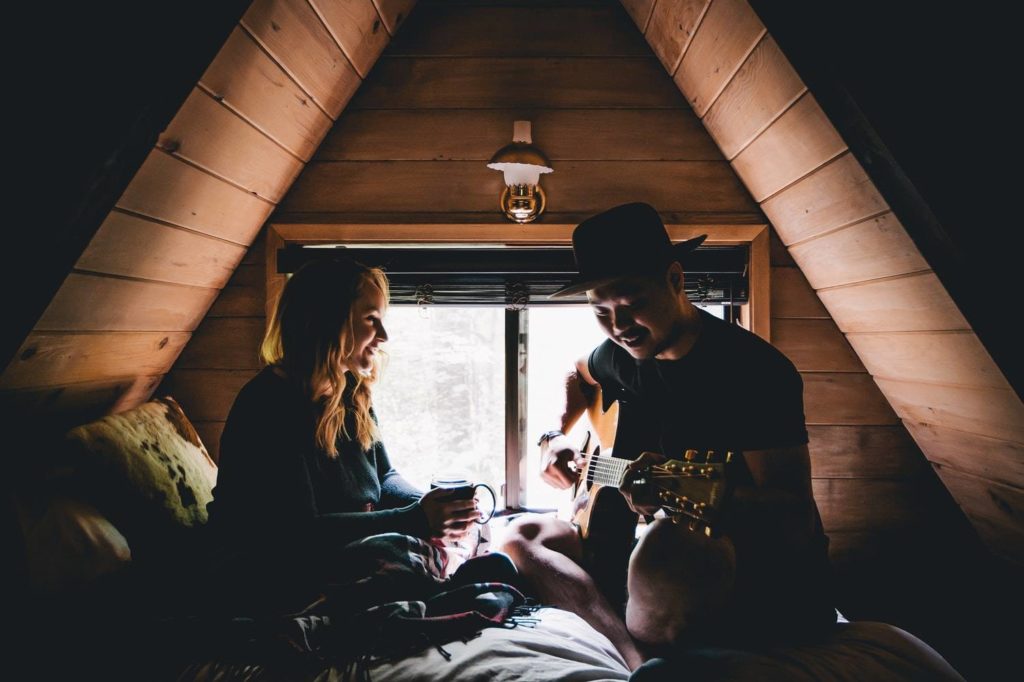 Now, to help you better understand our reviews, let's talk about the key features to consider in a heater for attic use.
Heat coverage
First up, you should try to determine the space that a heater can effectively cover.
One way of assessing the coverage of a heater is by having a look at its wattage. Typically, you need 10 watts of heating power for every square foot of area. So for example, if you have a 110 square feet room, you would need a 1,100-watt unit.
Based on the wattage of a space heater, you may also roughly calculate how much coverage it has with this formula:
Square footage = Total wattage / 10
For example, a 2,000-watt heater would be able to heat roughly 200 square feet spaces.
SFGate also provides another way of determining heater coverage. With their method, you will be able to determine how many BTUs you need to heat your attic. The guide is given for attic bedrooms, but it should work for attics of any purpose.
Here's how you calculate the necessary amount of BTU for an attic:
Open the door to the attic. This allows radiant heat from the rest of the house to rise into the attic.
Measure the length, width, and ceiling height of the attic.
Multiply the length by width to find the square footage of the attic.
Multiply the square footage of the attic by ceiling height to find the volume of the attic in cubic feet.
On a cold day, place a thermometer in the attic and let it sit for 6-8 hours.
Check the reading on the thermometer and subtract the reading from the temperature that you want to have in your attic. This will give you the desired temperature increase.
Multiply the cubic footage of the attic by the desired temperature increase and round it to the nearest thousand. This will give you the necessary amount of BTUs for heating.
Some manufacturers also list the recommended room size for their heaters. However, brands tend to overestimate their heaters' coverage, so you should take the specs with a grain of salt.
Heater type
Next, consider the heater type. Among the most popular heater styles are:
Oil-filled heaters. These heaters rely on convection to heat your space. They are noiseless and deliver plenty of heat, but they tend to get hot to the touch and occupy a lot of space.
Ceramic heaters. These heaters also rely on convection, but they don't use oil for heat transfer. Generally, ceramic heaters are more reliable than oil-filled heaters, and they typically don't get hot to the touch.
Infrared heaters. Infrared heaters directly transfer heat to surrounding objects and people. They don't heat the air directly, so you need to be in the heater's line of sight to get warm. However, the heat delivery is instant in infrared heaters.
Which technology is right for your needs depends on your budget, size of the attic, and preferences.
Heater mounting
A space heater for attic use may or may not require mounting or hardwiring.
If you don't want to waste any time on installation, then get yourself a heater that is portable and can be powered via a plug. On the other hand, if you want added space efficiency, then you may want to get yourself a baseboard or wall heater that needs to be hardwired.
Heater size and weight
Attics are typically fairly constrained in size, so you should also pay attention to the dimensions of the desired space heater. Determine how much space you are willing to dedicate to a heater for attics and find a model that meets your needs.
Heating features
Finally, consider what features you are getting with the space heater. Among things that may interest you are:
Programmable timer.
Fan-forced heating and fan-only operation.
Automatic heater oscillation.
The number of heat settings. The more settings you have, the more efficient the heater will be since you'll be able to fine-tune how much energy the heater consumes.
Safety features such as tip-over protection, overheating shutoff, or child safety locks.
Summary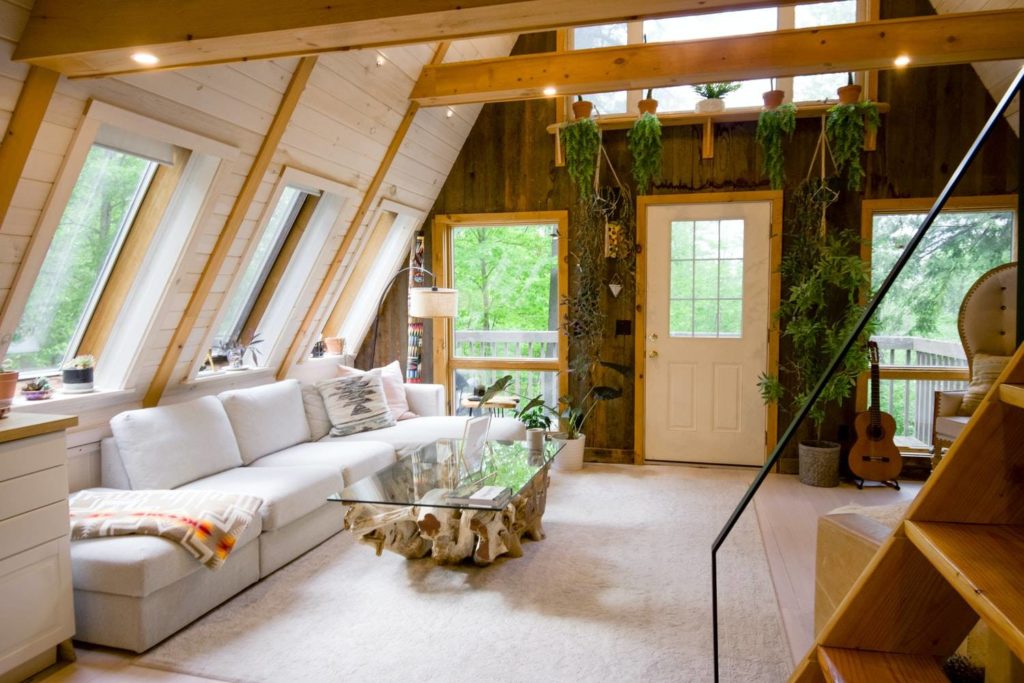 All in all, choosing a heater for attic use is no different than choosing a heater for your living room. The technology is the same, so if you have any previous experience with heaters, it could be handy here as well.
However, attics require some unique considerations. Most importantly, attics typically don't have much space, so you will have to pay careful attention to heater size and mounting.
No matter what your needs are, follow the tips we've given you in the buyer's guide. It has all the key information to help you choose the best heater for attic application.
---