Who makes the best small wood stove? This article will guide you to choosing the best small wood burning stove in 2023.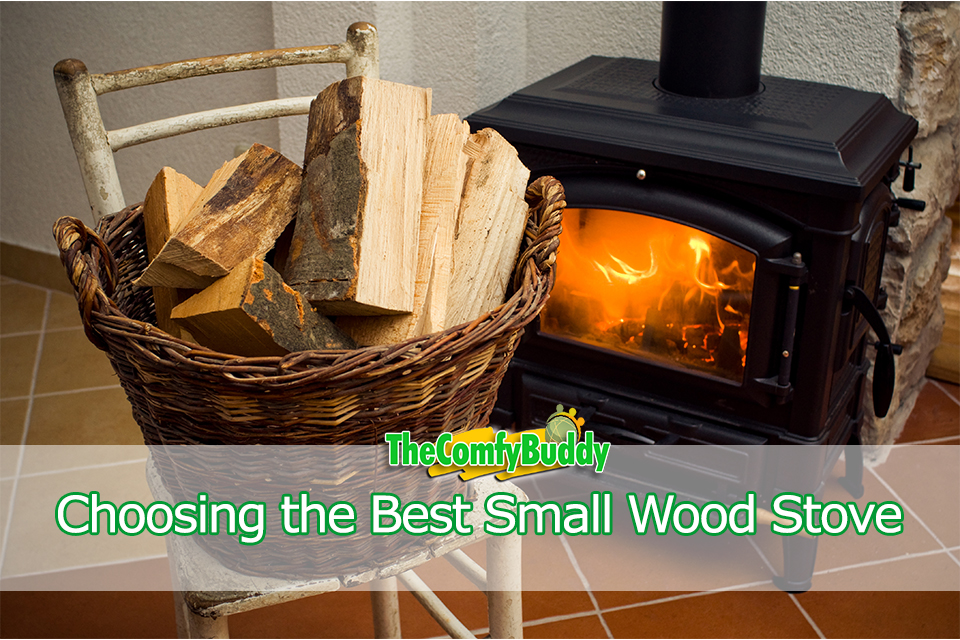 Winter is just around the corner, and it's time to start looking for a reliable heating appliance. We all know that in a modern house, space is too precious to lose, and we cannot afford to build a fireplace as that requires enormous bank-breaking upgrades.
Luckily, there's a heating appliance that's both space-efficient and more than capable of warming up your small home, cabin, condo, apartment and recreational vehicle. Better yet, this appliance has a reasonable price and won't go hard on your pocket. What should you get? A small wood stove, of course. It's the perfect representation of family, tradition, and coziness, which makes it an excellent companion during cold winter nights.
Top Small Wood Stoves This 2023
Not enough list? Check out more small wood stoves.
What is a wood stove?
In simple words, a wood stove is a heating appliance that uses wood as fuel. Many people prefer it over standard heating appliances because of its small size and safe fuel, which is far more secure than gas.
A wood burner typically consists of the firebox, which is made of steel, and one or multiple air controls, that can either be manipulated manually or automatically, depending on the model. The appliance is also linked to a chimney that gets the combustion gases out to ensure safety inside the house, as these emissions may be fatal if inhaled for an extended period of time.
Wood stoves have come a long way since they were fast introduced back in 1557, and they're definitely a great option to consider, especially that a standard fireplace may prove too useless, dangerous even, for some people.
How does it work?
You ignite the flames using a piece of paper, wood, and kindling
Fresh air starts flowing through intake vents to the firebox allowing the flames to burn
The moisture begins vaporizing and escaping through the chimney
The wood releases volatile organic compounds, charcoal, tar, and carbon that escape through the vent
The stove continues burning the wood until it reaches 1000°F. Once that's done, only charcoal wood remains which burns effectively allowing the stove to generate heat perfectly.
The heat is radiated through the walls and top of the stove, which then gets carried away to other areas through the house's natural air flow
Why choose a mini wood stove?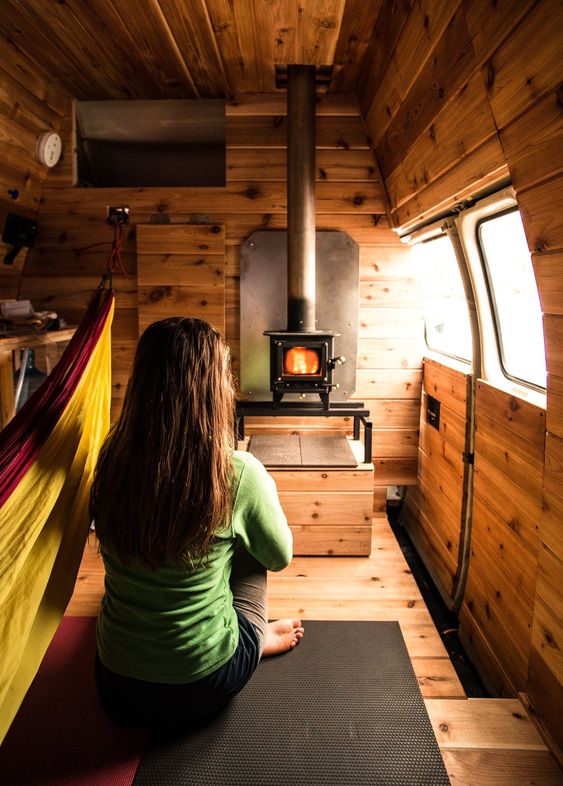 A wood burner stove is an excellent appliance to resist the bitterly cold nights of the winter, and it's a luxury some people can't live without anymore. But before choosing one for your home, you need to go over the advantages and drawbacks to decide whether this appliance suits your needs or not.
Pros
Space efficient, of course!
Ecologically safe and environment-friendly as they do not use petroleum
Lovely and give a cozy feeling across the house
Efficient heating system for an around-the-house comfort
They use wood, which is a cheap and renewable fuel, making them less money-consuming compared to other heaters
Great efficiency as the stove relies on air to burn the wood
Cons
Require regular monitoring and maintenance as the gas emissions can be dangerous and can lead to house fires.
Cannot provide warmth for a big house, only a small one or a big room
Ideal uses of a small wood stove
Heating the house: This is obviously the primary use of a small wood stove. This appliance is designed to provide heat for house inhabitants, both humans, and animals.
Cooking: What many people don't know about small wood stoves is that they can be used to cook food if they have enough space on top of them. Cooking food on a log burner is similar to doing it on wood, and it gives the same retro taste.
Heating beverages: Besides food, a small wood stove can be used to warm up water, tea, coffee, or any other hot drink by placing it on top of the firebox.
Drying the laundry: You can build a small drying rack by the small wood stove to dry the laundry if the electricity bill is getting higher or if your dryer isn't working properly.
Wood Stove vs. Electric Space Heaters
Wood stoves aren't the only player on the marker, and no matter how luxurious they look, their competitors still have the upper hand in some aspects. The main appliance competing with wood burners in the heating industry is the electric space heater. So, what's the difference?
Energy Source
Wood stoves use wood as a fuel, which should be either stored indoors or outdoors, and you can either buy it or cut it yourself. On the other hand, a space heater operates on electricity, which is considered safer and more efficient by many standards.
Pro Tip: To achieve maximum heating distribution, add a stove fan on top of the heater.
Safety
You can't directly touch the flames in a wood burner, but the appliance may be dangerous if the outside is hot, and it releases gas emissions that can be hazardous. A space heater doesn't produce flames at all. The body can get hot and become a threat to pets and kids, but it doesn't have any emissions, so it's safe in that aspect.
Portability
Moving a wood stove around can be a hard task considering the heavy weight and size of these appliances. That's not a problem for small wood stoves known for their portability though, which are the focus of our guide. On the other hand, a space heater only requires an electrical outlet to work which makes it easily portable.
Wood Stove Types
When it comes to wood stoves, respecting the EPA limits for smoke emissions is a must. Those limits can be met through, generally, two approaches which are catalytic and non-catalytic combustion. These were both proven to be effective despite the difference in performance.
You can find the catalytic combustion stoves among the more popular ones even though the market is mostly made up of non-catalytic heaters. Seeing that, operating them is a bit complicated, catalytic stoves would be more appropriate to people who are willing to go through frequent maintenance and to the more technophile consumers than any others.
Non-catalytic stoves
As the name suggests, no catalyst is used by the Non-catalyst furnaces. They do, though, come with three characteristics that make for an appropriate environment for total combustion. We're talking about the pre-heated air, the large baffle that produces hotter, longer path for gas flow, and the firebox insulation. Components like the baffle are going to need to be replaced from time to time because they get worse because of the high temperature.
Catalytic stoves
When it comes to catalytic combustion, a ceramic honeycomb within the furnace is used to pass the smoky exhaust where it'll burn. This kind of stoves can produce a prolonged, even heat output. The metallic catalyst gets the ignition point down from 1300°F (or 704°C) to 500°F (or 500°C) ) which results in more efficient heating as more smoke gets burnt before leaving the firebox.
They also come with a catalyst bypass damper that operates with a lever, and that's used to start and reload. The honeycomb deteriorates as time goes by and will need to be replaced. But it all depends on how carefully you use it. The catalyst can remain for six seasons or even more if used correctly; although, if you don't commit to regular maintenance, if the wrong kind of fuel is used or if you over-fire the stove then you can expect the catalyst to break down in even a couple of years.
The Top 7 Small Wood Stoves on the Market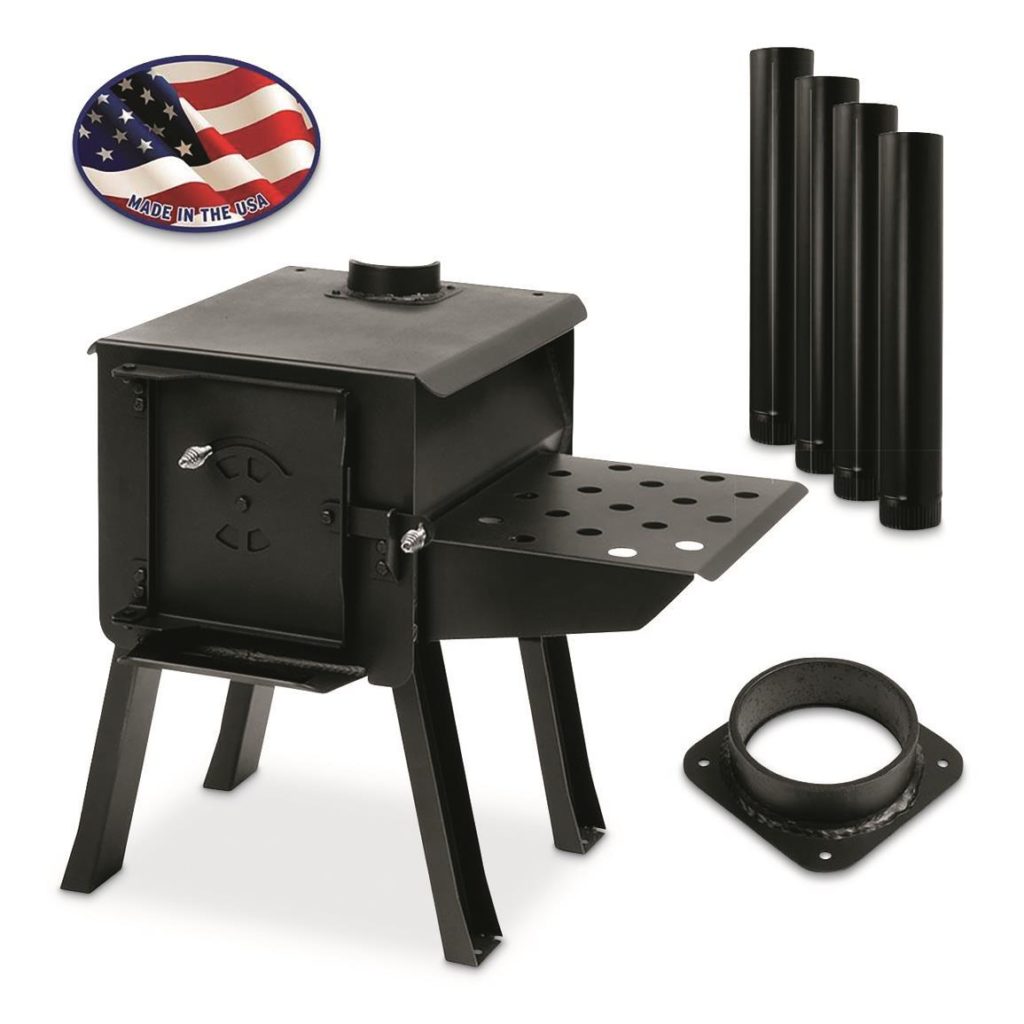 The smallest there is!
If you're a traveler looking for a compact appliance to heat your boat, cabin or RV, then the England's Stove Works Cub Camp Stove Kit is an excellent choice to consider.
The firebox size of this stove is 1.0 cubic foot and can accommodates 14-inch wood logs. It has a dimension of 14.5″ W x 19.5″ D x 21.75″H which makes it the smallest in our list. You can use this outdoors especially for camping.
The material used for this stove is a 12-guage steel which is commonly used for wood stoves. This stove already includes the 8-foot pipe kit and other accessories so you don't need to find buy them separately. Moreover, the removable legs makes this stove very portable and easy to keep.
Overall, this is a well-built small wood stove that's capable of handling small tasks, and it would surely add a nice touch to your cabin or tent, especially when paired with a teapot for an added retro, cozy feel.
Pros
Suitable for heating and cooking a small meal
Eco-friendly thanks to its second combustion system
Easy installation and maneuvering
Removable leg base
Includes accessories for a complete setup
Cons
Isn't suitable for cabins with high ceilings
---
The Dickinson Marine 00-NEWSF Newport Solid Fuel Heater is yet another great product on our list. It measures 10 x 7.9 x 15.6 inches and weighs 12.65 pounds, making it ideal for RV's, small cabins and yachts measuring 20-25ft, which is the purpose for which it was designed. The heater is made of Non-rust stainless steel, so it should last for good long years.
For the fuel, this small wood stove can burn coal, 1-inch thick wood, presto log, or charcoal briquettes to provide 3000 to 8000 BTUs. Cleaning this appliance is relatively easy thanks to the demountable ash drawer and the damper control, which is something we dig about the Newport Solid Fuel Heater.
You need three-inch chimney parts and fresh air venting around the appliance for safety reasons to install Dickinson Marine's masterpiece. Please note that it can only be wall mounted.
All in all, the Newport Solid Fuel Heater is a reliable option to consider, and it has everything you may ever need in a small wood heater.
Characteristics
Build material: Non-rust stainless steel
Heat Output: 3000 to 8000 BTUs
Weight: 12.65 lbs
Dimensions: 10 x 7.9 x 15.6 inches
Pros
Durable thanks to its non-rust stainless steel construction
Can work on wood, presto log, or charcoal briquettes
Suitable for small cabins, RVs and boats
Cons
It can only be wall-mounted
---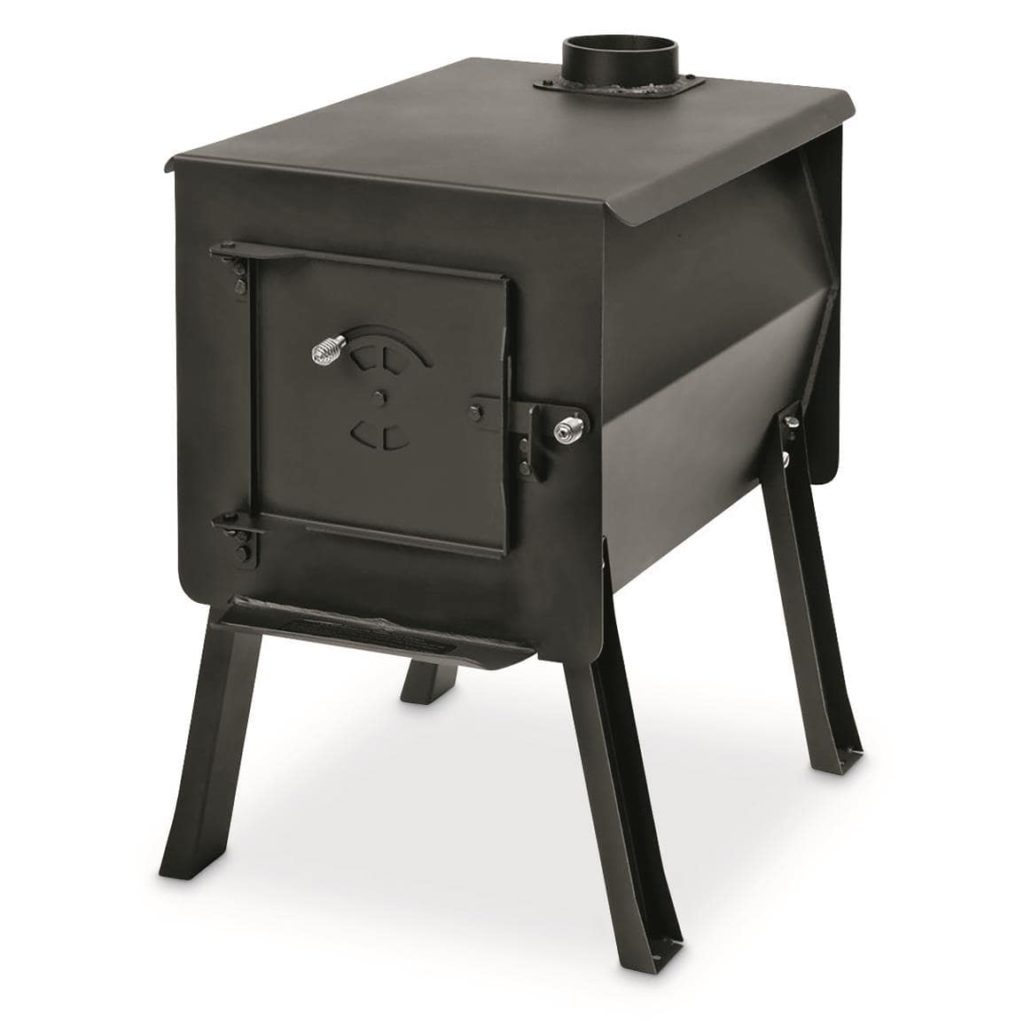 If you liked what we said about the England's Stove Works Cub Camp Stove, but you found it too small for your needs, you'll surely like England's Stove Works Grizzly Camp Stove Kit, that was designed to be the bigger successor for the first suggestion on our list.
Just like the Cub, this small wood stove is suitable for use on cabins or tents. Additional safety kits should be needed if you want it to be installed in RV's and homes.
This wood stove is also made with 12-gauge steel and weighs 63 pounds with a total of 93 pounds with the kit. Log size it can accommodate is bigger at 22 inches. The legs are also removable just like its younger brother.
Pros
Compact, yet strong
Environment-friendly and suitable for heating and cooking
Easy to install and operate
Bigger firebox area at 2.7 cubic feet.
Cons
---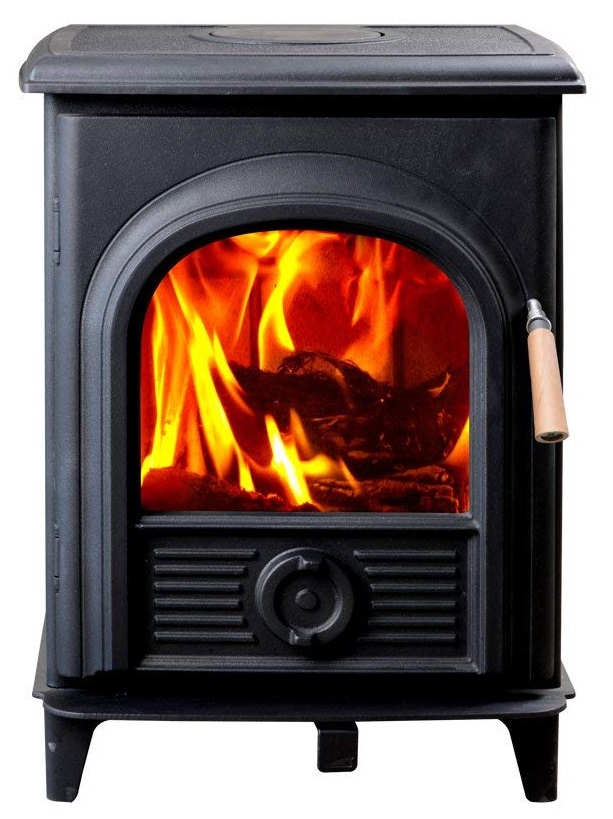 HiFlame is a well-known brand in the heaters industry, and the HF905U another one of their top non-catalytic wood burners. Compared to the other products on our list, this small stove heater is a bit big as it measures 16.8 x 17.5 x 24 inches and weighs 174 pounds, but it's still small enough to fit on any cabin comfortably and provides heat for 800 – 900 square area in an efficient manner.
What we like about the HF905U Wood Burning Stove is its high-tech firebox that's designed following the industry's latest standards to ensure that the air stays clean and fresh when the wood is burning. The firebox has an air washed door that allows the glass to stay clean all the time. The stove is also EPA and Washington state certified and Omni tested, which shows how much HiFlame cares about the safety of its customers.
The installation is straightforward, as this wood heater can fit a 6″ stove pipe, top or rear flue outlet. Connecting the stove to the chimney can be done through the included coupler.
For the warranty, HiFlame offers five years of coverage, which is pretty good compared to the one-year standard warranty other brands offer.
Characteristics
Build material: Cast Iron
Heat Output: 21,000 BTUs
Flue diameter: 6-inch
Weight: 174 lbs
Dimensions: 16.8 x 17.5 x 24 inches
Pros
EPA and Washington state certified, Omni tested
Can comfortably heat an 800 – 900 square area
Easy installation and operation
Air washed glass for a retro fire view
Cons
May prove to be a bit big for some users
---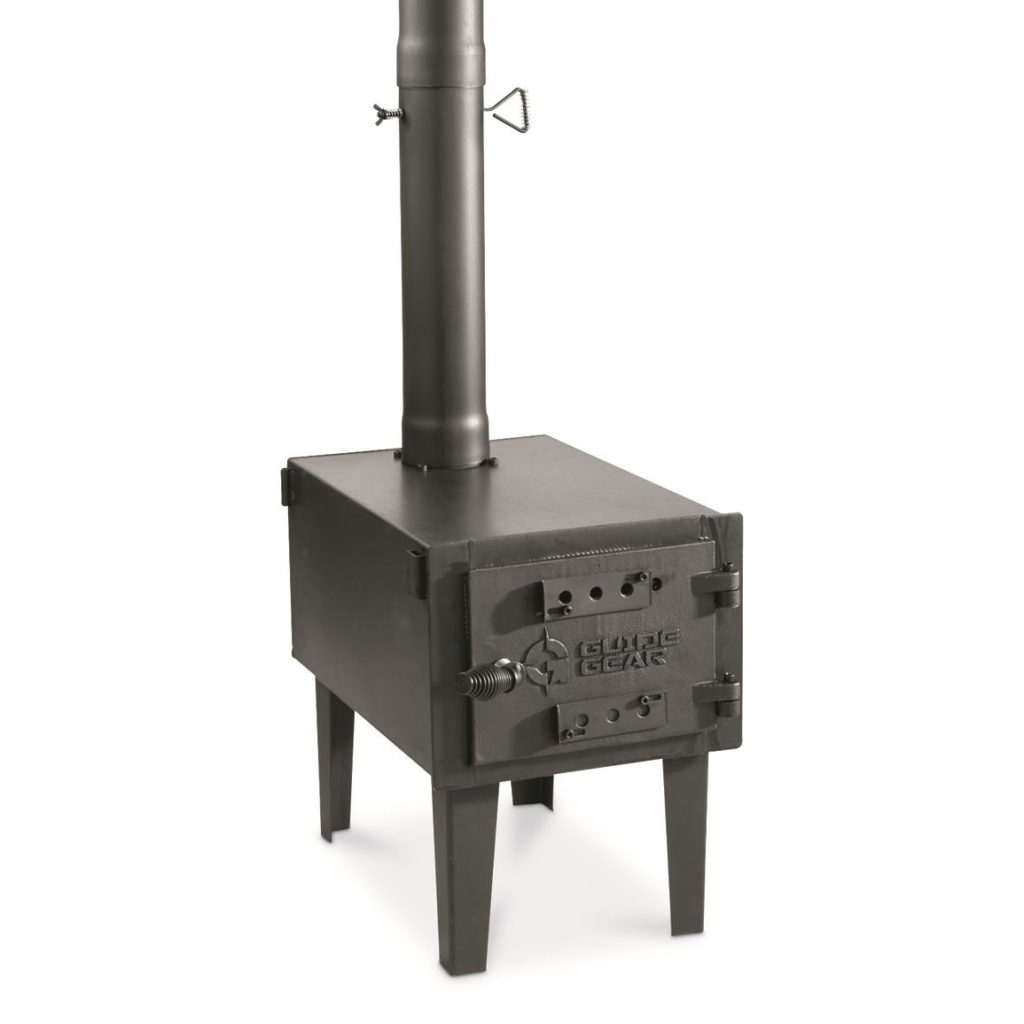 The best value for money!
If you're planning to go on a camping adventure during winter days, you definitely need to check Guide Gear's Outdoor Wood Stove. Designed to withstand harsh conditions and outdoor trips, this wood burner is something you shouldn't miss, especially considering the comfortable portability it offers with its 17.75″ x 11.75″ x 16.25" galvanized steel build weighing 47 lbs with a heat-resistant, high-temperature black finish.
Guide Gear takes pride in this appliance because they've successfully built a compact, easy to carry yet robust stove capable of providing heat for outdoor campers and warming up a teapot or a saucepan on top for dinner. You can even cook eggs or bacon with it, how cool is that?
Portability is the most significant advantage of this small wood stove as it has detachable legs with pipes that can easily nest for comfortable transportation.
The heater comes with everything you may need, including five pipes, an assembly hardware, removable legs, an ash rake, and a fire door opener. You only need to provide the wood, and the stove will take care of the rest.
Taking all of the above into account, Guide Gear's Outdoor Wood Stove fits the bill for those looking for an excellent companion for their outdoor during cold nights.
Characteristics
Build material: Galvanized steel
Heat Output: The exact BTU is hard to estimate
Flue Diameter: 3.375-inch
Weight: 47 lbs
Dimensions: 17.75 x 11.75 x 16.25 inches
Pros
Heat-resistance, high-temperature black finish.
Ergonomic, compact, and easy-to-carry design
Suitable for camping and adventures
Cons
Needs constant monitoring, especially when camping in a forest
---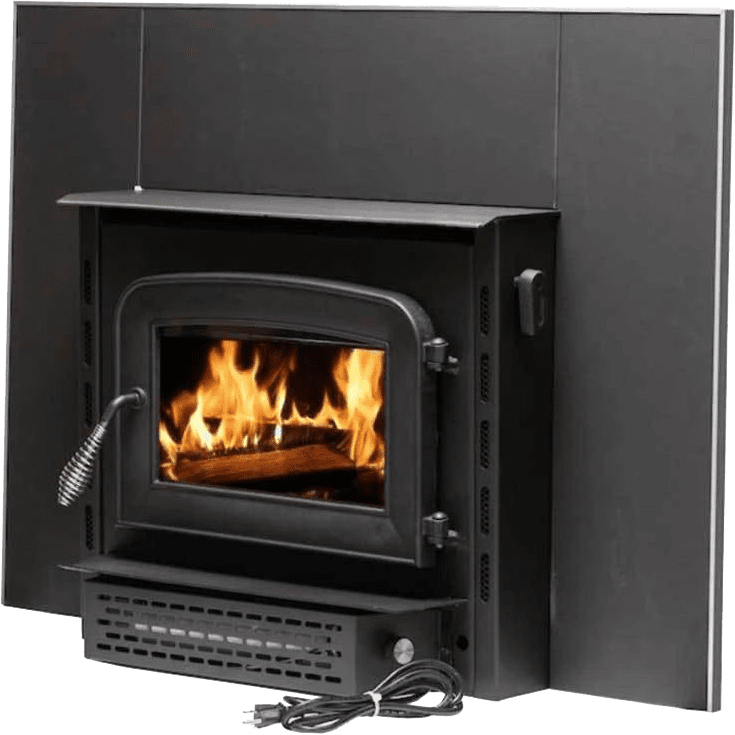 Second to the last option, we decided to include Ashley Hearth AW1820E Wood Stove Insert. This small wood stove's dimensions (20.25 W x 29 10.13 D x 9.87 H inches) place it among the big players on our list. What we like about this stove is its insert design that gives space -saving advantage. In addition to its design, it has an air-washed ceramic glass window that lets you gaze at the view of the burning wood.
This wood stove operates on 18-inch wood logs and can provide enough heat for a 1,800 square feet household as it can produce a enormous 69,000 BTUs. It has an 75% efficiency and can be easily monitored and operated thanks to the air-washed ceramic glass window and solid touch handles. Safety-wise, this stove follows the market's latest standards and is EPA certified plus UL listed.
The only downside of this product is its hefty price.
Pros
Can efficiently heat a 1,800 square feet area with an 75% efficiency
Space-saving thanks to its insert design
Can produce 69,000 BTUs
EPA certified and UL listed for safety
Cons
---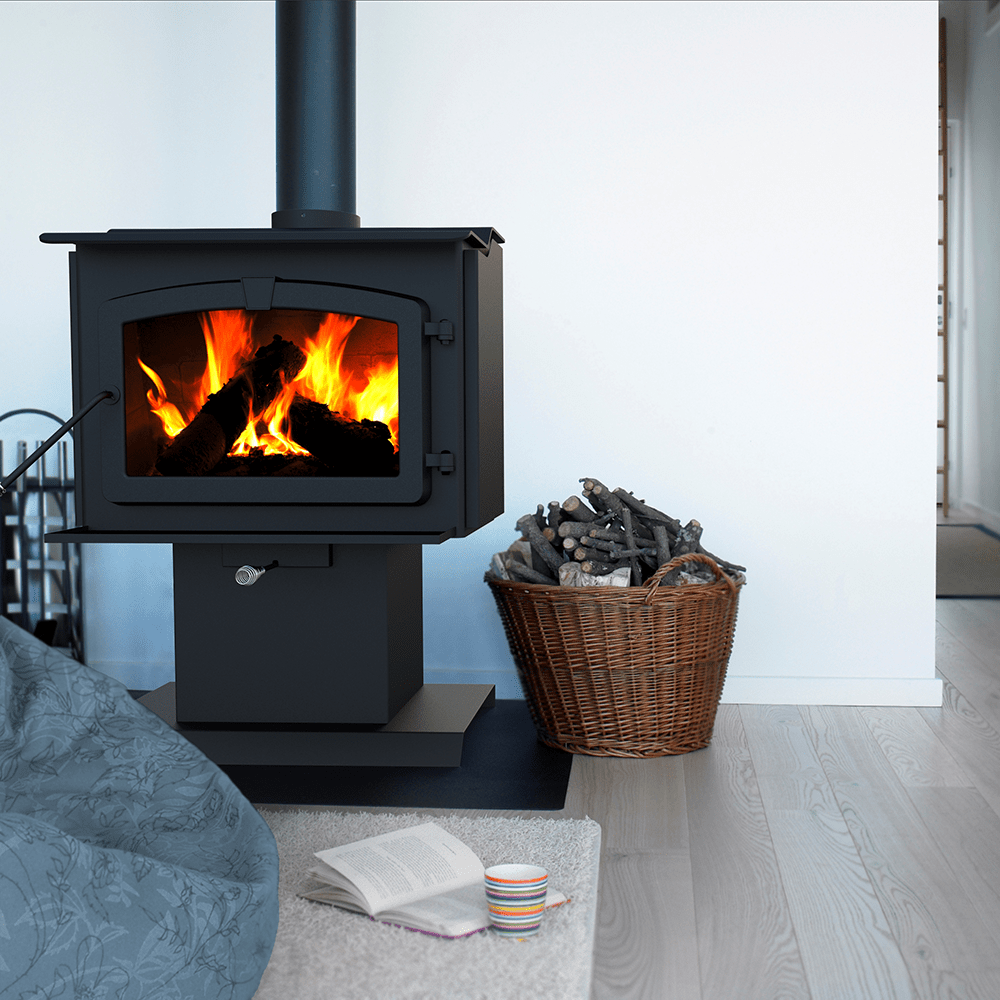 To end our list with a good note, we chose the Pleasant Hearth's smallest model. Pleasant Hearth's wood heater is among the bigger products compared to other wood burners on our list, measuring 24.5 x 24.5 x 37.5 inches and weighing 287 pounds. With increased size comes increased power, and that's the case for this heater as it can comfortably heat a 1,200 square feet mobile or single-family home.
The Pleasant Hearth 1,200 sq. ft. non-catalytic Wood Burner has an excellent 81% efficiency with an emissions rating of 5.1 grams/hour, allowing it to provide heat without many toxic clouds of smoke, which is something we all dig when purchasing a small wood stove.
This stove, just like any other product from Pleasant Hearth, features a brick-lined firebox, an ash lip made of stainless-steel, spring handles made of chrome, a cast iron door with large ceramic glass viewing area, and an air wash system. It also comes with a blower with variable speeds for easy maneuvering.
Safety-wise, rest assured if you decide to go with this small wood heater as it's Omni tested, EPA certified, and comes with a 5-year standard warranty to cover any unlikely event of a failure. If you want to purchase this product for a mobile home, just get an air intake kit, and you're good to go as it's approved for such use.
All things considered, we recommend getting Pleasant Hearth's Wood Burning Stove if you have a small single-family house that a smaller stove model wouldn't be able to heat. What's even better is that this wood stove comes in small, medium and big sizes, so even if the first isn't suitable for your needs, you can get a bigger model.
Characteristics
Build material: Stainless Steel
Heat Output: 50,000 BTUs
Weight: 287 lbs
Dimensions: 24.5 x 24.5 x 37.5 inches
Pros
Can efficiently heat a 1,200 square feet area with an 81% efficiency
Omni tested, EPA certified
Easy to install and operate
Cons
It's a bit big compared to the other wood heaters
---
How to choose the right small wood stove?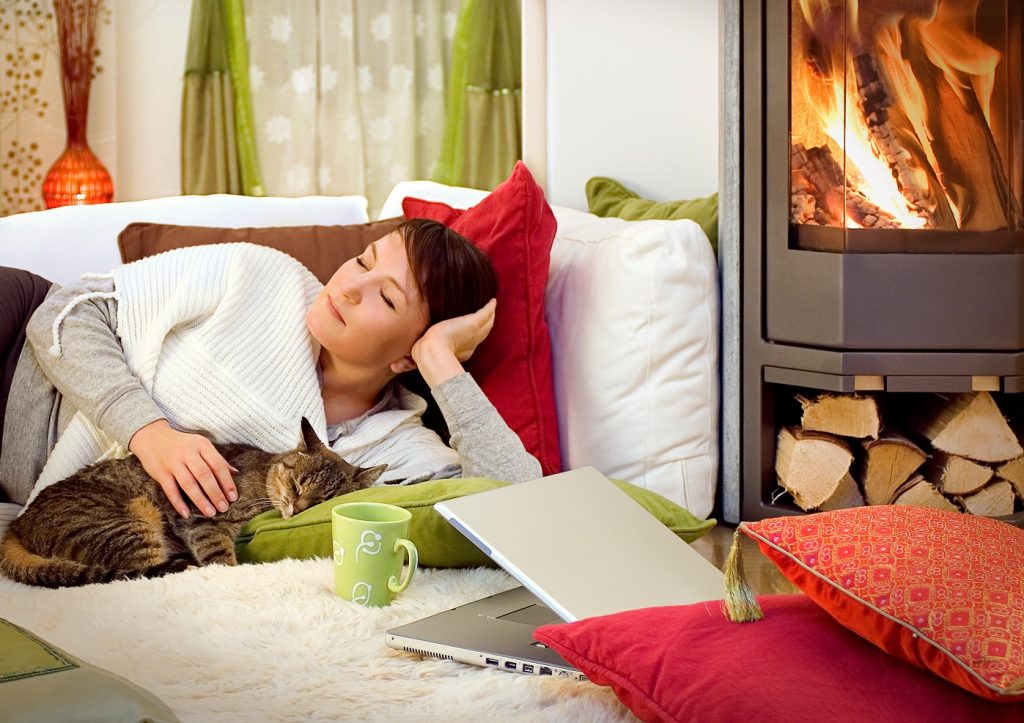 So, you've gone through the details, and you're hyped to get yourself a small wood stove for your home,cabin, apartment or condo, but the question arises; how to choose the right heater? A bad appliance would only cause more harm than good, that's why you need to go over some factors before finally purchasing one.
First, the size. If you don't want any fire hazards than make sure you don't get an oversized stove as its slow fired conditions can lead to the buildup of creosote which elevates chimney fires chances.
Does your household have a fireplace already? If yes, then you should probably get an insert and continue using your preexisting fireplace. Otherwise, purchase a freestanding stove. If your home is currently being built and you can't decide how you want to have it, then you should know that freestanding ones offer more than what inserts do. Operating them is more efficient, they deliver better heat, and you can even use them to cook or heat water in case of a power outage.
Another significant factor to consider when looking to purchase a wood stove is how often you'll be using it. Compared to cast iron ones, welded steel models will heat up faster. So, if you're looking to warm up your house in no time, get yourself a welded steel small wood stove.
On the other hand, Cast Iron stoves radiate more heat even after extinguishing the fire and despite heating up slowly. So, if you don't want to worry about the warmth in your house for a full day during the cold of winter, consider the cast iron models.
Another factor to consider is the catalytic or non-catalytic aspect. The catalytic ones come with a ceramic combustor in a honeycomb structure, plated with metal (for example palladium or platinum). The converter's metals play the role of a catalyst as they help gases combust at low temperatures. Two advantages come with this feature. First of all, it boosts the efficiency of the stove by about ten to twenty-five percent due to the hydrocarbons being burnt instead of going up through the chimney. Second of all, the woods combustion, in this case, is almost total, which means that it gives out fewer emissions.
What else to consider?
Cost
According to the Hearth, Patio & Barbecue Association, installing a quality wood stove may cost anywhere from $3,000 to $4,000, including the stove's price and additional expenses, like the Chimney/Stovepipe and base installation and the Non-combustible Wall Covering. That only applies to big wood burners though, and a small one shouldn't break the bank as the prices range from $100 to $1000 to fit everyone's needs. That price range excludes the installation expenses though, and it makes a small wood stove the perfect choice for people on a budget.
Installation
You shouldn't set up a wood stove on your own if you have no idea what you're doing. Contact a professional and get them to do the job for you to decrease the risk of getting yourself into a big mess and potentially burning your home down.
When you're going to buy the wood burner stove, make sure that you have everything that you need when it comes to building permits. Because if you've never had a stove previously, then you'll most likely need to do some alterations to your house to make it suitable for having a wood stove.
You might also need to have a talk with your council concerning the smoke emission rates that are acceptable in your area. Just a couple of things to get through before buying your stove.
Safety
Having a wood stove is without a doubt more efficient in emitting heat than a fireplace when using the same amount of wood, although less romantic. Besides cooking and warming up the place, wood stoves are also used for heating up the water supply.
All you've got to do is make sure that the furnace is completely airtight. Then you can load it, close it and not have to worry about it anymore. You can go have some rest in bed or work in another location completely knowing that your home is being warmed up without any risks of any kind of hazard.
Today's small wood stove models have become quite evolved. The best kind of stoves on the market come with thermostats that can help you set the temperature you want. Forget having to deal with an overheated room. Efficiency has also been improved to make sure that less wood needs to be consumed in fueling the stoves. Besides that, they have been equipped with emission to inflict less harm to the environment.
Here are a few tips for your safety:
Make sure that flammable objects are kept far from the stove, like drapes, clothes, furniture, kindling, and newspapers.
The furnace must be installed. It won't cause you much trouble to contact an insurance agent, the fire department or the local building department to get tips or ask for an inspection if you're not sure how safe your stove installation is.
Do not let ashes in a cardboard compartment. If you are going to place ashes anywhere, make sure to do so in a metal container. When it comes to getting rid of the ash, you can spread it over the snow that covers the plants in your garden if you have any as it can be beneficial for them. Otherwise, you should place them in the snow, concrete, or bare ground.
Make sure to put the dampers of the air intake of your stove on a low setting.
As long as you are not sure whether or not the exhaust fan isn't going to make the stove backdraft, never turn your range hood fan on at the same time as using the stove.
Maintenance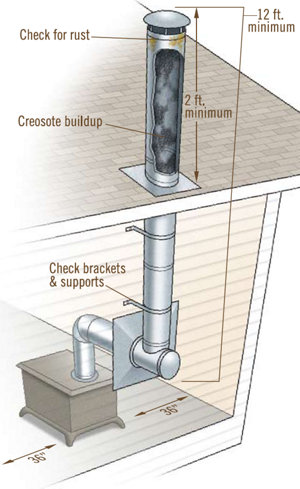 Let's conclude our talk by speaking about maintenance. One thing you shouldn't do is keeping the creosote to build up inside the flue as the years go by. That's a dangerous mistake to commit because it can set the chimney on fire. The creosote that you find there is due to the incomplete burning of the wood.
What's left out after combustion gets mixed with the water vapor that the fire gives off to form smoke that would rise through the chimney. There, the tar and vapor condense to form the sticky black substance which we call of course creosote.
After building up there, it starts dripping down the flue of the chimney, onto the junctions, elbows, and sledges. If this accumulation doesn't get cleaned up, it will catch on fire. After using your wood stove during the winter, you'll want to get an expert in chimney sweeping to get rid of all that unwanted stuff when the spring starts.
To make sure that the creosote buildup is decreased in the time of usage during the cold days, start a hot but small fire and let it burn for twenty minutes each time you use the stove. Basically, what goes on is that when you let that fire burn, a portion of the creosote gets vaporized and release from the flue. This trick can also be helpful with fireplaces in the case of having them cleaned up first by a chimney sweeper.
Summary
As winter is getting closer, it's essential to find new ways to provide warmth for your house during bitter cold nights. While a fireplace may seem good, it's still an expensive upgrade that most people wouldn't want to break the bank for. A small wood stove is an excellent appliance to consider if you're on a budget or have a small household.
You can't go wrong with any of the products mentioned above. The choice solely depends on the purpose you're getting the stove for.
If you just need a small heater to provide warmth for your small condo, apartment or cabin, Cubic's CB-1008 CUB is the best option for you as it has a compact design yet significant capabilities.
If you need an outdoor appliance to provide heat and small cooking area while you're camping, Guide Gear's Outdoor Small Wood Stove is for you.
On the other hand, if you need a heater for your entire (small) household, you can ago with Cubic's CB-1210 GRIZZLY, Drolet Black Stag High-Efficiency Wood Stove or Pleasant Hearth's 1,200 Square Feet Wood Burning Stove, as each of them was designed for that very purpose.
Whatever choice you make, remember to maintain your small wood stove occasionally as the smoke emissions can cause harm to you and your family.
---