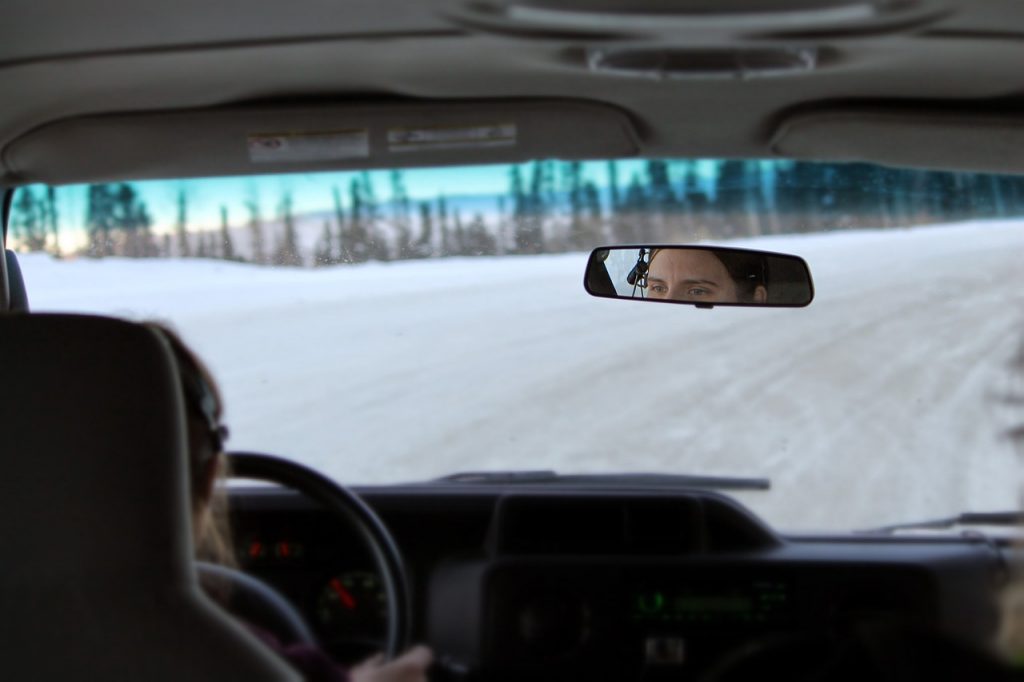 As we are preparing for winter season, checking our car's heater condition is one important thing on our  preparedness checklist. But when winter comes and your car's heater goes off, there is a must need of fixing it especially during hard cold winter months.
Fixing the heater will cost you an extra budget to get back on the road. You may come up with an alternative portable heater for car but you don't know if this will last for months and help you warm up during your travel on a 40 to 50 degree Fahrenheit environment. In that case, we'll discuss the best solutions for portable heater for car problem to have your car running during cold seasons.
Cost In Repairing a Car Heater
Basically, when your vehicle reaches its operating temperature, the warm coolant starts to flow through the radiator. Only then will heat become available. Unfortunately, your car heater is prone to damage, and there are various reasons behind it. For instance, the water level is low, which should be sufficient in order to properly mix with the coolant.
When it begins to work improperly, you know it is going to cost – and it is going to be a lot. Sure, you can get it fixed, but chances are it is going to break sooner or later. According to Angieslist, repair cost will range from $300 – $1,000. There is no fixed amount really, as it usually depends on the root cause of the issue. Some may require you to purchase parts while others may suggest a complete replacement. Either way, you will be spending a lot of cash.
This is where a portable car heater can help you big time. It offers you the luxury and the much-needed heat in your journey. You no longer have to look for tough-to-find elements or even discover the way to rebuild old units, which, in most cases, are highly priced. What is more, a portable heater for car, say, a 12v car heater is well-built and simple to install.
Best Portable Car Heaters To Check Out in 2023

There is no need for you to go anywhere else. We have rounded up some of the best – and most reasonable – portable car heaters out there. If you have other vehicle like truck, golf cart or RV, we have them on this list too. We already did the heavy lifting. All you need is to pick one that suits you. Here are some of them!
This one right here is the largest and most powerful 12 volt DC heater available. You can directly hook it up to your car's battery and comes with a 25 Amp rating (requires a 30 Amp In-Line fuse).
You can even switch it from heat to cool settings, which is pretty intuitive, so to speak. Also a truck heater, it is capable of heating a small area like a truck cab. This ceramic heater needs to be hardwired.
Hooking up directly to the battery may not be a friendly procedure and you need a mechanic to hook the heater to the battery. Do not worry – it comes with all installation hardware.

Compared to plugging to a cigarette lighter socket, which is fused at 10-15 amperes, direct hook up heaters at 12v and higher amperage can provide enough heat to your car. These heaters can provide up to 300 watts of power.
The good thing about direct hook up heater is that it emits hot air immediately. It fairly blows hot air to keep you warm on cold days.
---
This portable heater for car, which you can also be used as an RV heater, has a heating output of 150 W. Mind you, it can quickly be heated within a minute at least.
It is also easy to install, and all you need to do is plug it into your vehicle's cigarette lighter socket. What is amazing, too, is that it helps you stay warm even without running the car's engine. You will definitely appreciate its durability and ergonomic handheld design.
If you want a heater just to be plugged in a cigarette lighter socket, you may opt to choose this 12v DC portable car heater which is designed for the job.
But, does this kind of portable car heater work? Since most car cigarette lighters are fused at 10-15 amperes, a 12v portable car heater cannot give ample amount of heat and will not continue to sustain much heat for a long drive. These heaters though are good at defogging and defrosting window glasses.
---
For those who have an RV, this heater is an immediate solution if your heater broke down. What's great about this heater is that it is low profile which is very convenient and portable. It has an anti-freeze feature that will automatically turn on the heater when a low temperature is detected (approximately 3°C or36°F). The housing is durable and not flimsy at all.
If you have doubts in mind, they offer a 5-year warranty to ensure you will enjoy the benefits of this heater all year round.
Note: This is not designed for car or truck use.
---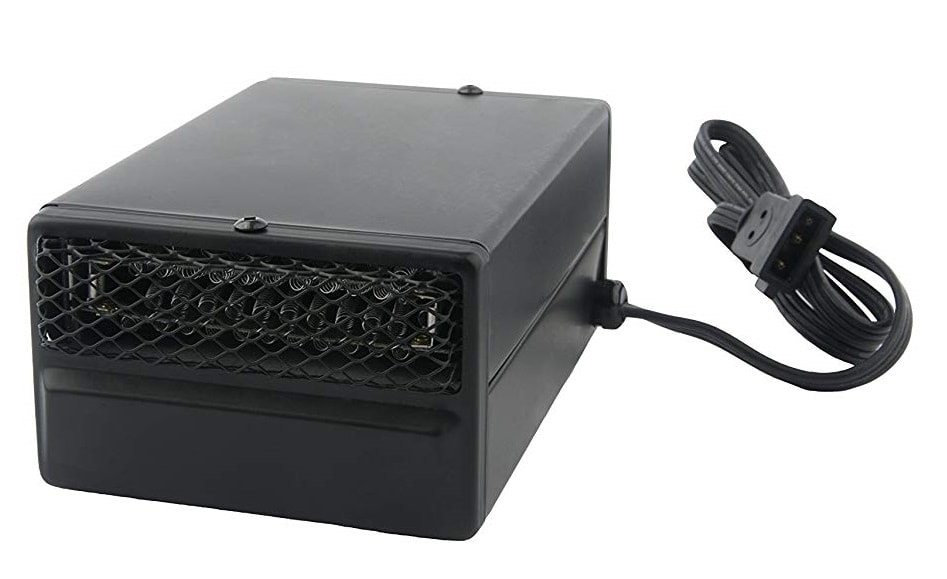 Also a sleek portable car heater, this one can be mounted on the floor or under your car's dashboard. It already comes with a mounting bracket, so you can just easily install it.
Keep in mind, however, it is best for light-duty and/or recreational cars. It is 900 watts, 120 volts, and 3000 BTU portable heater for car.
---
If you are fond of long trips, then this one is perfect for you. It can keep all passengers comfy. We promise you it will not let you down. It is built using 100 percent high-quality and guaranteed soft polyester fleece.
Sounds great right? Heated travel blankets are available on the market and don't ever buy it for the driver, or if you are the driver, don't even bother as it will limit your your space. 12v heated blanket is a good solution to warm the passengers inside the car.
Just like the 12v heated cushion, just plug it to your car's 12v cigarette lighter and warm yourself up. Most of these blankets are packed with safety features such as automatic shutdown to keep your mind at peace.
It is a 12v car heater that can be plugged easily. It also comes with an auto shut-off feature and reset button.
---
Another effective way to warm up yourself during winter is to install a heated seat cushion on your car's seat. The heat it generates is decent enough to keep yourself warm. It doesn't heat up space but it sure heat your body straight.
Most of these heated seat cushions are universally fitted to your car's seat so you don't need to worry about fittings. Powered by a 12v DC adapter, it is a good investment especially when your car heater is down. Your body is not just warmed up but also provides comfort during your long travel.
This 12v portable car cushion offers you an intuitive and intelligent temperature control. As such, you can easily set the temperature from 30 ℃(86℉) to 60 ℃(140℉). In addition, it is designed to automatically increase the temperature while it is heating.
You will immediately notice it starting to warm up, which would just require 2 minutes top. The highest temperature this device can warm is around 60℃. It has a timer for your safety.
There is no technical knowledge required to install a heated seat cushion. What you need to do is to strap it and plug it in to your car's cigarette lighter socket. It is a good heating solution for the driver and front seat passenger.
---
Do you own an truck or RV? Because if so, then you need to have this heater right now. It can also work great with other vehicle types, such as cabs, trailers, and vans, just to name a few.
Unlike the aforementioned, it comes with an instant heat output. You can also rely upon its durability, thanks to its high impact casing. Remember, though, that the engine must be running in order to use it.
---
Another worth-buying portable heater for RV, this Camco model has an adjustable BTU setting, which is between 3200 and 6000. There is no electrical connection so don't worry about your battery being drained. It operates using HD-5 propane gas.
You have the option to either wall mount it or use simply as a portable heater for RV's. Plus, it comes with a safety shut-off valve, so you can prevent the possibility of accidental non-ignition fuel discharge.
---
Mr. Heater F274830 MH18BRV comes with a 4,000- to 18,000-BTU radiant heater and is perfect for spaces of up to 300 square feet. You can also use it for both indoor and outdoor purposes. It is 100 percent clean-burning and, at the same time, completely efficient. You have the option to connect it to a propane tank, too.
If you are into steady temperatures, it offers you a Low, Medium and High heat level control knob. Just be careful not to use it alongside unauthorized accessories or attachments. Doing so can lead to serious injuries, so be vigilant.
---
Also a product from Camco, this portable car heater comes with an adjustable BTU, which ranges from 1600 to 3000. You can rest assured knowing that it does not result in an electrical drain or battery connection.
It is capable of producing the right amount of heat in order to warm a space of about 130 square feet. Not only does it operate on low-pressure gas, but it is also flexible. You can either wall mount it or use it as a portable unit.
---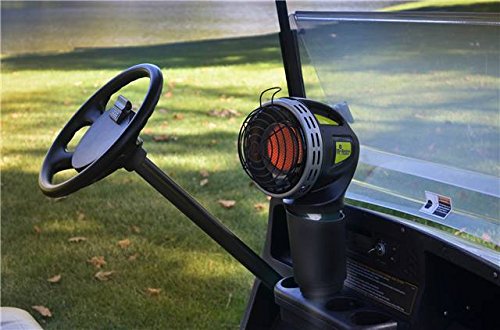 If you are wondering what makes this golf heater on our list, it's because this is a heater for a vehicle particularly for a golf cart for those who want to play golf during cold days.
The Mr. Heater MH4GC is another great product from Mr. Heater, this one offers you 4,000 BTUs and, thus, gives you a run time of 5.5 hours. It comes with oxygen depletion system and a tip over switch. Plus, it offers a wind resistant burner and a pilot system to achieve optimal heat output during windy conditions.
Thanks to its ergonomic handle and cup holder, transporting this unit is quite easy. You will also appreciate the fact that it is compatible with most golf cart cup holders on the market.
This propane heater is not intended for car or truck.
---
Ways To Keep Yourself Warm In Your Car During Winter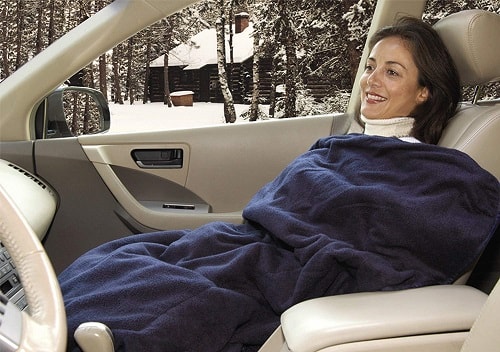 Obviously, our recommendation is to use one of the aforementioned portable car heaters. They are, after all, guaranteed to provide you the warmth and convenience. Anyway, there are also different ways to keep the frosty temperature away.
Layer Up
This is certainly a must-do for every driver out there. As someone who is dealing with seasonal snow, you need to have a few blankets ready in your car. If for some reason your 12v car heater is not working, the blankets can come in very handy. Make sure you buy thermal blankets. You can also go with a winter sleeping bag, which is really a good idea to battle the cold.
Moreover, always remember to keep some extra sweatshirts, sweatpants, mittens, and thick socks. They can keep you warm and comfy, most especially if you get stuck in the cold. The idea is to layer up as much as possible, so you can easily preserve body heat.
Temporary Warmth
In case you did not know, there are a handful of affordable items that can provide you with temporary warmth in your car. For starters, you can go with disposable heating packets. They are a recommended tool when trying to stay warm, and are perfect for your hands and feet. All you need to do is follow the directions stated on the package. They are enough to give you instant warmth for about an hour or two.
Your best course of action here is to stock up on different sizes. That way, you can just place them against your legs or back. You can even tuck the smaller ones into your socks. Believe it or not, these are really beneficial; hence, they are an excellent investment to have.
Always Run Vehicle
Let's say you are, for whatever reason, stuck in the snow. At first, you might think that running the car is a poor idea. In reality, if you run it every hour and for at least 10 minutes, the vehicle itself can give you the warmth. Above all, it keeps the battery charged, so you can just drive out as soon as the weather clears. Oh, do not forget to check your tailpipe and it must not be clogged. Otherwise, you will not be able to go from Point A to Point B.
Use Tint
In case you did not know, tinting your vehicle's windows can help you ease the stress of winter driving. Yes, that is right. This is due to the fact that tinting provides you a layer of insulation. As such, your car is able to keep the heat during the winter cold months.
Thanks to this extra insulation, you will not take much longer warming up your car. You can just start driving your vehicle and warming it up fast, so you can just start a better day.
Buy A Car Heater
This is without a doubt our most recommended thing to do. When all else fail, the one thing you can work with is a car heater. But what if it is broken or it no longer gives the right amount of warmth? Well, no need to worry – you can always get a portable car heater. This could be a 12v car heater or RV heater, depending on the type of your vehicle. This device can be plugged into your car's interior power socket and should be enough to deliver the comfort you need when driving.
Higher Fan Speeds Help the Backseat
Sure, you may feel comfortable when you set the heater to a low fan speed. Just keep in mind, however, that this is not the same as the individuals in the back. It will not be enough to keep them warm; hence, you will have to find a way around it.
Your best course of action is to crank up the fan. You need to do this even it results in you having to turn the temperature a bit lower. By doing so, you can ensure that everyone inside the vehicle is comfortable and warm.
Maintenance Tips For Your Car Heater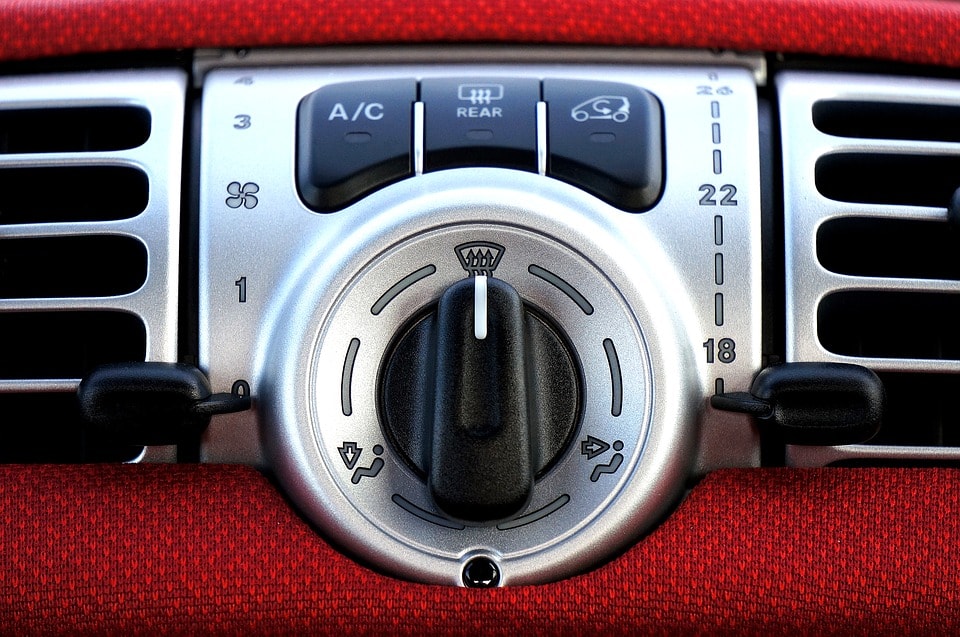 When winter is around the corner, you should already have an idea or two about how you can maximize your vehicle's heater. Otherwise, you will have a hard time keeping you and your passengers comfortable.  Here are some maintenance tips to keep in mind!
Get the Car Moving
It holds true that modern cars do not require much when it comes to warming up before moving. However, if your vehicle is not moving, it is going to need a lot of time before it starts to warm up. In other words, it is better to move as soon as you can, so the engine can start working. Only then will the vehicle generate heat, which is needed to warm you and your passengers.
Highest Setting Will Not Speed Up the Heat
Does your car come with an automatic climate control? If so, know that you can always set the system according to the temperature you like. Whatever it is, it will still be able to warm up. Think of this process as something that is akin to the thermostat in your home.
Basically, the system is capable of sensing the temperature of the air being blown inside. When it notices that the air coming out is already hot, it will start to increase the fan speed. So if you crank the temperature and the fan to high, you and the passengers will be forced-fed with a deluge of freezing-cold air.
Just Keep the A/C On
For most drivers, they believe that A/C means cold air. Well, not really. Keep in mind that the button found on your dash controls is the very air-conditioning compressor. The latter simply has the most important role when the temperature starts to dip, and it begins to dehumidify the air. To put it simply, the car's window will start to fog up as soon as you shut it off.
So no matter how much warm air you want from your system, turning the A/C on will start to cool the cabin air down and bring it to above freezing right before it starts to be reheated. If you do this, you can easily remove moisture from the air, which, in turn, collects on the cold glass. When this happens, you will definitely have a hard time seeing out.
Safety When Using Portable Car Heaters
Based on the above-mentioned information, it makes sense to say that a portable heater for car is safe to use. They are also durable enough to veer away from any damage. Remember, however, that they can still cause a lot of safety issues, and it is something that you do not want to happen. So, as much as possible, you need to follow the instructions. Do not install a 12v car heater if you did not read the guidelines.
More importantly, you must stick to what is recommended by the manufacturer. If the portable car heater is only meant for mounting on your car's dash, then do it. If it requires a bracket for proper installation, then do not forget to use the bracket. Lastly, make sure that you only use the right type of portable heater for your car or whatever vehicle you have. Do not attempt to install one if you have no idea about its specs, let alone the method to install or mount it.
Final Thoughts

Well, there you have it. You finally have a concrete knowledge about a portable car heater and its importance. Again, remember to follow the guidelines and ask someone knowledgeable to install it if you are reluctant. Portable car heater is one of the best things out there if your car heater or whatever vehicle heater you have goes off. But as far as their efficiency and reliability are concerned, it totally depends on you.
If you want to steer clear from the expensive cost of repairing a car's heater, you should consider using one. Not only does it provide you the much-needed convenience and warmth, but it is also a lot more affordable.