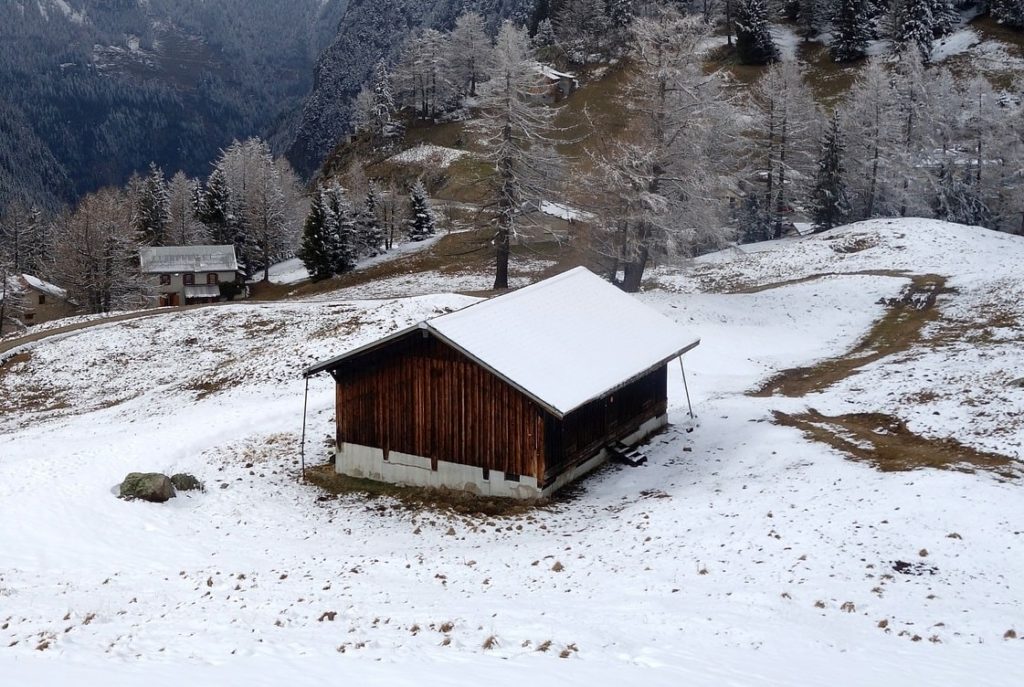 Winter is coming! But don't it get the best of you and your shed – if you have one. Warming up your shed is one of the best ways to withstand extreme cold when winter comes. This article will give you a concise idea on how to choose the perfect heater for your shed so keep reading.
Who makes the best shed heater?
So why should you need a shed heater?
Whether you are using your outdoor shed as a workshop, or you live in, or it acts as a guest room – it is important to maintain a cozy and comfortable temperature. You are spending money in exchange for comfort after all. Plus, a well-maintained temperature and humidity lengthens the life of your equipment, gadgets, appliances and prevents corrosion of any metal parts.
First things first, insulation is a prerequisite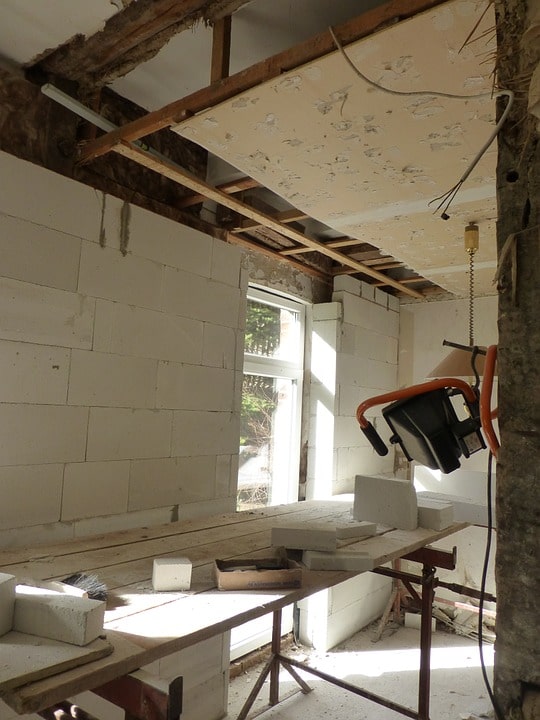 Before thinking of getting your own heater, make sure that your shed is properly insulated. Of course, you need to make sure that your shed can maintain the room temperature, otherwise, even with the best shed heater, heat will only escape in the atmosphere if your shed is poorly insulated or not insulated at all.
Another thing to note is the type of technology you want to heat up a room. There are convection heaters that heat up the air, and there are radiant heaters that heat up the object which gives direct heat, and there are micathermic heaters which the combination of both to provide silent and efficient heat.
Also note that proper ventilation is crucial depending on what type of heater you are going to set up. We don't want you suffocating from heat just because there are no ventilations of sort on your shed.
Now, let's get to it! We have collected a handful of heaters that will soothe your need. We made an in-depth review on these popular heaters to help you decide where to spend your hard-earned money.
8 Best Shed Heaters That Can Warm Anything Inside Your Shed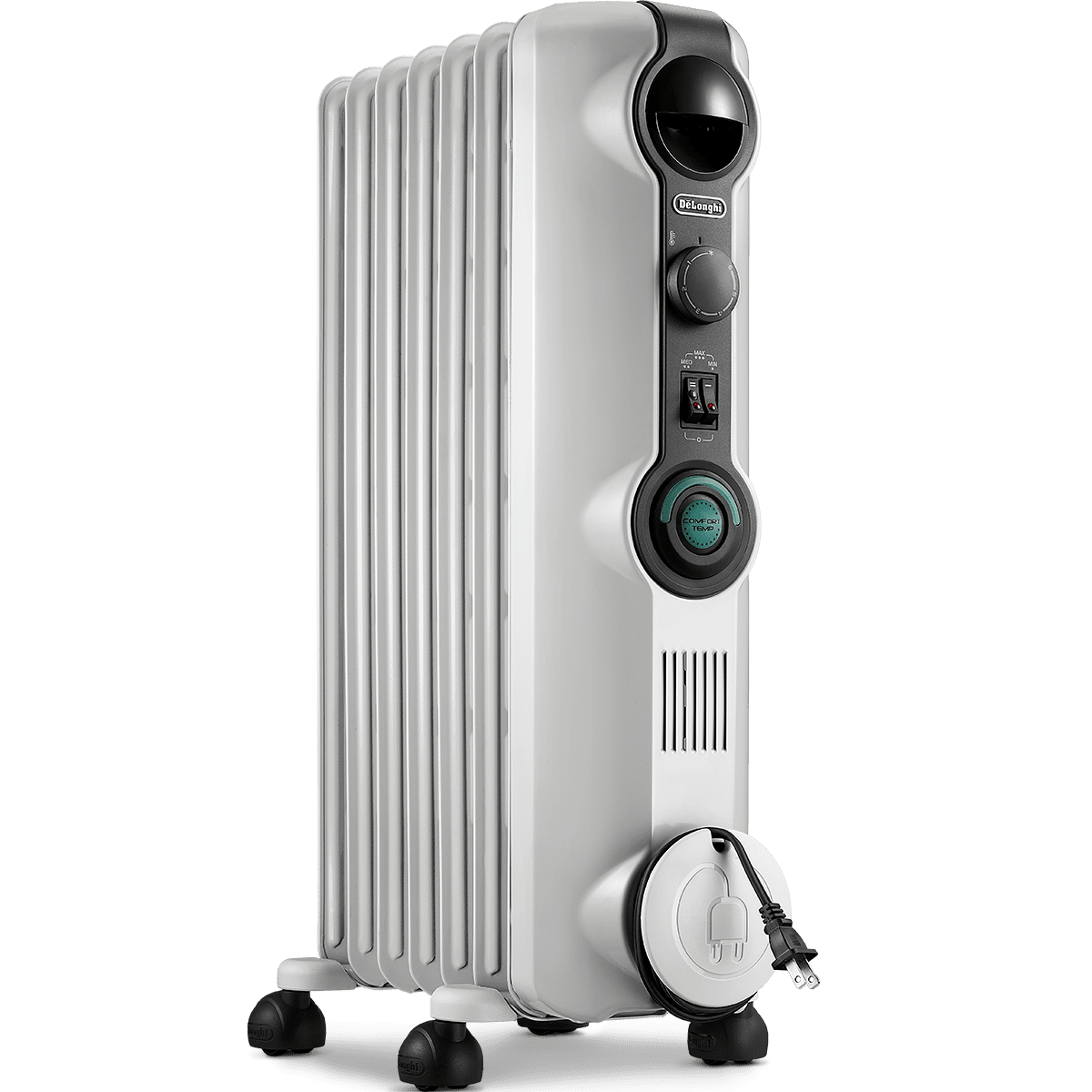 Key features:
Oil filled radiator
ComforTemp sensing system
Adjustable thermostat
SmartSnap pre-assembled wheels
The first in our list is DeLonghi Comfort Temp Radiant Heater. This unit is an oil-filled radiator type of heater that runs on 120V. This 1500-Watt shed heater is the best choice for a fairly small shed since this doesn't take too much room space and only weighs about 22 pounds.
Aesthetics-wise, this shed heater has the radiator look but it also looks very modern.
What makes this shed heater a good choice is its economizer mode. You definitely don't have to worry about your electricity bill anymore since it has two switches – one switch for the minimum power setting, one switch for turning to medium power setting.
Switching both the min and med switches will activate its maximum power setting. This intelligent design will give its owner the authority to control the efficiency on a case-to-case basis. So if you want to turn the heat up fast, then just press both the switches to actuate the maximum setting.
But it doesn't end there. You can also control its actual temperature through a thermostat dial. Just adjust the thermostat dial depending if you want to increase or decrease the temperature. Just remember that if you want to turn the shed heater off, turn the dial to minimum before unplugging the appliance.
Another good thing about this shed heater is that this doesn't need any particular maintenance. Using a clean cloth to wipe the dust off is enough. You don't have to use any abrasive powders or solvent. And if you have a vacuum cleaner, then its better to use it to clean the shed heater.
---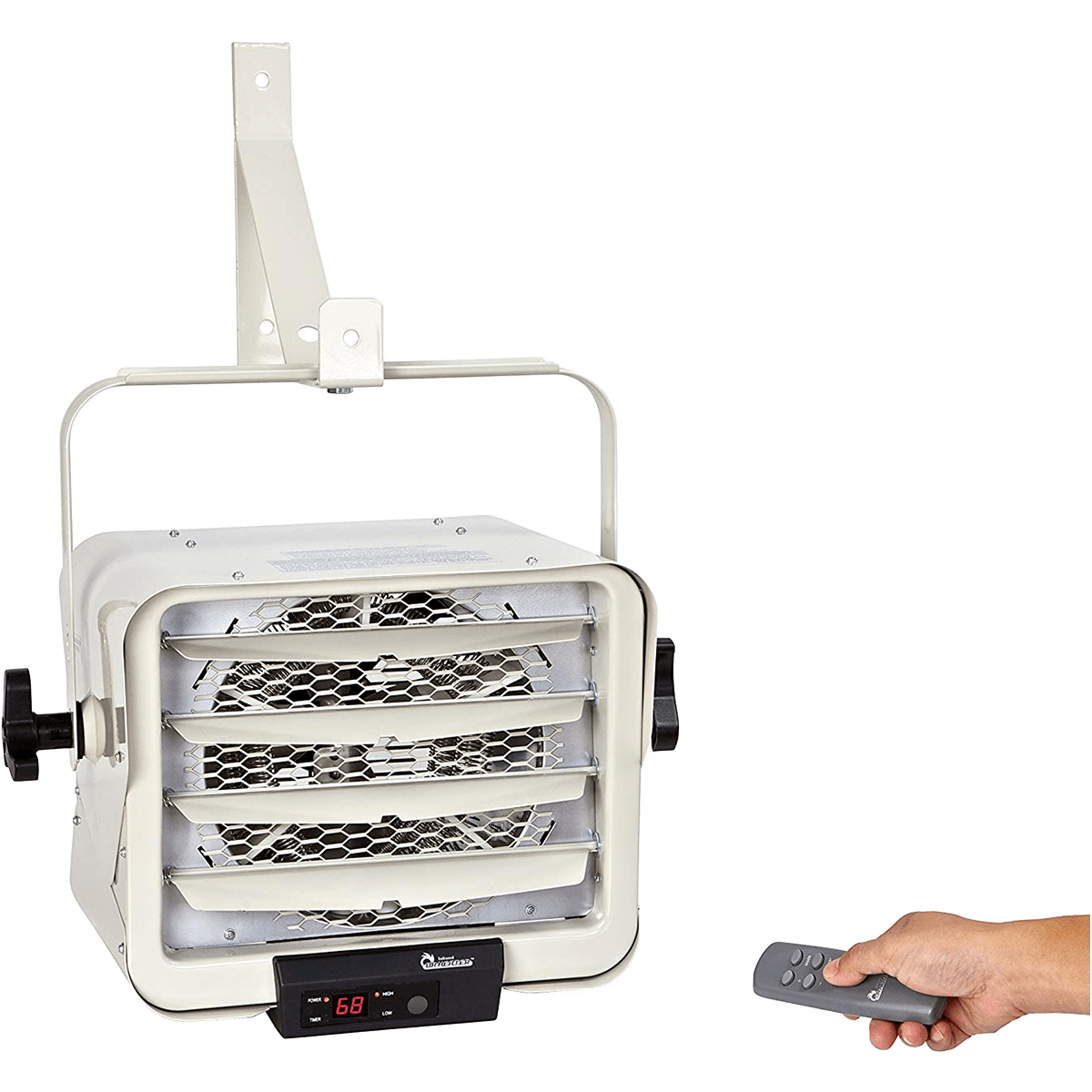 Key features:
25,597 BTU
Wall or ceiling mount
Adjustable louvers
Remote control
Next in our list is Dr. Infrared Heater DR-975. Compared to other heaters that heat up the air, infrared heaters heat up the objects and people. This kind of heater is good for warming up fast because you don't have to wait for the heat to fill up the whole room.
This shed heater runs on 240V. Its 10,000-Watt power will surely get the job done when it comes to heating your shed. The only downside is that your electricity bill may spike. This shed heater is the right choice for a spacious room. But you also need to install right circuit breaker that can be used for a 10,000-Watt heater.
One of its good points is that it can be mounted on the ceiling or on a wall. You don't have to worry about accidentally touching this blazing hot heater since it is placed in a relatively high position not reachable through normal means.
You can adjust the temperature with a wireless remote or through the thermostat dial wired to the infrared heater, then you can just install the thermostat dial on a wall and change the temperature using it.
This infrared heater also doesn't need much maintenance. Using gently damp cloth to wipe the heater is good enough. Just make sure that the appliance is unplugged, wait for 60 minutes to make sure that the heater has properly cooled down, only then you can wipe the enclosure or better yet, use a vacuum cleaner to clean your shed heater.
---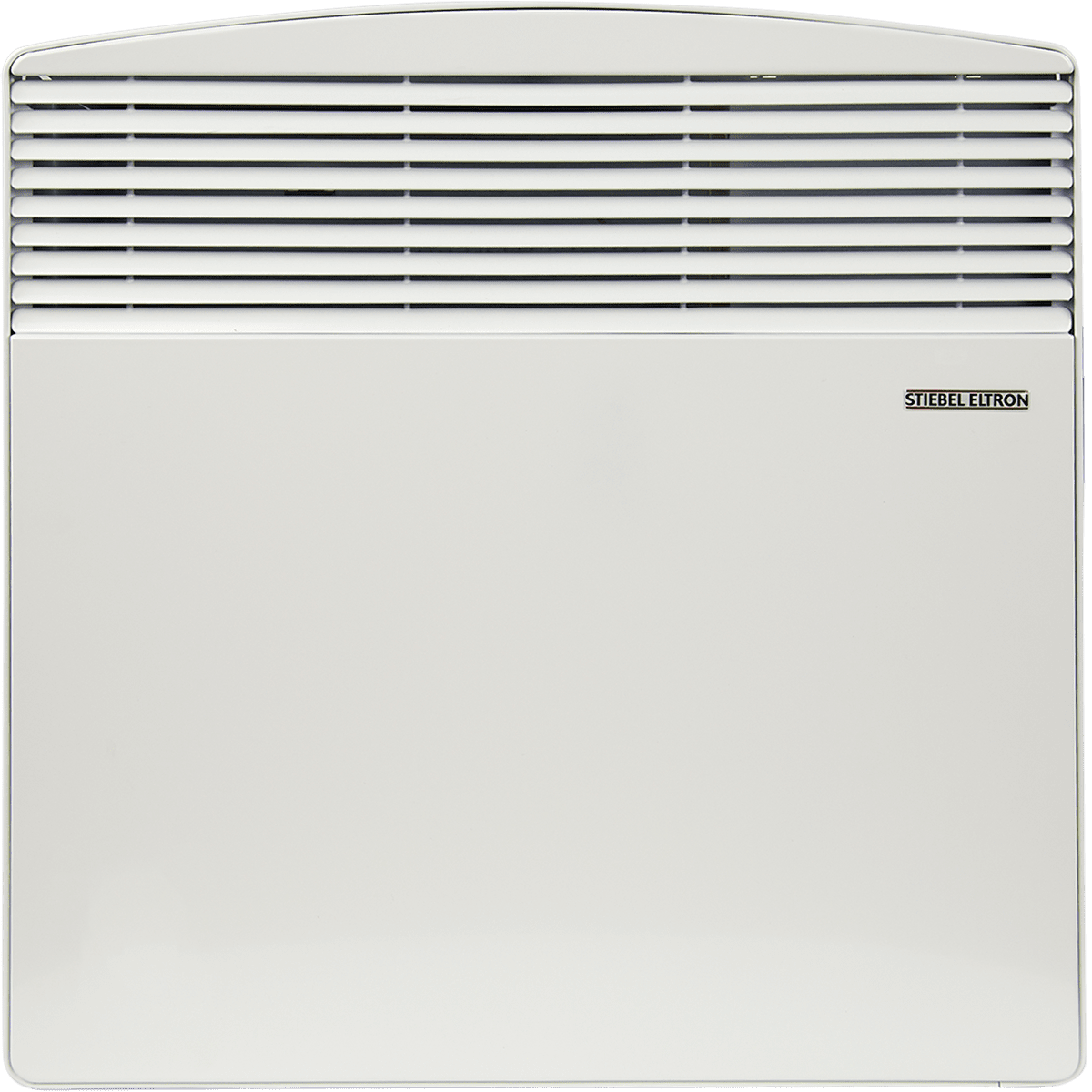 Key features:
5,118 BTU
Surface mount
Built-in thermostat
Timer
The next shed heater is Stiebel Eltron CNS 150-1 E Convection Heater. This heater also runs on 120V and is ideal for small sheds.
What makes it unique is its sleek design. It delivers its main purpose of heating your shed while making your shed a bit more beautiful. This one is definitely an eye-candy mounted on a wall giving off a futuristic ambiance to your shed while delivering the heat and cozy feeling during the winter.
Now, if your shed is larger than 20 square meters, then you can adjust the appliance through buying a conventional wall-mounted thermostat dial wired to the heater, so you don't have to worry on accidentally touching the hot surface of the heater. Installing the thermostat near to a door or light switches also saves time and effort, two birds in one stone!
Another thing about Stiebel Eltron CNS 150-1 E is that it has a 60-minute maximum boost mode. The main objective of this feature is to start up the heating process fast, just set how many minutes you want it to run in boost mode (the maximum is 60 minutes) then the electric fan heater will operate at maximum power depending on the value you set on the timer.
After the boost mode, the heater will run on normal mode, maintaining the temperature set on the thermostat. This way, it balances the energy-saving side and the quickness to attain the comfortable temperature for your shed.
Moreover, this heater doesn't need any servicing maintenance. Just like the previous heaters discussed, this heater can be cleaned using a cloth and/or a vacuum cleaner. Never use any abrasive or corrosive agent when cleaning it.
---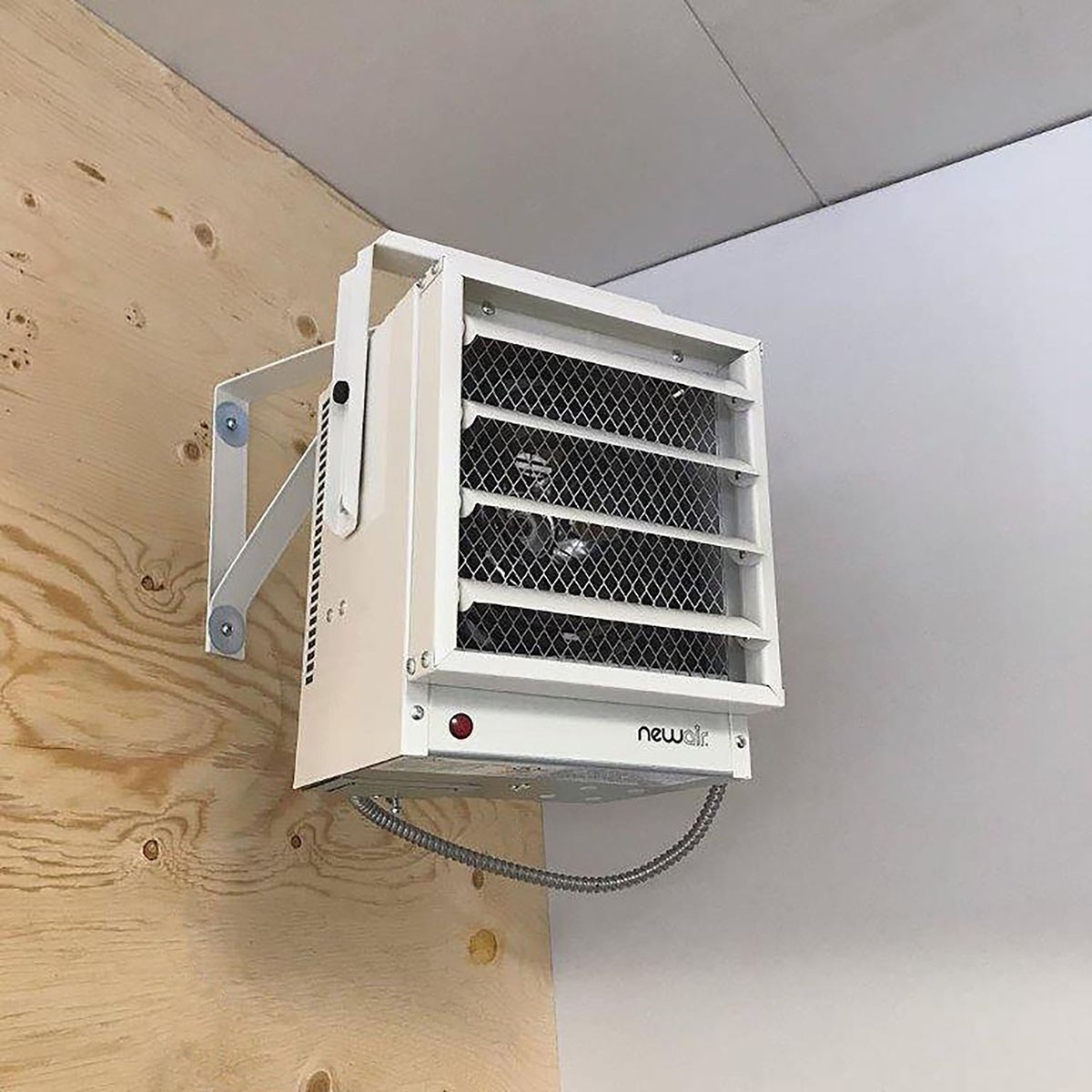 Key features:
17,060 BTU
Built-in thermostat
Automatic fan control
Thermal cutout
Moving on with our list is NewAir G73 Hardwired Electric Heater. This one is just 15 pounds but delivers big. It can be used on medium to big-sized sheds. With its 5,000-Watt capacity, it will definitely heat up your shed in a matter of minutes. Just remember that it runs on 240V to reach the 5,000-watt capacity of the appliance.
The downside of any industrial, high wattage heater is that you need an electrician to install it since this one doesn't have a plug but should be hardwired instead.
Also, this type of heater does not come with a wall-mounted thermostat, but it has a built-in thermostat though. It will just be a little more hassle to adjust the temperature if you installed the appliance on the ceiling or any high place so it's better to buy a separate wall-mounted thermostat dial and wire it on the heater to make temperature adjustments easier.
The good thing about this as a shed heater is that its application is flexible, it can heat up a small room but can also deliver high power output on a big shed or even garage if needed.
---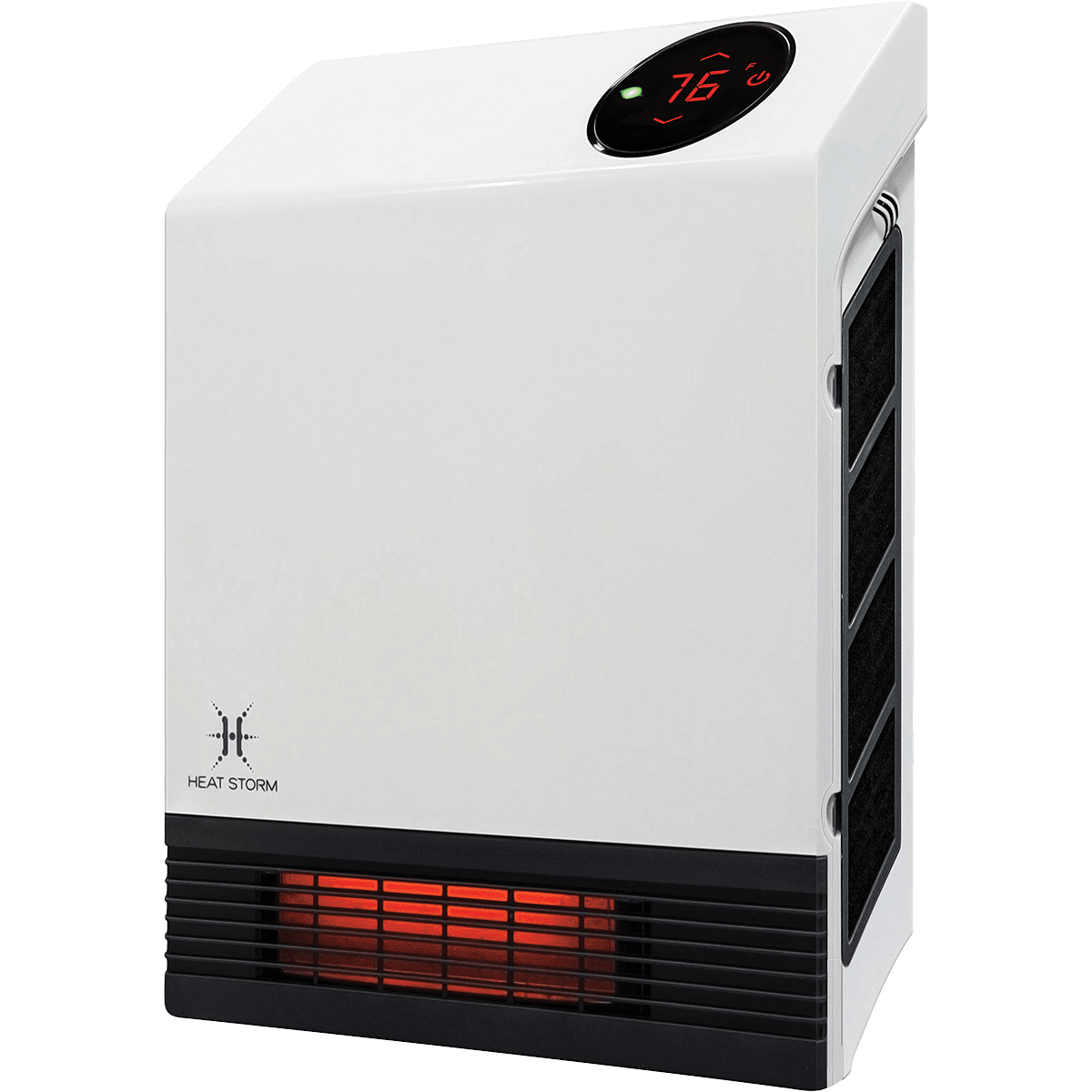 Key features:
3,400 BTU
Infrared heating
Wall mount
Built-in thermostat w/ LED display
Remote control
The next one on our list is a combination of beauty and functionality – Heat Storm HS-1000-WX infrared heater. This appliance runs on a 120V supply and based on its wattage, which is 1,000 Watts, this type of heater is ideal for small room sheds.
What's good about it, aside from being an infrared heater, is that you can actually touch it without burning your skin so this heater is child-friendly, and you don't have to worry about the hazard that it may bring.
One other thing that we should point out is that it only weighs around 8 pounds and this heater is wall-mountable. This doesn't take too much space. To think that this small heater could deliver 3,100 BTU, it means that it can heat up a 47 square meter room with ease.
Heat Storm HS-1000-WX infrared heater is definitely one of the best choices for sheds that are used as a workspace or kitchen.
And adjusting the temperature couldn't be much easier with the remote control. Truly, beauty and elegance are achieved without sacrificing it's potential to be one of the best effective heaters for your shed.
Another thing to note is that it comes with a washable lifetime filter system. You don't have to worry about buying a new filter if it gets dirty because it can be cleaned easily with the infinite amount of times. You can expect durability on this one since it was created to last.
---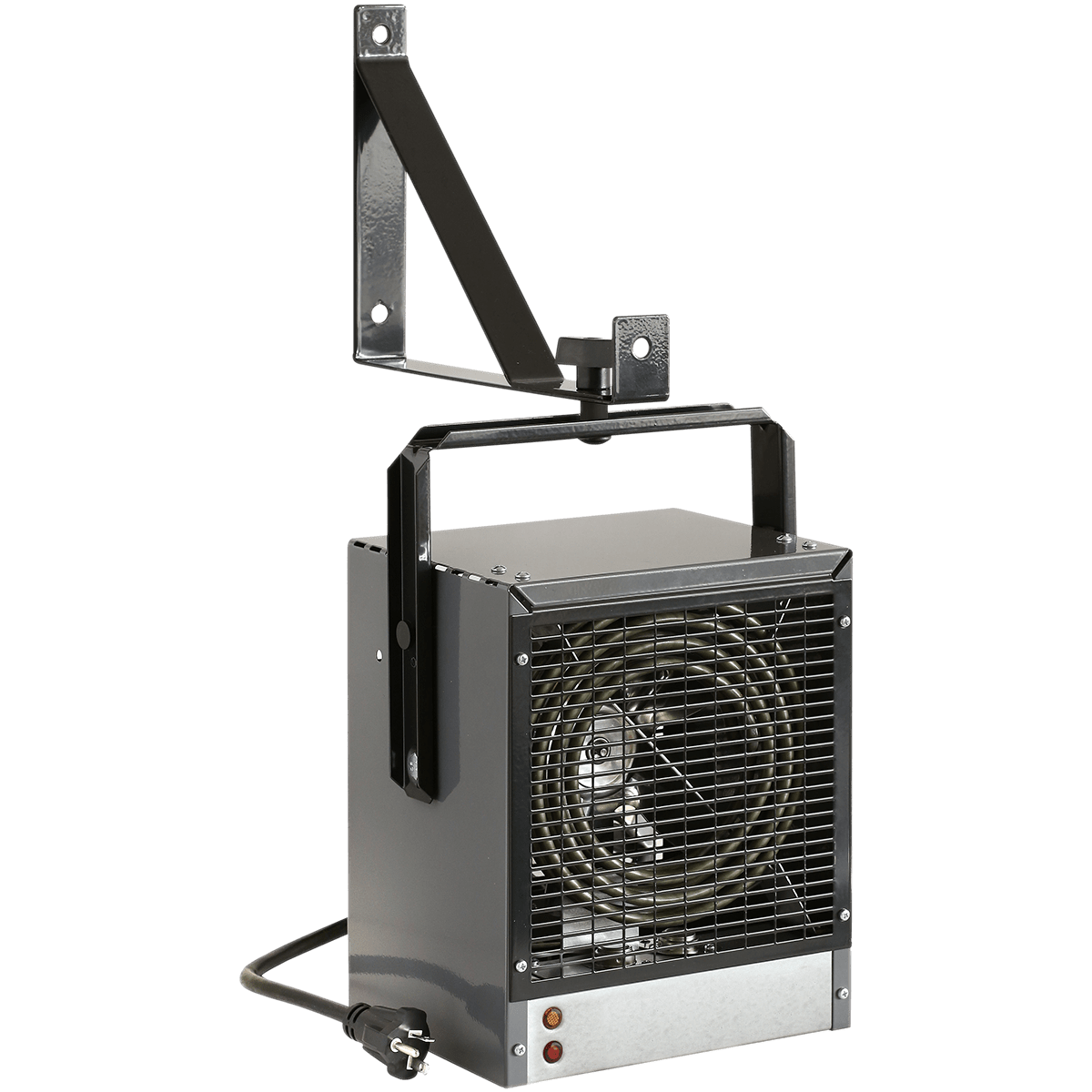 Key features:
13,648 BTU
Wall or ceiling mount
Integrated thermostat control
Another industrial heater comes next on our list – Dimplex DGWH4031G 4000W Heater. This one is suitable for garage and spacious sheds. And it runs on a 240V supply. With a 4,000-watt capacity, you can be sure that it will deliver that heat you need and never have to worry about winter.
This type of heater is easily mountable either on a wall or ceiling. And it comes with a 6-foot power cord, so you just have to have a receptable near you then plug this appliance and you're good to go. You don't have to call for an electrician to wire things up if you choose this heater.
Its compact design makes cleaning easier. Just remember to unplug the appliance and let it cool, only then it's safe to clean it using a cloth or a vacuum cleaner.
This heater has a fan delay and uses the residual heat to save energy and maintain temperature. Also, you don't have to worry about the heater over-heating since this one has a power interrupt thermal cut out technology that protects your heater for possible overheating.
The only downside on this is that it doesn't have a remote control or wall-mount thermostat. The only means to adjust the temperature is through the built-in thermostat located on the back of the heater. But to solve this, you can easily buy a separate thermostat and call an electrician to wire it for you.
Simplicity is its main selling point, after all.
---
Key features:
18,000 BTU
Propane powered
Portable
Oxygen Depletion Sensor
Tip-over safety shut-off
Next on our list is a propane heater – Mr. Heater MH18B.
Propane heaters are like a double-edged sword. This type of heaters can deliver big loads of BTU, and specifically, this one can deliver 4,000 up to 18,000 BTU that can heater up a 42 square meter shed. Imagine a 3-pound appliance that could bring up to 18,000 BTU, this heater sure is handy.
But everyone must remember that using propane heater can be somewhat dangerous if you are not careful. You can use it with a propane cylinder if you want it to be portable or connect it to a propane tank through a hose, so that you must always be sensitive in smelling gas leakage to prevent any serious fire hazards.
And if ever you smell gas leakage, do not try to light a fire, never! And quickly turn off the appliance, or close the valve if connected to a hose, only then you can inspect any form of leakage carefully. To make things safer, do not let any combustible objects near the heater for it might cause serious fire.
This heater may be handy but there are things you must remember – do not use it when in a close shed. This type of heater produces carbon monoxide so make sure that your shed has enough ventilation to prevent accidents from carbon monoxide suffocation.
And regarding maintenance, this can really give you the hassle. This heater requires frequent maintenance, checking for pressure, or if there are any leakage or blockage on the pathway of the propane gas. On top of it, this heater is a portable type which runs on four D batteries, and you're good to go, though you will buy those separately.
---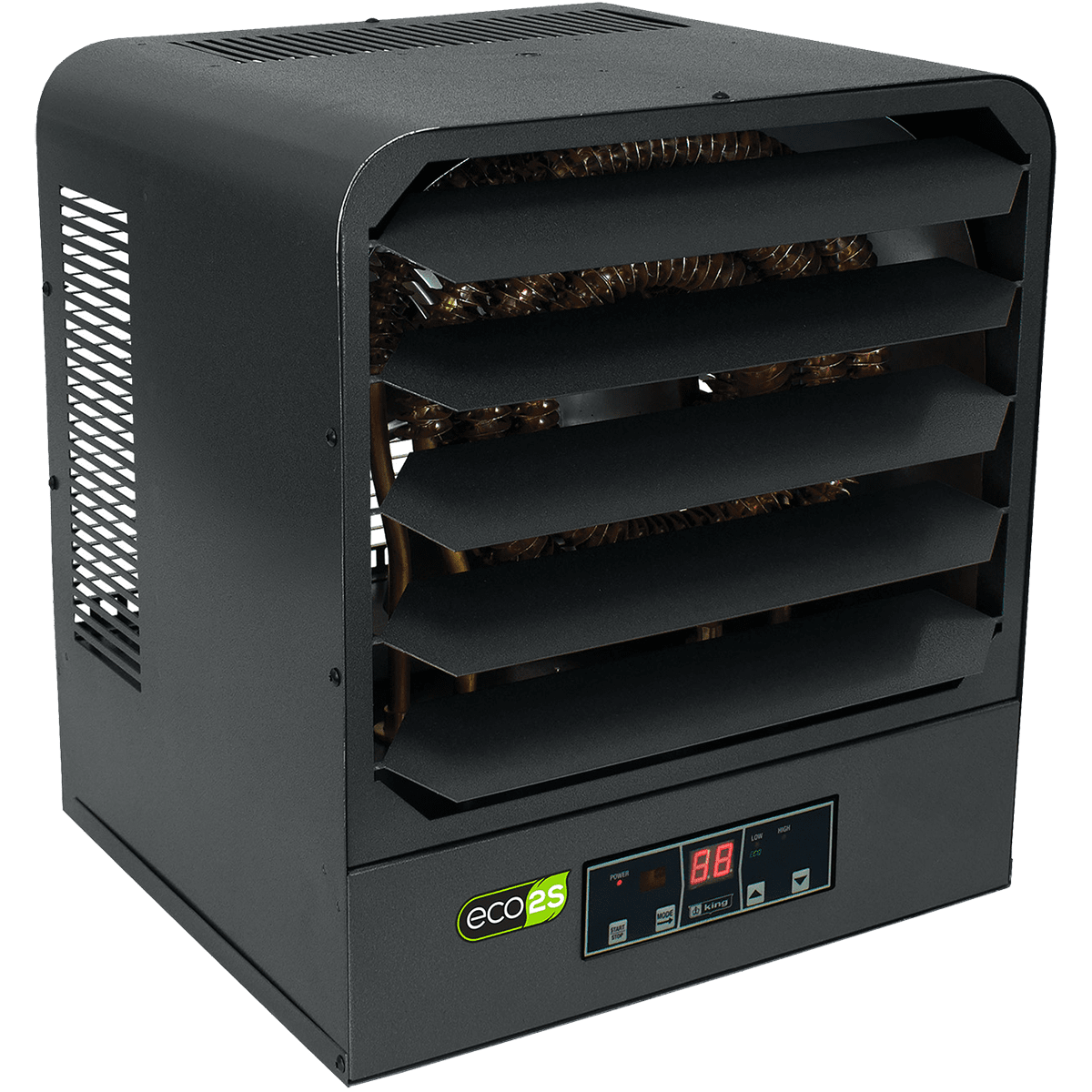 Key features:
17,000 BTU
Wall or ceiling mount
Fan-forced
Remote control
Adjustable thermostat
Overheat sensor
Last but definitely not the least, another industrial heater – King Electric KB2405-1-B2-ECO ECO2S Series 5000W Heater. This 25-pound heater runs on 240V and can deliver up to 17,000 BTU on a 5,000-Watt power.
You can also mount this heater on a ceiling or wall so that it would not take much space. This heater is air-forced for wide heat dispersion, so it is efficient in wide sheds or workshops. Also, you can adjust the louvers and/or mounting angles to maximize the efficiency by targeting an specific space on your shed. You'll get the heat where you needed it the most.
It comes with a built-in dual knob for a fine temperature adjustment, making it easier to get the right heat output to fit the right level of your shed. It comes with a remote control so that you can adjust your ideal temperature. You can view the temperature from its built-in digital display.
This heater also has an overheat protection. It has a built-in sensor to turn off the heater if the temperature reaches unsafe values. Plus, it has an indicator light so that you know if the heater is indeed running and doing its job.
Maintaining this appliance is fairly easy. When the appliance is unplugged and has cooled down, you can use a soft brush or vacuum cleaner to clean it. Remove few screws and grills to make the cleaning a lot easier. Just make sure that you won't tamper any wirings and make sure that all connections are intact and rigid when disassembling the heater.
---
How much BTU's do you need to heat up your shed?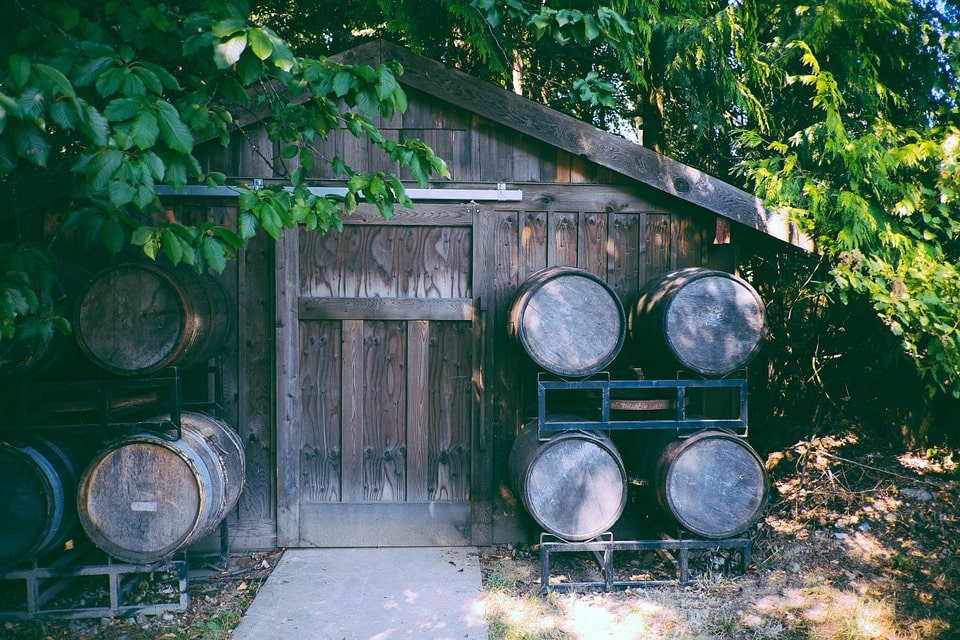 Now that you have the basic idea on the types and uses of heaters, now it's time to understand the computation for knowing the right level of BTU for your shed.
BTU stands for British Thermal Unit, that is – the unit used to signify the value of heat that can be produced. Since different heaters have different power and BTU per hour, also differs in price, you must choose the best heater not based on its actual size or power, but what type of heater is enough to heat up your shed during different temperature conditions.
First step is to measure the length and width or your shed terms of feet, then multiply it to get the square feet area of your room. Now, divide the area to 200 and then multiply it to 9000 if your shed is not insulated, or multiply it by 6000 if your shed is insulated. Whatever comes up is an estimate of how many BTU's your heater can deliver.
Let's say you have 15 feet by 15 feet shed, multiplying it will give you 225 square feet area. Dividing the area to 200 gives an answer of 1.125, then multiplying it by 9000, for uninsulated shed, then you need 10,125 BTU. Or if your shed is properly insulated, multiplying it by 6000, your heater must be capable of at least 6,750 BTU to heat up a 15 by 15 feet shed.
For automatic calculation, whether or not your shed is insulated,
this calculator
will help.
Things you need to know before buying a shed heater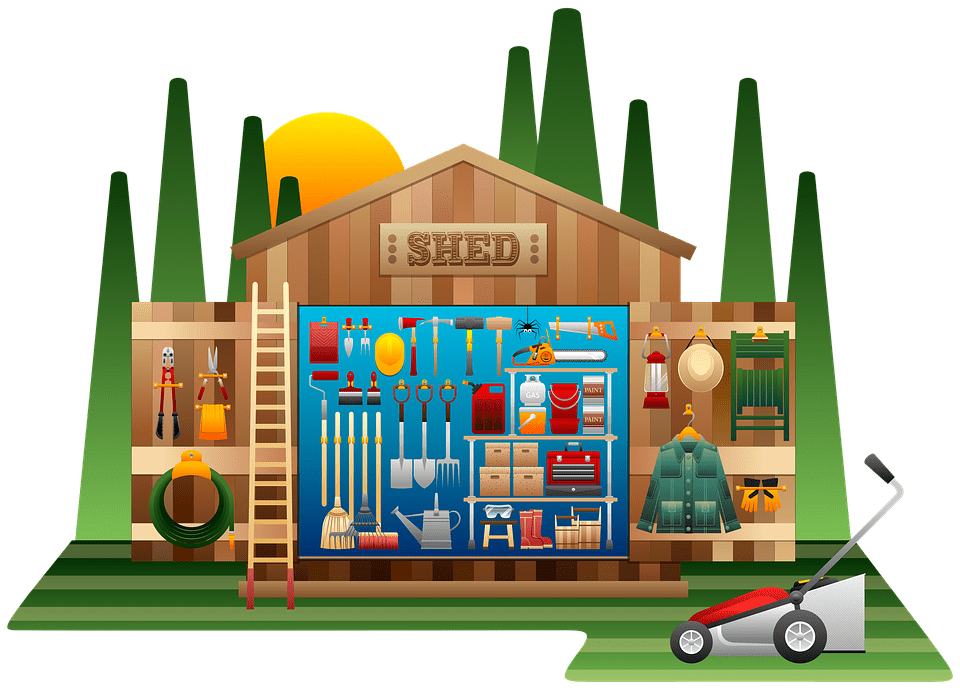 By now, you must be very eager to get your very own shed heater, but before buying please consider the following features for your heater:
What is your shed used for?
Consider what is the use of your shed – is it a workshop for wood crafting or a storage for your tools? Then you might cross out heaters with exposed heating element for it poses fire danger. Is your shed used for resting and sleeping or a guest room? Then those loud and noisy fan heaters might not be the one for you.
Type of heater
Also consider the type of heater according to what you need. Infrared heaters don't heat up the air but only objects and person. You will feel warm and cozy but if you move away too much then you will feel the cold again. Complementing an infrared heater with a fan is an economic option, or better yet, just get yourself a convection heater that heats up the air if you will move too much on your shed anyways.
Eco mode
Your heater should have energy saving mode of sort or if it has a timer to monitor the power output. High powered heater doesn't necessarily mean a good heater. A heater with an economic mode is better on the long run, you'll be able to save bucks from the savings you can get from your electricity bill.
User-friendliness and ease of installation
Another thing to consider is user-friendliness. A heater that is difficult to control and monitor is not a good choice. You want a cozy and comfortable shed and putting up a heater that brings too much hassle defeats the purpose.
A heater with a wireless remote control is a big plus because the controls of the temperature is just within your hands. On the other hand, installing a wall-mount thermostat will also do, which you can buy and wire separately.
Design and aesthetics
Of course, you should always consider the aesthetics of the shed heater. A beautifully designed heater upgrades your level of comfort. You will notice if a company put much effort on their product based on its physical appearance. And part of its beauty is the compactness and minimal space consumption. If all the heaters can deliver the needed BTU for your shed, then the final verdict will definitely boil down to whether those heaters are beautiful or not – you will definitely choose what the most beautiful heater is for you.
Summary
To sum it all up, heater is a necessity if you are living on cold places. But before getting one, make sure that your shed is properly insulated to make sure that the heater will be working on an efficient state.
There are many types of heater – infrared heater, oil-filled radiator, electric fan heater, propane heater, industrial heater and much more so when choosing a shed heater, consider the efficiency of a heater.
Ask your self this: "Will this heater be sufficient to heat up my shed even in worst conditions?" or "Will this heater be efficient and cost-effective for the size of my shed?". Choose the heater that will suit your need the most. Also use the guide computation for estimating the needed BTU output of the heater to heat up your shed.
With those, you can never go wrong.
---