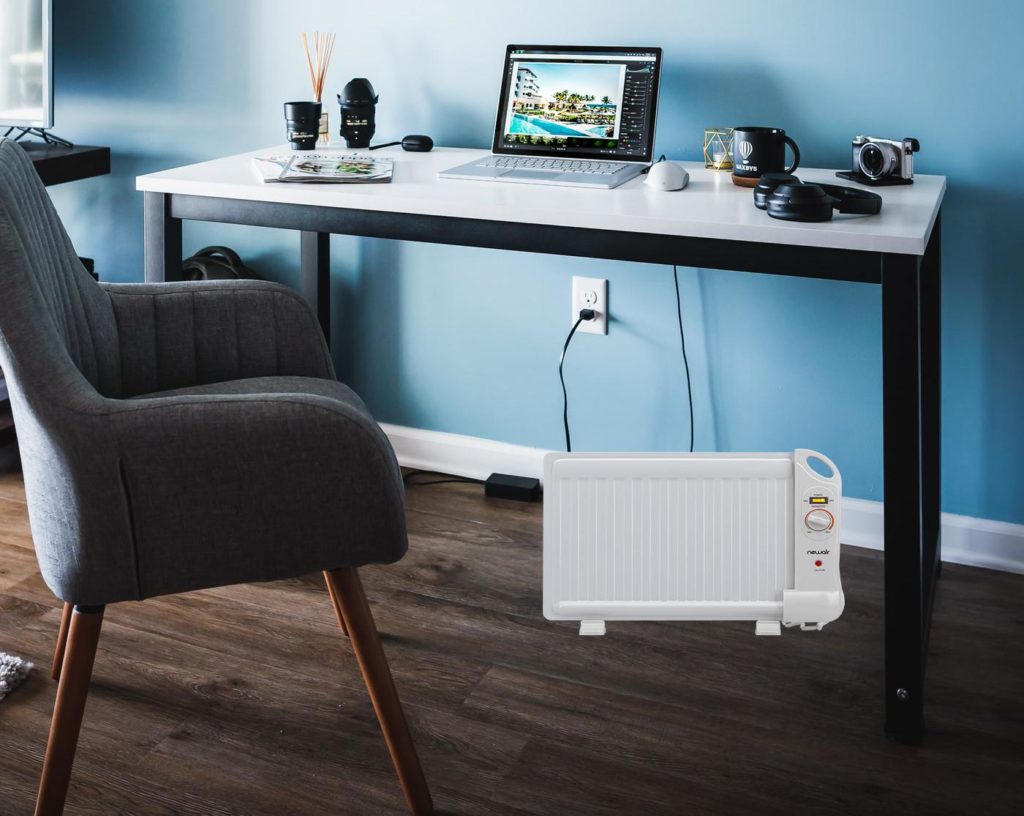 Most of us like our workplace, desk, or any relaxation zone warm and comfy. Sometimes, space heaters just won't cut it. No matter the season or the situation, you can't go wrong with a convenient under desk heater.
Best Under Desk Heater Comparison
Key Benefits of Having an Under Desk Heater vs Other Heaters
Boy it could get cold during winter and even if it's not, some office buildings can't afford proper heating or if they do have a system then it's not accessible to everybody. Centralized heating systems, most of the time, can't be modified and all of you will have to deal with the inconsistency in temperature.
Well, not anymore, with your own under desk heater, you get to enjoy consistent and convenient heating at the comfort of your cubicle or workplace. It's a space saver, safe, and no-hassle way to keep you warm and comfortable. It's also quite affordable.
Best Under Desk Heater to Buy in 2023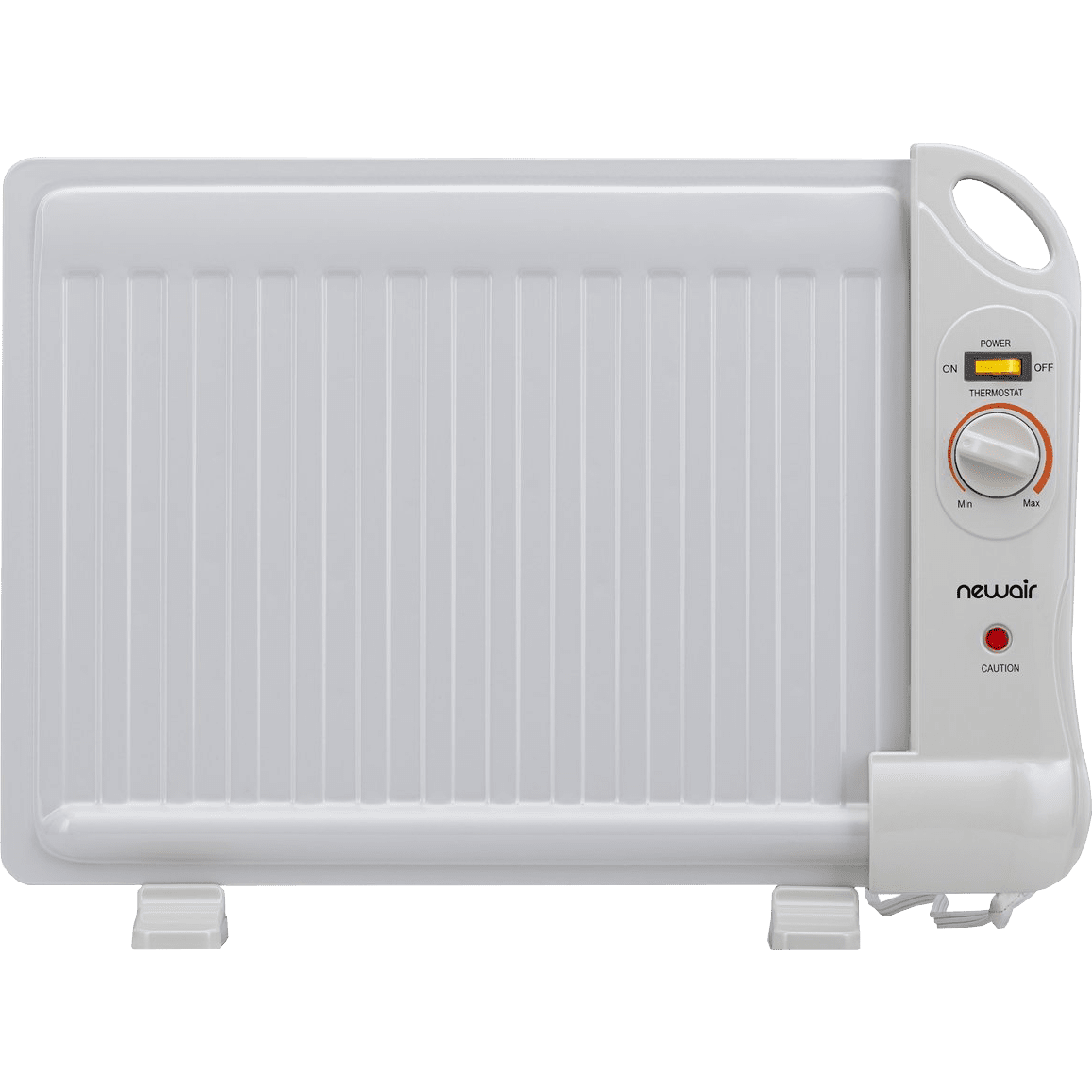 First up on our best under desk heater review is the NewAir Portable Under Desk Heater. This under desk heater is perfect for your home or your office. It has a compact design that fits really well under your desk or maybe even bedside while you work.
It's also quite noiseless using a combination of radiant and convection heating so you won't even remember that it's there. It is the fanless variety so no breaks in your concentration whatsoever.
At 400 watts this has very low energy consumption and continues to heat consistently at an even rate. Your safety is also guaranteed with this heater.
It has a tip-over switch that means when it is knocked over then it will automatically shut off. It also has an overheat protection feature meaning when an extremely high operating temperature is detected then it would also automatically shut off.
The stabilizing feet would make sure it stands upright properly at all times and the indicator light should tell you when it is on.
It has an adjustable thermostat, long power cord, it is lightweight so it is easy to carry around and that's also because of its convenient handle, and most of all it is ETL-Listed so you're sure that it's certified safe to use.
Pros
Feature-packed heater for a very good price
Safe and ergonomic
Lightweight and noiseless
Heats an area consistently
You can use it anywhere you like
Cons
Durability is a bit questionable
Bottom Line
If you're someone who works all day on your desk whether at your home or in an office then this heater is perfect for you. If you get distracted easily or want complete silence when working then this is your best option.
---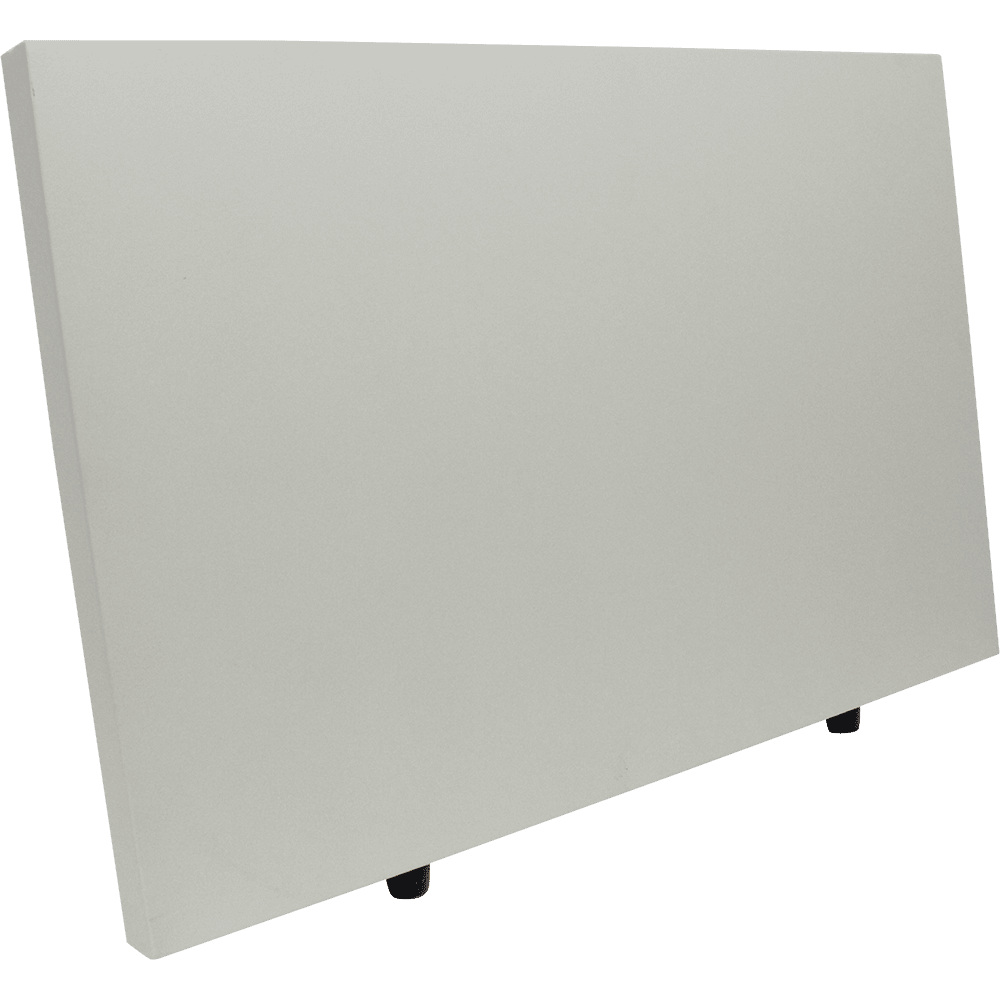 The QMark 202SLB Radiant Under Desk Heater is a lightweight and slim under desk heater with posh white design. Get this, this heater is merely 8 pounds that you can mount it in your desk using the Velcro that comes with it.
It also has stabilizing feet if you need it upright on your counter, table, or anywhere else convenient. This heater has a unique crystalline surface with a panel heater that emits radiant and gentle heat to warm you and your workplace.
This personal heater is also quite economical, with an electricity rate cost of maybe a penny or two per hour. It's also a worry-free operation as this heater is packed with different safety features.
It is cool to touch as it's got no exposed heating elements and surface temperature is below 200 degrees F. It is also imbued with the auto tip-over safety feature and a 120V polarized plug for shock protection.
This heater is allergy-friendly as it is designed not to dry out air stir up any pollen or any char particles. It has an on and off switch plus and indicator light. Plus, it is UL-listed.
Pros
Easy mounting for use, you can use it literally everywhere
Allergy-friendly design
Lightweight
Safe to use
Economical
Cons
An adjustable thermostat needs to purchase separately
Bottom Line
This is perfect for office workers whose buildings have a centralized thermostat that is very inconsistent. Great for the teachers, the accountants, the cashiers, you name it.
---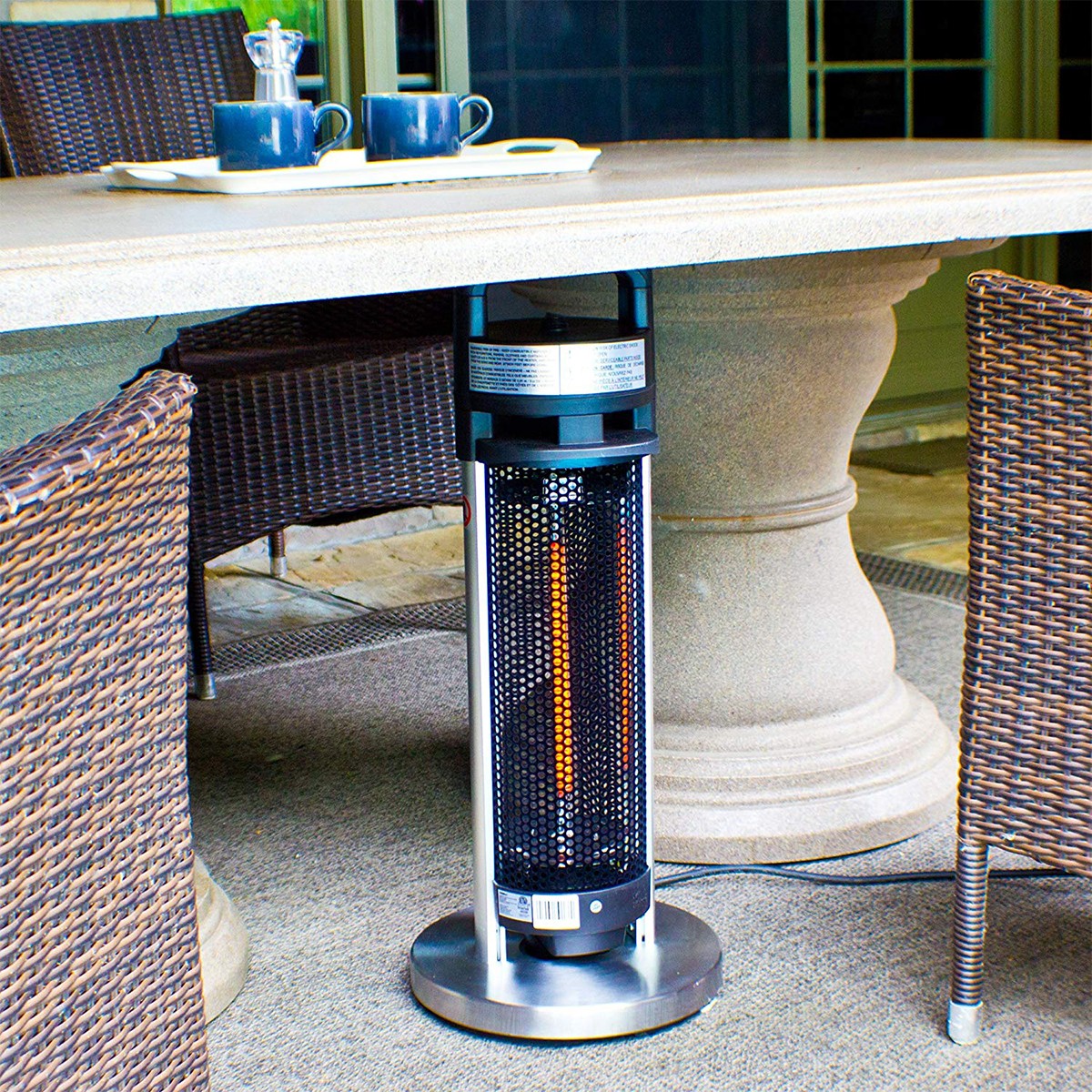 The next product on our best under desk heater review is the versatile Ener-G+ Infrared Portable Under-Table Electric Heater. You can use this personal heater indoors or outdoors. It's got a convenient handle and design that makes it possible to be utilized almost everywhere.
It also immediately will warm anything in its path most especially you. This unit doesn't use a fan so it's not only noiseless but also economical. It has a long-lasting bulb that will keep you warm consistently.
Simple to use, and can withstand dust and rain. You'll have warm and comfortable air whenever and wherever you desire.
Pros
Long power cord for anywhere deployment
Lightweight and easy to carry around
Simple straightforward operation
Strong heating capability
You can use it anywhere
Cons
Does not work well outside as advertised
Tends to overheat when used inside
Bottom Line
This is for people needing instant heating wherever they go. May be ideal for home use as you can take it on your bedroom for chilly nights or take it out on the patio for a warm afternoon.
---
The De'Longhi Mica Thermic Panel Heater is designed to bring you warmth and comfort wherever you may need it. The sleek design allows you to mount it or to let it stand upright in any convenient place. Its aesthetics allows it to blend in your house and furniture too.
It's packed with 1500W of power and operates silently. The adjustable thermostat comes with multiple settings so you have control over the warmth it brings.
It offers 300 square feet of pure relaxation.
Pros
Nice design blends into your home
Adjustable temperature
Powerful heating capacity
Silent operator
Cons
Prone to overheating
Lacks a few other safety features
Bottom Line
If you tend to gather up with your family on your living room or sleep on the same bed then this might be the heater for you. It can warm up a tiny room or space and it's adjustable for your preferences too.
---
The Cozy Products CL Cozy Legs Flat Panel Radiant Desk Heater is a convenient and quite affordable way to go about heating your workplace. Whether you are in a home office or workplace this one fits the bill perfectly.
It uses only 150 watts, it can be wall or desk mounted and is guaranteed safe as it's got no exposed heating components. It also comes in a sleek design that's a space saver and will blend right in.
Pros
Easy to use and setup
Simple and sleek design
Safe to use
Energy efficient
Cons
Does not really have a strong heating capacity
Bottom Line
This product is quite versatile and really it's for anyone who needs quick and proper heating. But take note that this product has very low wattage meaning it's not that strong of a heater. This should only be good for one person.
---
Another economical under desk heater is the Sengoku Mini Panel Electric Space Heater. Only uses up 150 watts and proven safe because it's got no exposed heating coils. It emits a gentle heat and is safe to touch.
It provides consistent heating on your feet up to your legs and will be a perfect add-on for your workplace. It's got a built-in thermostat and will heat a good 6 x 6 feet of space. Can be deployed anywhere too.
Pros
Safe to use
Consistent heating capacity
Can be deployed wherever you need it to be
Lightweight
Cons
Not that durable
Emits an unpleasant smell
Bottom Line
Just like the Cozy products under desk heater this one is just a personal heater and doesn't expect it to heat up more than your feet and legs. It's like an alternative to your blanket only a bit warmer. Perfect for office workers or work at home freelancers who sits all day.
---
The last product on our best under desk heater review is the stylish Cozy Products Cozy Legs Flat Panel Office Desk Space Heater. Looking for a heater that would blend right in and keep you warm and cozy, then this is for you.
It is compact, flat, and comes in a sleek panel design. Put it on top of your table or under your desk it won't matter. It's got 200 watts of pure heating power so say goodbye to cold feet.
Pros
Stylish design
You can take it anywhere
Energy efficient
Compact and lightweight
Cons
Could use a little bit more power for heating
Bottom Line
Same as with our last two products this is perfect for office workers. Warm your legs and feet or put in on top of your table to keep the air surrounding you cozy.
---
Choosing the Right Under Desk Heater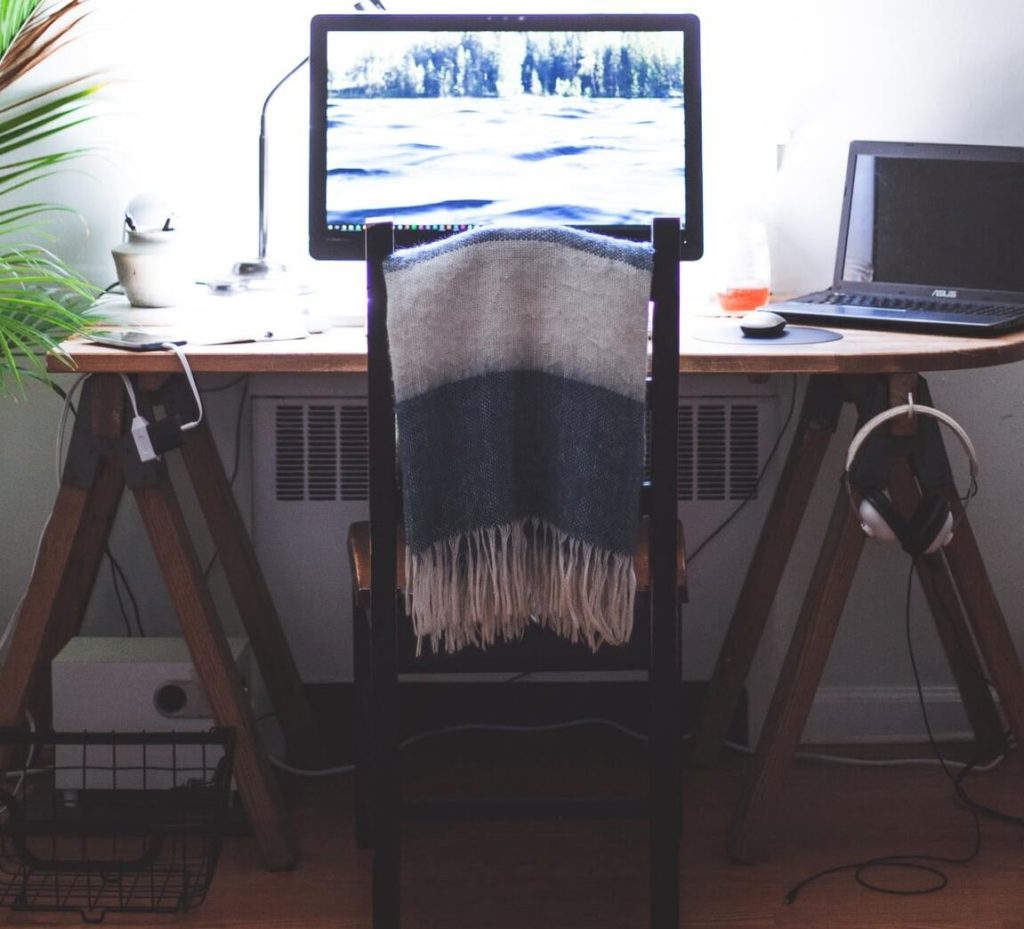 Here are some important things to consider when shopping around for your next under desk heater.
Heating Capacity
The first thing you got to check and determine is how much heating capacity is it that you actually need. Think of the area that you want to be heated, are you going to use it at home, your office, or somewhere else.
Take note that 10 watts of heating capacity should be good enough for a square foot. So naturally, 1500 watt heater should suffice for a good 150 square feet of space.
You don't want to buy something that would be too hot, inconsistent, or has poor heating capacity for your place. Heat rises so if your place has a high ceiling then consider that too.
Type
There are a few types of heaters that you can choose from, let's discuss them briefly.
First up are convection heaters. Convection heaters are ideal for heating a room and for an extended period. As the name indicates it utilizes convection currents for heating air as well as circulating it.
Radiant heaters, on the other hand, are ideal for a room where people are within what you call the line of sight of the heater. You may also call it as spot heating. These type of heaters supplies heat directly to floor or wall panels.
Ceramic heaters are also very consistent and may provide heat on an area for long periods of time without any risk of it burning or posing any fire hazard. Infrared heaters work by emitting a precise beam of heat to warm you directly using a steady stream of heated particles.
Lastly, there are also micathermic heaters available. These are hybrid models that combine the best aspects of a radiant and convection heaters. They are extremely energy efficient and mostly provide 80% convection heat and 20% radiant heat.
So once again, think of the place you need to warm up and ask yourself which type of heater would be ideal for your setup.
Design
Under desk heaters are meant to be small, compact, and ideal for tight spaces. That's why they are also called personal heaters and they are meant to provide you heat in a focused manner.
They can vary in design as some of them can be situated on night-stands, the floor, or on top of your table. If you look hard enough then you'd probably find a model with a convenient footrest.
So this is the reason why most of them have a flat design. To accommodate you and the area it needs to heat.
Noise Levels
Just like your air conditioning, heaters also emit a little bit of noise. There are actually fanless varieties that are naturally more of a silent operator than its counterpart.
This would be super beneficial if you want a silent workplace and you don't want that extra heater buzz to distract you. Micathermic heaters are almost noiseless so they are an ideal choice for these situations.
Safety
As if there's any doubt that ensuring your safety is a top priority. As we all know, heaters can be burn or fire hazards. But because of the modern design of under desk heaters, it eliminates a lot of worries and is generally not prone to any safety issues.
One thing you need to be sure of is that you are buying a certified under desk heater. Ones that are certified by a known independent organization should be the safest. These are the ones who follow safety protocols and have features and components that won't endanger you.
You have the ETL, UL or Underwriters Laboratory and CSA or Canadian Standards Association for example.
Some of the features that you should watch out for are cool-touch exteriors to prevent any burning, automatic shutoff timers to not let your unit overheat when left or not in use. Watch out for these features as they can be lifesavers.
Setting
Maybe not on top of your priority but if you're someone who needs varying intensities of heating or if you have erratic weather conditions in your area thus needing different settings for heating then find out that does have multiple options for heating capacity.
Most heaters would have a low, medium, and high settings and would be ideal to keep you comfortable all day long.
A warranty should also be another aspect that you should inquire about before buying an under desk heater.
Is It Safe to Use Under Desk Heaters?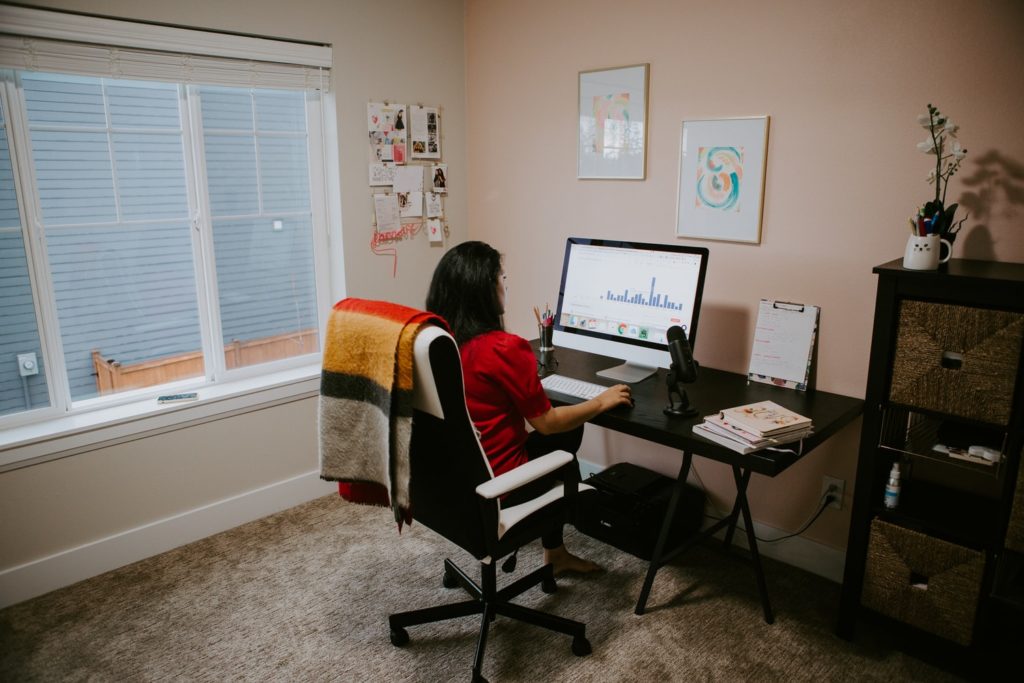 Yes! Under desk heaters are generally the safer way to go. A lot of fueled space heaters are frequent causes of fire accidents. And these hazards are prevented with under desk heaters because they are electrically powered. But of course, a few precautions should be observed.
Make sure to keep your under desk heaters away from flammable liquids or combustible material. Only use certified heaters. Be careful to put all the cords and wires intact. Please do not stack anything on your heater and keep it a few inches away from walls.
Also, as much as possible, do not put it in high-traffic areas, that's not hard to do because of its size. Pick only high-quality under desk heaters with the best features and lastly, turn it off when it's not in use.
Conclusion
We hope that you learned a thing or two about the value of having an under desk heater from reading our article. It's not only convenient and efficient but also delivers much-needed comfort wherever and whenever which makes it a great investment.
These are the best under desk heaters out in the market so you can't go wrong either way. So warm yourself up, and have a great rest of your day!