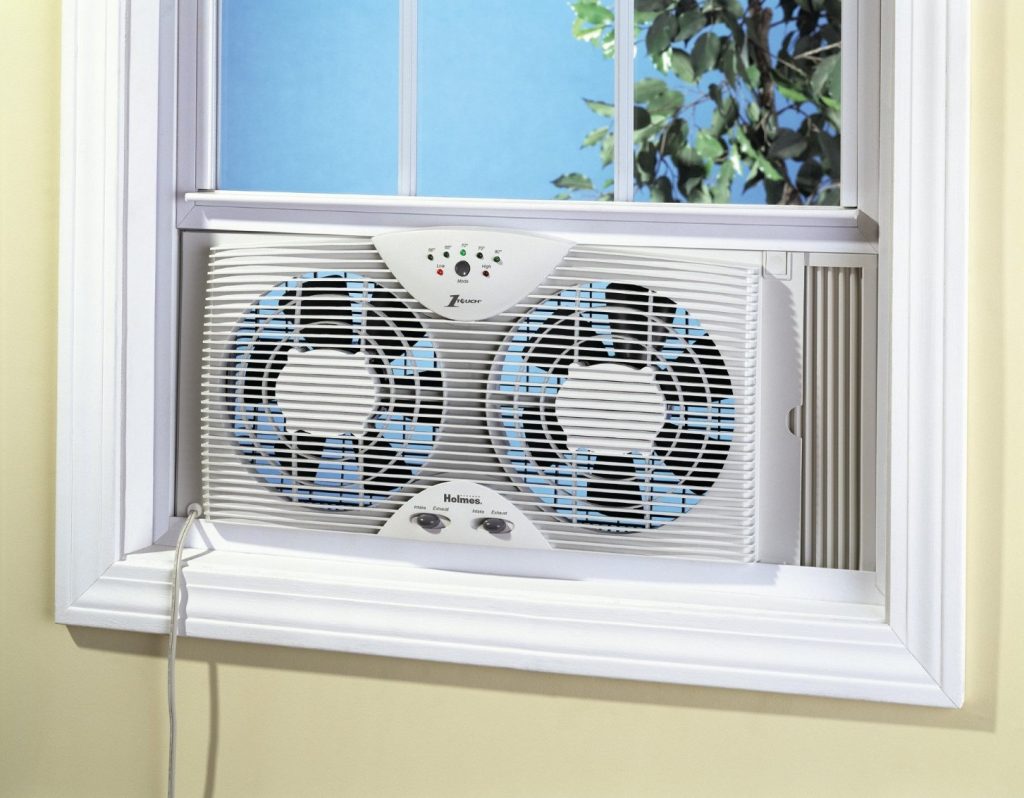 Who makes the best window fan? Read on and know why a window fan is a great cooler to your home. Below is a guide to help you in making informed buying decision.
What is a Window Fan?
A window fan, as the name suggests, is a fan designed to be positioned in the window. However, it has functions that make it unique from the other types of fans. Most fans, such as ceiling fans and tower fans, provide a cooling effect from the flow of moving air.
The window fan does the same – cools a room or any part of the house – but it performs this task by pulling in cool, clean air or driving out hot, bad air from the home.
5 Best Window Fans Comparison

Uses of a Window Fan
Aside from drawing in fresh air from the outside and drawing out warm air inside, window fans have many uses:

A window fan is a space saver – unlike the traditional table or stand fan, which takes up space in the living room or in your bedroom, making you a bit uncomfortable moving from one part of the room to another.
As it draws in fresh air from the outside, it allows the circulation of pollution-free air around the home.
It reduces your dependence on air conditioner and significantly lowers energy cost every month.
Window fan is ideal for kitchen, laundry and basement areas, and bedrooms, especially the small ones, as it cools the area at night, providing the occupant a good night sleep.
It costs less than air conditioning unit.
It eliminates unwanted odors inside the house; these usually emerge when there's so much cooking happening in the kitchen or when a household member is a smoker.
Energy Efficiency Compared to a Ceiling Fan
When looking for the right window fan to buy, you must not only think about the brand or model that promises durability; you must also consider energy efficiency. This fan expends a small amount of energy, while still providing efficient cooling in various types of weather.
Savegreenly made a study on the energy use of window fan and ceiling fan. It found out in its research that a ceiling fan uses around 60 watts to more than 200 watts, depending on the model. When it tested the window fan using the power meter, it recorded 61 watts – already set on high, 52 watts on medium, and 48 watts on low. The website added that window fans already provide households with good amount of air flow on these Wattages.
Do's and Don'ts about Window Fan Placement
The window fan helps increase and improves the circulation of air inside your home, and reduces your dependence on air conditioning – if you know where to place it strategically. Here are a few tips:
Do's
Position the fan that's blowing inward in the same direction as the blow of the wind and on the coolest area of the home.
Use an equal number of window fans to promote cross-ventilation. For instance, if you want one fan for the first floor, you must also install one across it. The first fan should blow inward and the other one outward. Make sure that doors between them should be opened to maximize air flow.
Locate the fan on the upper level of the multi-floor homes and open the windows on the lower level. If this is not possible, place separate fans on each floor.
Improve the ventilation of every room by placing a window fan blowing inward. These fans will also work together in pulling the air throughout the house (but this still depends on the layout of your house).
Don'ts
Avoid placing the inward blowing fan close to the garage, garbage can, and other areas that will let unpleasant odors and toxic fumes to go inside the home. You can consider positioning it somewhere near trees to make the inward air smell pleasant (unless pollen poses risks).
Never position it toward a freezer or fridge as this may cause air to cool down faster than the usual thereby increasing the electricity load on the appliance.
Do not place desks (antique or not) or expensive carpet below the inward blowing fan to avoid water damage.
Our Top 5 Window Fan Picks This 2023

This window fan has the features and performance fit for your home ventilation needs. Fresh air is guaranteed with its reversible airflow functionality. You can use it either fan or exhaust. You can adjust it through controls, not manually. The remote control is very convenient to let you adjust the temperature or reverse the air flow.
This fan has 3 speed settings (high, medium or low). You can adjust the temperature and see the specific temperature on the digital display. It has an adjustable screen extender to fit it on your windows. You don't have to worry if rainy days come because the motor is water resistant.
This fan has an extensive 5 year warranty.
Pros
Cheap
Water resistant
Digital display
Reversible functionality
Remote control
Cons
Not built with the best quality materials
---
The Holmes Twin Window Fan HAWF-2041 is an an advanced model than the HAWF2022. This fan has adjustable thermostat and a three speed setting for your preferred comfort level. Each fan is independent. It has its own controls to intake, exhaust or exchange air flow. You can also turn the other off or on.
This unit has 3 year warranty.
Pros
Cheap
Water resistant
Extender screen and panel included
Cons
Remote control could be a great upgrade
Only manual controls
---
The AirKing 9166 20″ Whole House Window Fan is not your typical window fan. This fan however, does not offer fancy features but can provide maximum performance to accommodate your entire house. It is packed with 1/6 Horsepower, strong enough to provide enough airflow in your home or vacuums away odors with its reversible function. The storm guard protection encloses the fan during bad weather condition or when you're away.
This fan has a 1 year limited warranty.
Pros
Powerful motor
OSHA and ETL compliant
High CFM up to 3560
Cons
Bulky
Double the price from the first to fans on the list
Loud
---
This fan might be value for money, but let's see what this fan has to offer.
The Comfort Zone CZ310R Window Fan does not offer any fancy features. What this fan boast is its efficiency. It has 3 speed settings that can be manually adjusted on the fan. The blades can also be manually reversed to function as exhaust. In case it is too short for your window, there is an extensible screen that can cover the space to fit the fan perfectly.
This unit has a remote control to make it convenient for you. Another addition with this fan is its removable screen that keeps bugs out.
This fan has a 1 year warranty.
Pros
Remote control included
Removable screen
Reversible functionality
Accordion expanders
Cons
Not water resistant
Not the best quality in the market
---
Quite and powerful – this might be two of the many factors to choosing your ideal window fan. The Lasko #2155A does not only have these factors but it is also safety because of its patented safety fuse technology which shuts off the fan when there is fault detected on the motor or power supply. You can adjust the fan on its built-in controls.
This fan is designed to operate in your entire house, either to blow cool air in or sucks hot air out of your house.
Pros
Powerful motor
Fuse safety plug
Made with good quality plastic
Extendable side panels to fit most window size
Cons
---
How to choose the best window fan for your home

To get more value for your money and to maximize the use of the appliance, you must make sure that you will purchase the best window fan available in the market. Below are some tips to look for when buying the a window fan for cooling your home.
Durability, Safety, and Appearance
Check the construction of the window fan you are interested in buying. Are the materials used solid? It will also be practical if you check its repair history. You may also read reviews online. On the contrary, blades should be made of soft materials or at least confined in a grate for the safety of everyone – particularly the children.
The look is also a factor to consider, particularly if you will place it in your well-designed living room, to match the lavishness or the exquisiteness that you may want to portray.
Wind Direction
Place the fan that you bought to the window that faces the prevailing wind or farther from it to promote cross-ventilation. However, if your home is located in the region where the direction of the wind changes often, you should buy the reversible-type window fan. It can pull the air into or out of the house, depending on the wind direction.
Ease of Use
Remote controls and timers are among the standards in appliances today. You may already think that these will be enough to make your use of the fans easier, but you must make an effort to still check how they are operated and confirm if they are easy to control so the other members of the family can use without any trouble. The appliance should also be easy to clean.
Performance
The airflow volume of the most powerful window fan should be enough to cool down the size of your room or an area in your home. Likewise, consider the noise level. Is it quiet enough to let you sleep and hear what is happening in the different areas of the home?
Should you get a window fan?
Wrapping things up, a window fan is designed to be with dual purpose. First it is designed to blow clean, cool air in, and the other is blowing hot, bad air out. If you have a sliding window, a window fan is a great choice. So, choosing a window fan is an efficient choice in the long run.