Ceiling fans are a popular, functional addition to any home. Not only do the best ceiling fans help with energy efficiency, but they can also be used as a light source that adds aesthetic value. New homes are being built with ceiling fans in almost every room, and many homeowners update their residence with these moderately priced additions. Even though adding a fan is a wise investment to make in your home at any time, most people often opt to install a fan to help alleviate electricity bills during the extreme temperatures associated with the summer and winter months.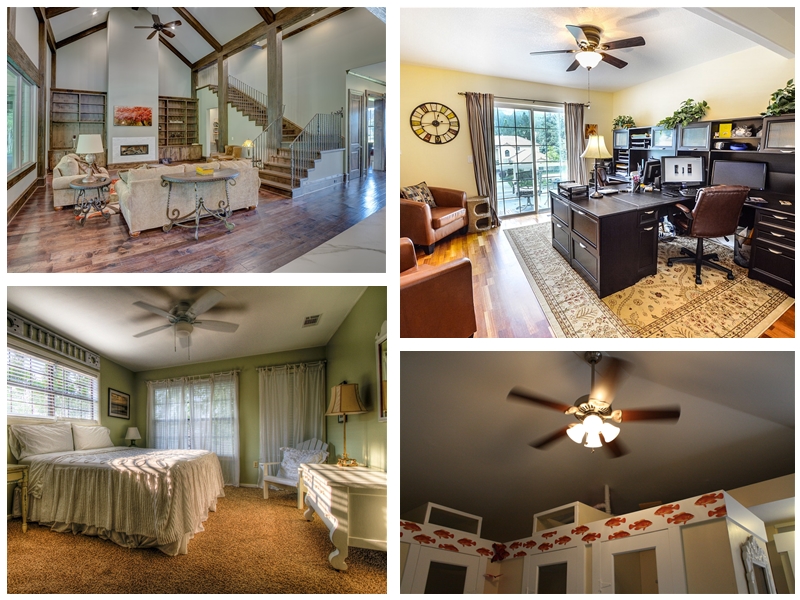 Window AC vs. Ceiling Fan
If you find that your electric bills are outrageous, and you are considering your options before summer knocks at the door, you're probably torn between installing a ceiling fan or a window air conditioner. While a central air conditioning unit runs on an average of 3,500 watts of power, a typical fan runs on 60 watts and a window a/c uses between 500 and 1500 (depending on size) watts of power. Obviously, more watts mean more money in bills, so finding a way to run a little less a/c is at the top of many homeowners' lists.
Both the window unit and fan have their merits. There is no doubt that a ceiling fan trumps the window unit in terms of the amount you'll be saving monthly, but a window unit will chill a room to any desired temperature. Ceiling fans, on average, will help you stay about eight degrees cooler and only cost about a penny an hour to use. Window units can cool a room to any temperature, but their cost per hour is much higher (approximately 14 cent per hour). Each can be installed with fairly minimal effort.
Comparison: Our Top Ceiling Fan Picks

Note: Product images, Dimension, Air Flow, Wattage, No. of Blades, Remote Control, and Price are obtained via Amazon.com.
Review: Our Top Five Ceiling Fan Choices

Highly Efficient Ceiling Fan
The Emerson CF955B Ceiling Fan is a high end ceiling fan that will contribute great savings to your pocket. This ceiling fan is Energy Star Certified that only consumes 17.5 watts.
See Emerson Midway Eco CF955B Price on Amazon
---
Sleek and Modern Ceiling Fan
This is a mid-range fan that will complement any décor and cool rooms as large as 144 square feet. Its four speeds allow you to focus on maximum air flow, up to 4,881 cubic feet per minute, or maximum efficiency.
See Westinghouse 7214100 Harmony Price on Amazon
---
Best Contemporary Ceiling Fan
The Minka Aire is a mid-range fan is made of distressed Koa wood, giving it a charm that will fit in with many décors. Its three large blades help it move a lot of air and the included remote let you set it to the proper speed for the level of cooling you desire.
See Minka Aire F844-DK Price on Amazon
---
The Hunter Builder Deluxe is a great fan for anyone who wants a powerful, silent and good looking fan at a great price.
See Hunter 53091 Builder Deluxe Price on Amazon
---
The Monte Carlo 5DI52WHD-L Discus fan is a mid-range fan that can help you control the temperature of a large room, but lacks the bells and whistles of more luxury models of fan.
See Monte Carlo 5DI52WHD-L Discus Price on Amazon
---
Other Top Contender Ceiling Fans
The Minka-Aire F905-DK is a good option for those who are looking for an elegant look, contemporary ceiling fan. This fan is great for complementing decors in your home. It has one halogen light bulb and includes down rod. The motor is DC which is more efficient than any motors but may cost may be more. This fan has an air flow capacity of 8289 CFM at max level. There are three colors available: Brown (Distressed Koa), Silver and White.
See Minka-Aire F905L-DK Price on Amazon
---
The Fanimation FP7910OB Levon is a large ceiling fan that measures 29 x 12 x 11 inches which make its great option for residential and industrial. This fan has earned it Energy Star Certification which makes it one of the many efficient ceiling fans like the Emerson Midway Eco. The blades are made of wood and has one incandescent light bulb. The maximum air flow capacity is 5605 CFM and is capable of reverse air functionality. This fan has four available colors: Black, Oil Rubbed Bronze Finish, Brush Nickel and Matte White.
See Fanimation Levon Price on Amazon
---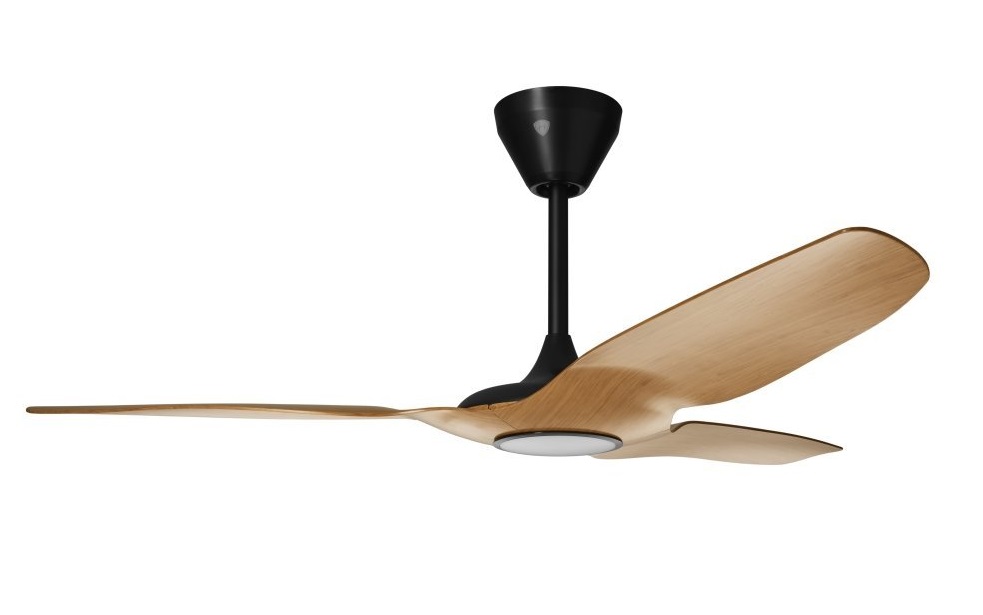 The Haiku Home L Series is not just your typical ceiling fan. Well, it is just a WiFi enable ceiling fan that lets you control through mobile application on Android and IOS mobile platforms. In addition, it works well with Amazon Echo (Alexa) to let you control the fan through voice commands. Also, this unit has a remote control included if you don't prefer the latter. What's great thing about this fan is its Energy Star Certification. This fan consumes only 17.7 watts of power. The integrated LED lights has brightness levels up to 16 brightness settings. This fan is available in Black, Caramel/Black combination, Caramel/White combination and White.
See Haiku Home HK52CB L Series Price on Amazon
---
Monte Carlos's Turbine Collection, the Monte Carlo 8TNR56BKD 56" Turbine displays not just modern aesthetic but also performance with its superb 8333.7 CFM air flow capacity. Incorporated with a DC motor, you could expect a great energy efficiency. It has integrated uplight and downlight which includes four 25W candelabra bulbs and two 35W G9 halogen bulbs respectively. The lightings is not that superb to brighten up your room so you may need a separate lighting for your room. There is a remote included for this fan that controls speed, reverse functionality and lightings. This fan is available in Rubberized White and Matte Black.
See Monte Carlo 8TNR56BKD Price on Amazon
---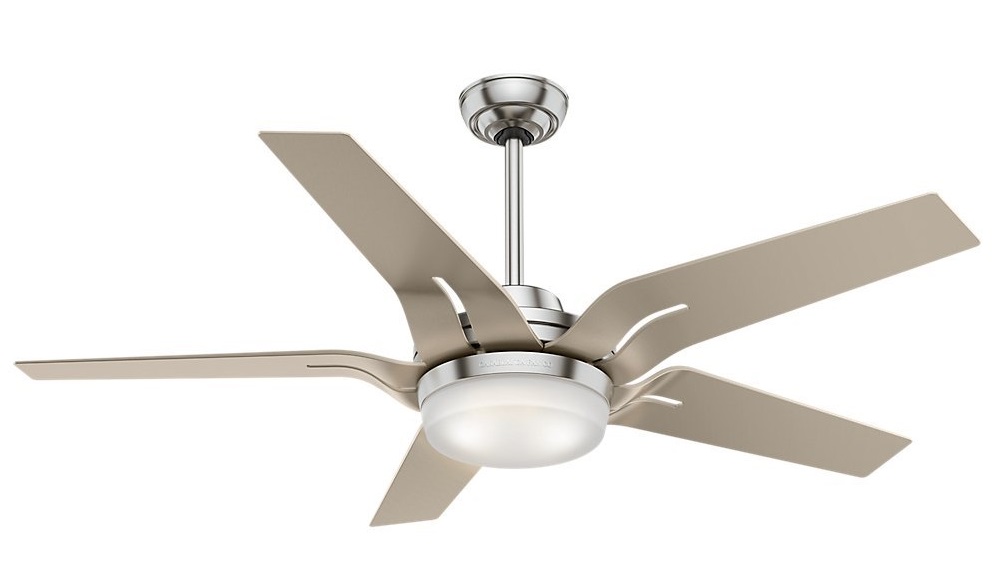 This fan is not just crafted but inspired by Scandinavian interior design which utilizes the use of natural materials. The Correne is part of Casablanca Fan Company's 2016 collection. What's good about this fan is its three options to choose to mount the fan: standard, flushed or angled mounting. The motor works quietly and efficiently without compromising its performance. The 17W LED light is dimmable and can be controlled through the remote control. This fan has a reverse functionality. The maximum air flow capacity is 7152 CFM.
See Casablanca 59197 Correne Price on Amazon
---
Selecting A Ceiling Fan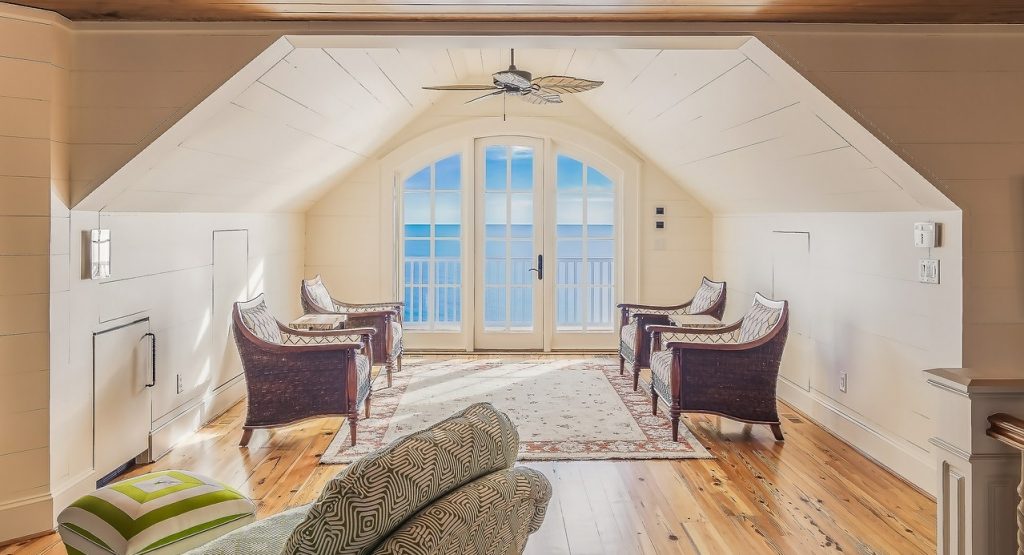 There are several factors that go into selecting an ideal fan for your space. The list below includes just a few features to consider before making a purchase.
Room Size – The best ceiling fans for large rooms will need a higher airflow speed (CFM). You'll find this quality in many Energy Star models.
Motor – The size of the motor isn't quite as important as airflow and energy efficiency. However, you'll want a motor that is large and quiet to effectively distribute air. The best motors are backed by excellent warranties.
Noise – The noise a fan makes is a direct result of its motor. If you hear clicking or humming it is likely that the motor is undersized.
Reversible Airflow Functionality – Do you think that ceiling fans can only be used during warm, summer days? Not anymore in this era as new technology brought a reversible dual functionality to let a fan circulate warm air during cold, winter days.
Air flow – The higher the CFM, the more the air will circulate. As mentioned above higher CFM is usually found on Energy Star models.
Energy efficiency – Look for the Energy Star label. These fans are the most efficient, and will cost the least each month.
Size – Huge fans are only going to be needed for large gyms or huge recreational rooms. Consider the space and ask a professional.
Certification – Most popular certifications for household appliances are UL, ETL and Energy Star. UL certification lets you know that the product is safety for operation. The ETL certified product assures you that it is in compliance with the North American safety standards. The Energy Star certified product lets you know that it is energy efficient. Consider these certifications as one of the factors to buy a ceiling fan.
Price – Better fans will likely be a bit more expensive upfront, but they'll save you money in the long run.
Material – Generally speaking, the blades are made of wood, MDF or particleboard, and selecting which type is best is all according to personal preferences.
Selecting The Best Ceiling Fan For You
Picking the proper ceiling fan is determined mostly by personal preferences, but the size of the room you're trying to cool is also important. If the main objective when making a purchase is cooling and efficiency, selecting an Energy Star model that has the highest airflow at each of its three speeds is your best bet.
Fans that include lights can be an elaborate focal point in a room, too. If you're using a fan to cool a room and for light, it's going to bump up the amount you're spending per hour, so be certain to purchase a fan that has energy-efficient lighting. A new fan that includes an energy-efficient lighting kit will keep the temperature down, look sharp and work great as a light source without spending a lot of extra dough on electricity.
Where do you like your ceiling fan be installed?
Living Room
Bedroom
Dining Room
The Best Ceiling Fan Makers
The best ceiling fan manufacturer is a topic that is up for debate because it depends on what you're hoping to get out of your fan purchase. When considering what fan to buy, most people want several qualities; energy efficiency, smart designs and features, high performance and an affordable price. A list is included below that features some of the best companies in their designated specialty.
Energy Efficiency: Emerson
Emerson has been making ceiling fans with energy efficiency in mind since 1890. The company continuously updates their models, and each fan is made from the best materials to create excellent airflow and quiet motors. In 2009 the company produced the EcoMotor that was up to three times more efficient than other motors on the market.
Minka Aire produces the most stylish and interesting fans on the market. They offer the traditional four to five blade fans, but they also offer a variety of embellished fans to fit every home's aesthetics. You can also find the best ceiling fans with lights and remote from Minka Aire.
Casablanca fans are known for unmatched performance. They were the first company to offer a fan operated by remote control, and they continue to upgrade their computerized models. They also offer many products with extremely large, quiet motors.
The Hunter, Litex and Westinghouse companies are identified by their great great performance yet affordable prices. They pride themselves on producing the latest trends in fan at reasonable values. Westinghouse has been around for almost 70 years and Hunter has been around since the late 1880s.
Closing Thoughts
Cooling your house this summer doesn't have to cost an arm and a leg. By installing a fan you're not only doing your part to keep your electric bill down, but you're also adding value to your home. As mentioned above, the best fans are chosen based on personal preference. However, you can stay cool (pun intended) on your next fan venture by remembering the important information, tips and strategies included in this article.
---