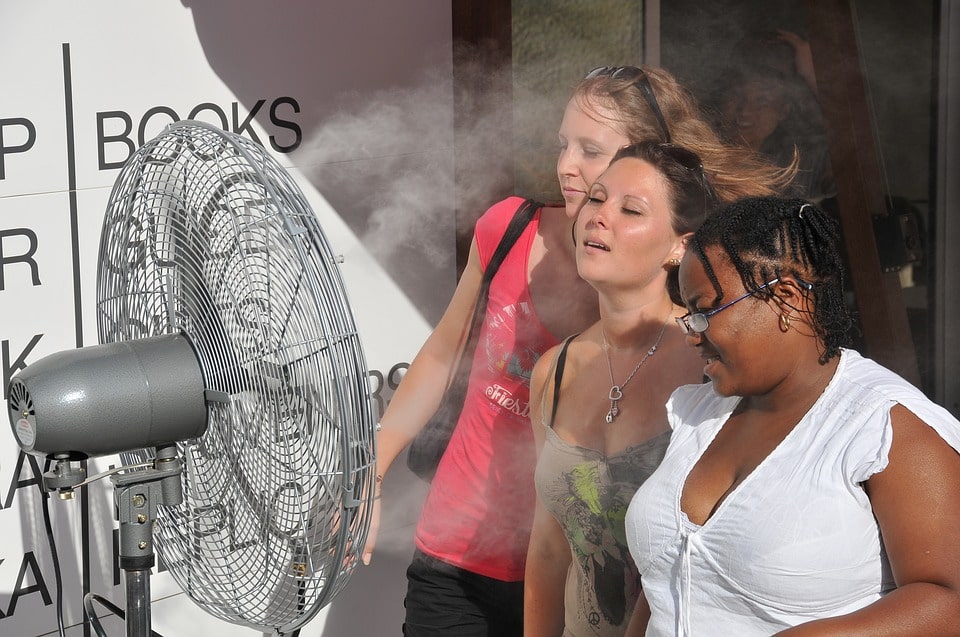 When it comes to outdoor cooling, outdoor misting fans are hard to beat. If you are thinking about buying one, then read on to find out more about how misting fans work and where they would be the most effective. Besides, we'll have a look at what we think are the 8 best outdoor misting fans around.
Best Outdoor Misting Fan Comparison
How Does a Misting Fan Work?
A misting fan releases droplets of water that get evaporated by the hot outside air. To evaporate, heat energy needs to transfer from the air to the water, and this transfer results in a drop of temperature. And the drier the air, the stronger the cooling effect of an outdoor misting fan is.
Benefits of Using an Outdoor Misting Fan
Misting fans can be much more effective at cooling than non-misting fans. Regular fans don't actually cool the air – they only move the air around, creating a cooling breeze. Misting fans, on the other hand, do cool the air through evaporation, which allows for much better cooling performance.
Best Outdoor Locations for a Misting Fan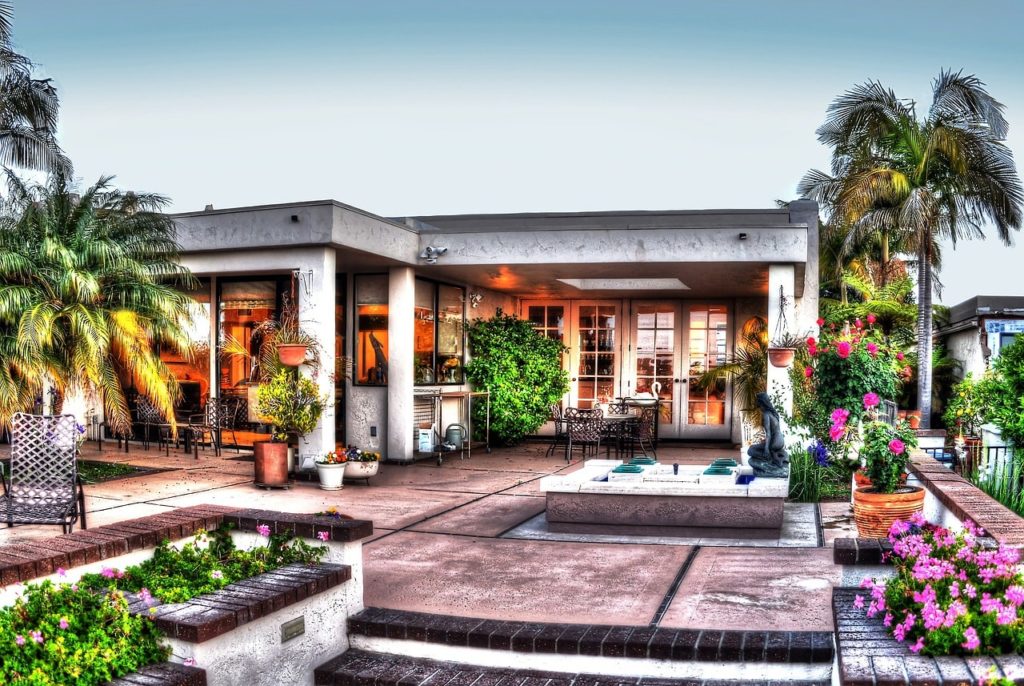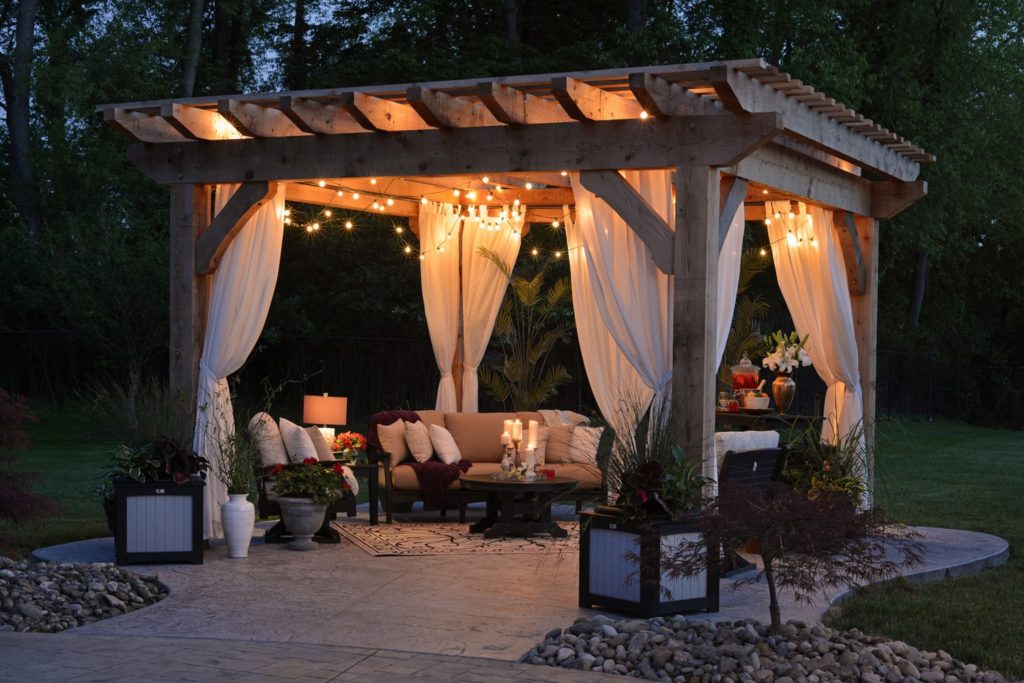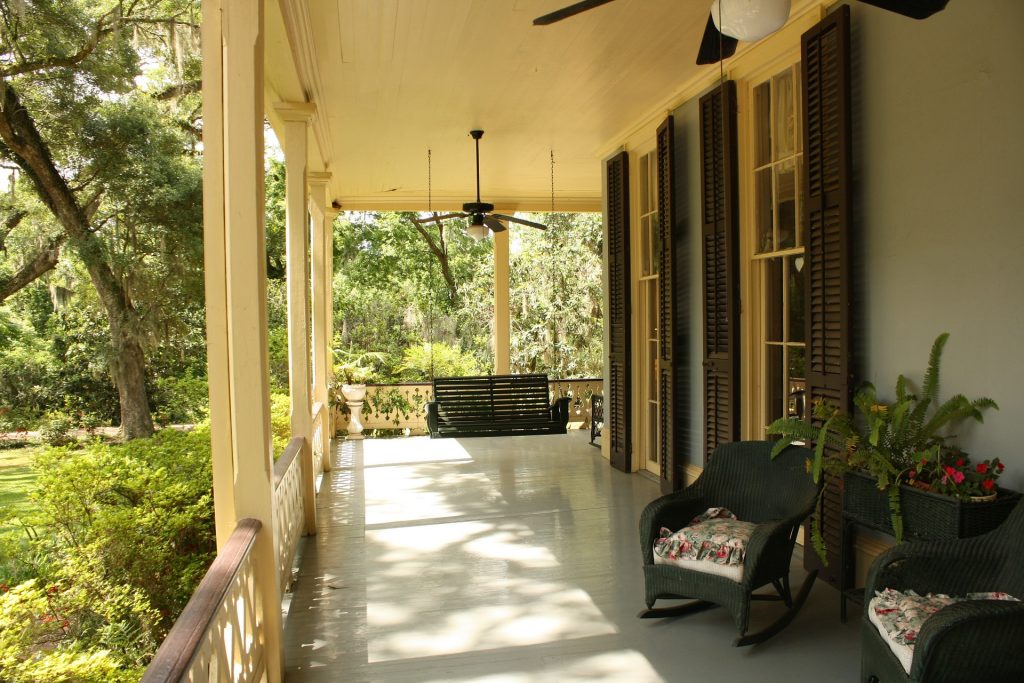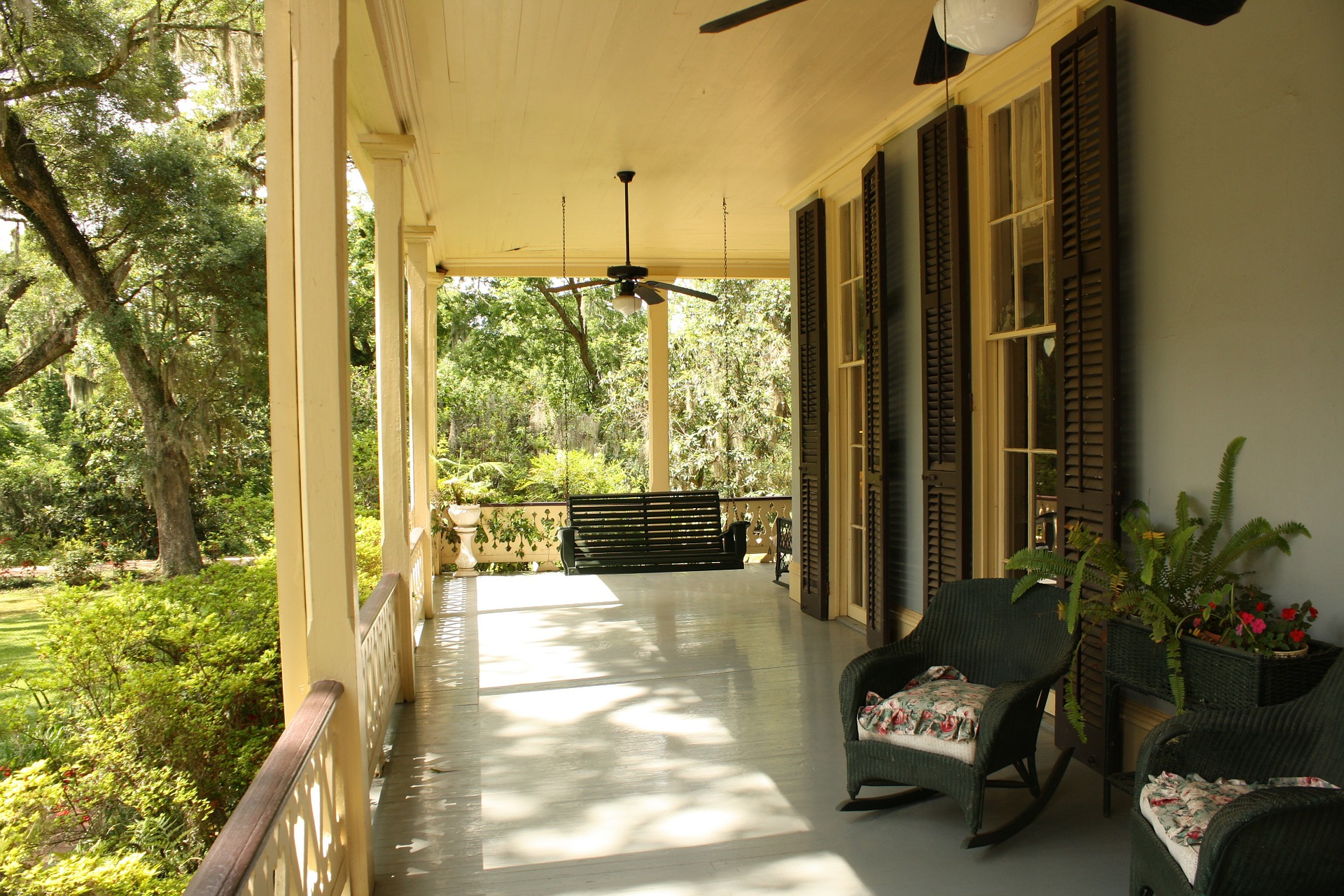 The traditional location for an outdoor misting fan is the patio. If that's exactly where you will be hanging out, then don't think much and place the fan in the corner of the patio from where it will be able to cover most of the patio's area.
You are also free to place your misting fan elsewhere – by the pool, near the grill, or wherever you need it right now. With that said, be sure to place your fan on a level, flat surface – otherwise, it may tip over. If there are no such surfaces nearby, you might be unable to use your outdoor misting fan.
No matter where you are placing your misting fan, be sure that it covers as much space as possible. Place the fan somewhere at the edge of the desired area, e.g. the corner of your patio. But be sure to keep the fan away from electricity – some of the mist may not evaporate, creating an electrical hazard.
Finally, keep in mind that misting fans have the best effect in dry areas. If your area is already humid, then the results won't be as good. Misting fans will thus be optimal for the western areas of the US that tend to be dry during the year.
8 Best Outdoor Misting Fans to Buy in 2023
The Misto misting fan from Lasko arguably is the best mister for outdoor use on our list. This is thanks to its durable housing – made weather-, UV-, and rust-resistant, it should withstand any weather condition you throw at it.
The power cord here is also notable – it features a GFCI that will shut off the power as soon as it detects any fault in the current.
What some people might also like about the Misto misting fan is that it's fairly compact and easy to move around. And although it doesn't have a classic pedestal fan design, it's pretty versatile in air and mist delivery – you may set the air output to oscillate side to side, as well as manually pivot the head up and down.
Notably, Lasko claims that this thing can cool the air down by up to 25 degrees, but this will depend on how humid the air is already.
On the other hand, the airflow of this thing is lackluster – just about 300 CFM on the highest setting. As you'll see in our reviews of other misting fans, this is pretty low. This means that Misto won't deliver that strong of a breeze.
The Misto outdoor misting fan is loud as well, which might be a downside for many people.
Pros
Weather-, UV-, and rust-resistant housing.
Pivoting head with wide pivoting angle.
A secure GFCI power cord.
Compact.
Cons
Loud at max setting.
Low CFM.
Bottom Line
If you want a misting fan for mainly outdoor use, then the Lasko Misto fan could be the right option. This thing's highlights are the protective features that should allow it to withstand any weather.
---
If you want a strong breeze along with mist, then the HydroMist F10-14-011 oscillating fan might be a good option for you. This beast sized at 18 inches has a CFM of 3,500-5,100, depending on the setting, and is thus much more potent than Misto in terms of air delivery.
In terms of outdoor use, the HydroMist fan should be great as well – it's UL 507-rated for outdoor use, and it has a stainless steel fan guard that will not rust.
Remarkably, since this fan is designed for wall mounting, it occupies no floor space. On the other hand, this fan isn't portable, unless you are willing to drill holes for the mounting bracket in several locations.
A key thing to keep in mind with this fan is that it doesn't come with a misting kit out of the box. You'll have to buy it separately, but it's not too expensive.
If you want to buy the misting kit, check out the list below:
Pros
Wall-mounted and thus occupies no floor space.
UL-507 rated for outdoor use.
Airflow of up to 5,100 CFM.
Cons
You'll need to buy a misting kit separately.
Not portable.
Bottom Line
If you aren't intending to move your fan around, then the HydroMist fan is a great option since it won't occupy floor space. It has excellent airflow as well and will deliver a heck of a breeze.
---
The AF-600 misting fan from NewAir is more like your traditional pedestal indoor fan. It has the same features as a home fan, but with one difference – it obviously has a misting capability.
NewAir claims that this fan can lower air temperatures by 10-15 degrees in dry areas, so it seems to be less effective than the Lasko Misto fan. On the other hand, AF-600 has great airflow – up to 2,800 CFM, to be exact. The AF-600 fan won't be as breezy as the HydroMist fan, but you can at least move it around.
Besides, like regular fans, AF-600 has adjustable height and tilt, as well as oscillation. With the oscillating mode, AF-600 claimed to cover up to 600 square feet. And thanks to its 5 nozzles, this fan should deliver a lot of mist and thus better cooling.
For added protection, AF-600 also features a GFCI power cord along with an auto-shutoff in the event of a leak.
With that said, this misting fan isn't for full-time outdoor use – it seems to rust if left outdoors for a long time. You should thus bring it inside to protect it from harsh weather. Don't leave it under the rain or snow.
Pros
Adjustable height and tilt.
Portable.
GFCI power cord.
Airflow of 2,800 CFM.
Shuts off when leaks are detected.
Cons
Not for full-time outside use.
Bottom Line
We'd say that the AF-600 misting fan is for mixed indoor and outdoor use. It's rugged enough to be used outdoors, but probably not for full-time outdoor storage. Other than that, it's a flexible fan that can be moved around and adjusted as you see fit.
---
Don't have a garden hose? Arctic Cove's MBF0181 bucket misting fan doesn't need one. As its name suggests, it may be mounted on top of a bucket with water. More specifically, it's designed for 5-gallon buckets.
Aside from that, the bucket misting fan is battery-operated. The runtime of the included battery is kind of short – just 2 hours – and it seems that you can't run the fan from AC power. With that said, the bucket misting fan is compatible with RYOBI ONE+ batteries, so you may get a larger one if needed.
The battery compartment in the MBF0181 fan is waterproof, so you shouldn't have to worry about electrical safety.
Pros
Cordless and portable.
Waterproof battery compartment.
Can be mounted on top of a bucket with water.
Cons
The stock battery runs for just 2 hours.
Bottom Line
If you want to use your outdoor misting fan anywhere, then Arctic Cove MBF0181 perhaps is the best option for you. But keep in mind that its stock battery life is short, so get either spares or a larger battery.
---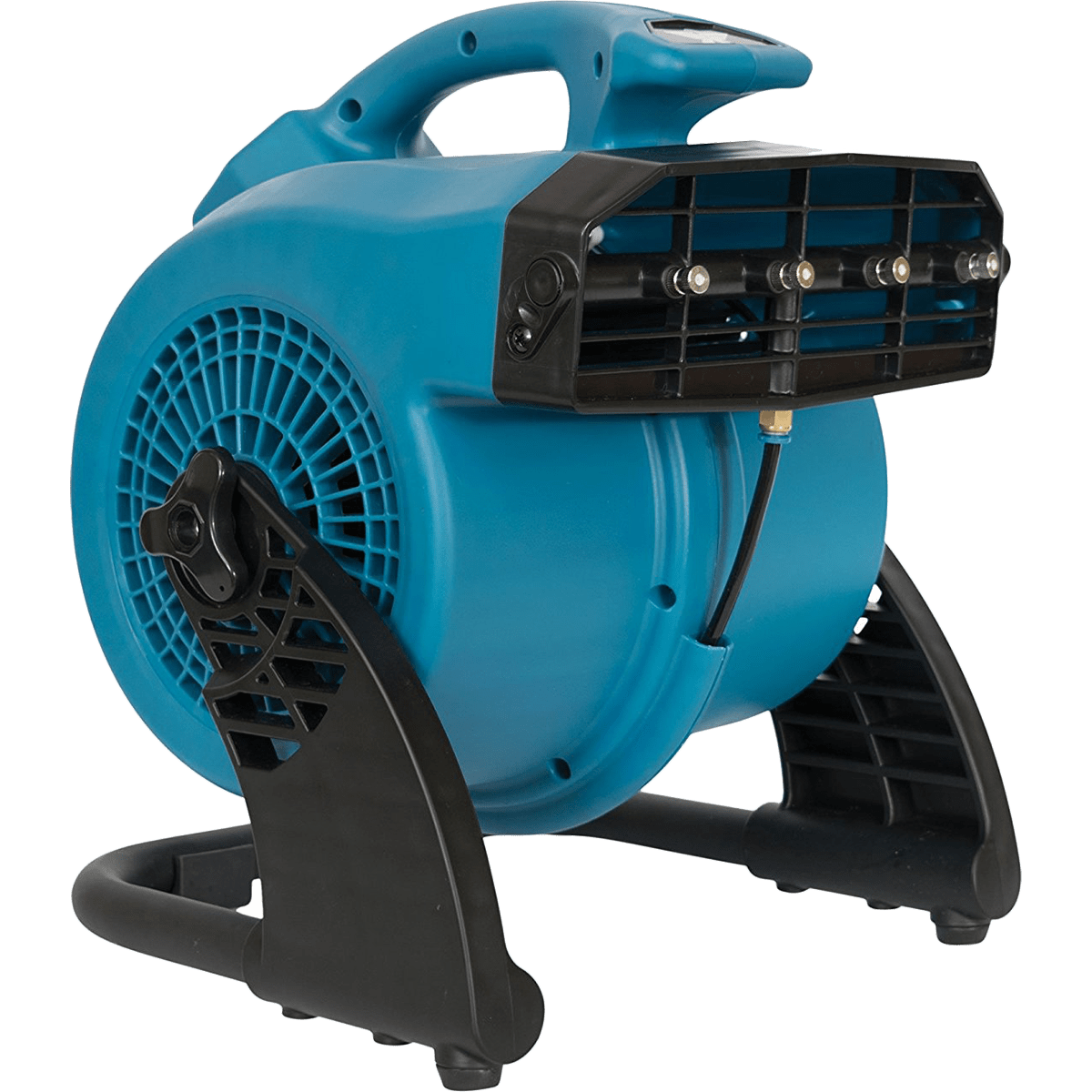 XPOWER FM-48 is in many things similar to the Lasko Misto outdooring misting fan, but it has enough differences to become a pretty interesting model.
So at the base, you have the same compact design with a head that pivots up and down. However, the FM-48 actually delivers higher airflow – up to 600 CFM, which is about double the airflow of the Misto.
Then, FM-48 actually allows you to change the nozzle size fairly easily. XPOWER includes four 0.3mm nozzles by default, but you could go as low as 0.1mm to assist with evaporation.
FM-48 is also claimed to reduce the temperature by about 25-30 degrees, which is comparable with what the Misto fan can do.
In terms of safety, the FM-48 outdoor misting fan seems to be superior as well. It not only has a GFCI power cord, but it also is compliant with CETL/ETL and OSHA standards.
As for downsides, FM-48 doesn't have side-to-side oscillation like the Misto does.
Pros
Comes with 0.3mm nozzles.
Compact.
The head pivots up and down.
GFCI power cord.
ETL/CETL- and OSHA-certified.
Cons
Low airflow.
Doesn't have side-to-side oscillation.
Bottom Line
FM-48 perhaps isn't as rugged as the Misto misting fan. However, it's a little more flexible thanks to the changeable nozzles and is compliant with OSHA standards, so it should be good for contractor use.
---
If your budget is tight, then the FS45-9L misting fan from PELONIS might be a good choice. This misting fan can't boast interesting bells & whistles, but it's a good buy for the price.
Being a pedestal fan, FS45-9L works like any other home fan – it has oscillation along with adjustable height and tilt. For mist delivery, this thing has 3 nozzles, which should be enough for good cooling.
The airflow in the FS45-9L fan seems to be decent, though the seller doesn't provide specific numbers on airflow. However, this fan seems to be a clone of another misting fan, the Utilitech FS45-9L which has 2,000 CFM. The PELONIS fan probably also has 2,000 CFM.
Finally, although this fan is suitable for outdoor use, it's definitely not for outdoor storage – to prevent rust and other nasty issues, keep this thing indoors.
Pros
Inexpensive.
Adjustable height and tilt.
Cons
Not for full-time outdoor use.
Bottom Line
If you can't afford a functional outdoor misting fan or just don't need the fancy features of the fans reviewed so far, then strongly consider purchasing the FS45-9L fan. It combines decent airflow with good misting performance.
---
The WINDCHASER outdoor misting fan is yet another good option for full-time outdoor use. With its moisture-resistant water and rust- & UV-resistant housing, this thing should be just alright if left outside. For added safety, this thing boasts a GFCI power cord, and it's also UL-listed for both indoor and outdoor use.
Being a pedestal fan, the WINDCHASER fan should be familiar in use for many people. It has adjustable height and tilt, as well as an oscillating mode to help you cover more space. With its 4 nozzles, the WINDCHASER misting fan is capable of cooling the air down by up to 25 degrees, depending on how humid it is already.
Notably, WINDCHASER also includes 4 extra nozzles with this outdoor misting fan. The nozzles in the WINDCHASER fan seem to get clogged quickly, so the extra set of nozzles will allow you to keep the thing running.
Pros
Adjustable height and tilt.
Rust- and UV-resistant.
Includes extra 4 nozzles.
GFCI power cord.
UL-listed for outdoor use.
Cons
The nozzles seem to get clogged quickly.
Bottom Line
If you want a durable pedestal fan, then the WINDCHASER fan is a great choice. Its durability is comparable with that of the Misto fan, but it's more flexible thanks to the adjustability.
---
The Luma Comfort MF24B misting fan is designed for not only residential but also commercial use. It can also be used both indoors and outdoors thanks to its heavy-duty design and non-corrosive metal body.
In terms of cooling, the Luma Comfort MF24B is great – it's huge (24 inches) and moves a lot of air, and it covers spaces up to 800 square feet. Aside from that, employing a centrifugal misting system, MF24B produces a finer mist that evaporates easier and leaves less water on surfaces.
On the highest setting, this thing is claimed to drop the temperature by 30-45 degrees Fahrenheit, which is the best on the list.
Interestingly, the MF24B fan has an integrated 1.76-gallon water tank. This water tank lasts for up to around 4 hours on maximum speed, which should be enough for a day of cooling.
With a traditional pedestal fan design, the MF24B fan is convenient and easy to use for the average buyer. Like other pedestal fans, this thing has an oscillation mode along with adjustable height and tilt. It's fairly portable as well, though weighing 50 pounds, it's certainly not light.
What's also an important thing to keep in mind is that this outdoor misting fan is pretty pricey, but that's expected for a fan that is made with commercial use in mind.
Pros
Adjustable height.
Great cooling performance.
Heavy-duty design.
A non-corrosive metal build.
Integrated water tank.
Cons
Bottom Line
If you are looking for maximum durability and cooling, then perhaps there are no better options out there than the Luna Comfort MF24B fan. This fan is heavy-duty, easy to use, and, most importantly, has excellent cooling performance.
---
Choosing The Right Outdoor Misting Fan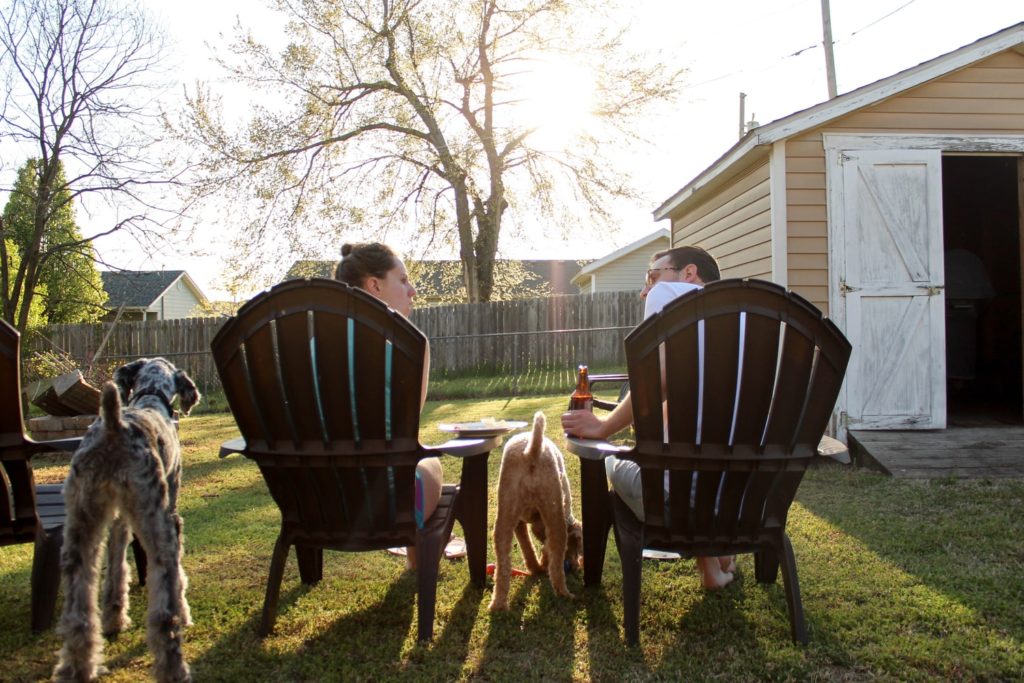 To help you pick the best outdoor misting fan, let's now have a look at the key features that you should be looking for.
Nozzle vs centrifugal misting
There are two main types of misting systems – nozzle systems and centrifugal systems.
Nozzle systems are more common in misting fans. Fans with a nozzle system have 3-6 nozzles spaced evenly on the grill, and they do not use a pump to deliver mist. However, nozzle systems produce a less fine mist that doesn't evaporate too quickly, and the nozzles clog up pretty quickly.
Centrifugal systems deliver much finer mist that evaporates easily, so a fan with this system is very unlikely to make puddles on your patio. Employing pumps, centrifugal systems also deliver mist quicker and shoot it farther. As a downside, centrifugal misting fans are very expensive.
Which system to go for depends on how much you are willing to spend and how much cooling you need. But generally, fans with nozzle systems are used at home, while centrifugal misting fans are commonly used in commercial settings (partly because they clog less frequently).
Water flow
Unfortunately, only a few manufacturers indicate the amount of water delivered by their misting fans. However, if the desired fans do have this spec in the product description (maybe in gallons per minute), use it for comparison.
The more mist a fan delivers, the better its cooling potential will be. On the other hand, if it's not that hot in your backyard, a fan with high water flow may make puddles.
Misting fans also typically allow you to adjust the water flow. This may be done via either an onboard control panel or a small valve at the end of the hose that comes with the fan. Adjustable water flow would allow you to get optimal performance without much water forming on surfaces.
Water source
Check the water source of the desired misting fan as well. If the fan has an integrated tank, then you may stick to it. But if it does not, then you will need a compatible garden hose.
Airflow
Misting fans move air just like regular fans, so you may also want to consider their airflow.
Airflow is important due to two reasons:
It may spread the mist farther.
The breeze delivered by the fan will have a cooling effect as well.
Airflow is measured in CFM (cubic feet per minute), and generally, the higher, the better. However, also know high-CFM fans tend to be noisy.
Pay attention to how many speed settings the fan has as well. Typically, misting fans have 3 airflow settings, but the more, the better. Adjustable airflow would allow you to balance cooling and noise.
Fan-only mode
Misting fans usually can be used without the misting mode, essentially becoming regular fans. Such a fan may be used indoors for cooling. However, some misting fans might not be intended for fan-only use, so make sure to check this before buying.
Coverage
Manufacturers generally indicate the coverage of their misting fans in square feet. This is the maximum space that the fan can cover. Needless to say, your fan should be able to cover at least the area where you want cooling.
Outdoor misting fans usually have coverage up to around 1,000 square feet. To pick the right fan, measure the area of the outdoor space (width multiplied by length) and choose a fan that has 10-20% more coverage.
Adjustability
How adjustable is the desired fan? Among the things that outdoor misting fans may allow you to adjust are the fan height and tilt. Some fans may also have an oscillation mode that moves the fan side to side and in some models up and down.
Safety features
Finally, consider the safety features offered by the fan. Safety features are very important for outdoor use. Among the things to look for are:
Cords with GFCI plugs to prevent electric shocks.
Water-resistant motor or battery compartment.
Rust- and UV-resistant housing.
Auto-shutoff when leaking.
Conclusion
That's it for our roundup of the best outdoor misting fans! Were you able to find the best outdoor misting fan for your needs?
A misting fan can do wonders when it comes to outdoor cooling. However, remember that misting fans are most effective in dry air. If the air is already humid, the cooling capability of the fan won't be as high, perhaps leading disappointment.