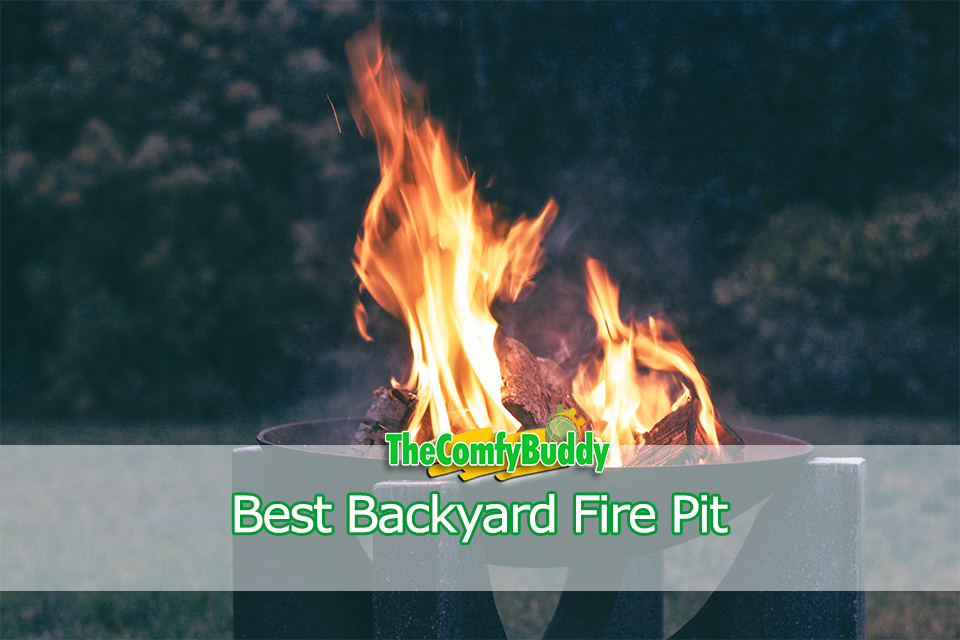 You might've set up an excellent backyard with elegant fences, rich vegetation, clear water fountains, and cozy benches yet still sense that there's something missing. You might have brought up the atmosphere of your backyard to sky-high levels, but it still isn't there. What could you do more?
Well, why not try adding a fire pit to your backyard? Maybe the sound of fire and the sight of the flames playing in a fire pit are the things that you are missing!
If that sounds like a good idea, then you will certainly want to find the best fire pit for your backyard! And to help you with that, we have prepared a review of 15 great fire pits, which could give you a little head start in your search for the best fire pit!
Let's begin without further ado!
Best Fire Pit: Our Top 15 Picks in 2023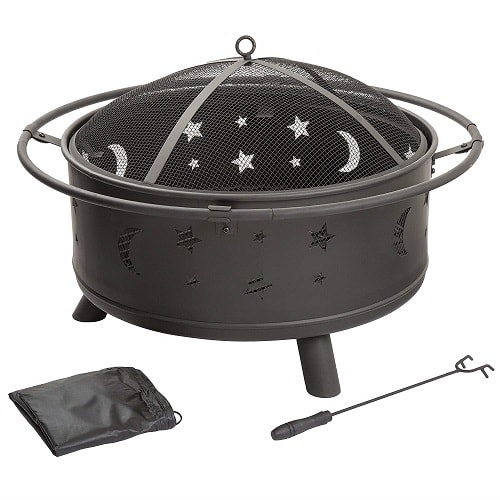 If the best fire pit for you is the one that has good size to it, then Pure Garden's Star and Moon fire pit may be the right choice. Measuring 30 x 30 x 20 (L x W X H) with the safety screen on, this fire pit is deep enough to accommodate good amounts of wood and also keep in all the embers and sparkles. The included mesh cover additionally contributes to the safety level of this fire pit.
For increased convenience during transport, this fire pit is equipped with a ring running along the lip of the pit. Besides, Pure Garden includes a poker with this pit for you to stir the wood for better burning.
Key features:
Powder-coated steel body
Quite large and deep
Ring handle for convenient transport
Moon and star cutouts
---
The Bonfire Fire Pit by Solo Stove is maybe the most remarkable fire pit on our reviews. What makes it stand out from the other pits is its double-wall design and bottom vent holes. Those allow more air to get into the pit, significantly contributing to the efficiency of wood burning.
Another notable benefit of the Bonfire Fire Pit is that it produces little to no smoke thanks to its efficient design, so you should be able to quit worrying about the smoke smell sticking to your clothing. And if the weather is windy, you won't have to dodge the smoke going in your direction.
Add to that the fact that the Solo Stove Bonfire Fire Pit doesn't require any assembly, and you get a great product which could be that best fire pit you are looking for.
Key features:
Stainless steel body
No assembly required
Produces little to no smoke
Sleek design
---
Landmann USA Bromley Fire Pit is slightly smaller and shallower than Pure Garden's round fire pit, measuring 25.8 x 25.8 x 19.9 (L x W x H) inches. The main benefit of the smaller size of the Bromley pit is its weight: it has half the weight of the Pure Garden's fire pit, weighing only 12.7 pounds, which could make that best fire pit.
The deck of the Bromley Fire Pit stands far up, making it safer since its hot bottom is at a good distance from the ground. For additional safety, Landmann includes a spark screen to keep the fire contained and a poker with a plastic handle to stir the wood with.
Key features:
Steel construction
Elevated deck
Lightweight
Diamond cutout design
---
Want a huge pit? Then Sunjoy Squaw Valley could be the best fire pit for you! Measuring 35.8 x 35.8 x 23 (L x W x H) inches, this fire pit is not only large but also safe. It has a raised deck, a spark guard, a poker tool, as well as legs with scuff protectors to keep your floors or delicate surfaces intact.
The looks of this fire pit are also quite noteworthy. The Squaw Valley fire pit is built from powder-coated steel with a copper finish. Complemented with diamond cutouts, this makes for a quite stylish fire pit.
Key features:
Powder-coated steel design with copper finish
Good depth and width
Legs with scuff protectors
Raised deck
---
If easiness of use is a priority for you, Outland Living Propane Fire Pit table could be the best fire pit for the money. The flame is operated via an easy-to-use switch, allowing you not to worry about lighting a fire and then putting it out manually. The only thing you need to do with this fire pit is make sure that it gets a supply of propane fuel!
Outland Living is also a great outdoor fire pit thanks to its weather-resistant materials. The powder-coated aluminum frame significantly adds to this fire pit's durability as well.
The beautiful design of this fire pit should also be noted. Its simple yet sleek, textured design makes it a great addition to any backyard. It's quite bulky though, measuring 44 x 32 x 32 (L x W x H) inches.
Accessories are available but sold separately: UV & water resistant black durable cover, 8 mm tempered clear glass lid insert, 8 mm tempered clear glass wind fence guard
Key features:
Rated 35,000 BTU
Gorgeous design
Weather-resistant materials
Powder-coated aluminum frame
---
When it comes to the looks, Sorbus Fire Pit Bowl certainly is far ahead of the most of the fire pits we reviewed. The elegant design of this fire pit rich in curves certainly makes it an eye candy.
In spite of having a good diameter of 31.8 inches, Sorbus Fire Pit Bowl is quite shallow. On one hand, this will allow you to see the fire in all its glory. On the other hand, not so much wood can be put on the log grate of this fire pit.
Aside from that, Sorbus Fire Pit Bowl is definitely as good in terms of safety as the rest of the wood fire pits we examined thanks to its raised deck, spark guard, and poker tool. If you are looking for a fire pit with a graceful design, then Sorbus's product surely is the best fire pit for you.
Key features:
Steel construction.
Elegant design.
Raised deck.
---
While simple in design, Landmann Savannah Garden fire pit is quite remarkable in terms of fire visibility. Thanks to the multitude of cutouts on its body, this fire pit provides a great view of the fire.
In spite of the small 23-1/2-inch diameter, this fire pit has a lot of depth to it. Given that you can put plenty of wood into the bowl, watching the fire playing in this pit could truly become a spectacle.
Lastly, as you would expect, Landmann includes a spark cover and poker tool for added safety during use.
Key features:
Sturdy steel build
Deep
Great fire view
---
If Outland Living's propane pit wasn't the right propane fire pit, maybe this one will be the best fire pit! While quite similar in design, Endless Summer's fire pit has some minor differences that could be decisive for you.
Measuring 30 x 30 x 24,2 inches, this fire pit is as big as a regular wood fire pit. This means that Endless Summer's product occupies much less space than the Outland Living's fire pit. It's a bit weaker though, delivering 30,000 BTU of heat against the 35,000 BTU of Outland Living's pit.
Secondly, this fire pit features a control panel hidden in the propane tank compartment, which makes this fire pit much sleeker. If you are very fastidious, the hidden control panel will certainly be an advantage for you.
Key features:
Seamless design
Propane gas powered
Rated 30,000 BTU
Hidden control panel
---
What's certainly remarkable about this pit is that it can work both as a table and a fire pit. After the removal of the spark guard, you can cover the fire pit with the included screen and utilize this fire pit's good tabletop area. In addition, this fire pit features a bottom shelf to help you keep the necessities close.
A benefit ensuing from the table design of this fire pit is that the bowl stands really far above the ground, making it an ideal choice if you are strongly concerned about the safety of the surface you will be putting the fire pit on.
When it comes to size, this fire pit is quite similar to the other wood fire pits we reviewed: it measures 30 x 30 x 26 inches with the safety screen on.
Key features:
Can work as a table
Bottom shelf
Powder-coated steel build
Finish with marble accents
The deck stands very high above the ground
---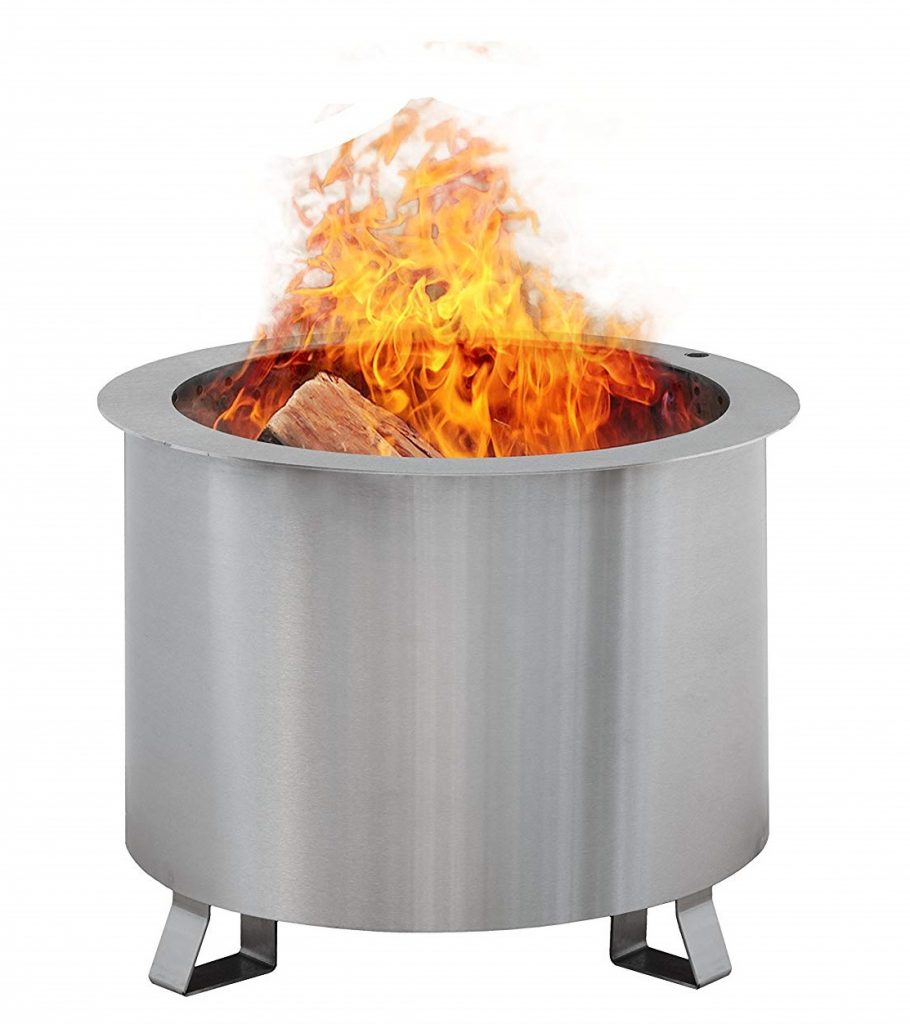 You might have seen a fire pit a bit similar to this one, haven't you? You have indeed since Double Flame Patio Fire Pit is almost similar to Solo Stove Bonfire Fire Pit we reviewed a bit earlier.
This fire pit has a patented burning system that maximizes the efficiency of burning wood so that you can get the maximum heat needed in your patio or backyard. The stainless steel holds durability even with the harshest weather.
If you want to cook food on this pit, you can get a grilling accessory though sold separately. As stated earlier, its patented combustion system ensures there is no to little smoke produced by this fire pit which is great for grilling.
Needless to say, if the price is important to you, Double Flame's fire pit will be the best option against the Solo Stove's. However this fire pit is a lot heavier weighing 42 pounds vs Solo Stove's 20 pound fire pit.
Key features:
Heavy duty stainless steel construction
Little to no smoke
Great for grilling
---
What catches the eye the most in the Natural Stone Fire Pit is its stone table surface surrounding the fire pit. Apart from attaching a unique sense of beauty to this fire pit, the table could also be used to hold fire-safe items.
When it comes to the fire pit itself, the Natural Stone Fire Pit is also great thanks to the pit's width and depth: it measures 34 x 21.5 (L x H) inches. The safety features present in other wood fire pits – the spark cover and poker tool – are also here.
This fire pit also features a closable drain hole at the bottom of the pit, which would allow you to remove the water from the pit without having to tip it over. However, this model has enough in it to be the best fire pit for you, given that it is exactly what you need.
Key features:
Natural stone elements
Wide and deep
Bottom drain hole
---
If you are looking for a fire pit that can accommodate lots of wood, then Best Choice Products fire pit could be the best fire pit for you. Measuring 36 x 36 x 28 (L x W x H) inches, this fire pit is the largest pit we reviewed today.
Lots of wood is good, but what's even better is that you could fully admire the fire in this fire pit thanks to the large diamond cutouts on the sides of the bowl. What also could make this pit attractive to you is its black steel body with a slight bronze finish.
This fire pit also has bottom drain holes, but they can't be closed, which could result in some ashes falling out of the pit.
Key features:
Steel body with a bronze finish
Deep and wide bowl
Provides a great view of the fire
Has drain holes
---
If you are looking to both delight upon the fire and cook food, then this product may be the best fire pit. That's because Landmann includes a full-size cooking grate with this pit, which would allow you to easily convert it into a grille.
Even if you aren't looking for cooking opportunities, this fire pit will still be an interesting product. Measuring 36 x 36 x 23.5, it is just a tad smaller than Best Choice Product's fire pit we reviewed previously.
This fire pit has decorative bear-themed cutouts as well. Those are rather nice-looking, but they won't be able to deliver too much view of the fire.
Key features:
Sturdy steel build
Decorative cutouts on the bowl
Safety ring handle for easier transport
Includes a full-size cooking grate
---
Catalina Creations has an elegant design, albeit not as elegant as that of Sorbus Fire Pit Bowl. But looks are subjective, and some people may prefer this one more, especially given that it has more wood capacity. And even if you don't take the size into account, the sophisticated rustic bronze finish and moon & star decorative cutouts could make this product the best fire pit for you.
Not the largest fire pit on our reviews, Catalina Creations pit still has some good depth to its fire bowl. The bottom of the bowl also has drain holes to remove the water through after putting out the fire.
Key features:
Elegant design
Steel construction with a rustic bronze finish
Moon and star decorative cutouts
Bottom drain holes
---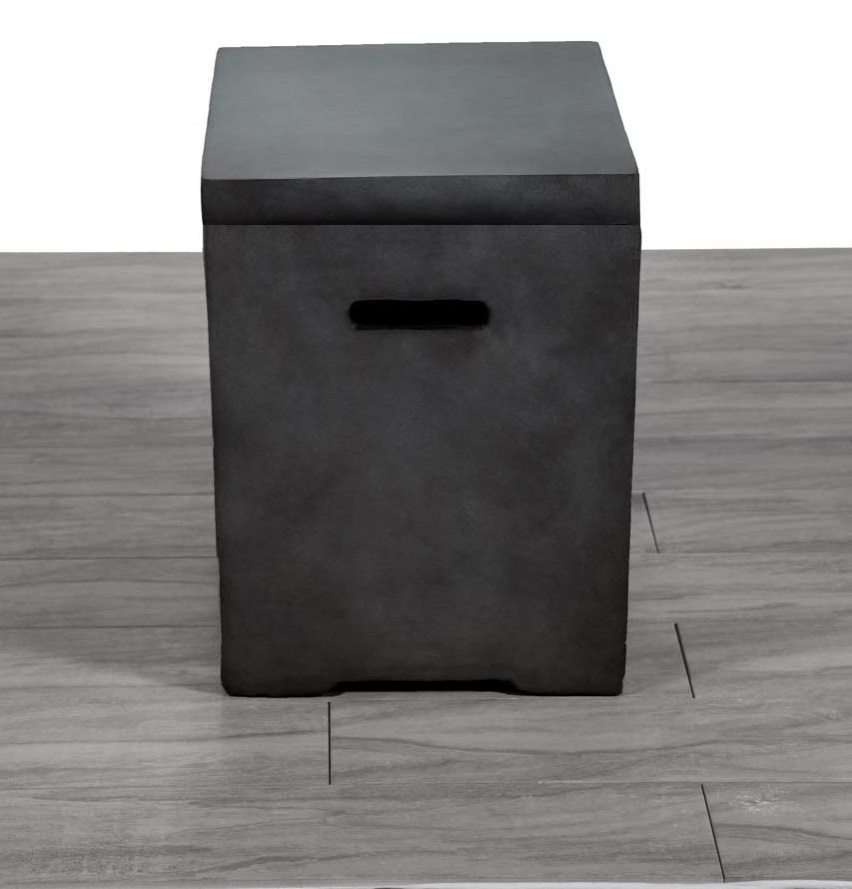 What is certainly remarkable in this model is its handcrafted construction made from reinforced concrete. The charcoal-color finish of this fire pit is inconsistent by design, attaching a good amount of detail to the seemingly uniform surface of the concrete. And if you wanted to get a fire pit built from US-made materials, then this will be the best fire pit for you.
Delivering 50,000 BTU of heat, this fire pit is both functional and stylish. It's also easy-to-use thanks to its push-button ignition and adjustment of the fire. However, the fact that the propane tank has to be installed outside the fire pit rather than in it – as it was with the other propane pits – could somewhat worsen the overall impression from this fire pit.
Key features:
Handcrafted from reinforced concrete
US-made materials
Rated 50,000 BTU
Fire Pit Fuels: Wood, Gas and Propane
You can use three kinds of fuels with the fire pits reviewed above – wood, gas, and propane. Each of those fuel types has its own advantages and disadvantages, which also play a role when choosing the best fire pit.
Wood
When it comes to authenticity, there is no fire pit fuel that could compare to traditional wood. Fire from regular wood produces sounds, crackling, as well as heat, which could be useful for cooking food. A wood fire pit can make your backyard much more atmospheric.
However, wood has a number of quite significant downsides. Firstly, firing up wood isn't the easiest thing in the world and requires some skill. Secondly, fire produces smoke, sparkles, and embers, which all require you to take additional measures to ensure the safety of the area.
And in the end, when you are done admiring the fire, you will need to make sure to properly extinguish it since the ashes can remain a fire hazard even after days.
A wood fire pit requires regular cleaning as well. Apart from that, wood is usually more expensive than gas or propane, even though wood fire pits are the cheapest fire pits up-front.
Propane
Propane is the most convenient fire pit fuel to use since it typically comes in tanks that are very easy to move around. There is thereby no need to install a gas line to fuel your gas fire pit. Aside from that, if you don't have access to natural gas, propane would be a great alternative.
It should be noted that gas fire pits typically support only propane by default. To use natural gas, you would need to convert the fire pit.
Unlike wood, propane fire pits don't produce any smoke, sparkles, and embers, so they are superior in terms of safety. This means, however, that you won't be able to get the same feel of the fire. And cooking food also won't be an option.
Natural gas
Up-front, gas is the costliest to use since you need to conduct a gas line to the gas fire pit. And also keep in mind that you will probably need to hire a professional to convert a propane fire pit into a natural gas fire pit. However, gas is cheaper than wood and propane, making a gas fire pit a better value over the long term.
When it comes to authenticity, gas is pretty much identical to propane. The same thing goes for fire safety as well. If you don't want to use wood and can afford to install a gas line, gas would be the best option.
Safety and precautions
Using a fire pit, you are pretty much playing with fire! If you are careless, you could cause a fire in your backyard at the very least, even if you have the best fire pit in the world. To ensure that no incidents occur during fire pit usage, you need to follow these safety precautions:
Positioning
According to HGTV, Make sure that the fire pit is at least 10 feet (25 feet preferably) away from any furnitures.
Do not install your fire pit under low-hanging tree branches, a covered porch, etc.
Place the fire pit on a nonflammable surface, e.g. concrete or patio blocks. Do not put the fire pit on a wooden floor or grass.
Preparation
Make sure that there are no flammable materials near the fire pit. As a rule of thumb, clear all the materials that are within 5 feet of distance from the fire pit.
If possible, pile dirt or rocks around the fire pit to prevent the fire from spreading in case it gets out of the pit.
Lighting up
Check wind direction before lighting a fire. Remove everything flammable in the direction of the wind.
Do not fire the pit if it is too windy.
Do not use lighter fluids to light or relight the fire.
Usage
Do not leave the fire pit unattended. Do not leave unattended pets or children near the pit.
If the fire pit doesn't come with a wire mesh cover, consider investing in one to keep the embers inside and prevent children and pets from getting too close to the fire.
Do not put too much fuel in the fire. Instead, put as much as necessary to let the fire burn gently.
Don't put paper products or garbage into the fire as they can spark and let out embers or burning residue.
Don't wear loose-fit or flammable clothing near the fire pit.
Avoid burning softwoods like cedar or pine because they can "pop" and throw off sparks.
Extinguishing
Keep a shovel on hand to put out flames that escaped the pit and to extinguish the fire itself.
Put out the fire with water. Pour some water on the ashes and stir them with the shovel to extinguish it fully.
Preferably, throw the used ashes into a metal can: if left hot enough, ashes can cause a fire even days after you put them out.
Keep a container of water and a hose in a close vicinity to the pit for emergency use.
Make sure not to dispose of hot ashes in anything that is flammable.
Summary
You are finally done! Fortunately, you were able to find the best fire pit after reading our reviews. If so, then great, you will just have to get it! Otherwise, you might need to put a bit more time in the search. But regardless of how long it takes, you will surely find that best fire pit for your backyard!