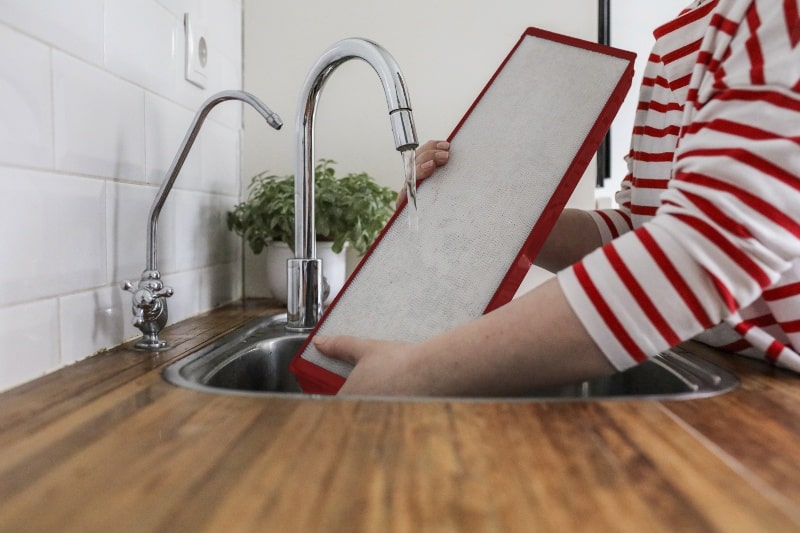 The air inside your house may be much more polluted than the air outside. This is due to the presence of various pollutants like cooking and cigarette smoke, pollen, dust particles, and pet dander. To eliminate these pollutants, you can use air purifiers.
Different models of air purifiers are available. Among these, the air purifier with washable filters is more economical. Also, they are easy to maintain and can be easily washed using your hands. In this post, let's have a look at some of the best options available.
Best Air Purifier with Washable Filter
Benefits of Having an Air Purifier with Washable Filter
Investing in an air purifier with washable filters enhances the overall well-being of your family. Though the initial cost may be high, in the long run, it will turn out to be effective. This is because you will be able to save on replacing the filters. Here are some of the benefits of having this model.
Clean when required
Replaceable options last only for a specific time frame. As for washable filters, you can clean them whenever you want.
This will enhance the efficiency of the unit, thereby providing a better quality of air. The best part is, the more often you clean, the more efficient it will be.
Economical
Washable models may appear to be quite expensive initially. Whereas the disposable options may seem to have a pleasing price range. However, you will end up replacing the filters frequently from 3 months to 12 months. Note that the replacement filters are costly and will add up to the price.
Eliminates air pollutants

Reusable models contain iFD or carbon washable filters. Both of them differ in their effectiveness by around 0.2 %. Hence it is safe to use any of them. Both are also capable of absorbing most airborne pollutants like fine dust, pollen, allergens, and plant spores.
Easy maintenance
Cleaning the filters is quite an easy task. This is because most of them are dishwasher friendly or can be easily rinsed using soap and water.
Why Should You Choose A Washable Filter Over A Disposable Filter?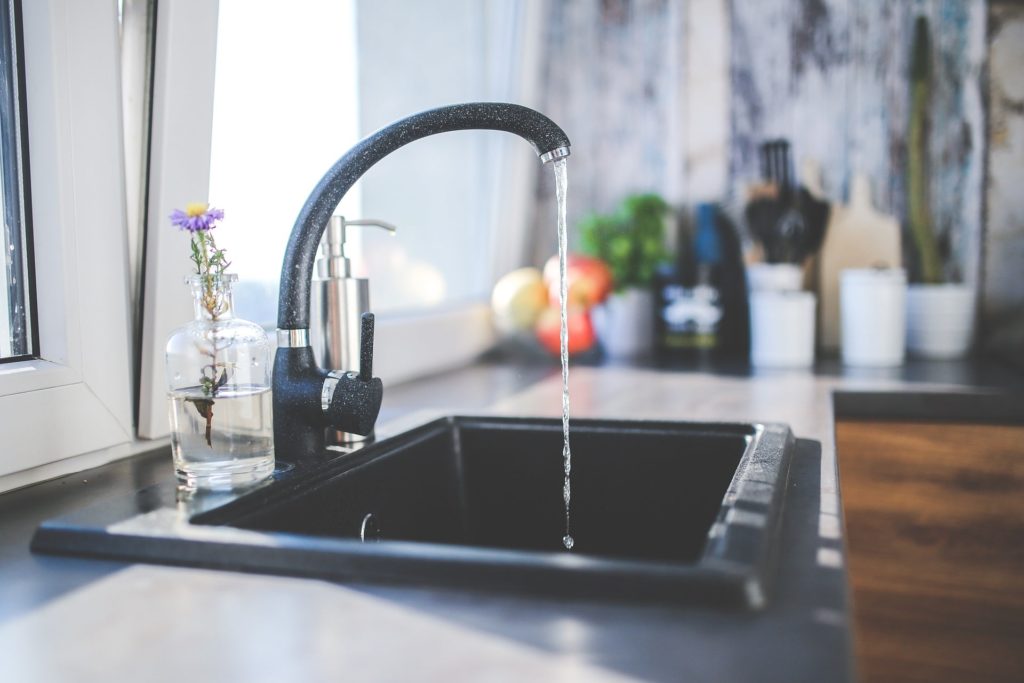 Air filters enhance the efficiency of the purifiers, thereby releasing fresh air. They are capable of trapping and absorbing pollutants such as pollen, dust, dander, and other minute particles that are present in your house.
Choosing the best filter can be quite confusing as different models are present in the market. To maintain healthy and clean air quality, you need to keep the filter clean at all times. However, all air filters do not give the same level of performance. Let's find out why washable options are better than disposable ones.
Washable filters are more expensive than disposable models. Mostly, these are pre-filters. However, you will be able to save that amount in the long run. This is because you don't have to replace them regularly, as it can be easily removed and cleaned frequently.
Go through the manufacture specifications to find out how to maintain the filter effectively. Try to schedule the cleaning well ahead to avoid a decrease in efficiency. Remember to dry them completely, or else it may result in the growth of bacteria or mold.
You don't have to keep running to the store to get disposable filters. As for washable filters, since it's made using plastic like components, it may last up to five years. As for disposable options, you may end up replacing around 60 of them within the same time frame.
7 Best Air Purifiers with Washable Filter You Can Buy in 2023

To assist you in selecting the best air purifier with washable filter, we spent hours going through user reviews and manufacture details. Let's have a look at the detailed reviews of each of these products.
Washable pre-filter and clean filters
Do you have a special area in your house where you spend most of your time? Honeywell QuietClean HFD-120-Q Oscillating Air Purifier is capable of enhancing the aura of your space. With that, you can enjoy hours reading or watching TV as the purifier increases the supply of oxygen. This helps you to stay fresh and makes your brain cells more alert. There are three buttons in the control panel which activates at various time intervals. The high setting helps neutralize tobacco smoke. As for cleaning the carbon pre-filter, you may have to use a vacuum cleaner to do the job.
This model uses tower design as the height prevents the toddlers and pets from messing with the control panel and changing settings. Moreover, it permits a greater intake of atmospheric air than the ones who are smaller in height.
Features:
Cleaning Level: 3
Oscillation
Energy Star certified
Dimensions: 10 x 11.2 x 28.7 inches
Weight: 14.5 lbs.
Coverage size: 170 sq. ft.
Certification: AHAM
CADR: 100 (dust), 110 (smoke), 132 (pollen)
Filters: washable pre-filter and IFD
Warranty: 5 years
Pros
Very efficient.
Makes use of Quiet, clean technology.
Easy to maintain and operate.
Helps in absorbing foul gases, odor, and VOCs in the atmosphere.
Comes with 3 settings: low, medium, and high.
Cons
For higher settings, it produces more noise.
Not suitable for larger areas.
Bottom Line
The Honeywell QuietClean HFD 120Q is such a value for money. With its washable filters, you can surely save money in the long run.
---
Washable AOC carbon filter
Winix 5500-2 Air Purifier with True HEPA filters is capable of removing most of the airborne particles. This includes dust, pet dander, pollen, allergens, and minute particles up to .3 microns. This one comes with it an AOC Carbon Filter made using activated carbon granular. It helps in removing the household smells and is washable. As for the size of this model, it's comparatively huge, making it the perfect option for larger areas.
Here you will find 4 settings to adjust the fan speed manually. This includes Turbo, high, medium, and low. By using the smart sensors, you could consistently gauge the quality of the air.
Features:
Cleaning Level: 3
Energy Star certified
Dimensions: 13 x 21 x 13 inches
Weight: 15.4 lbs.
Coverage area: 360 sq. ft.
CADR: 350, cfm
Filters: PlasmaWave permanent filter, washable AOC carbon filter, and true HEPA filter
Pros
Beat suited for larger room sizes.
Has a filter replacement indicator.
A sleep mode is present for silent working.
For better cleaning power, it makes use of the plasma-wave technology.
Cons
Due to its high quality, it's quite costly.
You have to replace the HEPA filter as it isn't washable.
Even during daytime, it switches automatically to night mode when the lights are off.
Bottom Line
An efficient air purifier such as the Winix 5500-2, you can rest assure that cleaning your air at home doesn't require expensive power consumption. Plus, a washable carbon filter won't require you to purchase another filter.
---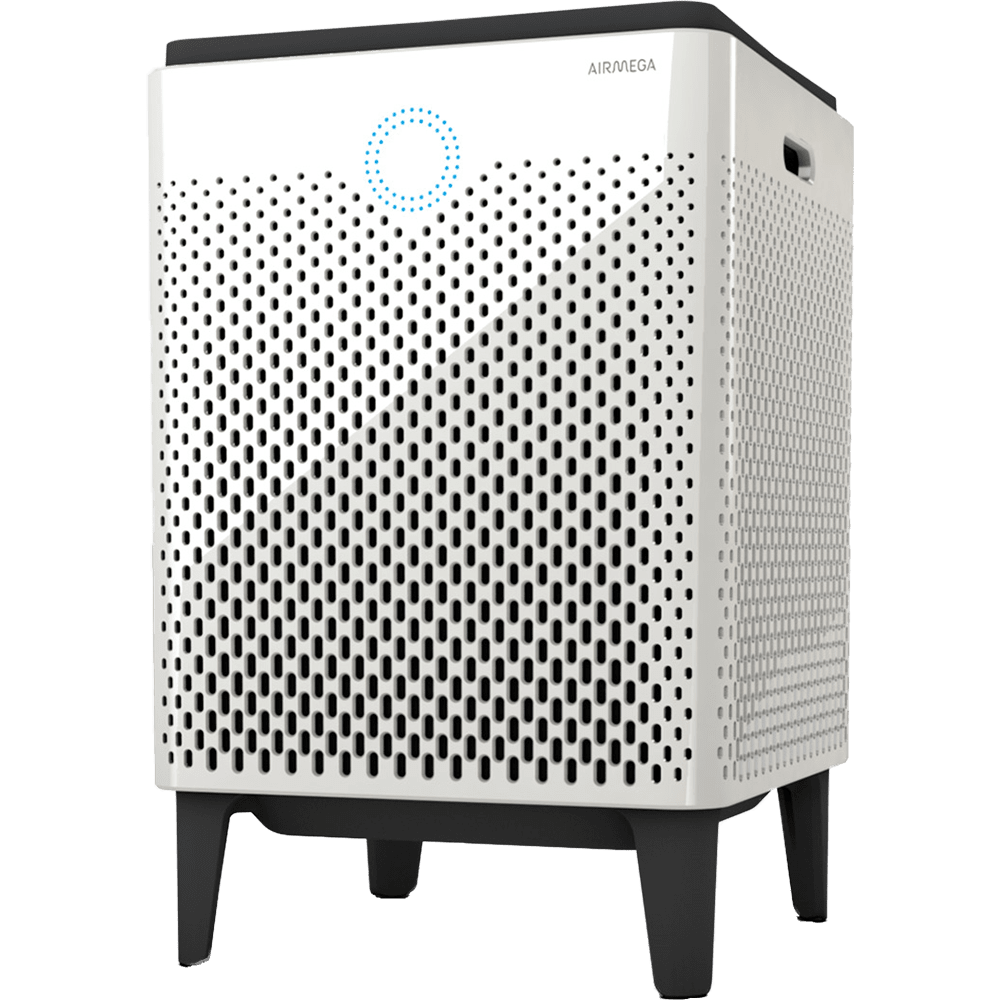 Permanent washable pre-filter
Do you feel that the air around you is highly polluted? Using this model, you will be able to inhale clean air daily. Coway Airmega 300s Air Purifier is the perfect option for large living spaces. It comes with three stages of filtration that helps in eliminating the pollutants present in the air.
You can control this unit with Coway IoCare mobile app downlable on iOS and Android. The Coway Airmega 300s is also Alexa compatible.
Since this is in our list of air purifier with washable filter, it includes a pre-filter that is permanent and of course washable.
If you don't need the smart features, get the Airmega 300 which is cheaper.
Features
Cleaning Level: 3
Dimensions: 13.6 x 13.6 x 21.2 inches
Weight: 21.4 lbs.
Coverage size: 1,256 sq. ft.
Certification: Energy Star
Filters: pre-filter, and Max2 filter (combined activated carbon and a True HEPA filter)
Warranty: 5-year limited warranty
Pros
App-enabled
Easy to operate and has a sturdy framework.
Waste-free and cost-effective as it uses a reusable filter.
Easy to wash using hands or a dishwasher.
Smart indicators
Cons
Bottom Line
Having a large room comes great cleaning responsibility. Thanks to Coway Airmega 300s features, you can now achieve a clean air in your room.
---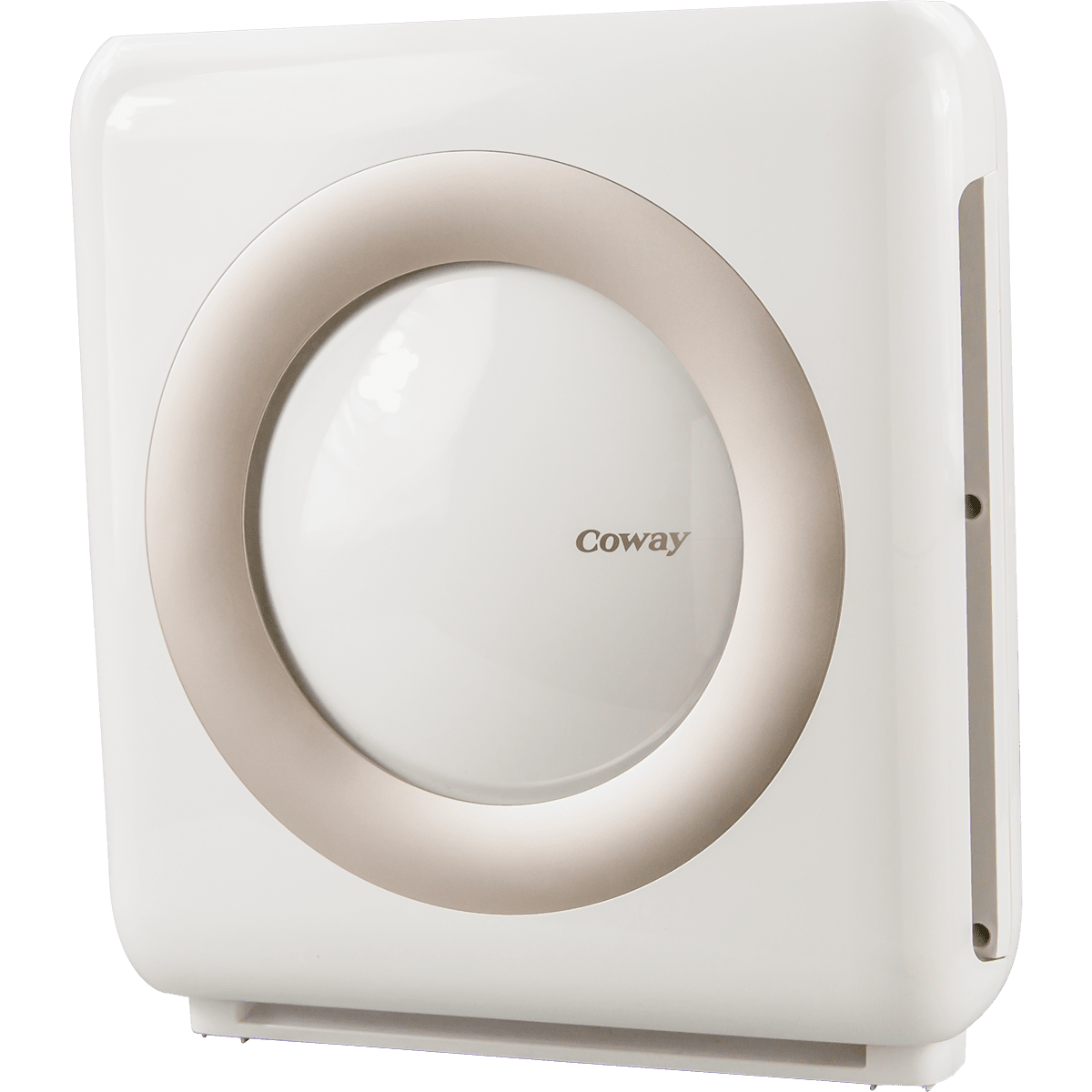 In need of an air purifier that'll help you monitor the air quality of your house? The Coway AP-1512HH does a great job. You will find that various pollutants present in the air can irritate your throat or skin will disappear in minutes.
Coway AP-1512HH is capable of removing most of the toxic allergens and toxins from the air using the HEPA filter. Be it dust, smoke, odor, allergens, pet dander, plant pollen or mold, it can clear up to 0.3 microns of air pollutants. The filter change indicator gives an alert 6 months for carbon filter and 12 months for HEPA filter.
The odor and deodorization filter helps bring out the fresh air in your home. This is a great option if you have pets or smoke from cigarettes.
Features
Filtration Stages: 4
Dimensions: 18 x 16.8 x 9.6 inches
Weight: 15.4 lbs.
Coverage size: 326 sq.ft.
Airflow: 268.39 CFM
Filters: HEPA Filter, Pre-Filter, Washable, Ionizer, Vital ION Technology, Carbon Filter
Warranty: 3 years
Pros
Has superior coverage where the air changes three times in an hour.
A personalized touch button panel.
Combat design framework that fits easily into any corner.
Odor and Deodorization filter helps remove odors.
Cons
Bottom Line
Coway AP-1512HH air purifiers start to make its name on the air purifier industry. When looking at its features, you cannot ignore it. The four stages of filtration of this unit is superb. You may want to try.
---
Stylish unit with Permanent washable ifD filter and washable foam pre-filter
Need an air purifier with incredible features and lifetime filters? The Honeywell AirGenius 5 Air Cleaner HFD320 is a great option. This one has a superior design that removes air pollutants up to .3 microns and above. As for the filters, it helps in decreasing foul odors and assists in capturing bigger particles before they reach the permanent filters.
While in operation, it does not make much noise and has a sleep mode that works silently throughout the night. It's capable of purifying the air up to five times in an hour. As this unit is light in weight, you can quickly get it around from one room to another.
Moreover, it comes with five clean settings. This includes Max, general, germ, allergens and sleep.
Features
Cleaning Level: 5.
Dimensions: 9.9 x 9.7 x 26.8 inches
Weight: 17.9 lbs.
Coverage size: 250 sq. ft.
Certification: Energy Star, AHAM
CADR: 161 (smoke), 170 (pollen), 160 (dust).
Filters: washable foam and odor-reducing pre-filter
Warranty: 5 years.
Pros
Easy and efficient to use.
Had smart touchscreen controls that help you to adjust the settings.
Sleek and sturdy design framework.
Perfect option for medium and large sizes rooms.
Cons
Costly option but comes with lots of features.
Bottom Line
The Honeywell AirGenius 5 Air Cleaner HFD320 is your one of the top air purifying buddy. It has the complete cleaning filters you needed that surely get those allergens out of your home.
---
Are you a college student or living alone hunting for the ideal air purifier? Look no more. Blue Pure 411 Air Purifier for home 3 Stage with Two Washable Pre-Filters is the one for you. This unit can accommodate rooms up to 161 sq. ft. It makes use of three stages of filtration for eliminating airborne particles. As it uses very little energy, it does not make much noise.
Since it comes with washable pre-filters, you don't have to waste your money on getting replacements. The carbon filter helps in removing viruses, smoke, odor, allergens, mold, dust, and other smaller items.
Features
Cleaning Level: 3
Dimensions: 8 x 16.7 x 8 in.
Weight: 3.35 lbs.
Coverage size: 161 sq. ft.
Certification: AHAM
CADR: 105 (smoke), 120 (dust and pollen)
Filters: fabric pre-filter, particle, and activated carbon filters
Warranty: 1 year.
Pros
Comes with three fan speed settings.
Available at an affordable price range.
Simple and easy to use and assemble.
Sturdy framework that's durable.
Cons
Not suitable for those suffering from allergies as it does not remove harmful allergens.
LED Light does not switch off even with the sleep mode.
Bottom Line
This small air purifier is great for small rooms. Take note that this has no complete filtration system. You might want to check others on this list if you have serious allergies.
---
Crane Tower Air Purifier with True HEPA Filter EE-5068 makes use of 5 filtration system to eliminate air pollutants. The HEPA filter absorbs most of the pollen and dust in the air up to 0.3 microns. As for the active carbon filter, it captures large particles and odors from garbage, cooking, and tobacco.
The photocatalyst filler works along with the internal UV light to form an advanced form of oxidation. This helps in removing and neutralizing toxic fumes and odors.
Features
Cleaning Level: 5
Dimensions: 9.2 x 15.3 x 9.2 inches.
Weight: 8.75 lbs.
Coverage size: 300 sq. ft.
Certification: AHAM
Filters: True HEPA
Warranty: 1 year
Pros
Easy to clean and change the filters.
Requires a power supply of 40 W and 120V.
Timer functions allow you to adjust to 8, 4, or 2 hours before it automatically goes off.
Has three-speed controls that enable you to run with very little noise.
UV light for additional sanitizer.
Cons
Parts wear off quickly in the long run.
Bottom Line
This portable air purifier can be a great buy for your home. It has the complete filtration system you need plus the UV light is a great feature for sanitizing air.
---
Can Washable Pre-Filters be Vacuumed?
Pre-filters are the first stage of air filtration before it gets to next. These are available as washable or replaceable. The reusable options are easy to maintain.
However, you must not wash the permanent ones as it may get damaged. Vacuuming them is the best option to clean them. Go through the user manual to avoid causing any damages.
Note that other filters especially HEPA need to be changed depending what frequency your manufacturer suggests.
Maintaining a Washable Filter
Go through the manual to find out if it is washable.
Before opening the unit, take necessary precautions as a large amount of dirt and dust tend to fly around.
Unplug the device, find the filter, and remove them carefully.
If pre-filter is present, clean them gently by scrubbing with soap and water. Pre-filters have a large amount of dirt and debris.
Once the pre-filters are fully cleaned, leave them to dry.
Once fully dried, reassemble them.
How to Choose the Right Air Purifier with Washable Filter?
Planning to purchase an air purifier with washable filter? If so, go through these essential features before you make the final decision. Read on to find out more.
Filters Types
Different types of filters are commonly used in these air purifiers. Each one of them has unique strengths and capabilities. Most of them are generally combined to give additional benefits. The true HEPA filter is the most common type. They can absorb air particles of sizes up to 0.3 microns. Next, activated carbon filters capture harmful chemicals, odor, and VOC that are less than 0.3 µm. Pre-filters offers additional protection by filtering out the larger particles.
Take note that washable filter types are mostly pre-filters. HEPA filters need to be vacuumed or changed depending to manufacturer's guidelines.
Cleaning levels
Air purifiers are capable of removing pollutants that range from 0.3 µm and above. This includes mold, dust, smoke, and pollen. Wish to capture particles that are less than .3 µm? For this, you need a combination of filters combined with an ionizer to capture the minute and fine particles.
CADR Ratings
The Clean Air Delivery Rate refers to the volume of air filtered by an air purifier. Here you will find 3 levels of filtration, which include dust, pollen, and smoke. Each of these has a unique range. The CADR range for dust is from 10 to 400; pollen lies between 25 and 450, and smoke is from 10 to 450.
Sizes
These air purifiers are available in various sizes ranging from small to wide and tall to thin. Have lots of room space? If so, opt for any size that offers the best features. If you have limited space, go for smaller options. Taller and thin models are easier to place in any corner without consuming much space.
When Should You Use Air Purifier with Washable Filter
Now that we have gone through the factors that will help you select the right model. Let's find out when you can use them effectively.
To get clean air while cooking
Using gas burners to cook emits huge amounts of carbon monoxide, nitrogen dioxide, and other fine particles. While frying, the cooking odor, and smoke cause an unpleasant atmosphere. By using advanced purifiers, we can get rid of these pollutants.
To provide your family with better air quality
Clean air is essential to enhance the quality of life. Though it seems like a clean environment, the air contains invisible particles like dust, mold, and so on. This can cause allergies in sensitive kids. By using the right purifier, you can filter them out easily.
To get a good night's sleep
Poor quality sleep may result in various health concerns. This can be due to the presence of dust and dander, which causes sneezing, congestion, and stuffy nose. An air purifier gets rid of these particles and offers a night of sound sleep.
To remove pet hair and dander
Do you have pets in your house? Finding it hard to get rid of those pet hair and dander that's present in the air? Air purifiers do a great job of getting rid of it without you having to move around.
Final Thoughts
Using an air purifier with washable filters saves you time and cash in the long run. While looking for the best options, take note of the coverage area and CADR ratings before you finalize.
Our best pick goes to Honeywell QuietClean HFD-120-Q Oscillating Air Purifier. This oscillating model is capable of capturing airborne particles up to 2 microns. Here you will find 2 filters, the washable pre-filter and the washable IFD filter. It comes with an oscillation control system and three cleaning levels. As for CADR, the ratings for dust is 100, pollen 132 and 110 for the smoke. Moreover, it has a coverage area ranging up to 170 sq. ft.
Now that you are aware of the best options get one for yourself to breathe fresh air. If this post was helpful, do share it with your friends. Don't forget to leave your valuable feedback in the comments below.
---