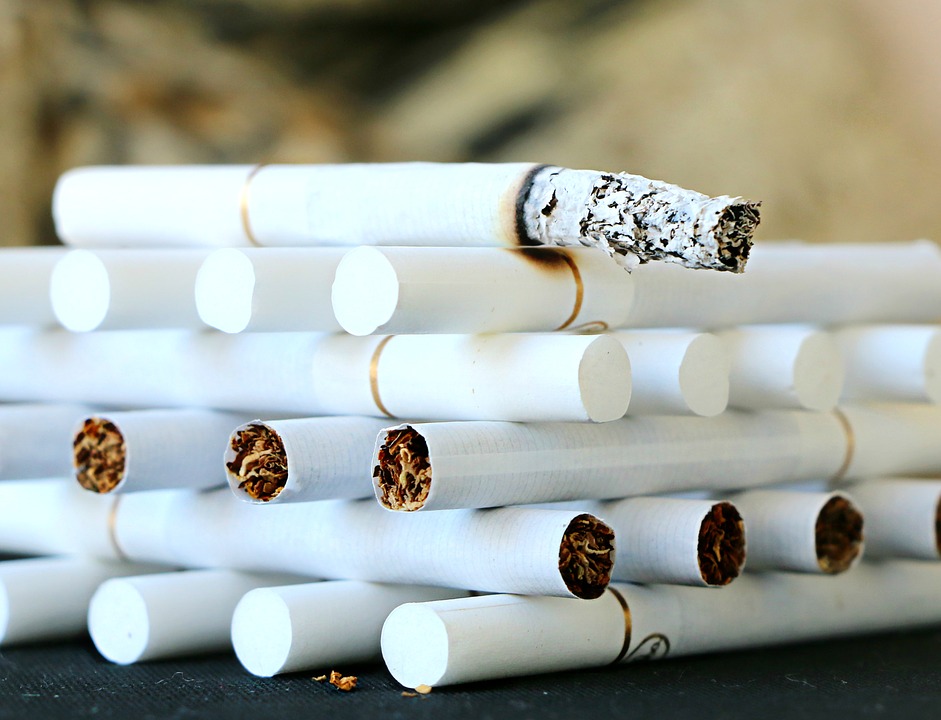 Overview of Smoke from Tobacco, Weeds Etc.
The moment you begin to use tobacco, cigarette or others and inhale the smoke, it goes through the opening of your throat or to the back of your mouth. Blood vessels contract without delay and mucosal lining found in the throat is deadened, causing irritation, extreme dryness and infections.
When the smoke gets down from the throat, it brings about irritation and the need to cough, which experts say because of the acrolein and formaldehyde content. Another effect of tobacco smoke is the changing of one's voice and worse, throat cancer.
But it's not only the inside of the smoker's body that is affected. When smoke circulates in the air, bad odor begins to take place and worse, the air becomes polluted that there are these so-called secondhand and thirdhand smoke. Using the best air purifier for smoke can help you address smoke problems inside your home.
How Smoke Leaves Pollution to your Home
When a household member or a visitor smokes cigarette, tobacco, weed or others inside your home and stops after a few minutes then leaves, do you think that you and the rest of the family members are finally safe from air pollution and the bad health effects of smoke after the air is 'cleared'?
Not really.
Your health is still at risk because of the so-called thirdhand smoke. The remains from cigarettes and others left in your home after smoking are now clinging on furnishings and surfaces and these will be there for days and weeks. Contamination from thirdhand smoke can exist in hair, clothes, surfaces and others.
Children are the most at risk because they can ingest residue by touching any of these and then placing their hands in their mouth. This is not only about the unpleasant smell and pollution; this is also about the existence of tobacco toxins.
This thirdhand smoke allows carcinogen to form. As the nicotine present in tobacco smoke reacts with nitrous acid (component of indoor air), it begins to form carcinogens.
Does Enough Ventilation Suffice Smoke Reduction?
Indoor air pollution does not only refer to tobacco smoke; other sources include mold and pollen, building materials like asbestos and lead, household products and others. Wind-blown dust, motor vehicles and fire are also some examples of outdoor pollution that actually contribute to air pollution inside your home.
As these affect air quality, household members feel the discomfort. To make them feel better and more important, to keep them away from diseases like respiratory illnesses or cancer, it is but right to eliminate these sources of air pollution inside the home.
Keep it well-ventilated like opening doors and windows to improve airflow. However, if your home is located near the road and if it's not summer yet, you may not consider this. It is best to remove all of these pollutants. For one, do not allow individuals to smoke inside your home.
Likewise, consider using best air purifier for smoke odor at home to help reduce smoke and eliminate odor.
How Does Air Purifier Stabilizes Air in your Home
Smoke, allergens like pollen and mold spores and others can have negative effects on the immune system and lungs. Regrettably, most of these are not seen by the naked eye (anything smaller than 10 microns) – but the best air purifier for smoke can filter them.
The unit makes use of fine sifter that traps particles to prevent it from circulating. The finer the sifter is, the smaller the particles it is able to snare. HEPA air purifier filters lock in smoke, dust, chemicals and others. The more frequent the air crosses the HEPA filters, the cleaner it becomes.
How to Choose an Air Purifier for Smoke
Generally, you have to consider five things when looking to buy the best air purifier for smoke: HEPA filtration, energy efficiency, activated carbon, noise level and square footage.
1. HEPA or High Efficiency Particulate Arresting filtration is the primary technology that should be present in the best air purifier for smoke and dust that you are thinking of buying as it assists in the removal of 99.97% of airborne particles (0.3 microns or higher).
2. Energy efficient appliance offers several advantages, including lowering energy and protecting the environment. Look for a unit that is Energy Star qualified.
3. Activated carbon eliminates odors inside the house. You can check the air purifier if it includes activated carbon, amounting from a few pounds to more than 20.
4. Noise level is also vital, especially if you plan to place it in your room. You do not want your sleep to be distracted by noise, right? Think about buying a big unit and operate it on a lower speed instead of buying a small one and running it on a high speed.
5. Square footage should also be taken into consideration because the unit will not reach its maximum efficiency if the space where it will be located is more than the allowed square footage capacity. Therefore, measure your space first then look for an air purifier that can cover the entire square footage.
You should also check the features of the best air purifier for cigarette smoke and others to get more value for your money: fan, programmable timer, servicing indicator, ionizer, dirt sensor, washable pre-filter, number of speeds and others.
Best Air Purifier for Smoke Reviews
The Best Bang for the Buck
When it comes to purifying air, nothing beats a trusted brand plus its high quality performance. The Honeywell 50250-S is one of the best air purifiers you can count on. This unit can purify rooms up to 390 sq. ft. It has the true HEPA filter that captures smoke particles and other allergens that pollutes your room. It can filter out particles up to 0.3 microns which is invisible to human eye.
The Clean Air Delivery Rate (CADR) of this unit is 250 for tobacco smoke, dust and pollen. This means it has a large amount of smoke, dust or pollen filtered by an air purifier. You can change the filter with 24000 or 3 HRF-F1 filter if need be. Don't worry about when you will change the filter because the Intelli-Check electronic filter indicator will let you know.
Specifications:
Features a true HEPA filter that captures 99.97% of particles up to 0.3 microns
Carbon Pre-filter HRF-AP1 captures larger particles before entering the HEPA filter
Purifies room up to 390 sq. ft.
Intelli-Check™ Electronic Filter Indicator tells you when to change the filters
5 year warranty
See Honeywell 50250-S Price on Amazon
---
The amazing 4-in-1 system of the GermGuardian AC5350B will make your room a more comfortable place to stay and live with. Its true HEPA filter captures dust and allergens even as small as 0.3 microns. Its UV-C light works together with titanium dioxide is much powerful in killing airborne microorganism. The pre-filter and charcoal layer captures large dust and pet hair to help the inner filter to extend life and help improve indoor air quality longer. The combined power of charcoal and HEPA filter makes this unit powerful against any odors from pets, smoking and cooking. When talking about the efficiency, this air purifier is an Energy Star Qualified.
Specifications
Features a true HEPA filter
UV-C light and Titanium Dioxide for effective killing of germs, bacteria, viruses and molds
Clean Air Delivery Rate 125+
Energy Star Qualified
5 fan speed settings
5 year warranty
See GermGuardian AC5350B Elite 4-in-1 Price on Amazon
---
The AeraMax 200 Air Purifier is not just your typical air purifier. It features an AeraSmart sensor which detects the quality of air you have in your home and automatically adjust the fan speed to purify the air. You can also adjust the fan manually if the need is deemed necessary. There are three colors to know the quality of the air: blue, amber and red lights. This air purifier has a great 4 stage purification system. The carbon filter is a very good first stage filtration to remove odors in your room. With the HEPA filtration plus AeraSafe antimicrobial treatment working together helps the removal of smoke odor and other airborne particles. The PlasmaTRUE technology then creates an ionized field to help safely remove airborne pollutants. On the other hand, there is a special mode Aera+™ Mode which is designed to help in capturing the airborne flu virus to prevent the transfer of the disease to your fellow room mates or the people living in your household.
The AeraMax 200 is surprisingly efficient air purifier. It is Energy Star Certified which makes this model 40% more energy efficient than those that are not. In addition, this unit operates quietly to ensure that it won't create noise pollution.
Specifications
Covers 200 sq. ft. of room area
4 speed fan settings
True HEPA filter with AeraSafe antimicrobial treatment; Carbon filter
Control type: Auto/Manual/Aera+™
PlasmaTRUE™ Technology creates an ionized field to help safely remove airborne pollutants.
Energy Star Certified
Aera+™ Mode Designed for peak allergy season conditions
See AeraMax 200 Air Purifier Price on Amazon
---
Best Options for Large Rooms
The Rabbit Air MinusA2 SPA-700A is a great option for those who want their home with large spaces circulate breathable, clean air. This unit covers spaces up to 700 sq. ft. and is very efficient air purifier. The numbers of filters used are fantastic to make the household feel safe from indoor air pollution like cigarette smoke.
Read Full ReviewSee Rabbit Air MinusA2 SPA-700A Price on Amazon
---
The Whirlpool Whispure Air Purifier has its features and quality an air purifier must have to ensure clean air circulation in your home. It covers up to 500 sq. ft. that runs quietly and efficiently.
Read Full ReviewSee Whirlpool Whispure Air Purifier Price on Amazon
---
The Alen BreatheSmart Customizable Air Purifier has a lot to offer for an air purifier. You can choose among four filter options and 15 designer panel colors. This is a solid choice for those who need an air purifier for bigger spaces up to 1,100 sq. ft.
Read Full ReviewSee Alen BreatheSmart Price on Amazon
Closing Thoughts
Your home is not safe from indoor air pollution if one or more of the household members smoke cigarette, tobacco, weeds and others. The situation becomes worse if your location makes the entire family exposed to outdoor pollution coming inside your home like wind-blown dust, motor vehicle smoke and others. To reduce or eliminate smoke, you can seek the help of the best air purifier for smoke. It has features that offer several benefits to our health.
---