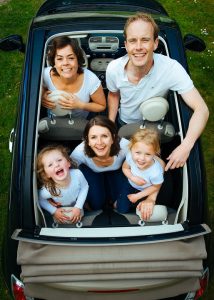 If you've ever climbed into a vehicle that smelled less than fresh, you know it's not a very pleasant experience no matter how short the drive is. Although your nose may adapt to it after a few minutes, an odor-filled vehicle isn't something anyone wants to "get used to" or experience on a regular basis.
But, an air freshener will only cover up the issue by releasing perfume. If you really want to reduce odors and improve your vehicle's air quality, you have to find the excellent car air purifier that will do the job right. That's why I've taken the time to help you narrow down your options so you can locate the best car air purifier without wasting time, or money.
Car Air Purifier Compared
8 Best Car Air Purifiers to Buy in 2023

The good news in your search for fresher air in your car is that you have a lot of options. The bad news is that some of them simply aren't worth the money. Many just mask odors while others often dry out too quickly. Below, you'll find an assembly of the most popular choices on the market and a quick breakdown of their pros and cons:
The FRiEQ Car Air Freshener and Ionic Air Purifier is first on our list.
This unit has a massive negative ion feature that releases 4.8 million negative ions per cubic cm into your car's interior environment. This is believed to improve air quality as negative ions are thought to destroy odor-causing particulates in the air.
For this reason, FRiEQ promises that this unit will get rid of the smell of smoke and other stale odors, and it will also neutralize contaminants (bacteria, viruses, and mold) so that you can breathe easier each time you step into your vehicle.
The LED light is your indicator that the purifier is running. The design is compact and you just need to plug this air purifier directly into the 12v cigarette outlet. Just be careful not to plug it on 24v socket to avoid electrical damage to your car or to the purifier.
One downside I found is that it won't remove odors immediately. It takes time to clean the air of your entire car.
Pros
Massive negative ions to combat odor
LED indicator light
Slim and compact
Easy Plug-and-Go
Cons
Not suitable for trucks
It takes time to remove the odor
---
Philips has taken its name to the highest level in terms of appliances and personal care devices. Oh wait, have you heard about the Philips GoPure air purifier? Yes, you heard it right. Philips has an air purifier for car. So let's take a look what this little buddy does.
The Philips GoPure is a small air purifier designed especially for your car. Its box-like figure is not space friendly but it has an attachment belt, suction cup and anti-slip pads to properly place it in your car.
What's amazing about this purifier is its indicator. It has three colors that indicate the air quality inside your car: Blue means the air quality is excellent; Yellow means fair and Red means poor.
The Philips GoPure air purifier lives up to its name as one of the best air purifier for car. It combines HEPA and HESA technology to combat those odor inside your car. Plus, it is not just an odor eliminator. It can also eliminate dust, allergens, particles, bacteria and viruses. This air purifier is one of a kind!
Pros
Air quality indicator works incredibly well
HEPA and HESA technology combined
Great smoke eliminator
Filter indicator is very helpful if you don't know when to replace it
Cons
The replacement filter can get expensive. How often you need to change it depends on your usage and the size of your vehicle, along with the air quality.
I do believe you'll be happy with your purchase, and feel that the price is worth it if you choose to buy this unit. It's a name brand product, and they stand behind it. If you are dependent on your air purifier to consistently get the job done (perhaps you have allergies or asthma), this is the way to go in my opinion.
---
Charged via a USB cable, the LUOYIMAN Air Purifier can be used in your car or in your home. LUOYIMAN claims that, with nightly usage, it will get rid of viruses, bacteria, and microorganisms that are present in the air. It will also reduce odors and decompose formaldehyde over the course of 1-2 weeks.
The LUOYIMAN Air Purifier doesn't require change of filters more often. You won't find yourself changing expensive filters all the time because it has a long lifespan.
Once charged, you can expect the air purifier to run for around 36 hours. Another point in its favor is that it's small, so you can easily place it into one of your car's empty cup holders.
What's another plus is you can easily plugged into your car's USB port. This air purifier can be carried anywhere else. It is comparable to a soda can.
Pros
No Filters needed
Long Battery Life
USB charged
Small and portable
Cons
Not the best quality made
---
The YONTEX Air Purifier stands out as being a bit different from the slim and compact thermos-looking competitors, but it's no less effective. In fact, if you judge it based on its near-perfect internal design alone, I assure you that clicking "Buy" won't be difficult at all!
This was one of my favorite air purifiers that I tried, despite it looking a bit odd.
It's priced similarly to the above choices and I can account first-hand that it will kill the harmful bacteria and unpleasant odors present within your vehicle by generating a safe and stable amount of ozone.
It also has a built-in Anion generator, which will generate a "large number" of negative ions to aid with dust sterilization and second-hand smoke odor-While not specified, I could tell the difference after using this unit a few times.
The look might not be for everyone, but since it will be plugged into your cigarette outlet and then likely forgotten about, it might not be that big of a deal.
If you are worried about not being able to charge your phone it also has 2 USB ports for emergency charging. Likewise, I like that the screen switches back and forth from the voltage to the ions when plugged in.
Pros
Fair Price, Good Performance
Effective odor remover
No Filters needed
Silent Operation
Modern & Simple Design
USB Ports
Digital Display
Cons
Manual is a bit confusing.
---
AutoKraze air purifier is one of the top car air purifiers of our choice.
This unit releases more than 5.6 million negative ions into the air, which prevents many odors and eliminates dust, smoke, bacteria, and pet smells. These massive negative ions is a great odor eliminator.
I can agree with all of these points, and I also found countless other positive aspects when using this air purifier!
Pros
Long lasting once ran for hours
USB ports for gadget charging
No filter maintenance is always a plus!
Cons
Needs more time to remove odor in the car
Could have added a LED display like Yontex
---
Perhaps one of the most sleek and modern-looking air purifiers on the list, the isYoung Air Purifier sells for about twice the price as the above options. However, it seems to be worth it–and considering it was nearly out of stock at the time of this writing, consumers seem to agree!
This air purifier also stands out because it claims to be a true HEPA filter, which stands for High Efficiency Particulate Air filter. isYoung claims this unit can kill tiny particulates, down to 0.3 micrometre. This allows it to eliminate virus-es, bacteria, and dust, which I took note of as it removed odors from my car after about two uses!
It also releases around 5 million negative ions per cm³ into the air, thus fighting smoke and stale odors.
It is made from ABS material and is considered environ-mentally friendly and safe. It will turn on automatically once you turn on your vehicle, and with the wall plug, it can also be used in your home or office.
This unit seems to be the best choice on the list so far as it uses both proven three-stage filtration and an Ion generator to make the most of your vehicle's interior envi-ronment. Thanks to the filtration system, I got results after 2 days of using it!
Since it does have filters, you will need to change them every few months or so.
Pros
Three-stage filtration
Ion generator
Modern, portable design
Cons
Filter changes and maintenance needed
You need a flat surface in your car to place this unit
---
UCAREAIR might sound like the only specialized company out of all of the air purifiers on the list, and while this one is relatively new to the marker, I think it's promising.
This car air purifier is shaped like a box measuring 6.69 x 8.46 x 2.56 inches. It has a true HEPA filter which is a standard of a good air purifier. It effectively removes odor such as fast food meal smell, smoke and allergens. It has an aroma diffuser which adds fragrance to your car's interior.
This air purifier uses 12v power cord to be connected to your car's 12v cigarette socket.
Pros
Removable and washable filter
True HEPA filter which removes most allergens, smoke, dust and odor
Aroma diffuser adds additional fragance
Cons
• The one and only con I can think up is that the fragrance beads, or "aromatherapy boxes", cannot be changed out, but they have a nice neutral scent, and apparently a very long lifespan.
---
The Thinkga Air Purifier is one of the best options on the list in my opinion. It is shaped like a cylinder, the same with LUOYIMAN Portable Air Purifier. The advantage of the cylinder-shaped purifier is that you can put it immediately on cup holder without falling during your travel.
This air purifier has no HEPA filter but it has anion generator that releases negative ions 5X106 PCS/cm3. It is very effective in eliminating odors inside your car. It has a dual usb port on both sides which adds charging capabilities. This unit is backed with 1 year warranty.
Pros
No filters to be changed or removed, therefore no maintenance required.
Similar to the YONTEX, this air purifier also features two USB ports so that you can still charge your phone and devices while the air purifier is plugged in.
Includes a year warranty for defective item
Cons
Like other negative ion generators, you'll need to give this a try over the course of 1-2 weeks before you can decide if it had an affect.
---
How Do Air Purifiers Work?
Unlike an air freshener, which simply covers up odors with perfume, a car air purifier works to remove odor-causing particulates from the air by filtering them out or using an Anion generator to release negative ions, which will destroy such particulates.
The Benefits
LifeHack.org recently wrote a piece covering all of the amazing benefits air purifiers can offer, both in your home and in your car. Some of the points that should be highlighted include:
If you keep an air filter running in your car while you drive, it will be working to filter out harmful gases, odors, allergens, pollen, dust mites, and any other particulates that might be degrading your air quality.
Do you eat in your car often? The smell of tacos or burgers could linger for hours, but a good air purifier will actually have the smell completely gone in a matter of minutes!
If you have a dog that comes into your vehicle, they are inevitably tracking in dirt and germs. Their coat will also release pet dander that can stir up allergies and bring down the quality of your car's air quality as a whole. An air purifier will help keep the car smelling fresh, and feeling clean.
As Urbalicious pointed out in their piece about air purifiers, they are almost a necessity for smokers in order to get the stale scent of tobacco out of your vehicle.
Choosing the Right One
Now, when it comes to selecting an air purifier, you'll see that you have plenty of options. In fact, the list I gave above is really only the tip of the iceberg. If you head to any retailers out there, you'll see one option after another of air purifiers that claim to be the very best at what they do.
Obviously, they can't all be the best, so how do you separate the effective units from the good sales pitches?
First, you need to consider the two different types of air purifiers. As you might have surmised from the product reviews above, they come in two basic forms: those with a filter, and those with an Anion generator.
Filters
Filters are certainly the more popular option since they have been proven to work time and time again. But, they add an on-going cost to your air purifier because you will need to be checking and changing your filter regularly. With that in mind though, HEPA filters are considered to be the most effective at removing particulates from the air.
Most air purifiers with built-in filters will have a three-stage filter that includes a pre-filter, HEPA filter, and activated carbon filter. Each stage of this filtration process aims to take a different type of pollutant/particulate out of the air. High-quality filters can get out even the tiniest of particles, resulting in vastly improved air quality.
But, what about Anion generators?
Research is still determining what the better option is. While studies have shown that releasing negative ions into the air can have a positive effect on air quality.
However, the square footage (amount of air) that a HEPA filter can cover is not as large as that of an ionizer since the filter's ability to filter will gradually decrease as it traps more and more particles.
If you happen to be on a budget, like most people, you might be tempted by an ionizer since they sell for as little as $20 (as seen from the product reviews above). However, that's not the end of the story. If you're looking for a car air purifier that is going to absolutely make a difference in air quality, you should go deeper into the matter.
I personally suggest weighing your options between a HEPA filter and ionizer if you fall into any one of the following categories:
You drive your car at least 7 hours a week.
You wait in traffic often.
You smoke, or have smokers in your vehicle.
You live in a city environment where air quality is already lower.
You suffer from allergies or asthma.
If you fit into one of the above categories, I think it's very important that you carefully research this investment before you click the "buy" button. That's because, while buying a $50 ionizer might be the most budget-friendly option, if it doesn't make a significant difference in your air quality, why spend the $50 at all?
Of course, there are many ionizers, like the ones I reviewed, that might be the perfect solution given the right circumstances, but if you are serious about raising your car's air quality, I would suggest going with a HEPA filter.
Making Your Decision
Hopefully this piece has given you a lot to think about when it comes to choosing the best air purifier for your vehicle! Before I sign-off, here are some final points of consideration to help you make the best decision for your needs:
Portable: If you choose a portable air filter, you'll be able to bring it also into your office and home with ease. This means clean air can travel with you everywhere you go!
Quiet: Some people like the soothing white noise effect that comes along with most air filters, but if you need yours to have whisper-quiet operation, be sure to make this a factor in your purchase decision.
Low Maintenance: Even if you decide to purchase an air purifier that uses a filtration system, you can find one that is low maintenance by purchasing a purifier rated for a slightly larger space than you need. This will mean the filter will last longer as it won't have to filter at full capacity.
Anti-Allergen: Every air purifier on this list will remove up to 99% of particulates from the air, but a couple of them come with scented fragrances infused within the system. If you suffer from allergies, you might want to stay away from air freshener.