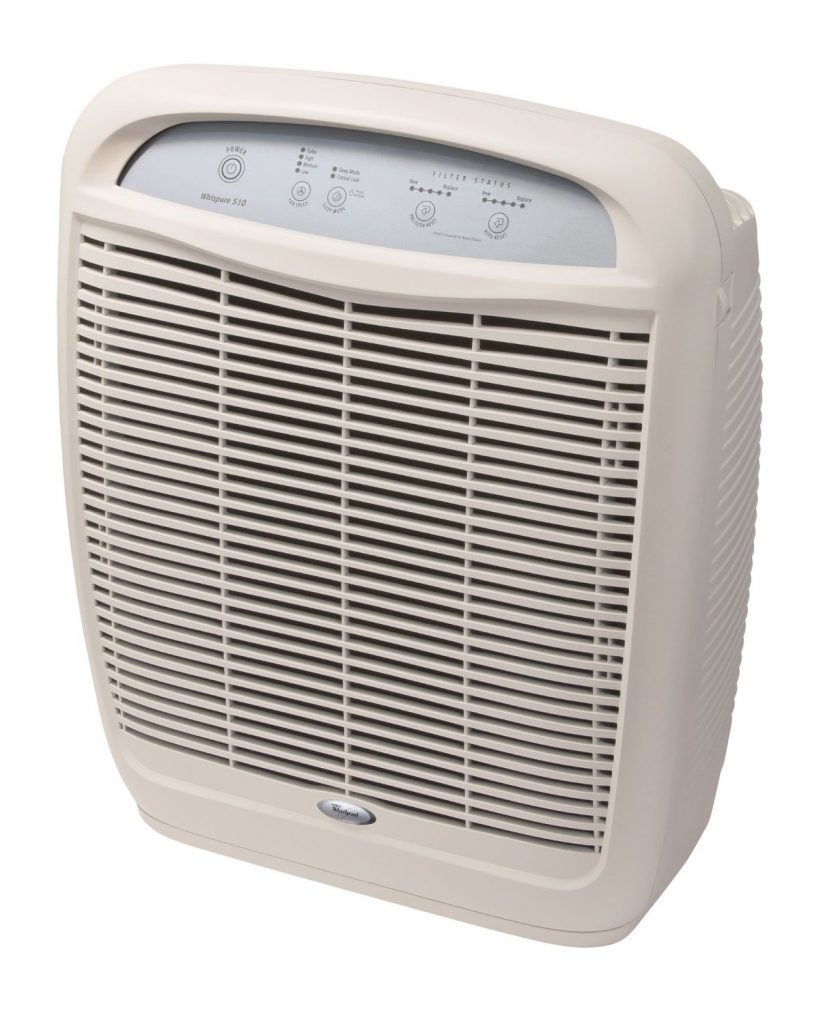 Whirlpool Whispure Air Purifier Review
Performance

Design

Energy Efficiency
Bottom Line
The Whirlpool Whispure Air Purifier has its features and quality an air purifier must have to ensure clean air circulation in your home. It covers up to 500 sq. ft. that runs quietly and efficiently.
Pros:
The Whirlpool Whispure Air Purifier is a well-built air purifier that runs quietly and efficiently. Its 3-stage filtration system works amazingly well to combat airborne allergens, dust or smoke. The controls are simple and user-friendly. It has five-year limited warranty.
Cons:
It is a little bulky and the design is not modern.
Dust mites, pollen, pet dander and others are a common problem in homes. However, they are not easy to get rid of because they are not seen by the naked eyes. This is why air purifiers are being sold in the market. Particles (as small as 0.3 microns) are trapped by these units. However, you have to realize that not all advertising or manufacturer claims are true. Only a few can remove 99.97% of particles in your home – including the Whirlpool Whispure Air Purifier. With its True HEPA filter, you are guaranteed of clean and fresh-smelling air in your room.
Three-Stage Filtration System
Whirlpool Whispure's filtration system covers three stages: pre-filter, carbon filter and true HEPA filter. During pre-filter, the outside grill of the unit traps the large particles (such as pollen, mold spores, dust mites, pet dander and others) before they are able to get to the HEPA filter. When some of these large particles are able to get inside the air purifier, the carbon filter captures them. This specific filter also functions to remove unnecessary odors. HEPA filter, on the other hand, performs optimum filtration, purifying the air by eliminating 99.97% of 0.3 microns particles and even bigger.
Quiet Partner Technology
Buyers of air purifiers do not forget to inquire about the noise level of each unit they think of buying. With Whirlpool Whispure Air Purifier, you can be certain that it will not make any irritating noise because it utilizes the Quiet Partner Technology. This system enables the unit to deliver high efficiency even if the air purifier is at its quietest phase. This assures users like you to continue feeling safe (from itchiness, allergies and others) and smelling fresh air even if the unit is in the sleep mode. During this stage, you are also able to save from energy consumption.
Filter Replacement Light Indicators
Replacing filters is easy with Whirlpool Whispure as it has two filter replacement light indicators for charcoal pre-filter and HEPA filter. When you notice that one of these lights up, it means you have to replace either of these two filters already to maintain the efficiency of the air purifier.
Other Key Features and Specifications
Frequency of air filtration: 4.8 times per hour for rooms up to 500 sq. ft.
Turbo setting
Built-in handle for easy transfer of the unit from one area to another
User-friendly electronic controls
Four fan speeds to choose from
Clean Air Delivery Rate (CADR) 315
5-year limited warranty
Colors: White and slate black
30-day money back quiet guarantee
Weight: 22.6 lbs
Product Dimensions: 12.3 x 22.1 x 27.2 inches
Accessories
The Whirlpool Whispure Air Purifier comes with the following:
User's manual
Filters (charcoal filter and HEPA filter)
Warranty guide
Conclusion
A true HEPA filter – this is what the Whirlpool Whispure Air Purifier has to boast. This is because the change in air quality is evident. It's pricey, but it's a worthy buy as the unit works according to its promise of efficiency in eliminating dust, pollen and others and in improving the smell inside your home.
Check Whirlpool Whispure Air Purifier Price on Amazon
---